Some of you might not be aware of the latest attraction in Penang where life can become so breezy and exciting throughout the year. With spectacular views of the Andaman Sea and the historical skyline of George Town, Straits Quay, developed and run by Eastern & Oriental Berhad, is the first retail marina enclave within the fast development area of Seri Tanjung Pinang in Penang. The new destination for locals and tourist alike, promised strings of international food outlets, bistros, bars, boutiques, bakery to performing arts and learning centers. Presently, there are just a handful of shops in business but these would be enough to set the crowds in thrills with nice sea front restaurants and bistros everywhere. It's also a great spot for photography with such great colonial style architecture. Other than visiting the place by car, Rapid Penang buses would also be available (No. 101 & 103). Water limousine service would be available soon via E&O Hotel Pier to enable you to explore the panoramic view of the beautiful island.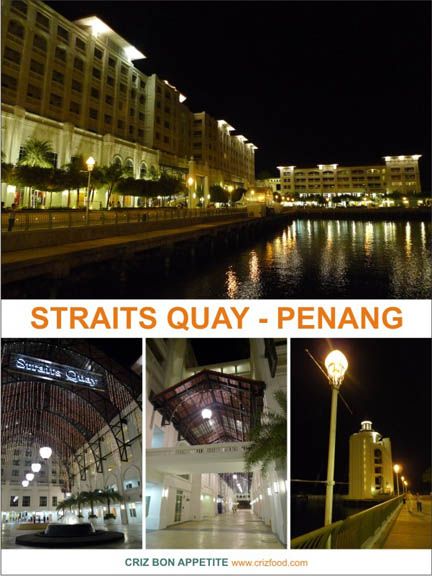 While paying a visit to this newly established Straits Quay some time back, I came across a restaurant by the name of Kaffa Kafe. The place has great ambience with cozy corners and al fresco area for diners to get their best experiences dining by the sea.
So how was my dining experience here? Well, let you judge for yourself on what I have to share here. First there was the Fresh Wild Mushroom Soup (RM12.90) which had a combination of shitake, enoki, portbello and swiss button mushrooms, supposedly served with toasted garlic bread. Instead, I had some crudely sliced croutons, floating soggily on my soup. The gross dark colored soup had that sour taste which I don't quite like. Enoki mushrooms are delicate mushrooms that if you do not know how to keep them well refrigerated, they would have that sour fermented taste. At times, they would even spoil the whole taste of any soup base. The restaurant should have replaced enoki with crimini or even oyster mushroom for that extra earthy flavor. This was so far the worst fresh wild mushroom soup I had ever tasted and with a high usage of black pepper in it.
Next was one of the recommended Vietnamese Lemongrass Chicken (RM16.90), served with steamed Basmati rice. My next question was whether they double grilled that chicken or even microwave the meat? From the look of such a basic kitchen, I guessed the latter answered me clearly. There was no moisture left in the meat. Neither was there much gravy left. The meat only has the basic taste of lemongrass and nothing else. It was truly bland. The chopped chilies were for decoration only and did not add in any flavors at all. What's the use of serving the much reputable fragrant enriched Basmati grains but not knowing how to cook the rice well? It was simply tasteless and dry. Buttered Basmati rice would be a more ideal choice. That was not the worst of it yet. In fact for all the accompanying dishes, the vegetables were overcooked with some withered and pale yellowish green French beans. Moreover, the vegetables tasted like they have been blanched in the same pot of water continuously without ever changing the water. A pinch of salt and some olive oil would have given them a better taste too.
We also had their New Year offer of German Styled Chicken Bratwurst (RM20.90), served with mashed potatoes and assorted vegetables. Although the two foot sausages were tasty, both came rather cold within (didn't microwave enough? LOL!). The potatoes were roughly mashed, not too bad for taste. The gravy was just average with a bit too much of salt in it. Just look at the color of the French beans and you would know my reasons for being pissed off. On top of that, I would think it was a bit too pricey for me for the amount served.
The Homemade Lamb Shank (RM26.90), served with mashed potatoes and assorted vegetables was a joke. I had better ones before. It looked like it was really cooked at home and brought to the outlet to be microwave to get rid of the juiciness. It was real obvious that the lamb shank was left exposed to air for a long period of time as the meat had changed color and was extremely dry. Now I know why AFC's King of Grill, Robert Rainford, could be rather agitated when his diners were not on time to consume his grills within a stipulated time. The shank was bland too with only a hint of some wine based marinate. The texture of the meat was like 60% in the midst of meat floss preparation. The gravy tasted universal just like the rest of the dishes. I really hated those vegetables.
I just ordered the Crispy Calamari (RM13.90) to test out how well they did in their finger dishes. Well, you can never go wrong with most frozen packed stuff. The tempura coated rings were nice but the fries needed a bit more crispiness. The accompanied salad was normal with dressing neither salsa nor vinaigrette. The condiment was some sort of diluted Thai chili sauce which could hardly stick to my food. I would rather have some creamy mayonnaise to go with my dish.
As for dessert and beverages, they fair much better than the food here. I tried out their Homebaked Apple Pie (RM8.90), served with a scoop of ice cream. It was supposed to be vanilla but I ended up having a miserable and almost melted scoop of strawberry ice cream, a cheap brand indeed. The Apple Pie crust was quite fine, although I would prefer it to be a bit more buttery in taste. The apple filling had the required tasted of grounded cinnamon but lacked in moisture. The Ice Kaffa Special (RM10.50) would be recommended as the overall combination was perfect. It had double shots of strong flavored coffee, double scoops of vanilla ice cream and topped with whipped cream. That made me wonder why I was not served vanilla ice cream for my Apple Pie. The Iced Lemongrass Tea (RM7.90) was fine, just nice for my liking. The Mocha Mocho Smoothie (RM9.90) was normal.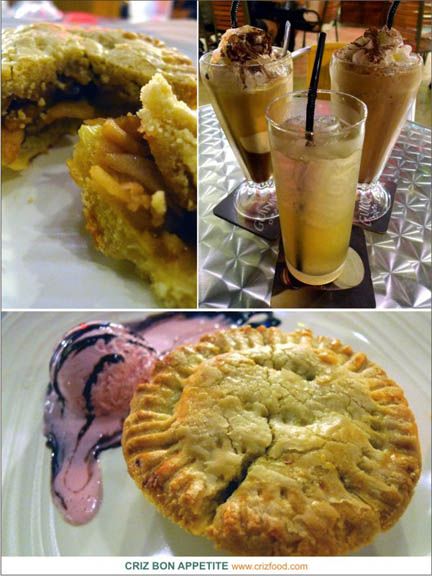 Overall, the restaurant would be a nice place to relax over some drinks but not the food. The food quality needed to be revamped soon before they lose out more customers. The kitchen would need more dedicated staff as sloppiness and carelessness would not secure customers well. Price wise, it could be a bit pricey for most people. My total damage was RM141.55 (inclusive 10% service tax) in which I did not get my money worth of satisfaction. Moreover, two out of three of us had some mild stomach problems after the visit. What happened to the quality of food here? The photos and descriptions in the menu can be rather deceiving. For the price, customers ought to have what have been described in the menu and not any remains that they have left in their kitchen. Any restaurant should know that withered or gone bad items are not to be served to the customers. Lucky, none of us had serious food poisoning. As for the staff, they should be more discipline and educated in the happenings in the kitchen as well as dining etiquettes. Although it was great to have the table cleared before the next dish was served, but it was not so polite to ask for dish clearance when the food was not fully consumed. Standard kitchen orders must be briefed to all and not only to a handful of staff. Here I saw one staff turning down some clients while another asked us for the last order. Where's the logic behind this? I usually don't criticize business owner this way but it was rather saddening to encounter such bad experiences especially at a highly exclusive area like Straits Quay. There were too many flaws in the establishment.
The restaurant is just located within Straits Quay, the latest landmark in Tanjung Tokong area, Penang. If you are coming from town via Jalan Kelawai, just head towards Jalan Tanjung Tokong. There are two ways leading to Straits Quay but I'll show you the easiest way as not to get lost within the maze. Drive all the way until you reach the Island Plaza traffic lights. You can turn right but it's a long way to get to there. Alternatively, keep to your right and drive onwards to the second traffic lights after that and turn right into the road (Jalan Seri Tanjung Pinang). You can see the almost completed Tesco building there. Drive on and a short distance away you can see straits Quay on your left. There will be ample parking areas all over.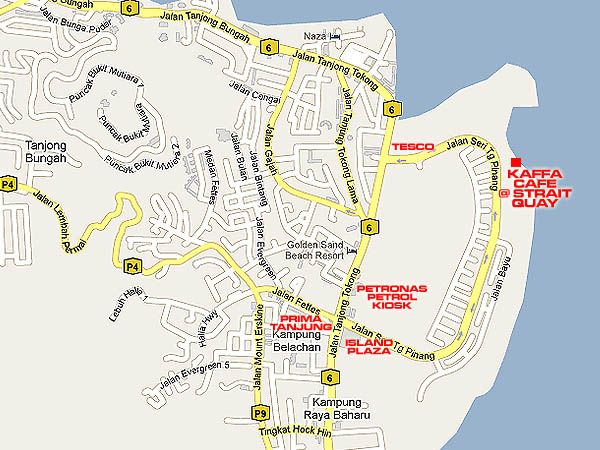 Name: KAFFA KAFE @ STRAITS QUAY
Address: 3A-G-8, Straits Quay, Jalan Seri Tanjung Pinang, 10470 Penang, Malaysia.
Contact: 604-890 5136
Opening Hours:
10.00am-1.00am (last order 10.30pm – extended hours during peak period)
GPS: 5.458264, 100.313233
RATING:
Ambience: 7.5/10 (1-4 cheap, 5-7 average, 8-10 classy)
Food Choices: 7/10 (1-4 limited, 5-7 average, 8-10 many choices)
Taste: 5/10 (1-4 tasteless, 5-7 average, 8-10 excellent)
Pricing: 8/10 (1-4 cheap, 5-7 average, 8-10 expensive)
Service: 6/10 (1-4 bad, 5-7 average, 8-10 excellent)