Sigi's Bar & Grill on the Beach (SBG – formerly known as Sigi's by the Sea) at the Golden Sands Resort, Penang, is currently celebrating its first anniversary. The stylish, casual and fun beachfront restaurant, over the short period of one year, has successfully attracted both in-house guests and locals with its simple, fulfilling and yet value for money cuisine with the freshest ingredients right from their own home-grown herbs and spices plot. With the appointment of John Brock, a New Zealander, as its Executive Sous Chef to head the SBG and the Western culinary offerings of the hotel, you would indeed experience great cuisine at the next level.
So, what's sizzling up in SBG's kitchen to commemorate its first anniversary? There's the First Anniversary Set Meal at RM100++. This promotion comes with a "1+1" offer, where you can bring along your partner to enjoy the breezy evening by the beach while getting yourself pampered with the great food served here. Pizzas are at 50% off for a limited time. Make yourself available between 7.00pm and 10.00pm nightly (except Thursday and Sunday) to indulge in the fine creations of John Brock. This promotion is available until 31 March 2011 (NOTE: The promotion has been extended until 15 April 2011 due to great demands).
As for entrée, you can opt for Gourmet Flat Bread, Salt & Pepper Calamari, Arancini Balls or Wild Mushroom Soup. Since it was an offer for two, I tried out two of the dishes from the list. The Salt & Pepper Calamari is a must-order. The crispy salt and pepper batter fried calamari on a bed of caramelized onion with nahm jim (spice enhanced sauce with a hint of fish sauce and lime juice), generously garnished with some greens and red chilies was something that I could not stop eating. The combination was perfect! On the other hand, the Wild Mushroom Soup, served with truffle cream, had just the right amount of earthly taste that I like.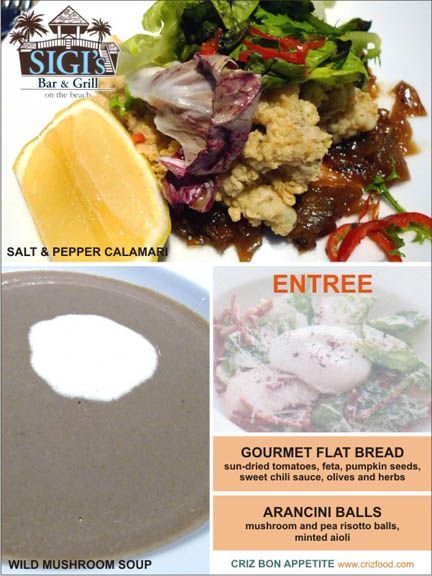 As for the Main Course, there were 5 options, namely Peppino's Classic Lasagne, Tandoori Pizza, Tagliatelle Pasta with Prawns, Pan-Roasted Chicken Breast and Sigi's Signature Fish & Chips. Since I'm a lover of wood-fired pizzas, I went for the Tandoori Pizza. The concoction was nice without too much of spiciness as I would have expected. The huge 12" pizza came with some cubed tandoori chicken, red onion slices, chopped cashew nuts, cheese with a garnish of mint chutney and yoghurt based raita. With a dash of my favorite Tabasco sauce, the pizza was almost great for me except for the base which I would prefer to be slightly thinner. I also tried out the Sigi's Signature Fish & Chips. The crispy beer-battered butterfish fillet combined with the tartar sauce was nice. At least, the mildly marinated fillet still maintained its juiciness. Although the dish was tasty, I would think it still needed a stronger dose of beer to give it that extra sour beer flavor. I loved the deep fried hand cut chips with cloves of garlic. Simply irresistible!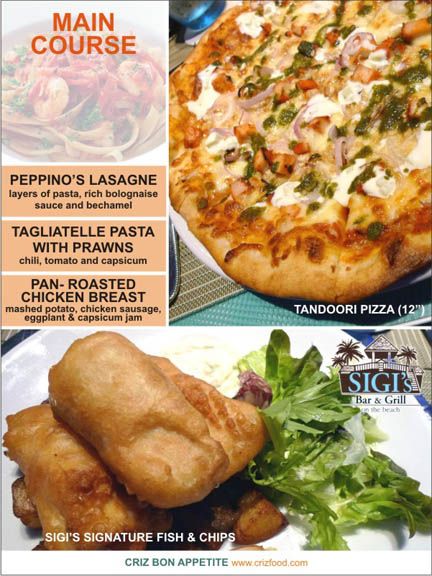 This was followed with 3 choices of desserts such as Chilled Rice Pudding, Bread & Butter Pudding or Chocolate Tart, served with either Coffee or Tea. The Chilled Rice Pudding with Strawberry Soup and White Chocolate was somewhat different compared to the recipe I had tried by Jamie Oliver from Jamie at Home. Instead of having the rice pudding served on top of some crumbled meringue, this came rather compact with rice on a pool of strawberry soup garnished with some fresh strawberries and a piece of white chocolate. This dessert would suit those with an adventurous taste bud. Compared to the former, I loved the Bread and Butter Pudding more. The baked and silky smooth pudding was simple with some hints of soaked bread slices. With a little sprinkle of grounded cinnamon, raisins and vanilla anglaise, this dessert was heaven! It had just the right amount of sweetness to suit any ages.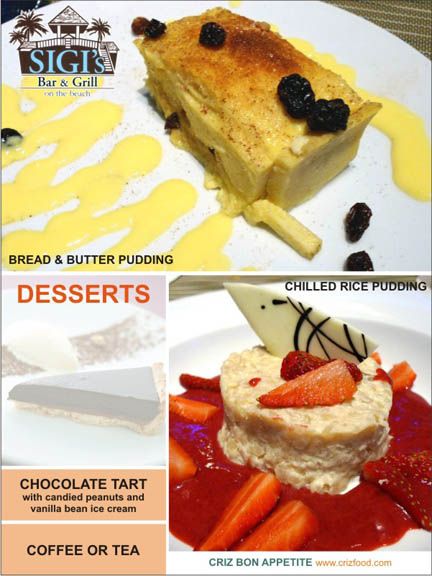 You should also not miss out their Thursday's Beach Seafood BBQ Night. This promotion is available until 28 April 2011 at RM59.90++ per pax. SBG offers a different style of seafood BBQ. The spread was rather unique compared to those I had tried elsewhere. I'm sorry you would not find any local fare here as the dishes served here had touches of cuisine from all over the world. Won't that be great for you to try out the cuisine of other continents?
You can start off your meal by visiting the soup and salad corner. You would find Seafood Chowder, French Baguette, Chef's Selection Nori Maki, Prawn Cocktail Salad, Coleslaw with Pineapple, "Chorizo, Calamari & Spiced Yoghurt Salad", Salad Niciose or even a simple Garden Salad with selected dressings. The "Chorizo, Calamari & Spiced Yoghurt Salad" is worth mentioning here as it had that unique and mild spicy flavor. With a concoction of chorizo (herbed sausages), tender calamari, yoghurt, herbs and a hint of paprika, this salad was indeed a great appetizer. Another salad which caught my attention was the Salad Niciose, a famous French salad with a combination of cooked and raw vegetables, canned tuna in oil with a touch of vinaigrette and served with wedges of hard-boiled eggs. This was a very healthy starter indeed.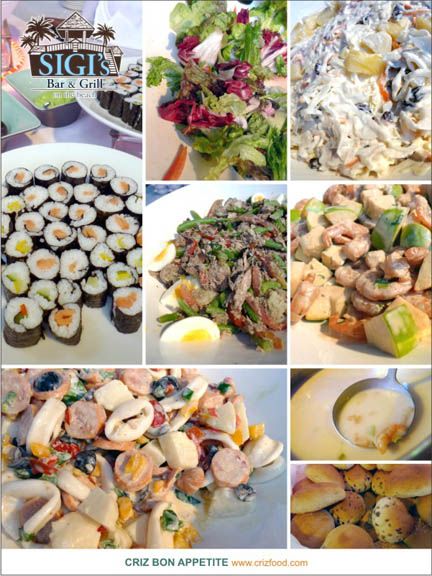 At the BBQ grill and buffet line, were some of the uniquely prepared seafood dishes that I had ever tasted. It was time for me to be adventurous then to test out the dishes from the different parts of the world. The spread included Grilled Slipper Lobster with Tarragon Butter, Coriander & Cumin Marinated Prawns, Butterfish with Chimichurri Rub, Moroccan Fish Tagine with Cous Cous, Jumbo Seafood Skewers, Grilled Chicken Tenders, Jumbo Chicken Sausages, Salmon En Papillote with Ginger & Shallot, Seafood Paella, Buttered New Potatoes, Steamed vegetables and Vegetable Ratatouille.
To name some of my favorites, the Grilled Slipper Lobster with Tarragon Butter deserved a big thumb up. The distinctive flavors from the tarragon (king of herbs in most French cuisine) butter, seeped right into the flesh, thus giving the lobster that unforgettable buttery experience. The coriander and cumin marinated tiger prawns were also good. The Butterfish with Chimichurri Rub was another great experience for me as the South American green sauce had a nice combination of fresh herbs, olive oil, vinegar, etc, that injected a unique flavor into the grilled fillet. It was also the first time I tried out the couscous, a type of North African originated dish which looked almost like cooked rice. The couscous granules are produced by rolling moistened coarsely ground semolina wheat into small balls and then coated with finely ground wheat flour. This dish is normally topped with some stew and I had Moroccan Fish Tagine on it. The combination was perfect. The Salmon En Papillote with Ginger & Shallot was another dish I love a lot. Unlike the normal Chinese paper-wrapped chicken dish which would be deep fried, the salmon fillet was baked in a sealed parchment paper envelope with some chopped ginger and shallots. It was simple and yet the taste was great. Another great dish to mention would be the Spanish originated Seafood Paella or commonly known as the seafood pan. This dish was enriched with the flavors of the seafood. From the look, I would say the restaurant used short grain bomba rice. The dish has mussels, prawns, calamari, chicken cuts with some baked chorizo strips and finely sliced fresh herbs as garnishing.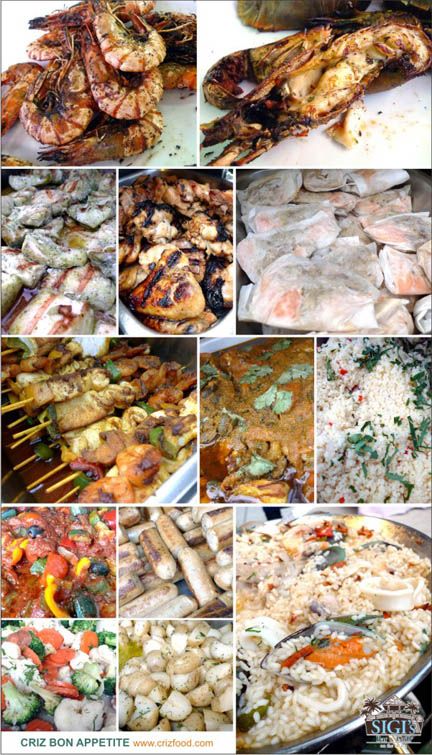 The dessert section consisted of Crepe Station, Apricot Crumble, Blueberry Cheesecake, Victoria Sponge, Selection of Pastries and fresh fruit cuts. You can choose your choice of fillings for your hotly made crepe, namely chocolate, crushed peanuts, raisins, strawberry jam, blueberry jam, chocolate rice and chips.
Here were some of the selections I had on my plate. Don't you think it was a hearty meal? 😛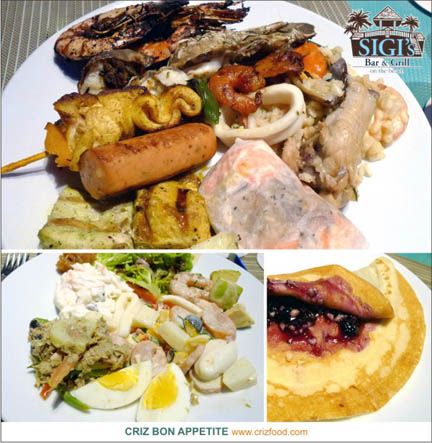 If you feel that having buffet would be rather heavy for your diet, do check out their latest Ala Carte Menu for lunch and dinner. The restaurant has a wide spread of dishes to suit you, including a wide variety of vegetarian dishes. Do try out their delicious Vegetarian Pumpkin Spinach with Ricotta Rotolo (RM34++). It has smashed pumpkin, chopped spinach, ricotta (goat cheese), wrapped in lasagna sheet and mildly burnt in sage butter. This is truly an amazing dish. Another hot item in the menu is the Kataifi-Wrapped Prawns (RM28++). The dish consists of a few tiger prawns being wrapped in kataifi (fine strips of phyllo dough) prior to being deep fried. The prawns would then be served on a bed of aioli (a mayonnaise like sauce made from garlic, oil, salt, egg with a touch of Dijon mustard at times, sometimes known as garlic mayonnaise) and garnished with some gremolata (a chopped herb condiment with lemon zest, garlic and parsley).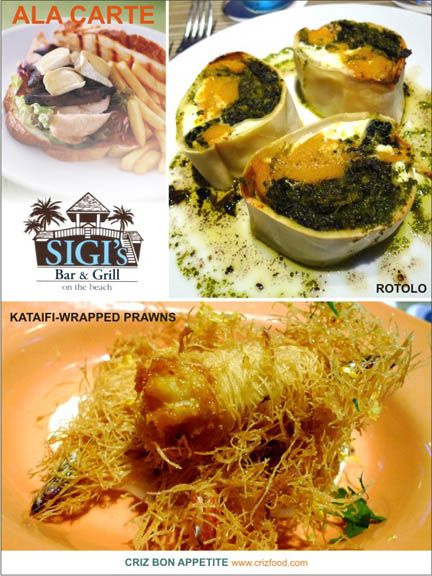 Having a typical seafood meal might not be the preference for a few. If you feel that there are too much of seafood for your consumption during the Beach Seafood BBQ Night, you can always try out their Beach BBQ Dinner, same time, on Sunday instead. You can be assured that there would be lots of meat choices. You can also check out the Garden Café and Spice Market Café promotions for March and April 2011.
The restaurant is just located within the premises of Golden Sands Resort. Drive all the way up towards Batu Ferringhi. When you see the Rasa Sayang Resort & Spa on your right, slow down and watch out for the Golden Sands Resort entrance which is right after the Rasa Sayang Resort & Spa. Park your car at the ample car park there and walk into the main lobby of the resort. Head towards the beach area and you would see Sigi's Bar & Grill on your right.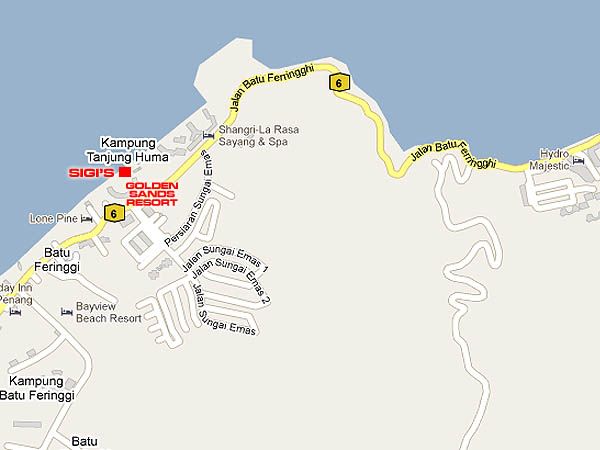 Name: SIGI'S BAR & GRILL ON THE BEACH @ GOLDEN SANDS RESORT
Address: Batu Ferringhi Beach, 11100 Penang, Malaysia.
Contact: 604-886 1852 (Direct Restaurant Line)
Business Hours:
11.00am-6.00pm, 6.30pm-10.30pm (Bar: 11.00am-11.45pm)
GPS: 5.477405, 100.251657
RATING:
Ambience: 9/10 (1-4 cheap, 5-7 average, 8-10 classy)
Food Choices: 8/10 (1-4 limited, 5-7 average, 8-10 many choices)
Taste: 8.5/10 (1-4 tasteless, 5-7 average, 8-10 excellent)
Pricing: 8/10 (1-4 cheap, 5-7 average, 8-10 expensive)
Service: 8/10 (1-4 bad, 5-7 average, 8-10 excellent)