If you are a Curry Mee lover, you would have noticed that the price for a good bowl of the noodles can be rather costly now. Even with an average price of RM3.50 per bowl, you can hardly get substantial ingredients in it. If you were to add in more "fresh toppings", a bowl might cost you more than RM5. Do you always face this problem while dining out? With the increasing cost of living in Penang, most of us would seek the next cheapest alternative which might not be to our likings. Well, you should pay this humble Curry Mee auntie along Jalan Delima a visit as she's doing the business not for profit but to pass time and she has been doing this for almost a decade. A normal bowl of her Curry Mee with lots of ingredients would cost you only RM2.80 and her portion would be based on your body size WITHOUT additional charges. Amazing! You can always add on more ingredients as per your liking but just wait until you see her large bowl of Curry Mee at only RM3.20. The bowl would come with FIVE FRESH PRAWNS plus lots of seafood. This bowl would at least cost you RM5-RM6 elsewhere.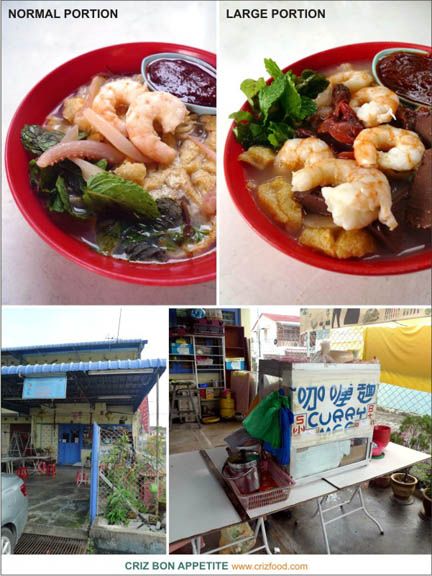 You can either choose yellow noodles, bee hoon (rice vermicelli) or a mix of both for your Curry Mee. Each bowl would come with bean sprouts, prawns, cuttlefish, cockles, pig's blood jelly, tofu puff (tau hoo pok), garnished with fresh mint leaves and served with a spoonful of sautéed shallots chili paste. The chili paste here would not be as spicy hot as most stalls she did not add in dried chilies.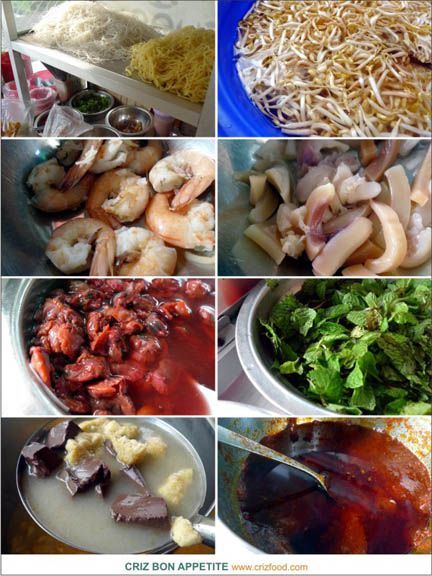 Overall, the Curry Mee served here was quite nice to my liking as it did not have that much coconut milk usage. The dish is more towards the clear soup version with a slight salty sweet taste. What attracted me most was the size and freshness of the prawns as she would only cook them when necessary. Now you know why I rather order a large bowl of the Curry Mee? It's because I love fresh seafood~ Haha! There is one important note to those who wishes to dine in her humble little place. PLEASE BRING YOUR OWN BEVERAGE as the old auntie here DOES NOT SERVE any drinks. Most of her patrons are workers and housewives, thus barely anyone would dine at her place. Another thing would be the operating hours. Most of the time, her Curry Mee would be sold out by 9.30am. So do try to go as early as possible. I'm sorry I can't provide her contact here as she had requested for some privacy.
It's not that hard to locate the place as the stall within a row of houses is just towards the end of Jalan Delima, leading to Jalan Yeap Chor Ee. If you are driving towards the Penang Bridge along Jalan Mesjid Negeri, keep to your right and watch out for the second traffic lights right after Lam Wah Ee Hospital. Turn right into Jalan Delima. You can see the former N.G. Lighting shop (on the left) and a car seller shop (on the right) of the junction. Drive all the way up until you have passed two large fields. Immediately after Field 2, slow down and keep to your left. The stall, within the compound of a house with BLUE awnings, is just 10 houses away from the second left junction.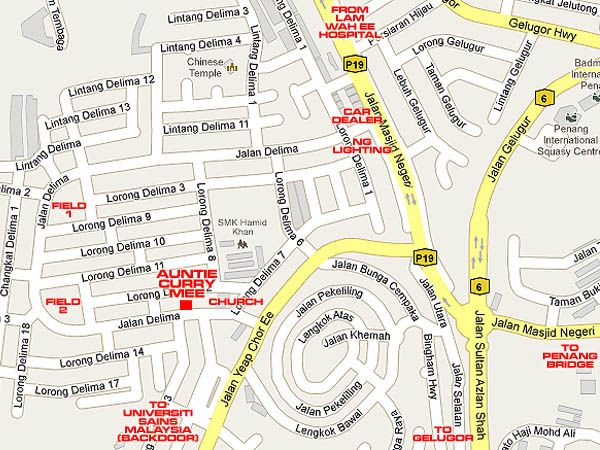 Name: AUNTIE'S CURRY MEE
Address: 9B Jalan Delima, Island Glades, 11700 Penang, Malaysia.
Business Hours: 7.30am – 10.00am
GPS: 5.380291, 100.301852
RATING:
Ambience: 5/10 (1-4 cheap, 5-7 average, 8-10 classy)
Food Choices: 5/10 (1-4 limited, 5-7 average, 8-10 many choices)
Taste: 7.5/10 (1-4 tasteless, 5-7 average, 8-10 excellent)
Pricing: 3/10 (1-4 cheap, 5-7 average, 8-10 expensive)
Service: 9/10 (1-4 bad, 5-7 average, 8-10 excellent)