Located at a secluded corner lot of the newly renovated level 6 F&B section of Gurney Plaza, this unadorned yet quaint little eatery may have been overlooked by many as just another dessert café in the mall. Carrying the name Macaron Café and with a vast display of delicious yet colorful treats, I won't be surprise that many passers-by would have the misperception. Other than desserts, Macaron Café would also serve other items ranging from appetizers, salads, soups, pastas and many little snacks of the day.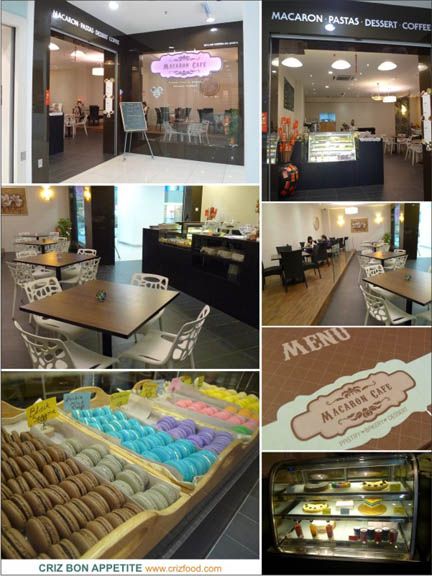 Indeed as the name depicts, this cafe serves one of the best macarons I have tasted. They were as crispy, chewy and flavorful as they should be. Those served here were to my liking as the chefs had created a version that had the minimal usage of sugar for the best texture. Thus, those macarons were not overly sweet as others. The meringue base confectioneries are practically made out of egg whites, a combination of different types of sugar, almond powder, permissible food flavors and colorings. The café would serve at least one third of the over 30 flavors that would be available daily. Although it would take a skillful chef to come out with great shaped macarons, the dessert is quite versatile for great creativity. You can have it just by itself with butter cream or jam filling or even use it for dessert decorations. One thing I would love to see from this café would be a Macaron Burger since it looked just like one except for the filling. This would surely attract more out-of-curiosity diners for the uniqueness. Hmm… I'm now thinking of macarons filled with fresh/butter cream, fresh fruit cuts with some toasted almond flakes~ 😛 At the time of my visit, there were about 9 flavors of macarons left. My personal pick: Rum & Raisins, Jaffa (orange macaron with chocolate filling) and Chocolate.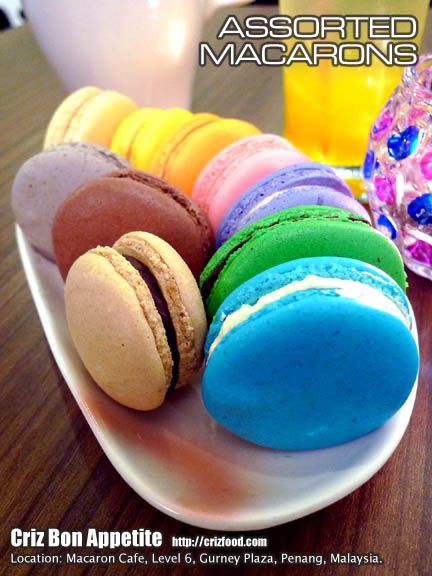 Left – (back to front): Black Sesame, Chocolate & Coffee, Right (back to front): Rum & Raisins, Lemon, Jaffa, Strawberry Bubble Gum, Mint Chocolate and Double Mint. Price Range: 1 pc-RM3.00+, 5pcs-RM14.00+ and 10pcs-RM27.50+
There are a few types of beverages available here such as coffee, tea, chocolate and fizzy drinks. What would be the best beverage to go for with macarons or other sweet treats? It's none other than latte! I had the Irish Cream Latte (RM8.90+) and it went well with my desserts.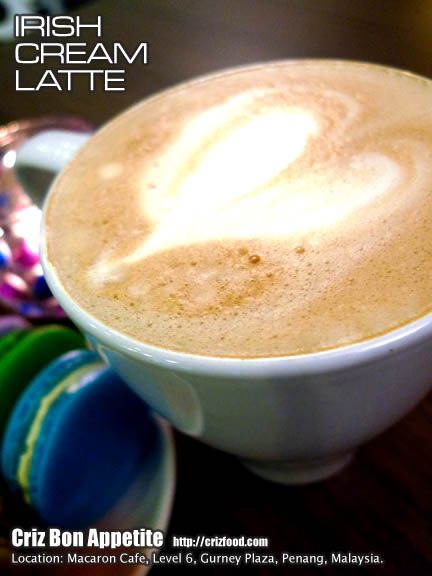 The café also serves a few different types of cakes daily. The selection varies daily based on the creation of its pastry chef. One of the favorite pick by customers would be the Rainbow Cake (RM8.90+). It has seven layers of colored vanilla butter cakes filled with strawberry jam and butter cream at alternative layers. It was soft and spongy with a mild sweetness. If you had a hard time remembering the colors of a rainbow, here's a tip. Just remember the first character of this phrase: "Royal Of Yolk Goes Battle In Vain" meaning R-Red, O-Orange, Y-Yellow, G-Green, B-Blue, I-Indigo and V-Violet.
It happened that the pastry chef had created a new cake for the day and I had the opportunity to try it out. It was the Black Sesame Cheese Cake (RM12.90+). Due to the earthly color of the black sesame combined with the milky white color of the cheese, the presentation might look like a sliced strawberry on a concrete floor but this concoction indeed gave a unique flavor to the cheese cake. The fragrance emitted from the blended black sesame seeds complemented the cheesy cream cheese taste well except that it was a tiny bit on the salty side. It might be a good idea to reduce a bit more salt from the recipe as cheese itself has the existing tad of saltiness. The base for the cheese cake was also handmade. Instead of the normal digestive biscuit texture, it had strusel, the same sandy compound used for crumbles.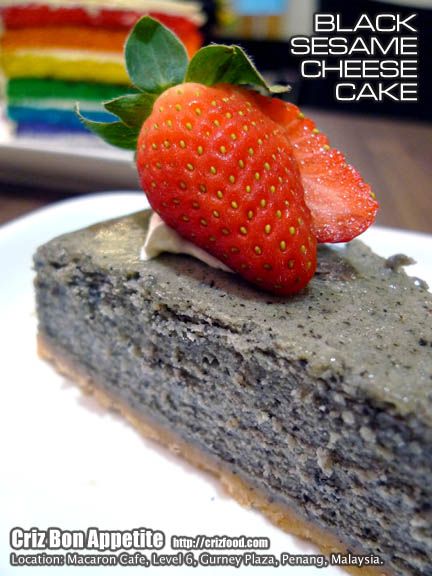 There was also the Chocolate Brownie (RM7.50+) studded with a generous amount of chopped walnuts.
If you need something lighter, you could always go for the Lamington (RM2.50+). It was just a cuboid shaped sponge cake, coated with a thin layer of chocolate and desiccated coconut.
As I had mentioned above, Macaron Café do serve other savory items ranging from appetizers, salads, soups, pastas and many little snacks of the day. As appetizer, you can try out the Chicken Roulade (RM10.90+). The preparation was almost similar to the Chicken Cordon Bleu but without the bread crumbs. This dish had pan seared chicken breast meat rolled up with turkey ham, cream cheese and spinach served on a salsa-like salad consisted of diced tomatoes, onions, sweet basil with a squeeze of kaffir lime juice. It was a simple yet fulfilling dish to start a meal.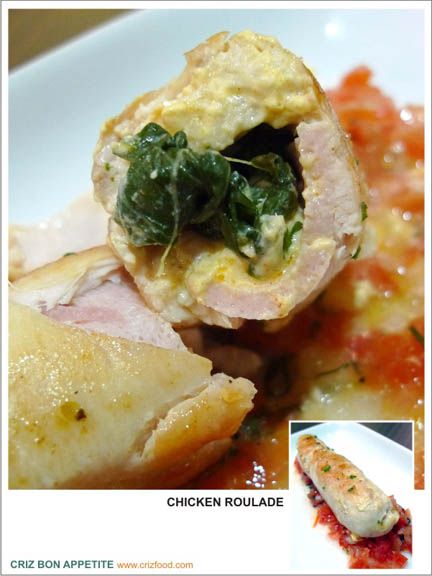 As for soup, there was the Forest Mushroom Soup (RM12.00+), topped with some cream and served with 4 slices of toasted garlic bread. The soup had 4 types of fresh mushrooms blended in such as shitake, button, shimeji white and brown. Although the creaminess of the soup was just right but it lacked more earthly mushroom flavors. Somehow I would think that the kitchen should add in more distinctive flavored mushrooms such as the fresh Portobello mushroom aka matured Swiss brown mushroom since I personally considered the pricing to be a bit too high for just a soup. I had better ones before at my regular Western cuisine stall at a much lower price of RM5.00nett.
The Penne Pollo (RM16.90+) had penne pasta mixed in sauteed shimeji white mushroom, shitake mushroom and chicken slices in a creamy pesto sauce. Sweet basil is the main ingredient in any pesto sauce, all blended in with garlic, pine nuts, parmesan cheese and olive oil. The café has twisted the recipe a bit by adding in some Thai basil for the extra flavors, thus it had that super strong basil taste which some non basil lovers might detest. Moreover, the dish lacked the color presentation. The whole dish looked rather green and overly sauced. Maybe they should try out what other eateries had done in terms of flavors and presentation such as at Nostalgie along Lorong Stewart, Penang. I personally would prefer pan-fried chicken over sautéed chicken breast meat with some fresh greens such as some cherry tomatoes to suppress the overwhelming taste of basil leaves. This dish was garnished with some parmesan cheese.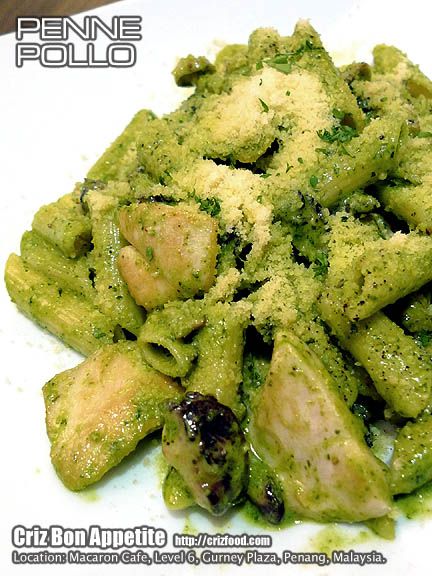 The café would also serve some ad hoc ala carte dishes occasionally such as American Beef Burger (RM16.90+), Chicken Picatta (RM18.90+), Chicken Parmagiana (RM18.90+), Croque Monsieur (RM14.90+), Croque Madame (RM15.90+), Pavlova (RM10.90+) and many more. Overall, the café fair better in sweet treats rather than savory dishes. I guessed they would need more time to balance up the best of both worlds to be a super star in the culinary industry. All items would have a 10% service tax imposed.
If you know how to get to Gurney Plaza, you won't have any problem finding the café as it's just next to the escalator up at level 6 of the mall, somewhat hidden behind a big square pillar.
Name: MACARON CAFÉ @ GURNEY PLAZA
Address:
170-06-01A, 6th Floor, Gurney Plaza (Old Wing),
Persiaran Gurney, 10250 Penang, West Malaysia.
Contact: 604-229 4389
Business Hours: 10.00am-10.00pm
GPS: 5.437204, 100.308844
RATING:
Ambience: 7/10 (1-4 cheap, 5-7 average, 8-10 classy)
Food Choices: 7/10 (1-4 limited, 5-7 average, 8-10 many choices)
Taste: 7/10 (1-4 tasteless, 5-7 average, 8-10 excellent)
Pricing: 7.5/10 (1-4 cheap, 5-7 average, 8-10 expensive)
Service: 8/10 (1-4 bad, 5-7 average, 8-10 excellent)