Bonne fête~ Happy holidays everyone~ 🙂 After a tantalizing Thai cuisine promotion, Swez Brasserie @ Eastin Hotel, Penang, is currently having a Fabulously French promoting for the whole month of May 2012 (1-31 May 2012). You can now savor mouth-watering and delicate French cuisine ranging from délicieux soup, prawn persillade, baked mussel Provancal to a spread of sweetness from desserts such as caramelized crepe suzette, macarons and more, under the skillful hands of Chef Daniel Tan, Senior Sous Chef and Chef Franco Ho, Pastry Chef. There would also be a 15% off the bill for all MAYBANKARD & VISA card members.
As for starter, Crevettes et Avocat en Salade (French Shrimps with Avocado Salad/南美梨鮮蝦沙拉) was served. The orange color of the salad looked as though it was dressed with thousand islands dressing but it was not. It had that fruity citrus flavor with a slight peppery cream filled spiciness. I could be sure there was some Dijon mustard being added in with a mild touch of balsamic vinaigrette or maybe Tabasco sauce. It was light and refreshing to start off the meal.
I love the next one which was the Petite Salade de Fruit de Mer en Vol-au-Vent (Marinated Seviche of Seafood/酸橘汁腌海鮮沙拉) most. It was like having very creamy rich seafood chowder with added fruit cubes served on a buttery puff pastry. The combination of flavors was perfect as finger food. Anyone going to make these lil' heaven for canapé party, please count me in~ 😛
The French are good in preparing their soup with the abundance of fresh crustaceans, herbs and spices available. The Bisque de Crabe Armoricaine (Crab Bisque/法式螃蟹浓湯) was good, even better than the lobster bisque I had at QEII. Somehow, even without the usage of wine or cognac, the soup was filled with flows of seafood freshness that were not too intruding with heavy brine taste. Each scoopful was filled with rich aromatic flavors from the accumulated roasted crab shell, slight bitterness at first followed by a fresh and buttery aftertaste. I just hope they will reduce a bit of salt in there as crab meat would absorb some salt water too. There were bits of chunky crab meat, some cream and a sprinkle of chopped chives.
On the other hand, the seafood boasted Bouillabaisse (Mediterranean Seafood Soup/地中海風味海鮮湯) came with clearer soup. This soup tasted rather different compared to the ones I had tried before. Maybe it's due to the hotel being HALAL certified and can't add wine in their dishes. The taste was quite similar to onion vegetables soup, a bit saffron spiced, with mild sourness from the added tomatoes, carrots and a light touch of lemon juice. It has large prawns, scallops and mussels to pep up the seafood richness.
As entrees, you could also be served with the Canard al'Orange (Roasted Duck with Orange Sauce/橘子醬烤鴨) as one of the options. Well, the roasted duck meat tasted just like any other boiled meat without the distinctive roasted flavor. I still love the smoked duck served here though. The meat was not to the tenderness of my choice and the orange sauce was just as thin as orange juice. I would prefer something thicker like puree base to blend in well with the meat. I hope the kitchen would improve more on this dish.
The Carre d'agneau Provencale (Rack of Lamb Provencal/普羅旺斯烤羊排) was something to yearn for. The roasted rack of lamb had just the right texture, flavors and juiciness as it was done medium rare. What was killing was the crust. It was awesomely prepared with just some mixture of basic herbs (thyme & rosemary), lots of chopped garlic, onions, breadcrumbs, salt, pepper, Dijon mustard and egg for the glue effect. Each slice had the fragrant and aromatic flavors. It went well with the brown sauce and mint sauce served.
The Riz Pilaf au Poulet et Pois (Chicken and Peas Pilaf/雞肉豌豆烤米飯) was how the French cook their rice dishes such as how the Spanish would cook their paella like the one I had at Sigi's Bar & Grill on the Beach, Golden Sands Resort, Penang. To me, it tasted more like stewed chicken meat mixed with buttered steamed rice with added green peas, broccoli, cauliflower, tomatoes and capsicum. There was nothing much to shout about on this dish.
French desserts have been internationally known as one of the finest in the world. In fact, their pastries had gotten many dessert lovers going crazy over them. One of such dessert served here is their Tarte aux Pommes (French Apple Tart/法式苹果塔). This version is different in the sense that it's healthier and less sugar content than what you would get from an American Apple Pie. It's totally not McD's version. Think about Portugese Egg Tart with semi cooked Granny Smith green apple slices and you would get your Tarte aux Pommes.
The one dessert that I can't get enough of is the Creme Brulee (Trinity Cream/焦糖雞蛋布丁). The ones served here were the best I had so far although they were just plain. These were smooth, melt-in-the-mouth goodies with just a light touch of burnt sugar on the surface. In fact, this is the right way to make Crème Brulee rather than some outlets with a thin layer of caramelized sugar on its surface. It's a double thumbs-up for this dessert! 🙂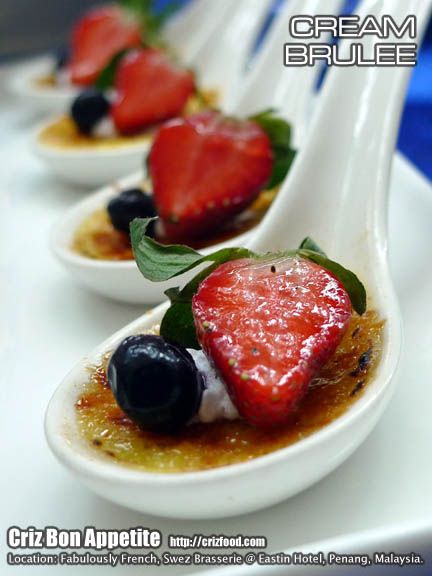 Wherever you go, you would surely spot those colorful mini burger lookalike treats that got the whole world crazy over them. Those are macarons, a sweet meringue based confectionery which are made from egg whites, sugar, almond powder and food coloring, then sandwiched with some sweet cream. The ingredients may sound simple but this is one of the hardest recipes to manage. I loved the Assorted Macarons (馬卡龍蛋白杏仁餅) as Chef Franco had decided to stick to the basic without using much artificial colorings. I have to declare that these macarons were the best! Both the macarons served had the minimum sweetness with the right balance of Yin and Yang. The first one was the Vanilla Macaron with Coffee Cream. The sweetness of the vanilla meringue cookies went well with the bitter sweet coffee cream. The next macaron was the Pandan Macaron with Lemon Vanilla Cream. Sweetness plus sourness have always been a great combination for desserts.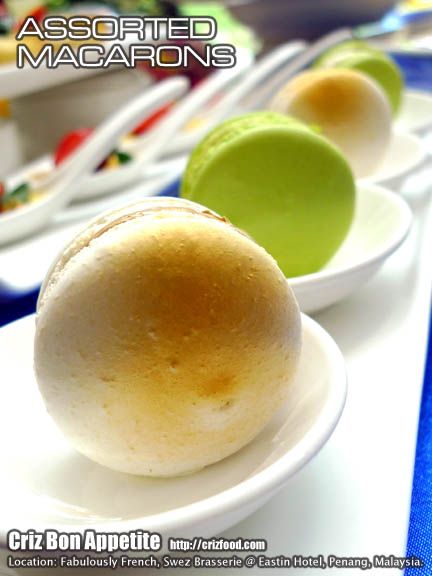 Overall, Swez Brasserie fairs better in Western cuisine. Chef's Daniel's knowledge in utilizing Western herbs and spices sure made the dishes more appetizing. Moreover, now is the best time to savor all his nicely cooked French cuisine. On the other hand, I'm beginning to love their desserts even more. It looked as though the pastry chef has moved towards a healthier lifestyle by lessening the sugar content in all his pastries. I truly support that move, Chef Franco! 🙂
Here's the summary of the promotion.
FABULOUSLY FRENCH PROMOTION (1-31 MAY 2012)
Lunch (12.00 noon – 2.30pm): Monday – Friday
RM48++ (adult), RM24++ (child)
Hi-Tea (12.00 noon – 3.00pm): Saturday, Sunday & Public Holidays
Normal weekend: RM55++ (adult), RM28++ (child)
Festive Occasion (Mother's Day): RM68++ (adult), RM34++ (child)
Semi Buffet Dinner (6.30pm – 10.00pm): Monday – Thursday
RM48++ per pax
The Swez Brasserie is located at the ring wing of Eastin Hotel, Penang (next to Queensbay Mall). If you are coming from Georgetown towards Bayan Lepas Free Trade Zone via Bayan Lepas Expressway, do watch out for the Pulau Jerejak signboard (leading to Pulau Jerejak jetty). Ignore the turning and drive on to the next left junction. Turn left into Jalan Aziz Ibrahim and drive on until you a roundabout. Turn 3 o' clock and drive on until you see a big Eastin Hotel signboard at the first right junction. Turn right and drive on. Park your car at the basement car park. Take a lift to the first floor lobby and you would see the restaurant there.
Name: SWEZ BRASSERIE @ EASTIN HOTEL
Address: 1 Solok Bayan Indah, Queens Bay, 11900 Bayan Lepas, Penang, Malaysia.
Contact: 604-612 1128, 604-612 1138
Business Hours: 12.00pm-2.30pm (Lunch), 6.30pm-10.00pm (Dinner)
GPS: 5.33643, 100.306345
RATING:
Ambience: 8/10 (1-4 cheap, 5-7 average, 8-10 classy)
Food Choices: 8/10 (1-4 limited, 5-7 average, 8-10 many choices)
Taste: 7.5/10 (1-4 tasteless, 5-7 average, 8-10 excellent)
Pricing: 8/10 (1-4 cheap, 5-7 average, 8-10 expensive)
Service: 8/10 (1-4 bad, 5-7 average, 8-10 excellent)