Swez Brasserie @ Eastin Hotel, Penang, would be having its Peranakan Cuisine Promotion for the whole month of July 2012 (1-31 July 2012). The Peranakan cuisine or commonly known as Nyonya cuisine, is a combination of Chinese (different origins), Malay and other influences such as Thai and Indian into a unique blend of its own. This promotion would be under the skillful hands of the Jr. Sous Chef, Chef Ong Chin Hock and Pastry Chef, Chef Franco Ho.
We were served with the Nyonya Acar Awak (娘惹阿渣泡菜), a spicy mixed vegetables which consisted of cabbages, carrot, cucumber and cauliflower, stir mixed in a spicy sauce which has hints of shallots, garlic, chilies, turmeric, coarsely pounded toasted peanuts and toasted sesame seeds and more. The Acar Awak served here was extremely simplified and was not anywhere near the authentic version. Firstly, the vegetables were overcooked. The dish should have fast blanched vegetables rather than cooked vegetable to preserve the mild crunchiness. Moreover, long beans were not added. The overall taste lacked the creaminess from more added pounded peanuts, the fragrance from some added red and green chilies and a more distinctive sourness from some added vinegar.
The Nyonya Kerabu Ayam (Nyonya Chicken Salad/娘惹涼拌雞肉) was a better choice for me as it had a Thai twist to the authentic recipe without the usage of wood ear fungus. It was creamier than the normal Nyonya version with distinctive flavors from the added ginger flower, lemongrass and toasted desiccated coconut (kerisik). However, the red chilies should be julienned rather than sliced for a more fine display and they should not be too overpowering as served.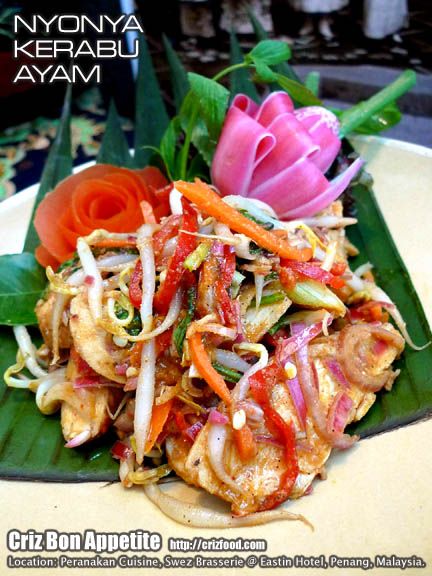 Another appetizer that we had was the Nyonya Kuih Pie Tee (娘惹金杯薄餅) or commonly known as the Singapore Top Hats. The version served here was totally different as it had stir fried minced chicken filled in each cup and topped with some fried shallots and chopped spring onions. I would say they were too dry to my liking as the filling lacked some vegetables such as julienned carrot and jicama for some moist bites.
As main course served with steaming rice, we had the Itik Tim (Duck & Salted Vegetable Soup/鹹菜鴨湯). The duck pieces had the right tenderness. The soup had the right flavors from the salted green mustard (kiam chye), preserved salted plum, tomatoes, peppercorns, onions, dried chilies and young galangal but it was rather salty. This Nyonya duck soup may look easy to cook but without the right skills to get rid of the excess saltiness in the salted vegetables and the right tuning in saltiness and sourness from the preserved salted plums, the whole dish may end up disastrous. I was also wondering why young galangal were used in this recipe as old ginger would be a better choice to pep up the flavors with a more gingery spice taste. Moreover, this was one great ingredient to get rid of the "gas" as believed in the traditional Nyonya cooking.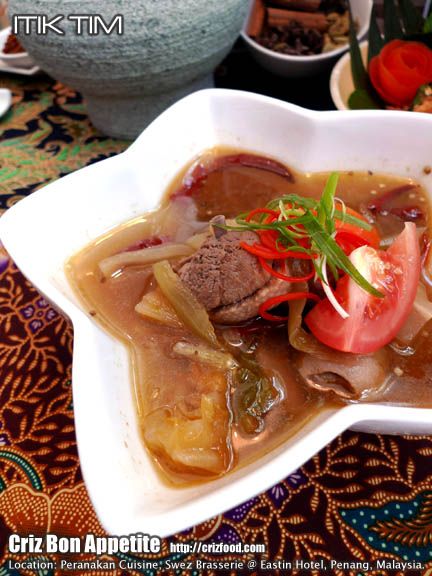 As for the Nyonya Yellow Curry Chicken (娘惹風雞肉黃咖哩), it did not amaze me much as the usage of curry powder was overwhelming. It was not even near Nyonya, Malay or even Indian style of cooking. The flavor was rather flat, sweet and sandy without the prominent flavors from star anise, cloves, cinnamon bark, cardamom and more. There were no traces of tomatoes too for that mild sourness and a pinch or two of salt would have given the dish a better justice.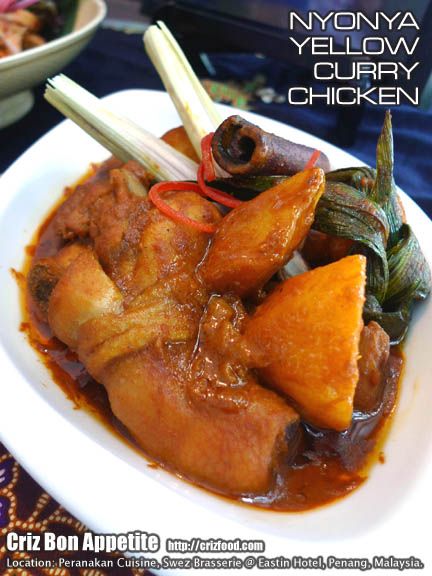 The next dish which was the Assam Prawns (阿參蝦) also had a big twist in the recipe. Other than the normal marinate of tamarind, sugar and salt, the prawns had some shrimp paste (belacan) added in. I won't say it was a totally bad fusion but it indeed tasted out from the norm. As this is a hotel and having white shelled prawns which were costlier would be quite impossible for their budget, tiger prawns were used instead. It really did not bring out the flavors as I would have expected.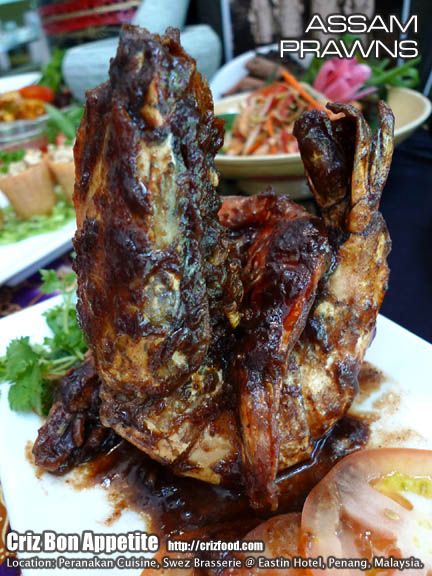 Their Jiu Hoo Char (Stir Fried Jicama with Dried Cuttlefish/魷魚炒甜蘿蔔絲) would have made my Mum screamed for originality. I would rather have this filled in my Kuih Pie Tee instead. Basically, the dish consisted of unevenly julienned jicama, carrots and French beans stir fried with some dried cuttlefish. The taste was just average considering that no meat pieces were added in and no extra fragrance from some thinly sliced Chinese mushrooms at all. I won't even consider this dish as Nyonya at all although this is one of the signature dishes in Peranakan cuisine.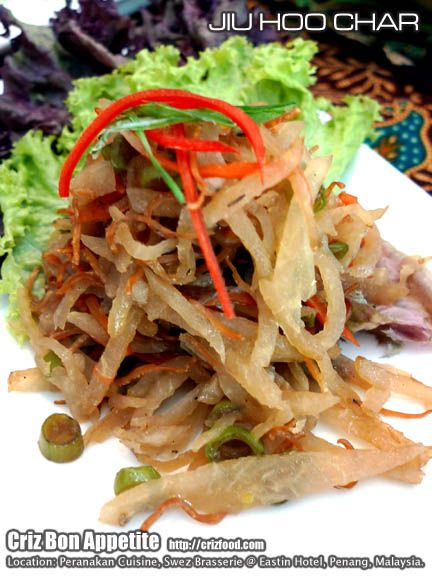 As for dessert, we had some Bee Koh Moy (Black Glutinous Rice Porridge/黑糯米粥) topped with some slightly salted coconut milk. Somehow the dessert lacked some white glutinous rice added in to give it the extra thickness. They could have added in some dried longan as well for some natural sweetness and flavor.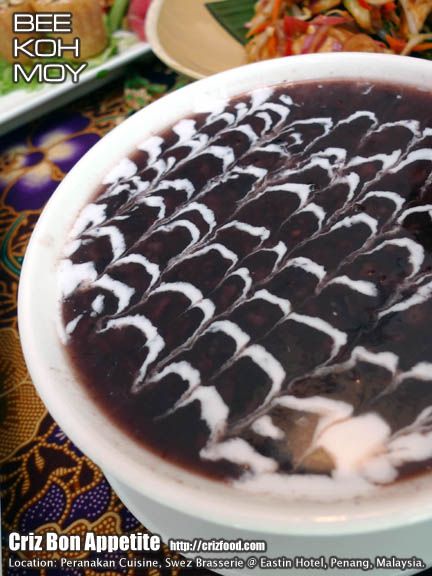 We also had an assortment of Nyonya Kuih such as the Mini Ang Koo, Cai Tao Kuih (Radish Cake with Pounded Peanuts), Kuih Bingka Ubi (Tapioca Cake), 9 Layers Kuih Lapis (Gao Chan Gou) and Kuih Bengkang (purple color).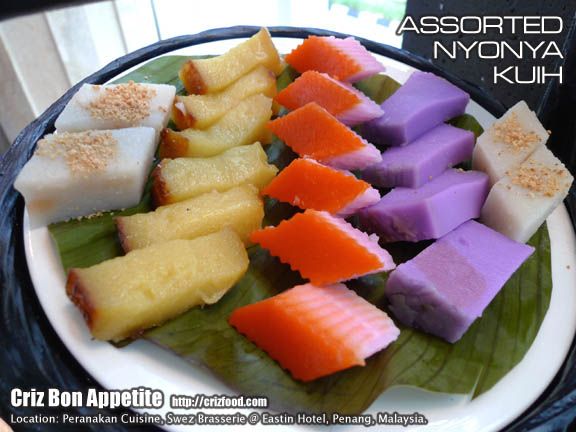 Since it's still the durian season in Penang now, Chef Franco treated us with his latest creation, Durian Layer Cake. It had a mix of some fresh branded durian flesh added in.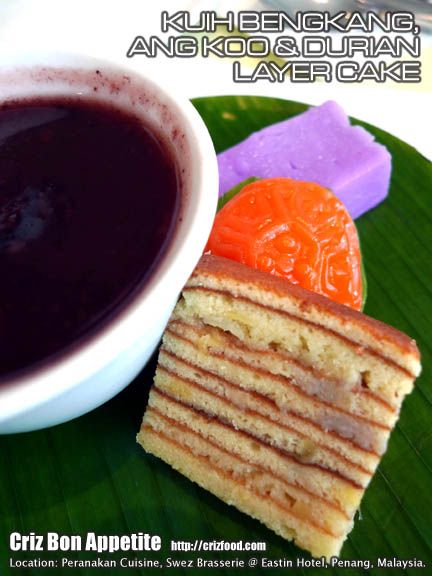 Overall, I would still prefer the authentic Peranakan/Nyonya cuisine rather than the fusion versions served at Swez Brasserie. This dishes served here might suit the taste buds of foreigners but to us Penangites who were born and bred in the Peranakan influenced tradition, the dishes were too mild. Peranakan cuisine is all about making the best usage of herbs and spices to storm out dishes that would be filled with rich flavors for the palate of a family. Some cuisine can't be too fusion at all as it would kill the authentic flavors of yesteryears. Personally, my preference would still be Ivy's Kitchen in the heart of George Town for a more authentic Peranakan cuisine.
Here's the summary of the promotion.
PERANAKAN CUISINE PROMOTION (1-31 JULY 2012)
Lunch (12.00 noon – 2.30pm): Monday – Friday
RM48++ (adult), RM24++ (child)
Hi-Tea (12.00 noon – 3.00pm): Saturday, Sunday & Public Holidays
Normal weekend: RM55++ (adult), RM28++ (child)
Festive Occasion (George Town World Heritage Day – 7 July 2012): RM68++ (adult), RM34++ (child)
Semi Buffet Dinner (6.30pm – 10.00pm): Monday – Thursday
RM48++ per pax
For MAYBANKARD & VISA card members, you can enjoy 15% discount for the Peranakan Cuisine Semi Buffet Dinner (Monday to Thursday) and Weekend Buffet Dinner (Friday to Sunday) from 6.30pm – 10.00pm.
The Swez Brasserie is located at the ring wing of Eastin Hotel, Penang (next to Queensbay Mall). If you are coming from Georgetown towards Bayan Lepas Free Trade Zone via Bayan Lepas Expressway, do watch out for the Pulau Jerejak signboard (leading to Pulau Jerejak jetty). Ignore the turning and drive on to the next left junction. Turn left into Jalan Aziz Ibrahim and drive on until you a roundabout. Turn 3 o' clock and drive on until you see a big Eastin Hotel signboard at the first right junction. Turn right and drive on. Park your car at the basement car park. Take a lift to the first floor lobby and you would see the restaurant there.
Name: SWEZ BRASSERIE @ EASTIN HOTEL
Address: 1 Solok Bayan Indah, Queens Bay, 11900 Bayan Lepas, Penang, Malaysia.
Contact: 604-612 1128, 604-612 1138
Business Hours: 12.00pm-2.30pm (Lunch), 6.30pm-10.00pm (Dinner)
GPS: 5.33643, 100.306345
RATING:
Ambience: 8/10 (1-4 cheap, 5-7 average, 8-10 classy)
Food Choices: 8/10 (1-4 limited, 5-7 average, 8-10 many choices)
Taste: 6/10 (1-4 tasteless, 5-7 average, 8-10 excellent)
Pricing: 8/10 (1-4 cheap, 5-7 average, 8-10 expensive)
Service: 8/10 (1-4 bad, 5-7 average, 8-10 excellent)