Note: Please take note that Ah Leng Char Koay Teow had relocated to another coffee shop named Restoran Tong Hooi, opposite the current place and next to the Federal Place.
Penang is ranked by CNNGo as one of Asia's 10 Greatest Street Food Cities with a list of the Top 10 Penang Street Food ranging from the top rated Penang Assam Laksa, Hokkien Mee, Wantan Mee, Nasi Kandar, Rojak, Loh Bak, Curry Mee, Char Koay Teow, Kuih Chiap and Ais Kacang. I have a lot of foreign/outstation readers asking me where would be the best place for Char Koay Teow but I would give them a blank look as I seriously don't know even though I was born as a Penangite. Instead, I would throw them some questions, "What sort of Char Koay Teow would you be looking for? Would you be looking for one that would have all the high heat frying (wok hei) where you can taste the true flavors of the koay teow and scrambled eggs, one with nice spicy fragrance from specially selected chilies or one with all the fresh seafood added in?" Eventually as an island with fresh seafood catches daily, most would opt for the one with the added seafood. Most would end up at one of the famous ones (commercially recommended by tourists) at Ah Leng Char Koay Teow located at a corner coffee shop along Jalan Dato Keramat, Penang.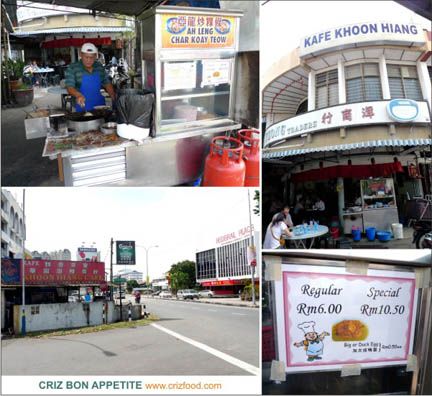 A basic plate of Char Koay Teow at Ah Leng would consist of koay teow (flat noodles), prawns, cockles, chicken egg, bean sprouts and Chinese chives. Each plate would cost RM6.00nett. If you requested for the special with added prawns (x4) and mantis prawns (x4), it would be priced at RM10.50nett. Extra noodles and/or with duck egg would cost an additional of 50sens nett per ingredient.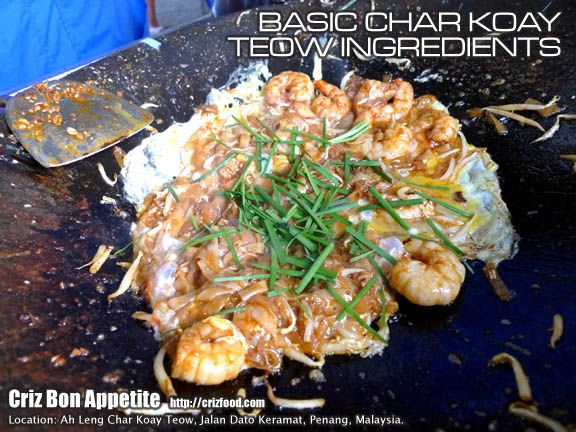 This is how a special plate of Ah Leng's Char Koay Teow with Duck Egg (RM11.00nett) looks like. I was wondering. Am I having fried seafood with koay teow or fried koay teow with seafood? The seafood practically drowned the few mouthfuls of noodles as shown below.
Overall, I would think that the Char Koay Teow is a bit too overpriced with barely 3-4 mouthfuls of koay teow. I could easily get a decent portioned Char Koay Teow (minus the big prawns but with duck egg) for RM3.50nett and you can truly taste the "wok hei" on the koay teow distinctively. Even with the big prawns (RM1/prawn based on market rate) and mantis prawns (RM0.40/prawn based on market rate), the whole plate would cost around RM9.00nett. I'm sure through bulk purchases, the ingredients cost would even be lower. I personally feel that if I wanted to have seafood served that way, I would rather go to a seafood restaurant instead. However, the prawns served here were no doubt super fresh and firm to my liking. Unfortunately, the flavors on the koay teow were under my expectation. They were rather little and mushy from the lack of "wok hei" and were more to the sweeter side compared to other outlets. I really detested having any authentic savory street food being turned sweet.
Since there is only one way to find parking spaces along Jalan Dunlop leading to Jalan Dato Keramat where the coffee shop is, I'll show you the easiest way. If you are coming from Jalan Macalister via Loh Guan Lye Specialists Centre, you would reach a traffic light (Ghee Hiang). Keep to your right and turn into Jalan Anson. Drive on until you reach the 5th junction on your left (Jalan Dunlop). Turn left into Jalan Dunlop. Drive on until you reach almost the end of the road and find any parking spaces available. Walk on and you will see the coffee house at the junction of Jalan Dunlop/Jalan Dato Keramat.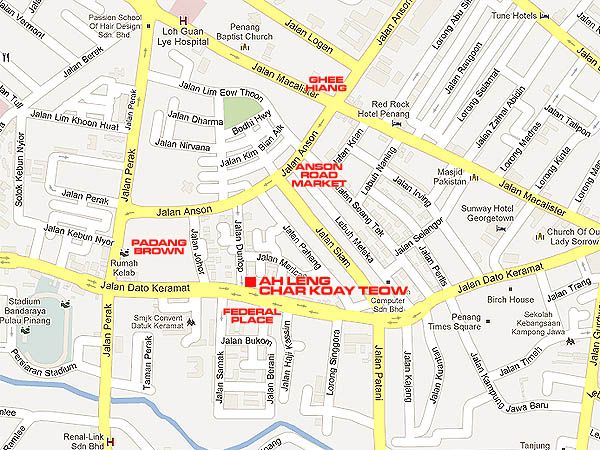 Name: AH LENG CHAR KOAY TEOW @ KAFE KHOON HIANG
Address: 358 Jalan Dato Keramat, 10150 Penang, Malaysia.
Contact: 012-498 3962 (Ah Leng)
Business Hours: 8.30am-2.30pm (Closed Thursday)
GPS: 5.412953, 100.319552
Branch Address: 30W Jalan Chor Sin Kheng, Air Itam, 11500 Penang, Malaysia.
Business Hours: 5.00am-11.00pm (Closed Wednesday)
GPS: 5.402892, 100.284337
RATING:
Ambience: 6/10 (1-4 cheap, 5-7 average, 8-10 classy)
Food Choices: 6/10 (1-4 limited, 5-7 average, 8-10 many choices)
Taste: 7/10 (1-4 tasteless, 5-7 average, 8-10 excellent)
Pricing: 8/10 (1-4 cheap, 5-7 average, 8-10 expensive)
Service: 7/10 (1-4 bad, 5-7 average, 8-10 excellent)