When you have some good friends around, you tend to receive all different kind of food during their visits elsewhere. Recently, I have received some beautifully made wonton noodles from the heart of Kuala Lumpur, Malaysia, as well as the most delicious roasted duck from Lunas, Kedah, Malaysia. I was thinking, should I made some nicely wrapped prawn and minced pork wonton soup to go with the noodles but cooking some thick soup with just a small number of noodle s was not worth the effort. Eventually, I combined the wonton noodles and the roasted duck and made a simple noodle dish without much hassle. Let me share with you my simple STIR FRY WONTON NOODLES WITH ROASTED DUCK recipe today.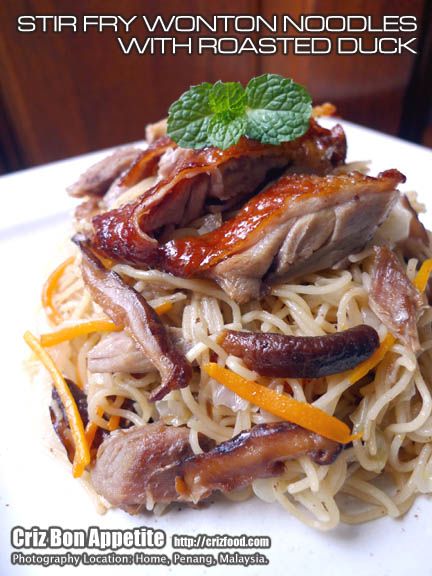 INGREDIENTS:
5 wonton noodles (about 300g)
1/4 roasted duck/chicken (remove bones & tear to bite sizes. Leave some whole piece for garnishing. Roast them a bit if required.)
7-8 Chinese mushrooms (Soak, slice thinly and marinate with some soy sauce, sesame oil, pepper, ginger juice and a pinch of sugar. Retain juice for later usage)
1/2" ginger (grated)
1 tbsp garlic (finely chop)
250g cabbage (slice thinly)
1 small carrot (finely julienne)
Oil
A light sprinkle of salt & pepper to taste
Noodle sauce:
Garlic in oil (1 tbsp chopped garlic sauté with 3 tbsp oil)
3 tbsp oyster/mushroom sauce
2 tbsp soy soy
1 tbsp sesame oil
1/2 tsp Shao Xing wine/brandy
Pinch of salt
Some pepper
GARNISHES:
Red chili (optional)
Iceberg lettuce (optional)
Deep fried shallots (optional)
Roasted duck (optional)
PREPARATIONS:
• Heat up about 3-4 tablespoons of oil in a wok and sauté one tablespoon of chopped garlic until golden brown. Scoop out into a small bowl to be used for the noodle sauce.
• Add in some more oil and sauté the sliced mushrooms and sauté until brown. Scoop and leave aside.
• Add in some more oil and sauté some chopped garlic with the roasted duck meat for about 2-3 minutes. Scoop and leave aside.
• Heat up a pot of water and wait until it boils. While waiting, mix all the ingredients in the "noodle sauce" section thoroughly.
• When the water is boiled bubbly, loosen all the wonton noodles and put them into the water. Give it a stir or two for about 30 seconds. Pour into a sieve while giving it a quick splash of cold water. Drain it well.
• Pour in all the noodle sauce and mix the noodles evenly. Leave aside.
• In the wok, add in some more oil and put in the sliced cabbage and julienned carrots. Stir it until cook while adding some of the retained mushroom juice. Throw in a light pinch of salt and pepper.
• Pour in the wonton noodles and stir evenly. When the noodles are evenly mixed, add in the sauteed mushrooms and roasted duck meat. Stir thoroughly.
• Scoop out onto a serving plate and garnish with some roasted duck meat and some sliced iceberg lettuce if available.
• Serve hot with some sambal belacan or pickled green chilies.
(Serves: 4-5)
YOU CAN CHECK HERE FOR MORE RECIPES.