For the whole month of July 2014, Swez Brasserie @ Eastin Hotel, Penang, would be having its Peranakan Cuisine Promotion (1-31 July 2014). The Peranakan cuisine or more commonly known as the Nyonya cuisine, is a cuisine combination of Chinese (different origins), Malay and other influences such as Thai and Indian into a unique blend of its own. This promotion would be under the skillful hands of the Asian Kitchen Chef, Chef Chan Teik Onn.
Firstly, you would get to savor the Deep Fried Chicken Lobak (炸鸡肉卷), a Nyonya favorite meat roll which consisted of marinated chicken slices in 5-spice powder and some added jicama rolled in dry bean curd sheet. This is one common dish you would find at most economy rice stalls.
You would also get to savor the super time consuming dish known as the Nasi Ulam (野菜饭食). Sometimes also known as the Jungle Herbs Rice, this dish is definitely a very healthy diet as most of the ingredients are taken raw. This is one of my favorite dishes with the fragrance coming from some added deep fried salted fish and dry shrimps. Though it's one of the hardest dishes to make, you might want to check out the ingredients in my recipe.
The next dish which was the Assam Prawns (亚参虾) had nicely marinated prawns with tamarind, a light touch of sugar and soy sauce. However, I still don't like the idea of using tiger prawns instead of the ideal white/green shelled prawns as it won't bring out the true flavors of this dish.
To all the kids, the next dish is everyone's favorite – the Inchi Kabin (娘惹式炸鸡). In a Nyonya family, everyone has their own secret recipe for this wonderful deep fried chicken. Some would add curry powder with some dashes of coconut milk. Some would just have them with turmeric powder with some added coriander powder. Some would have a bit of each spice which would include cinnamon, fennel, cloves, etc. Overall, no matter how the chicken pieces (mostly chicken wings) were marinated, any piece of freshly fried chicken would surely boost up anyone's appetite for more.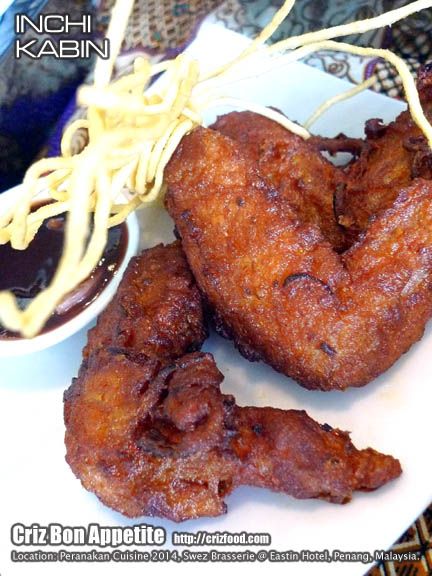 You would also have the Jiu Hoo Char (Stir Fried Shredded Dry Cuttlefish with Vegetables/鱿鱼炒蔬菜), a dish consisted of julienned jicama, carrots, Chinese mushroom and French beans stir fried with some dried cuttlefish. This is one of the signature dishes in Peranakan cuisine and best taken with some Chinese lettuce and sambal belacan.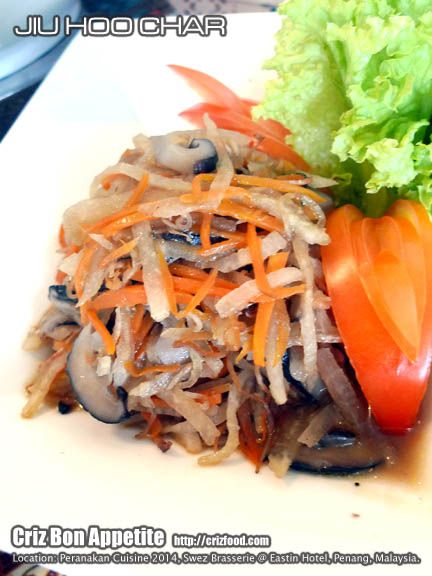 As for desserts, you would get to savor the Assorted Nyonya Kuih (各式娘惹糕点), which had some resemblances to the Malay kuih.
Overall, the cuisine served would be quite standard as you would get from the eateries out there. However, Peranakan/Nyonya cuisine can be rather time consuming in terms of preparation, so I guessed we might as well enjoy the chefs' hard work in storming up those herbs and spiced infused dishes.
Here's the summary of the promotion.
PERANAKAN CUISINE PROMOTION (1-31 JULY 2014)
Lunch (12.00 noon – 2.30pm): Monday – Friday
RM50++ (adult), RM25++ (child)
Hi-Tea (12.00 noon – 4.00pm): Saturday, Sunday & Public Holidays
Normal weekend: RM68++ (adult), RM34++ (child)
Semi Buffet Dinner (6.30pm – 10.00pm): Monday – Thursday (28-31 July 2014)
RM50++ per pax
American Express, CIMB Bank, Citibank, OCBC Bank, Standard Chartered Bank, MasterCard Worldwide, Maybank and UOB Bank card members, guests can enjoy 15% discount for Semi Buffet Dinner (Monday – Thursday from 28-31 July 2014).
The Swez Brasserie is located at the ring wing of Eastin Hotel, Penang (next to Queensbay Mall). If you are coming from Georgetown towards Bayan Lepas Free Trade Zone via Bayan Lepas Expressway, do watch out for the Pulau Jerejak signboard (leading to Pulau Jerejak jetty). Ignore the turning and drive on to the next left junction. Turn left into Jalan Aziz Ibrahim and drive on until you a roundabout. Turn 3 o' clock and drive on until you see a big Eastin Hotel signboard at the first right junction. Turn right and drive on. Park your car at the basement car park. Take a lift to the first floor lobby and you would see the restaurant there.
Name: SWEZ BRASSERIE @ EASTIN HOTEL
Address: 1 Solok Bayan Indah, Queens Bay, 11900 Bayan Lepas, Penang, Malaysia.
Contact: 604-612 1128, 604-612 1138
Business Hours: 12.00pm-2.30pm (Lunch), 6.30pm-10.00pm (Dinner)
GPS: 5.33643, 100.306345
RATING:
Ambience: 8/10 (1-4 cheap, 5-7 average, 8-10 classy)
Food Choices: 8/10 (1-4 limited, 5-7 average, 8-10 many choices)
Taste: 6/10 (1-4 tasteless, 5-7 average, 8-10 excellent)
Pricing: 8/10 (1-4 cheap, 5-7 average, 8-10 expensive)
Service: 8/10 (1-4 bad, 5-7 average, 8-10 excellent)