Swez Brasserie @ Eastin Hotel, Penang would be offering an extensive range of traditional delicacies for Christmas 2018. For more information and reservations, please contact +604-612 1111. All the prices above are not applicable with any other discounts including credit card discounts, EXCEPT if you reserved your booking with the special privileged 15% discount given to all my readers by quoting "XMAS CRIZ".
Here's the summary of all the Christmas Promotions available: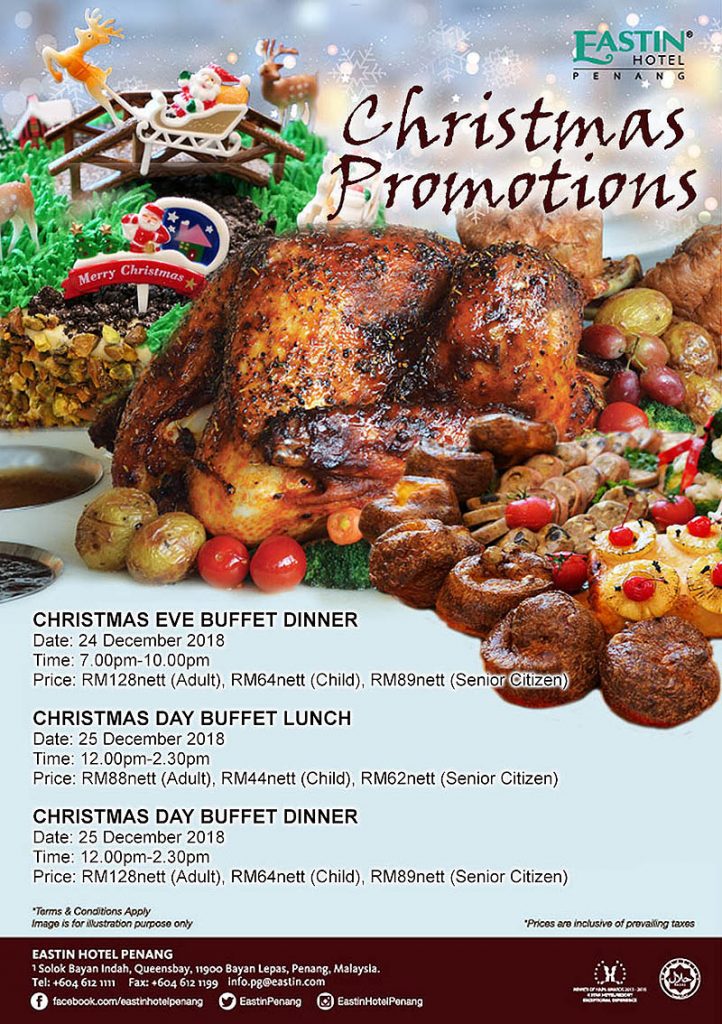 The highlight of the promotions would be their Traditional Roasted Turkey with Classic Ingredients and Condiments. Do watch out for the Yorkshire Puddings, Chestnut Stuffings and Roasted Striploin with Mushroom Sauce.
Some of the items would include Tomato, Cucumber, Carrot, Coleslaw, French beans, Variety of Garden Salad, Assorted Dressing and Condiments, Italian Mushroom Salad, German Potato Salad, Maki and Futomaki Sushi Roll with Condiments, Seafood on Ice and Selection of Sashimi (Tuna & Salmon), Seafood Bouillabaisse with Garlic Crouton, Assorted Roll & Bread, Buttered Rice, Lamb Chop Provencal with Grilled Vegetable, Wok Venison with Ginger and Spring Onions, Baked Salmon Fillet with Herbs Vinaigrette Infused Mushrooms, Beef Steak with Tonkatsu Sauce, Grilled Chicken Yakitori, Assorted Vegetables with Salted Fish and Nuts, Stuffed Squid with Otak- Otak and Spicy Peanut Sauce, Potato and Cheese Timbale served with Spicy Tomato Sauce, Christmas Yule Log Cake, Black Forest Cake, Christmas Stolen, Assorted Christmas Cookies, Tiramisu in Glass, Christmas Pudding with Vanilla Sauce, Traditional Carrot Cake, Assorted Fruit Platter and more.
Here's a peep at what are the items in store for you.
You could also make a special order for one whole bird of turkey at RM338nett (2 days prior booking is required and available from 1-26 December 2018 only). Do check out the poster below and fill up the form as well.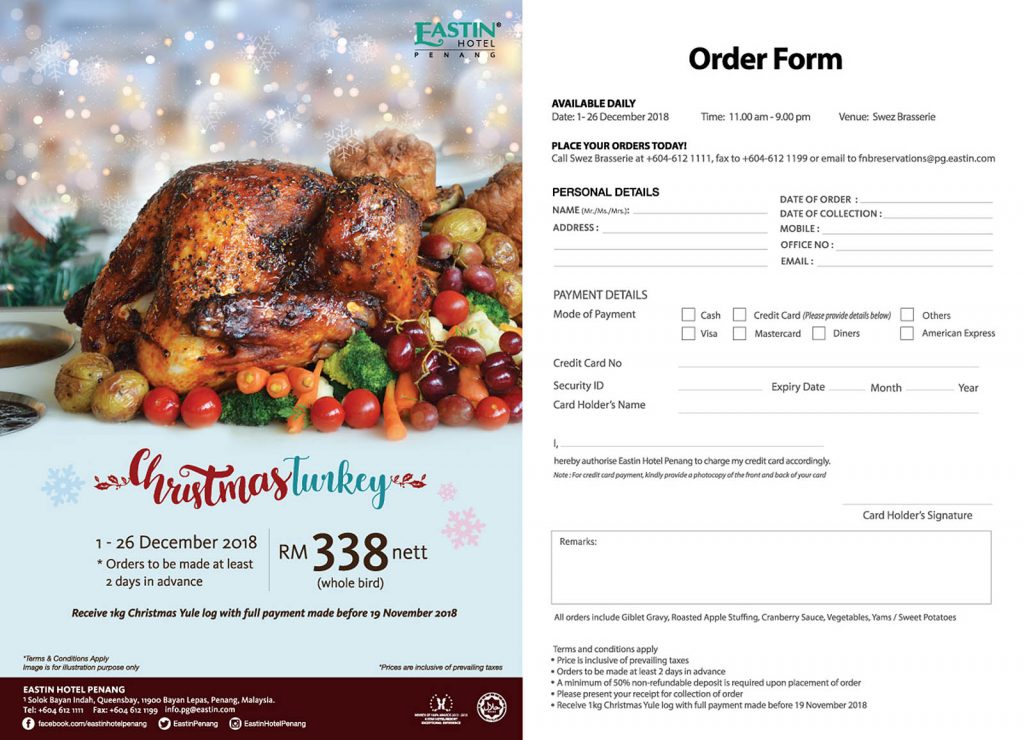 The Swez Brasserie is located at the ring wing of Eastin Hotel, Penang (next to Queensbay Mall). If you are coming from Georgetown towards Bayan Lepas Free Trade Zone via Bayan Lepas Expressway, do watch out for the Pulau Jerejak signboard (leading to Pulau Jerejak jetty). Ignore the turning and drive on to the next left junction. Turn left into Jalan Aziz Ibrahim and drive on until you a roundabout. Turn 3 o'clock and drive on until you see a big Eastin Hotel signboard at the first right junction. Turn right and drive on. Park your car at the basement car park. Take a lift to the first floor lobby and you would see the restaurant there.
Name: SWEZ BRASSERIE @ EASTIN HOTEL
Address: 1 Solok Bayan Indah, Queens Bay, 11900 Bayan Lepas, Penang, Malaysia.
Contact: 604-612 1128
Business Hours: 12.00pm-2.30pm (Lunch), 6.30pm-10.00pm (Dinner)
GPS: 5.33643, 100.306345
RATING:
Ambience: 8/10 (1-4 cheap, 5-7 average, 8-10 classy)
Food Choices: 8/10 (1-4 limited, 5-7 average, 8-10 many choices)
Taste: 7.5/10 (1-4 tasteless, 5-7 average, 8-10 excellent)
Pricing: 8/10 (1-4 cheap, 5-7 average, 8-10 expensive)
Service: 8/10 (1-4 bad, 5-7 average, 8-10 excellent)
About Eastin Hotel Penang

: Eastin Hotel Penang is a contemporary International business class hotel. Strategically located within the integrated waterfront development of Queensbay, Eastin Penang is adjacent to Queensbay Mall. Its superb location is minutes' drive away from the Penang International Airport and the iconic Penang Bridge as well as within the vicinity of the Bayan Lepas Free Industrial Zone. It features 328 meticulously decorated guest rooms and suites, facing the shimmering blue sea and the verdant green hills of Pulau Jerejak, home to tropical rainforest that is over 130 million years old. For more information, please visit www.eastin.com