In conjunction with the joyous and festive season of Christmas, Lexis Suites Penang, would be having its Christmas buffets at two venues, namely Hibiscus Grand Ballroom (Christmas Eve Buffet Dinner from 6.30pm to 1.00am at RM120nett for adult and RM70nett for child/senior citizen) and Roselle Coffee House (Christmas Day Buffet Lunch from 12.00pm to 3.00pm at RM88nett for adult and RM58 for child/senior citizen). Executive Chef, Chef Johnno and his team would be crafting mouth-watering spreads to pamper your presence. Diners will also stand a chance to win great lucky draw prizes during their Christmas Eve Buffet Dinner and at the same time get to enjoy special live band performances. Santa Claus and Santarina would also be making random appearances and giving out candies and gingerbreads. All prices quoted are not applicable with any other ongoing discounts or promotions. For more information and reservations, kindly contact Lexis Suites Penang at +604-628 2888 or email to reservations@lexissuitespenang.com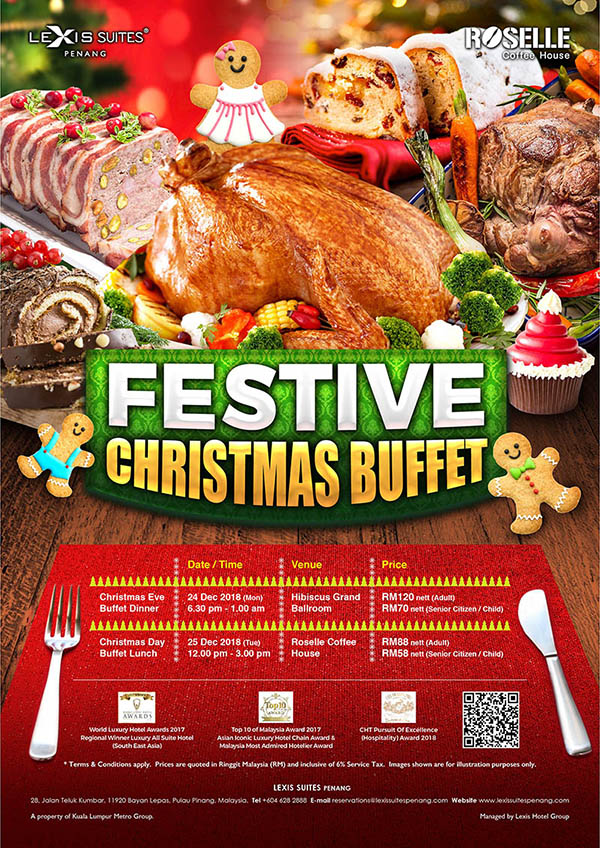 The highlight of the night would always be the Roasted Turkey, Yorkshire Puddings and a variety of stuffings, served with different condiments such as roasted baby potato, chestnut and apple stuffing, and cranberry, giblet, butter vegetable sauce.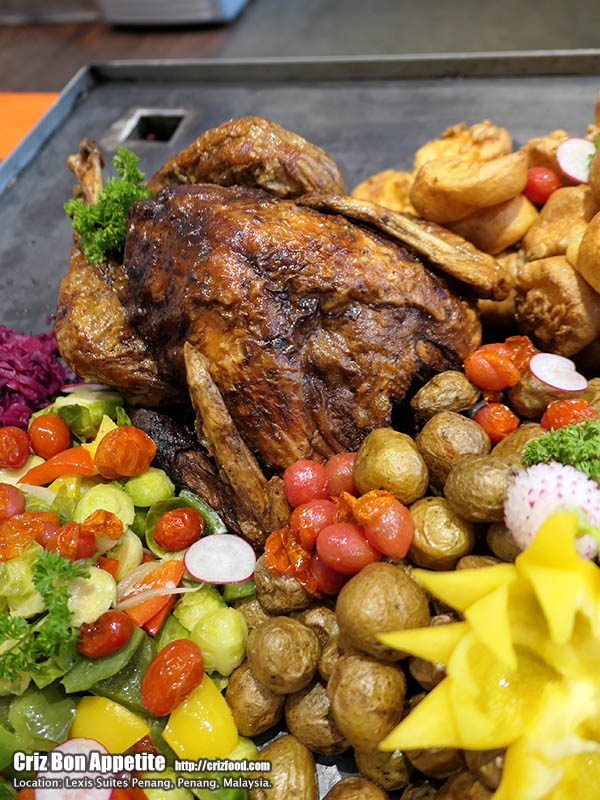 Kick off your buffet with a variety of hors d'oeuvres such as Smoked Salmon Platter, Cherry Tomato and Mozzarella with Balsamic Reduction, Australia Potato Salad, in savoury little bites that will get the appetite going. Then, it is on to the different types of salads such as Chicago Turkey Salad coupled with different types of dressing which will keep the taste buds wanting for more. To sooth down the throat, they do serve piping hot pumpkin golden soup, accompanied by freshly baked bread, rolls and butter. They would also be many classic dishes available such as Poached Sea Bass with Fresh Drill and Saffron Butter Sauce, Deep Fried Cheese Ball, Baked Creamy Seafood Stew, Homemade Chicken Roulade with Creamy Pomegranate Sauce, Grilled Lamb Chop with Mints Jerry, Fragrant Prawns with Nutmeg Mayo Sauce, Mini Burgers with Salami among others. Besides, one can also indulge in our western style Pan Fried Smoked Duck Breast for a different filling. Christmas would not be great if you missed out the sweet temptations. There would be the Chocolate Truffle Cake, Floating Island with Almonds and Caramel, Lexis style Bread Butter Pudding, Chocolate Fountain, Honey Dew Sago and many more, accompanied by Christmas Cookies, Stollen and Yule Log.
Here some peeps at the dishes prepared by the team to make your dining experiences memorable.
For those who are gearing up to celebrate the year 2018 and usher in the new year of 2019, Lexis Suites Penang will be having a grand countdown dinner and party on the 31st December 2018. Feast on a scrumptious buffet dinner at Hibiscus Grand Ballroom and then head up to Sky Terrace after that for the countdown party. While you are there, do enjoy the magic show, live band performance, games session and many more, all prepared exclusively for you. Diners also will stand a chance great lucky draw prizes as well. It is priced reasonably at RM188nett for adult and RM100nett for child/senior citizen.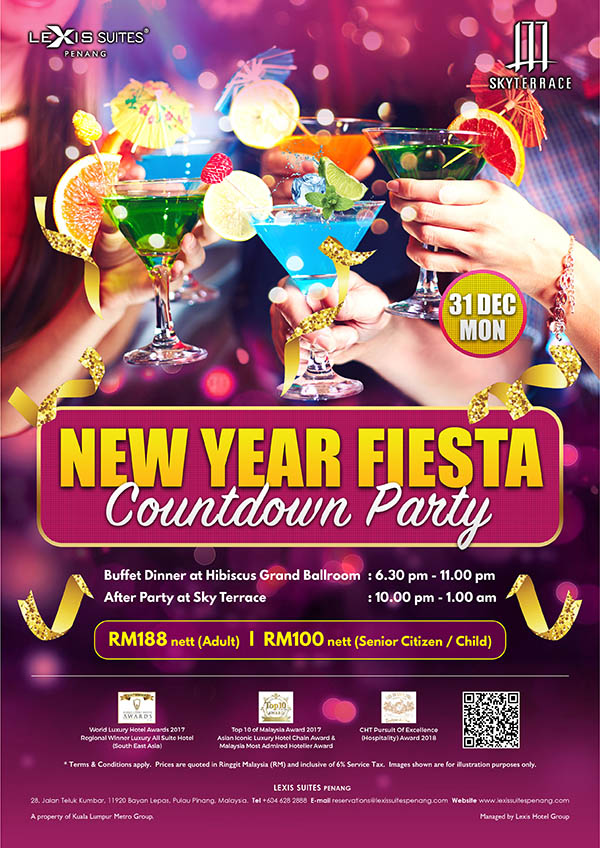 Thanks to the management of Lexis Suites Penang for the memorable evening.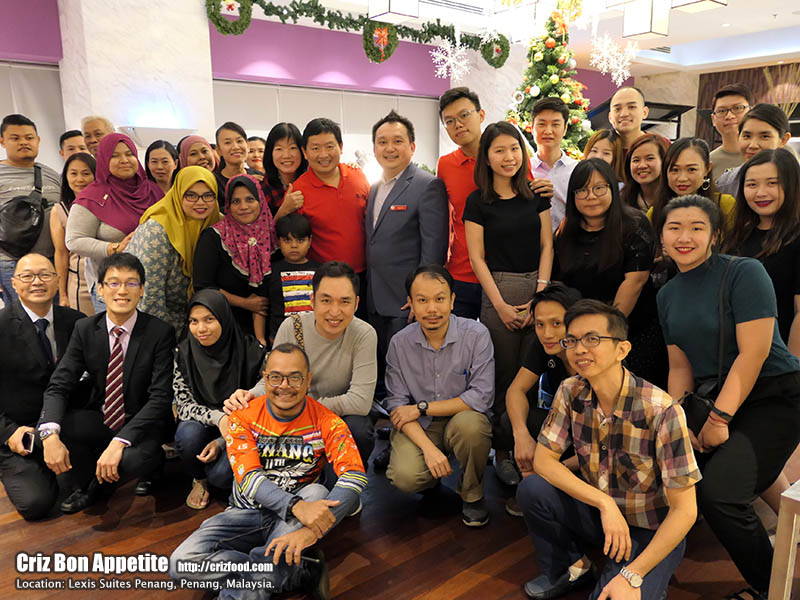 Lexis Suites Penang is located right at the end of Teluk Kumbar before the main road into Gertak Sanggul. In fact, it's located just next to the Hao You Teluk Kumbar Seafood (公巴好友海鲜). The Roselle Coffee House is located at level 1 of Lexis Suites Penang. Just walk into the main lobby of the resort and move towards the right side of the lobby and you will see the elevator there. Take the lift to the first floor and you would see the restaurant there.
Name: ROSELLE COFFEE HOUSE @ LEXIS SUITES PENANG
Address: 28, Jalan Teluk Kumbar, 11920 Bayan Lepas, Penang, Malaysia.
Contact: 604-628 2888
Business Hours:
Breakfast: 6.30am-10.30am
All Day Menu: 11.30am-10.30pm
Buffet Menu: 6.30pm-11.00pm
Room Service: 24 hours
GPS: 5.287210, 100.232760
RATING:
Ambience: 8/10 (1-4 cheap, 5-7 average, 8-10 classy)
Food Choices: 8/10 (1-4 limited, 5-7 average, 8-10 many choices)
Taste: 7.5/10 (1-4 tasteless, 5-7 average, 8-10 excellent)
Pricing: 7.5/10 (1-4 cheap, 5-7 average, 8-10 expensive)
Service: 8/10 (1-4 bad, 5-7 average, 8-10 excellent)
About Lexis Hotel Group

: Lexis Hotel Group provides discerning leisure and business guests with practical and luxurious accommodations across various properties in Malaysia. It is steadfast in offering professional management services for hotels and resorts, and has successfully built a strong, profitable and visible premier niche brand in the hospitality industry especially in managing award-winning unique water chalets as well as pool villas. The brand currently manages three properties, namely Lexis, Grand Lexis and the iconic Lexis Hibiscus, all located in Port Dickson. Another upscale property, Lexis Suites Penang, opened for business in the 1st quarter of 2016.
About Lexis Suites Penang

: A luxurious resort by the beachfront that stands out as the only hotel on the island which offers guests the luxury of an individual private pool and steam room in every one of its 222 suites. Located at the idyllic Teluk Kumbar, Lexis Suites Penang is about ten minutes' drive from Penang International Airport. The guestrooms feature two king-sized beds and a host of practical amenities in a spacious enclave, with an awesome view of the sea.