If you love someone, whether if that person is your girl friend, wife, mother, daughter, etc, let them know how much you appreciate them in your life by showering them with more love during this coming Valentine's Day. Let the dedicated staff of Swez Brasserie @ Eastin Hotel Penang, provide you with the memorable Valentine's Day Set Dinner at RM238++ per couple, inclusive of 2 glasses of house wine or mocktail and a surprise gift. This dinner would be under the skillful hands of the Executive Sous Chef, Chef Daniel Tan Chia Yang.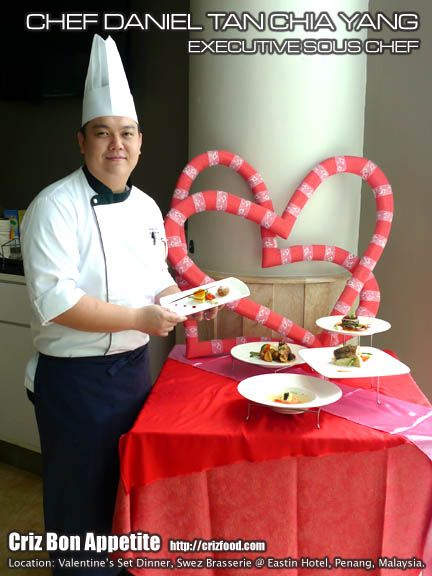 As for Appetizer, you would be served with Duck Confit Lasagna with Lily Pulp, Spinach & Sun Dried Tomato Essence. The award winning entry by Chef Daniel Tan in Bangkok, was indeed something unique in flavors and had the perfect combination to start a meal. The 3 layers of round shaped pastas had some well braised duck meat, young spinach and lily pulps stuffed in between them and topped with a slice of sun dried tomato and some alfalfa. Just a taste of the gravy and you would know that the duck had undergone long hours of braising to extract that flavorful taste. The young spinach wasn't fibrous at all and the lily pulps added some extra crunches. Thumbs up! This appetizer was indeed of top class.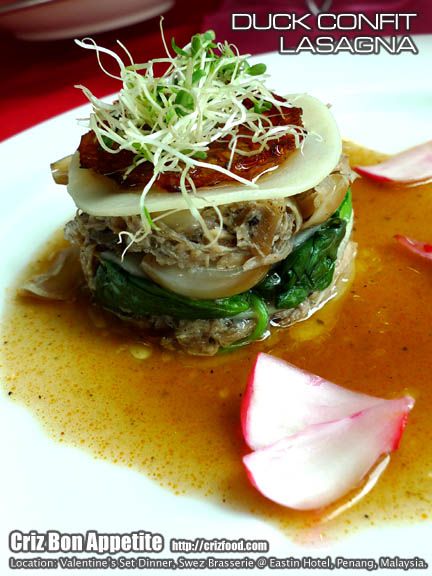 As for Soup, there would be the Seafood Consommé with Pearl Vegetables and Egg Custard. Compared to last year's soup option, this year's soup was of a clearer version. It was light and without distinctive seafood taste. The consommé came with some colorful Parisian cut carrots, green and yellow cucumber, on top of a slice of egg custard, a tiger prawn, topped with some monk fish black caviars and garnished with some chopped spring onions.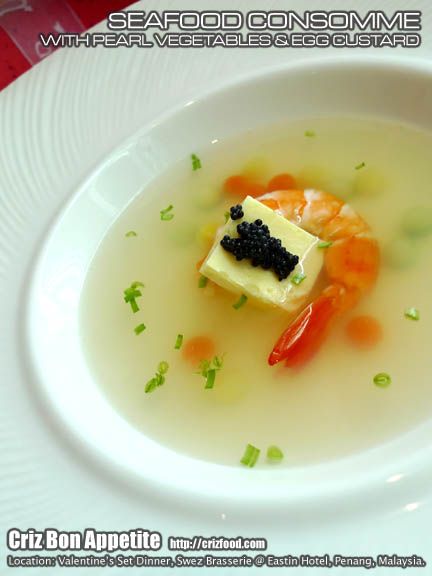 As for the Main Course, it was either a fish or a chicken dish. The first option would be the Oven Roasted Sea Bass rolled with Lobster Mousse served with Spicy Sauce. No doubt this dish would be quite unique on its own but the sauce could be a bit too spicy sweet for many. Unless you favor dishes like Thai style sweet & sour fish, you might want to consider having the next option.
The next main course option was the Grilled Chicken Supreme rolled with Asparagus & Cheese served with Morels Cream Sauce. The grilled chicken was almost similar to how you would stuff a chicken cordon bleu with ham and cheese. Instead, the choice chicken meat was stuffed with asparagus and cheese instead. What excelled in this dish was the morel cream sauce which was heavenly delicious. The creamy and flavorful sauce had a high usage of morels (also known as Morchella, a wavy shaped edible mushroom species) and the earthly flavor combined with the usage of heavy cream with some herbs was a perfect match for the grilled chicken.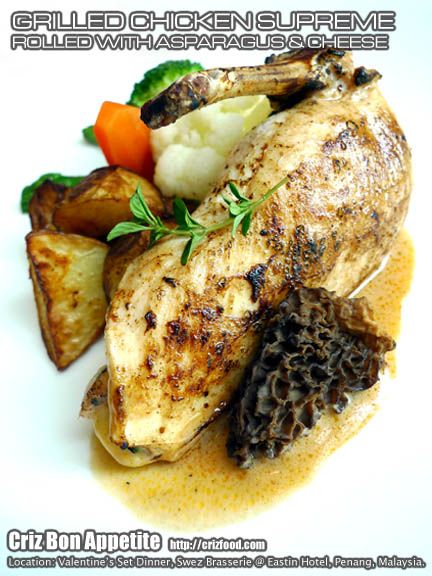 As for dessert, a combination of Spicy Mango Cheese Cake, deep Fried Iced Chocolate & Praline was served.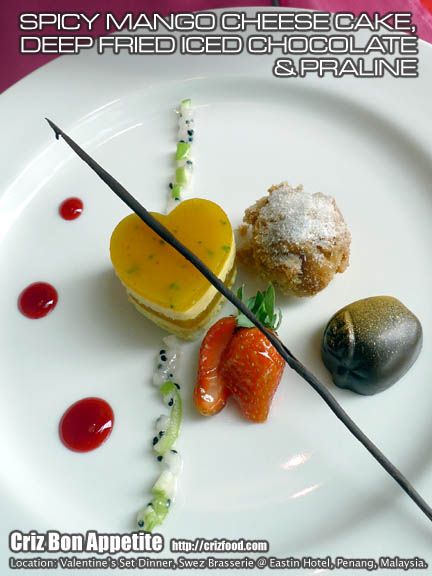 The unique one amongst the 3-in-1 palate of dessert would be the Spicy Mango Cheese Cake. It was the chef's special creation to depict love. It would be quite a complicated dessert for many couples but once you start the first mouthful, you would get to accept its hidden meaning. Love is not so complicated after all. 😛 Here's how I would interpret the overall dessert presented for the night. "LOVE sparks when there are lots of NATURAL SWEETNESS (SWEET strawberry, dragon fruit & apple). Though, some would experience some SOURNESS (SOUR strawberry, dragon fruit & apple). At the base, it's filled with lots of UNCERTAINTIES & BOUNCINESS (sponge cake). Then, slight HARDSHIP (nutmeg bits) seeps in when you began to linger in the CREAMY RELATIONSHIP (cream cheese – some love it & some detest it). As the relationship becomes FIRMER with some SPICINESS (mango gelatin with bits of chili paddy and red chili), more HARDSHIP might set it (cream cheese with nutmeg bits) when you tried to stay on with what might not be yours. If you are strong to overcome the relationship with more STRENGTH & SPICINESS (top mango gelatin with bits of chili paddy and red chili) plus a bit more of BITTERNESS (accompanied deep fried iced chocolate & dark chocolate praline), you would feel that there's a TRUE SWEETNESS hidden at the end of your feast when you gobble all down at once. That's LOVE~ COMPLICATED as it may sound but SWEET if you know how to appreciate it right from the beginning." Quoted by Criz Lai~ 🙂
Here's a peep at how the dinner setting would be.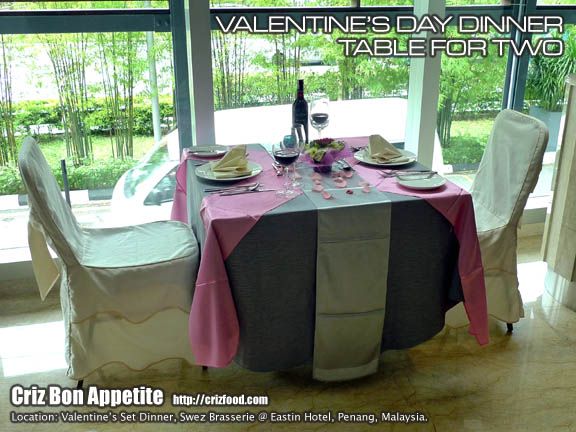 As for the surprise gift, it would be a set of teddy bears as shown below.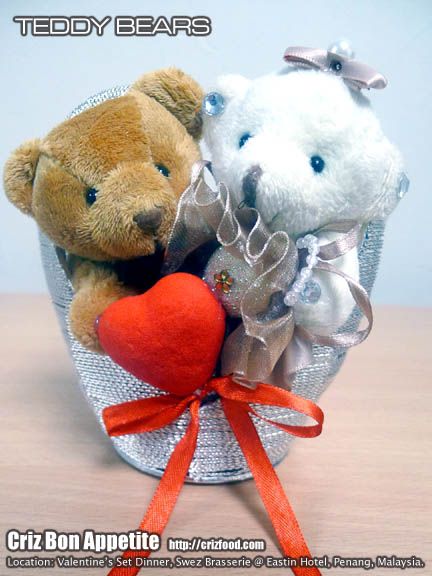 Overall, the quality for the Valentine's Day Dinner was better than the previous year. On top of that, Eastin Hotel Penang would also be throwing in a special stay over room rate of RM120++/night for only dine-in couples. This offer is only valid on Valentine's Day.
The Swez Brasserie is located at the ring wing of Eastin Hotel, Penang (next to Queensbay Mall). If you are coming from Georgetown towards Bayan Lepas Free Trade Zone via Bayan Lepas Expressway, do watch out for the Pulau Jerejak signboard (leading to Pulau Jerejak jetty). Ignore the turning and drive on to the next left junction. Turn left into Jalan Aziz Ibrahim and drive on until you a roundabout. Turn 3 o'clock and drive on until you see a big Eastin Hotel signboard at the first right junction. Turn right and drive on. Park your car at the basement car park. Take a lift to the first floor lobby and you would see the restaurant there.
Name: SWEZ BRASSERIE @ EASTIN HOTEL
Address: 1 Solok Bayan Indah, Queens Bay, 11900 Bayan Lepas, Penang, Malaysia.
Contact: 604-612 1128
Business Hours: 6.30pm-10.00pm (Valentine's Day only)
GPS: 5.33643, 100.306345
RATING:
Ambience: 8/10 (1-4 cheap, 5-7 average, 8-10 classy)
Food Choices: 7/10 (1-4 limited, 5-7 average, 8-10 many choices)
Taste: 7.5/10 (1-4 tasteless, 5-7 average, 8-10 excellent)
Pricing: 8/10 (1-4 cheap, 5-7 average, 8-10 expensive)
Service: 8/10 (1-4 bad, 5-7 average, 8-10 excellent)