For your information, Kürtős Kalács is a traditional Hungarian pastry (with or without addon ingredients) which is hollow and eaten by unwinding the twirl like pastry, torn in between and taken plain or with selected dips. The pastry is baked on wooden dowels, rolled slowly on an open fire or a customized oven until golden brown. Kürtős Kalács is the oldest Hungarian pastry which stems from the Hungarian words kürtő that refers to "chimney" and kalács meaning "milk loaf or cake", thus getting its nickname as "chimney cake" or "stove cake". Kürtős Kalács was first made in Covasna County (Transylvania region) by Hungarian settlers and the recipe is one of the best kept secrets of Eastern Europe. For maximum taste and aroma, the dough has gone through 16 hours of yeast-raised process. The next step would be to ribbon roll onto the dowel and to leave aside for further yeast raising. Prior to being baked in a customized oven, the dough has been brushed with some sunflower oil and heavily sprinkled with castor sugar. Thus, the baked pastry would have a crispy caramelized surface while maintaining its soft and smooth interior. Now you can try the delicious pastry at Kürtős Spiroll, located at Queens Street, Level 3 (North Zone) of Queensbay Mall, Penang.
So what are the topping flavors available at Kürtős Spiroll? You can start with the Original Kürtős Kalács (RM3.70 each), followed by Favorites Kürtős Kalács (RM4.50 each) such as Sesame Seeds, Chocolate Rice, Sunflower Seeds, Hawaiian Coconut and Cinnamon Sugar or the Premium Kürtős Kalács (RM5.90 each) such as Premium Chicken Floss, Nutella Walnut and Peanut Butter n Chocolate Chips.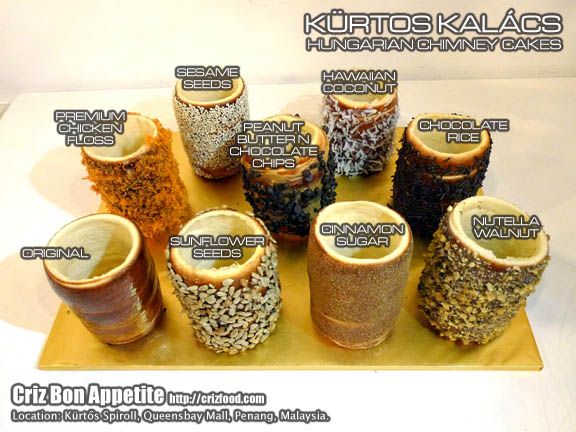 Somehow one of the favorites (4 types as shown at the front row on the above photo) amongst the rest was the Original. You can simply taste the milky and buttery flavors from the soft pastry and at the same time savor the sweet caramelized exterior.
The next topping would be Sesame Seeds. I somehow found that the sesame seeds were not thoroughly toasted well enough to emit that fragrant flavor as you would have expected from sesame seeds products. It would be great if they could mix some black sesame seeds as well since the black ones are more flavorful than the white ones.
No doubt Chocolate Rice are widely used in pastries, I do find them to be normal to my preference. I would say this topping would suit children more than adults.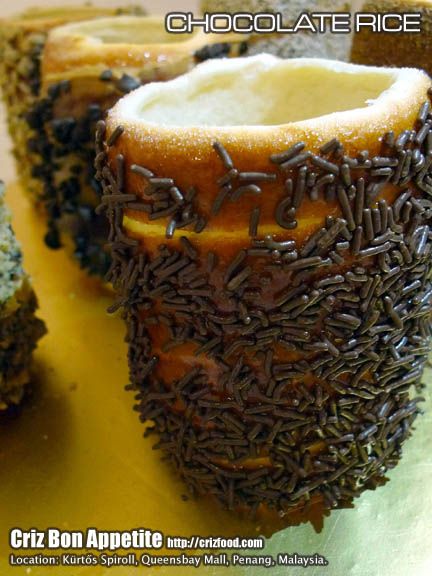 For those whole love the earthly flavors of Sunflower Seeds. The next option would suit you real well. The portions given were very generous.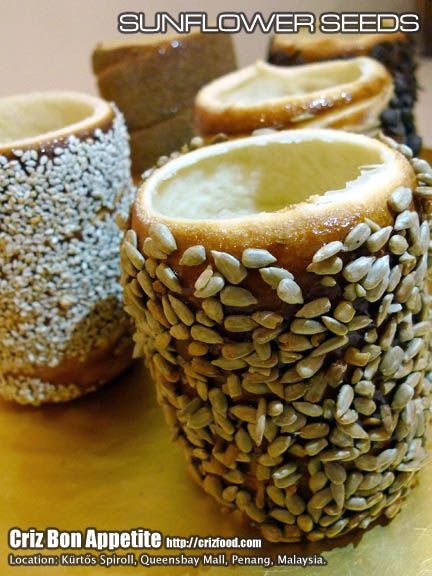 There was also the imported Hawaiian Coconut as one of the toppings. It tasted like having some sort of dehydrated fiber without the distinctive flavor of coconut. I would think that the grated local coconut has more flavors but then keeping them fresh daily might be an issue for an outlet which might go franchised in the future. Somehow, I don't find this topping an ideal one for long term usage.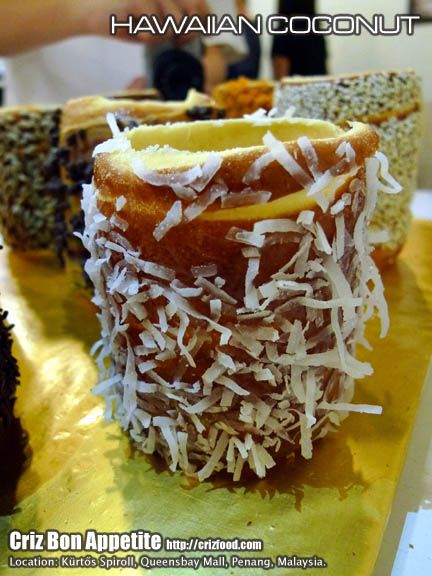 The Cinnamon Sugar was a hit as it was just the perfect evening snack to go with a cup of coffee or tea. The flavor of the grounded spice merged perfectly with the milky and buttery pastry. It would be great if some raisins or even thin apple slices were to be added into the dough with just a light sprinkle of grounded cinnamon. It would be even perfect just like the Cinnamon Bun.
Premium Chicken Floss may be the in-trend of most bakeries in Malaysia but I found the ones served here to be quite normal without the distinctive toasted flavors. Maybe they should consider a spicier version by replacing it with Spicy Prawn Floss (Sambal Hae Bee) instead? Moreover, I found that the thin spread of mayonnaise was not sufficient enough to give that moist to the chicken floss.
Nutella has always been the favorite chocolate spread for any pastry and it has proven that the Nutella Walnut was also a hit here. The Kürtős Kalács with a thin spread of Nutella and added slightly salted toasted walnut was my favorite. At least the light usage of salt here did neutralize some sweetness on the product which suited me well.
Lastly, there was the childhood favorite of Peanut Butter n Chocolate Chips. This was not a bad salty sweet combination but still a bit too sweet to my liking. The culprit might be the generous usage of sweetened chocolate chips rather than dark chocolate chips. Ideally, I would prefer to have some nicely toasted crushed peanuts on mine than any chocolate chips for that extra nutty experience.
There were also some homemade dips such as Butterscotch, Garlic Cheese and Chocolate (RM1.50 each or RM0.90 each for a combo of 3 flavors) available for extra boost on your Kürtős Kalács. I found the Butterscotch Dip to be a bit too sweet and lack of creaminess and buttery flavor to my liking. The Garlic Cheese Dip on the other hand was a hit amongst us as the savory flavors blended in well with the pastry, especially on the original one. The Chocolate Dip on the other hand was a bit too much for me as there were already a few products with chocolate base. Alternatively, I would recommend jam instead such as passion fruit butter jam or even a bitter sweet marmalade ginger jam. Who knows maybe our coconut jam (kaya) might go well with the pastries?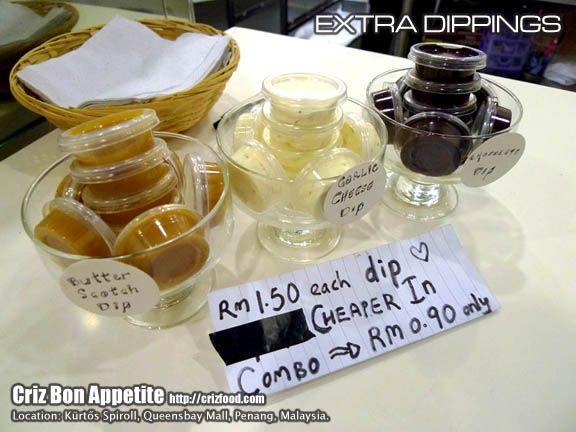 Here's the menu on the 9 topping flavors available at Kürtős Spiroll: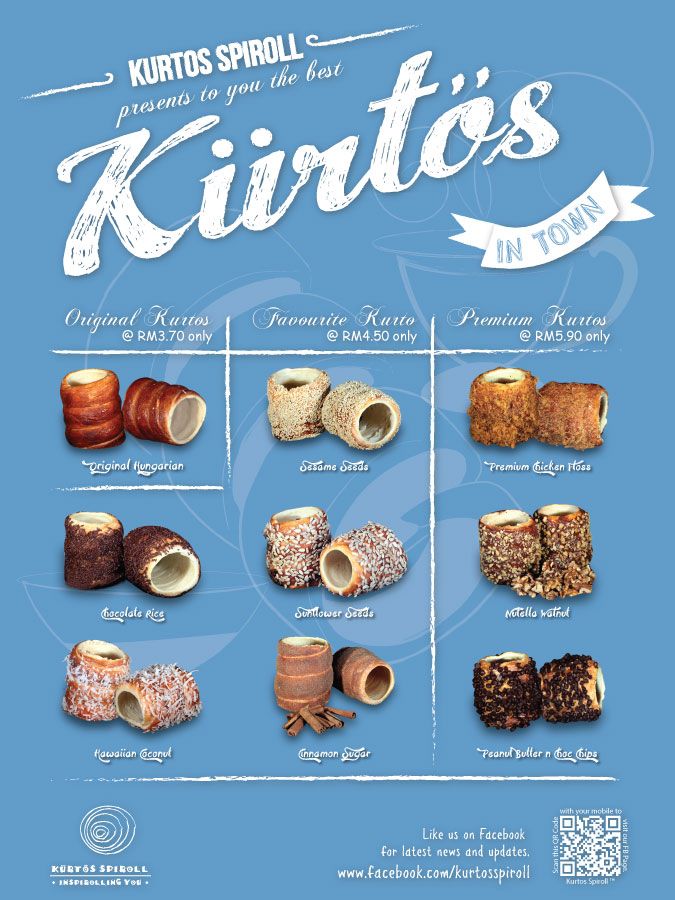 Overall, Kürtős Kalács would be best taken when they are fresh and hot from the oven or you won't get the best in texture and taste. I personally find that the products here would suit those more feminine consumers as they are the ones with higher urges for sweetness. Personally, I do find that the outlet lacked choices as those toppings tend to be quite normal on the market. They should consider having more fusion savory options such as cheese spread with garlic flakes, tomato puree with diced mushroom plus gherkins or even tomyam paste with kani sticks. As for nuts, there might be quite a large group of nuts lovers around and they could consider adding more options such as crushed peanuts, hazelnuts, pistachio nuts or toasted almond flakes. There are still more rooms for improvement here to think of some combinations that would be more localized to suit the general taste buds.
If you are coming from Georgetown towards Bayan Lepas Free Trade Zone via Bayan Lepas Expressway, do watch out for the Pulau Jerejak signboard (leading to Pulau Jerejak jetty). Ignore the turning and drive on to the next left junction. Turn left into Jalan Aziz Ibrahim and drive on until you a roundabout. Turn 3 o' clock and drive on until you see a big Eastin Hotel signboard. Queensbay Mall is just after the block of shop houses. Find your parking space either at the open space car park or drive further up after the roundabout and turn around towards the mall to find more parking spaces. As you walk into the mall, move towards the North Zone of the mall and you will see Kürtős Spiroll just after the Habanero Mexican Restaurant.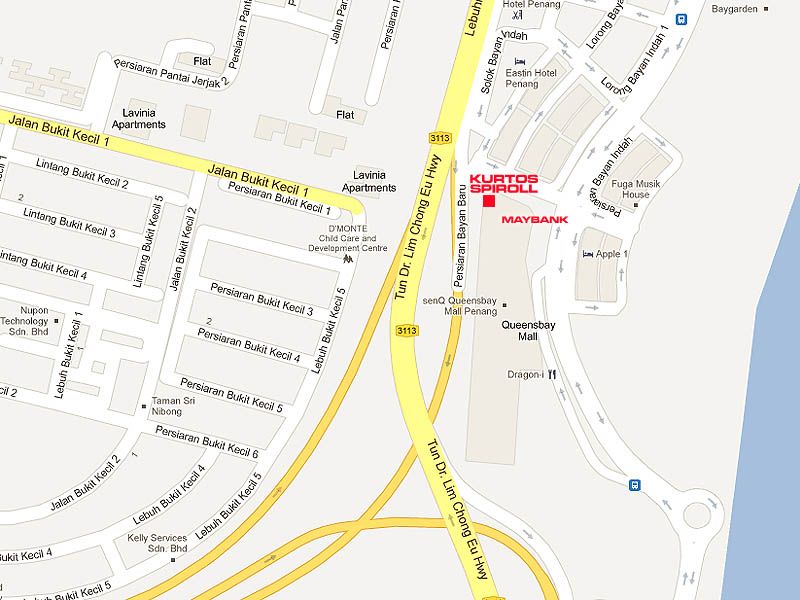 Name: KÜRTŐS SPIROLL @ QUEENSBAY MALL, PENANG
Address:
3F-01B, Queens Street, Level 3, North Zone, Queensbay Mall, 11900 Bayan Lepas, Penang, Malaysia.
Facebook Page: http://www.facebook.com/kurtosspiroll
Contact: 012-5020 331 (Ernie Goh)
Business Hours: 10.00am-10.00pm
GPS: 5.335073, 100.306268
RATING:
Ambience: 6/10 (1-4 cheap, 5-7 average, 8-10 classy)
Food Choices: 6/10 (1-4 limited, 5-7 average, 8-10 many choices)
Taste: 6/10 (1-4 tasteless, 5-7 average, 8-10 excellent)
Pricing: 7/10 (1-4 cheap, 5-7 average, 8-10 expensive)
Service: 8/10 (1-4 bad, 5-7 average, 8-10 excellent)