Under the umbrella of The Big Group, Plan B has been around for quite a few years in Malaysia, serving diners with artisan coffee and creative cuisine ranging from salads, sandwiches, pastas, main dishes and a variety of cakes. Recently, the Aussie-meets-New York conceptualized deli has reduced its menu to a smaller selection to stay more focused in delivering a better culinary experience for its diners. We were invited to test out some of their latest spreads from their new menu recently at Plan B @ Queensbay Mall, Penang and it was a totally different approach towards how we look at food. Prices shown are inclusive of 6% GST. There won't be any additional service charge.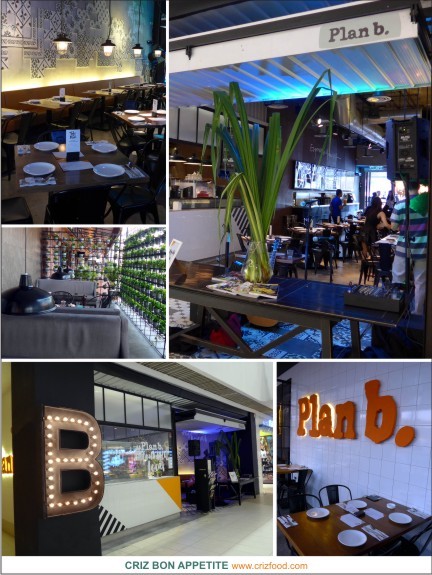 We started off the meal with Skin on Fries with Dip (RM9) with a choice of dip. You have options for the sauce such as salted egg, cheese, Singapore Chili, curry, ranch, ice cream, lime mayonnaise or halal guys white sauce.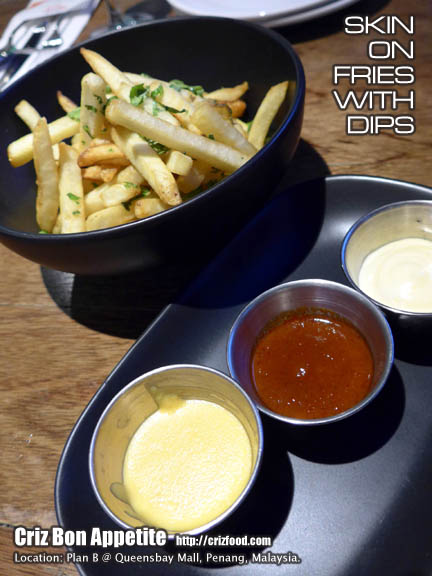 The Kristy's Krunchy Kale Salad (RM18) was rather unique and it reminded me of how fun my childhood days were. There were crunchy bits of Mamee! Cool right? The salad had finely julienned Kale (which I presumed were Chinese Kale aka kalian as it was rather hard to source for imported Kale), carrots, purple cabbages, some crunchy bits of deep fried noodles, hazelnuts, tossed in peanuts dressing and garnished with toasted sesame seeds. It was so nutritionally good that we had to order another serving.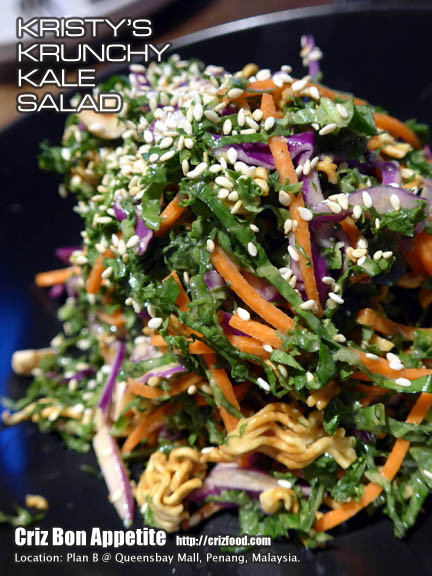 The Buttermilk Fried Chicken (RM33) was also quite unique as the buttermilk batter fried chicken was placed on a waffle and topped with almost coleslaw like salad and served with some tomato ketchup. It was quite tasty except that I hope the kitchen would drain up more of the excess oil on the batter fried chicken.
For those who prefer meatless pastas, they do have the Zucchini Spaghetti (RM22). It was Aglio Olio style with added blistered cherry tomatoes, garlic confit, sweet basils, julienned zucchini, garnished with shaves of Parmesan cheese and served with a wedge of lemon. It was indeed a hearty and healthy plate of spaghetti to my liking.
We also tried out their Asian Salmon Rice Bowl (RM33). You could also request for an additional poached egg for this dish at RM3. It came with a bowl of steamed rice, topped with grilled salmon, lots of fresh greens, avocado, edamame with a light sprinkles of furikake (Japanese rice garnish with mixed ground fish, sesame seeds, nori, etc) and served with chili soy dressing.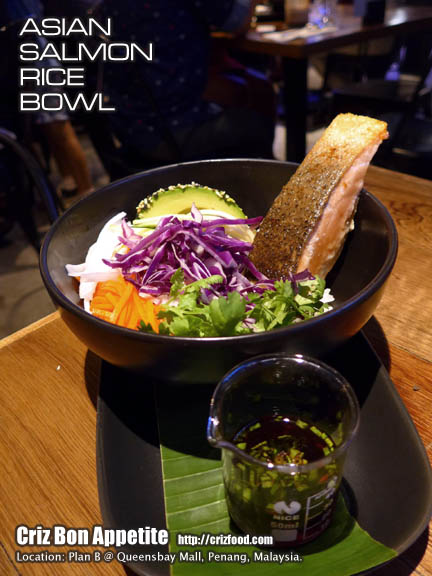 As for Desserts, we tried out their Jaffa Cake (RM15), Springfield Donut (RM18) and Black Forest Pavlova (RM18). I personally think that it's better to consume the desserts with some hot beverages such as coffee or tea as they could be rather heavy and sweet after a heavy meal.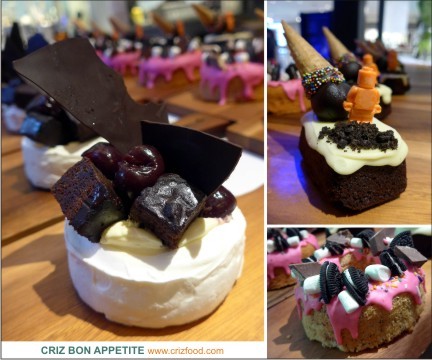 As for beverages, we tried out their Elderflower Mint Lemonade (RM12), Passionfruit Iced Tea (RM10), Iced Chocolate (RM10) and Cham Affogato (RM10). The best part on the beverages was that all of them were presented quite uniquely.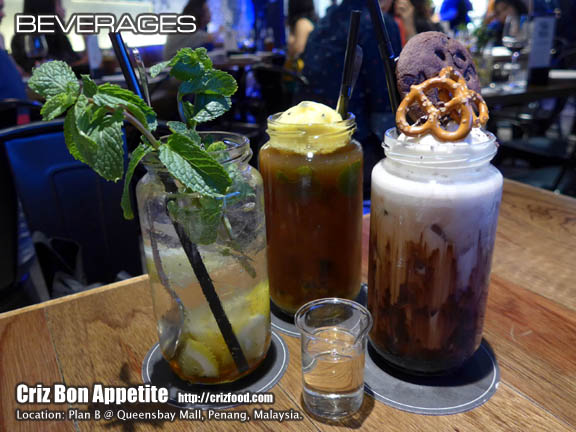 The Cham Affogato was something real cool too as it had coffee on "teh tarik" ice cream.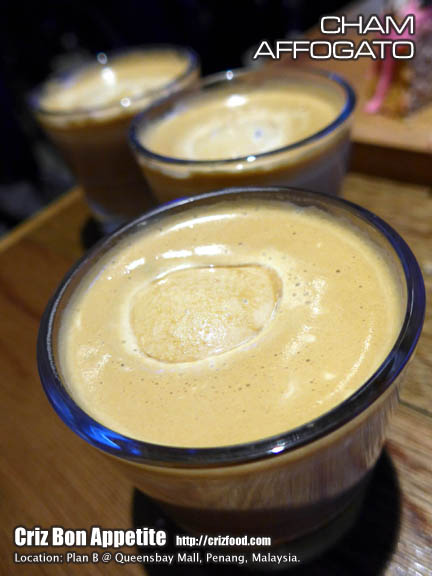 Overall, I quite like how innovative some of the dishes were at Plan B, especially the Kristy's Krunchy Kale Salad, which brought back many fond memories during my childhood days. I would love to see what other creative dishes the kitchen could come out with in the near future. You can also check out their sea facing outlet at Gurney Paragon to try out these dishes.
You can view the new menu as below. Do click on the photo for a clearer view.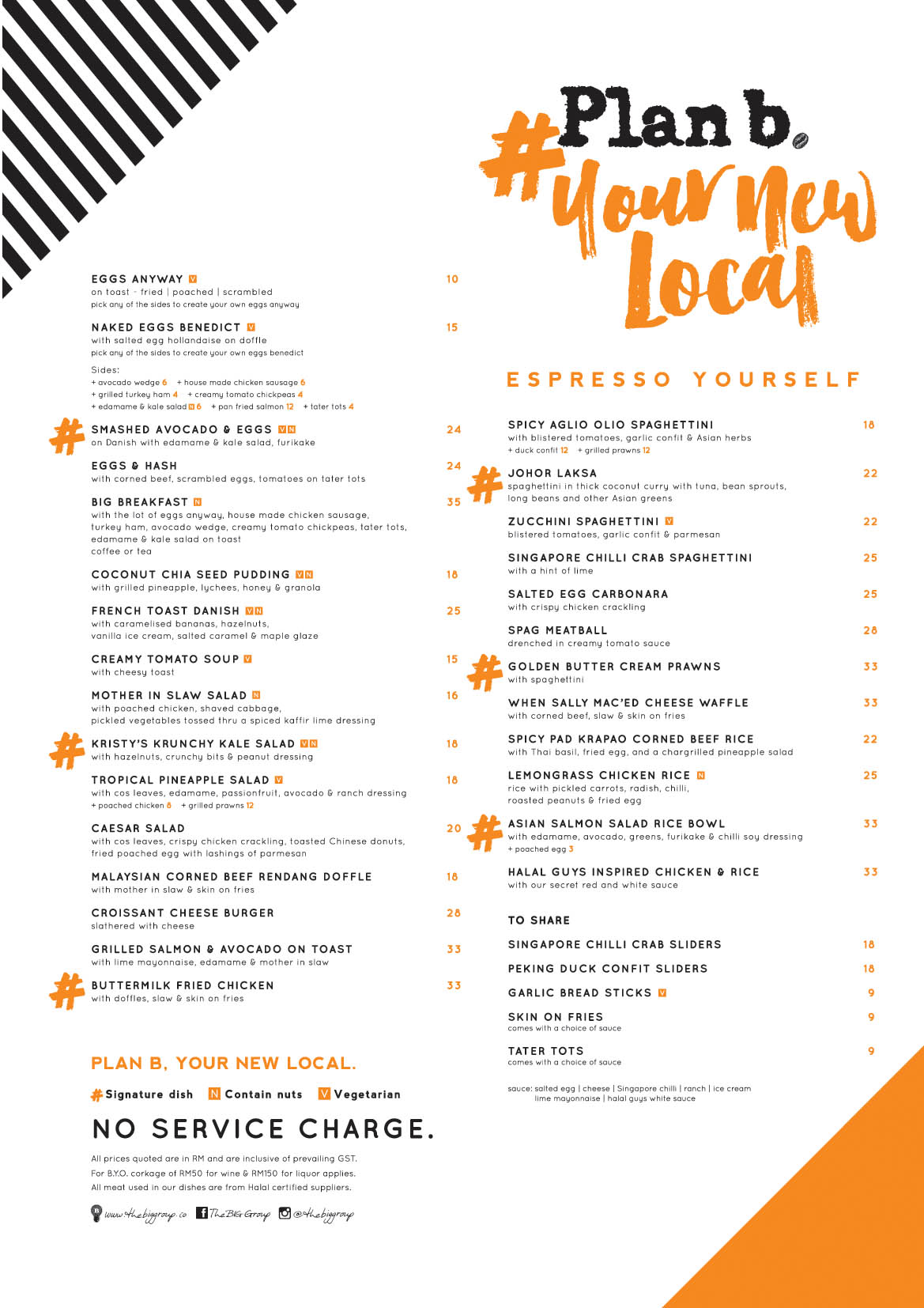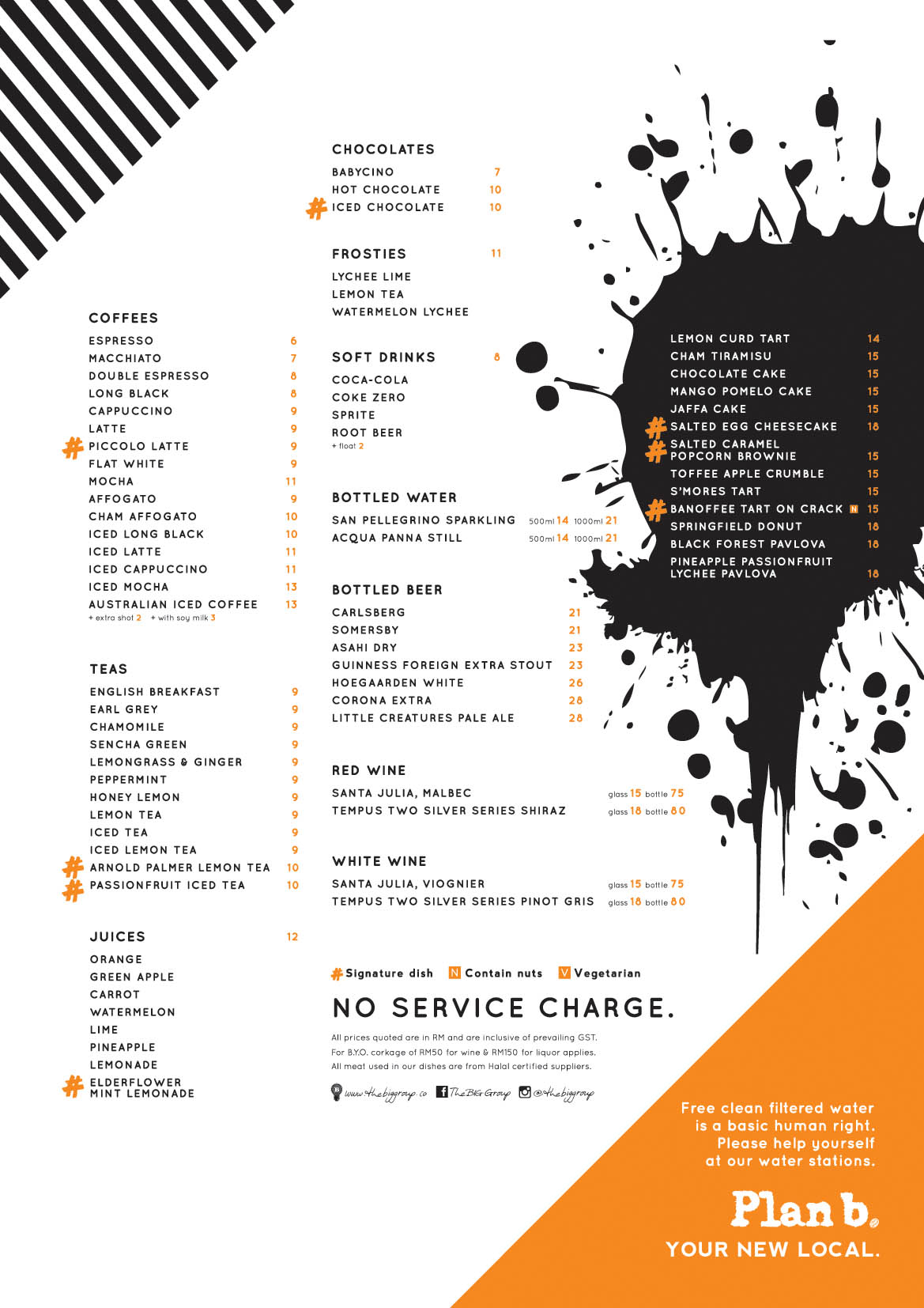 Upon entering the main entrance of Queensbay Mall (Central Zone), turn right and walk towards the North Zone (J.Co, Morganfield, T.G.I. Friday's, Maybank, etc). Just walk a bit further up pass J.Co Donuts and you can see the deli there on your right.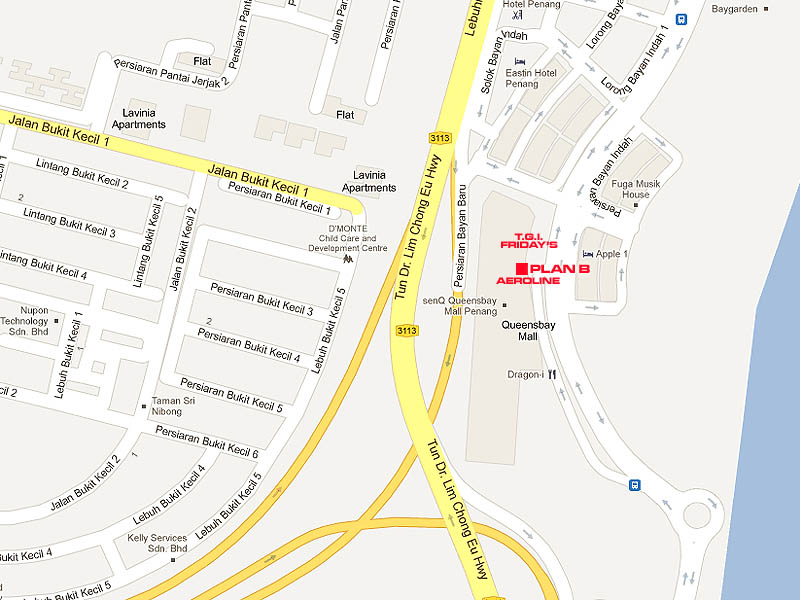 Name: PLAN B @ QUEENSBAY MALL
Address: GF-112, 113(A) & 146 (A) Ground Floor, Queensbay Mall, 100 Persiaran Bayan Indah, 11900 Bayan Lepas, Penang, Malaysia.
Contact: +604- 640 8820
Business Hours: 10.00am-11.00pm
GPS: 5.333909, 100.306759
RATING:
Ambience: 7/10 (1-4 cheap, 5-7 average, 8-10 classy)
Food Choices: 7/10 (1-4 limited, 5-7 average, 8-10 many choices)
Taste: 7.5/10 (1-4 tasteless, 5-7 average, 8-10 excellent)
Pricing: 7.5/10 (1-4 cheap, 5-7 average, 8-10 expensive)
Service: 8/10 (1-4 bad, 5-7 average, 8-10 excellent)