Are you aware that ZEST Bar Café @ GLOW by Zinc, a cool and comfortable café within a modern and chic hotel, located right in the heart of George Town, is currently having their Thai food promotions? With 4 others Glow hotels in Thailand, namely Koh Yao Yai, Pratunam, Trinity Silom and Sukhumvit, I won't be surprise that Thai cuisine remains their main theme. Whether it's for individual serving or with a group of family members and friends, there will always be something for everyone. Moreover, it's also a great time to pay them a visit and play with their latest props for their Most Creative Selfie Competition to be eligible to win free night stays at one of their leading Thailand hotels. More information is available here.
Do check out their Thai Set Lunch Menu and Ala Carte Menu as shown below. The meals will be available from 11.30am until 5.00pm daily. Click on the menu below for a better view.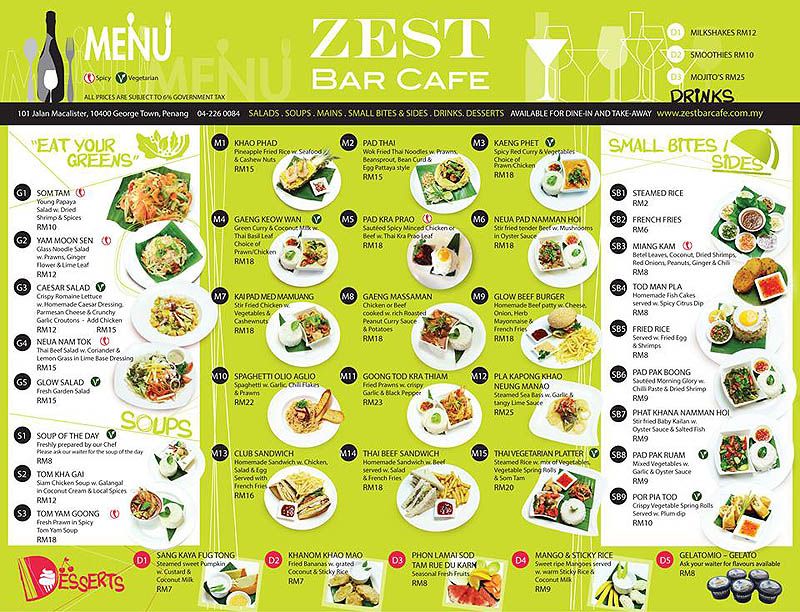 Let's have a look at their Ala Carte Menu to check out some of the great dishes for your lunch. To start off the meal, you can always order their Miang Kam (เมี่ยงคำ – RM8+) or commonly known as "one biteful" in Thai cuisine. The dish will consist of wild betel leaves, toasted grated coconut, dried shrimps, shallots, peanuts, mini ginger cubes with a punch of bird's eyes chili, served with their own concoction of sweet oozy like palm sugar based sauce.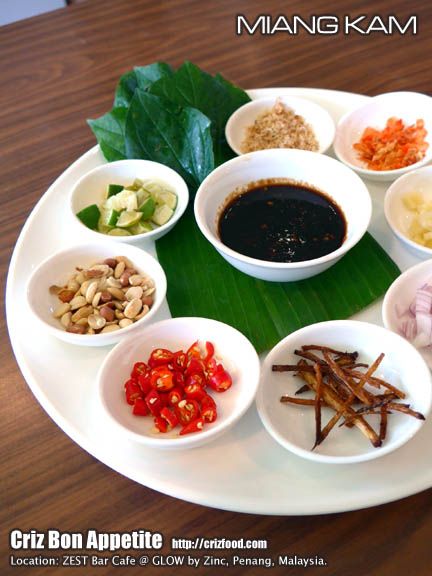 Alternatively, you can also try out their Som Tam (ส้มตำ – RM10+), a lime zesty and pungently spiced up young papaya salad with dried shrimps, cabbages, long beans, tomatoes, garlic, toasted peanuts, bird's eyes chilies, fish sauce, lime juice and palm sugar. It's a great appetizer in most Thai food servings.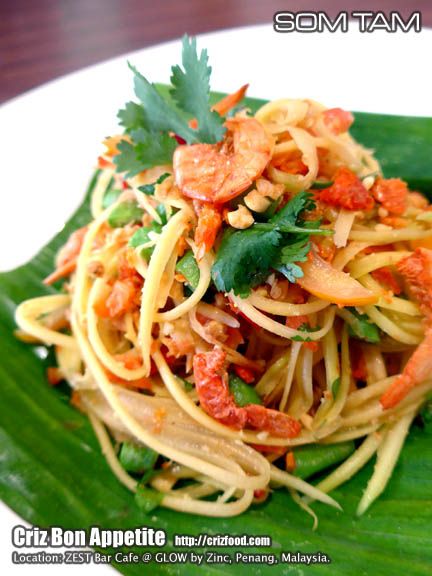 If you are not a fan of papayas, then you can try out their Yam Woon Sen (ยำวุ้นเส้น – RM12+), a glass noodles appetizer filled with punches from the vegetables, herbs and added steamed prawns. The dish had all the 5 main flavors (wan, kem, brieow, ped & kom/ หวาน, เค็ม, เปรี้ยว, เผ็ด & ขม) in Thai cuisine, mainly a balance of sweetness, saltiness, sourness, spiciness and bitterness (from the added cilantro and mint leaves).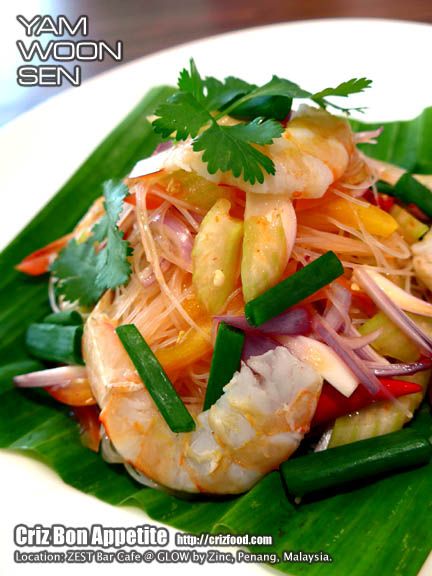 The eatery also does serve various soups. One of them being the Tom Kha Gai (ต้มข่าไก่ – RM12+), a thick herbs and spices packed chicken soup with hints of galangal and lemongrass. However, I personally felt that the broth was slightly too thick for me, thus felt rather surfeit after just a few mouthful. I have the feeling that box coconut milk, which was much thicker than freshly squeezed ones, was used in the recipe. Moreover, it lacked the fragrance and flavors from the herbs used. In Thai cuisine, you can't be slicing everything so delicately. Ingredients such as galangal, lemongrass or even chilies have to be smashed prior to cooking to obtain the optimum flavors. More kaffir lime leaves should be added in too for that distinctive zesty flavor. I hope the kitchen is aware of the proper cooking methods in Thai cuisine.
Another soup option will be their Tom Yam Goong (ต้มยำกุ้ง – RM18+). Unlike the Tom Kha Gai, this soup is pepped up with various flavors, especially from the freshness of the king prawns. However, it still lacked something important – the fragrance from the used herbs and spices. It was again the cooking methods all gone wrong again. I hope they rectify this basic rule in Thai cooking.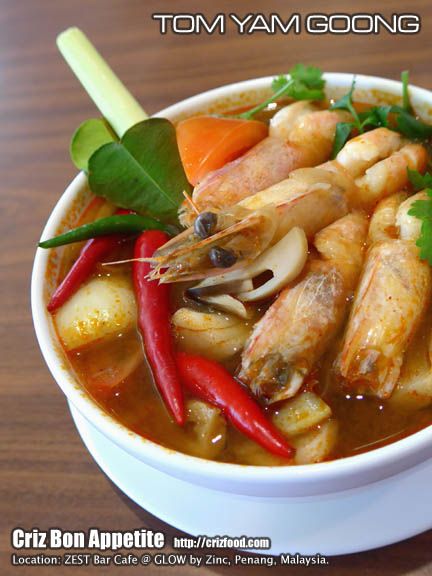 As for main dishes, there's a mix & match of Thai dishes as well as some Western for those who can't consume too spicy food. You can start with just Pad Thai (ผัดไทย – RM15+), the Thai version of flat noodles wok fried with prawns, bean curds and served with some raw bean sprouts, Chinese chives, crushed peanuts, chili flakes, sugar plus a slice of lime. The version served here was with an additional egg wrap. Notably, a great Pad Thai would consist of a balance of yin and yang flavors from the usage of fish sauce, tamarind paste and lime juice. Of course, there's the need of the perfect "wok hei" aka high heat stir frying from a super hot wok.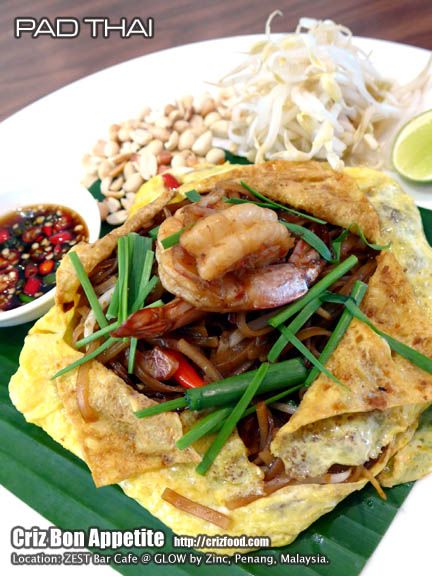 There will be quite a variety of "one dish – one rice" options here starting with the Kaeng Phet (แกงเผ็ด – RM18+). This is basically the authentic Thai version of spicy coconut milk based red curry recipe, with the option to have the dish pepped up with either prawns or chicken. We had this dish cooked with prawns. However, my personal preference would still be with chicken as it would be more harmonious with the texture.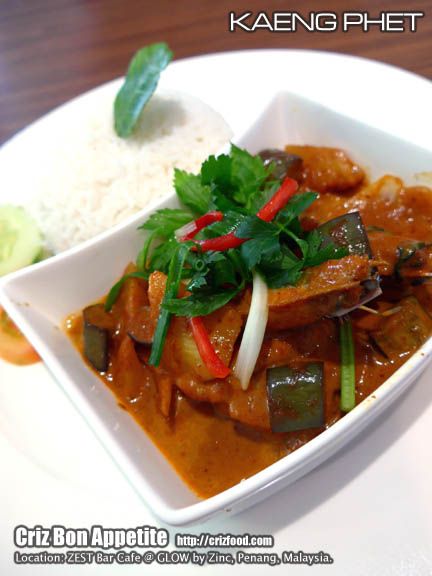 Another version would be the Gaeng Keow Wan (แกงเขียวหวาน – RM18+), an all-time signature Thai green curry dish loved by many food critics. It had an immaculate blend of green curry paste combined with coconut cream with your preference of either prawns or chicken to create that delicious thick curry that would complement your hot steaming rice well. We had boneless chicken cuts for this option. Though the dish may look tame by its color, it could be somewhat spicy for some. As for taste wise, the dish was fine except that I wondered why was broccoli being added instead of the commonly use eggplant. Somehow, the bite sensation and texture were somewhat different.
Next on the list was a dish loved by all of us. It was the Pad Kra Prao (ผัดกะเพรา – RM18+), a minced meat dish stir fried with Thai basil leaves, served with rice and an omelette. Here you have an option of either minced chicken or beef. We chose minced chicken instead. This complete street food meal deal can be quite abundant in Thailand. The simple salty sweet flavors from the added garlic, chilies and Thai basils, combined with soy sauce, oyster sauce and a dash of dark soy sauce would make you crave for more.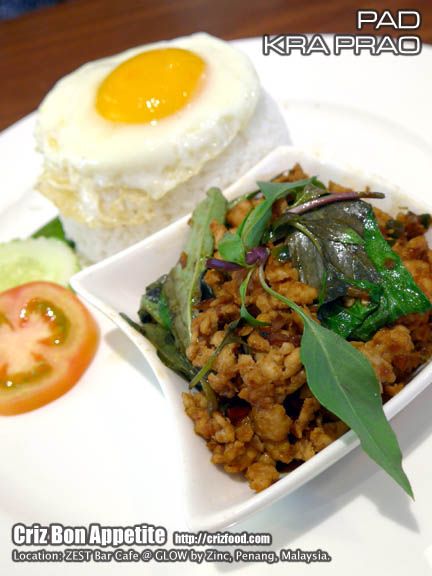 Of course, there will be the world's #1 dish in the menu. Do try out their Gaeng Massaman (แกงมัสมั่น – RM18+), a Southern Thai dish with Indian influence. Compared to the red, green, yellow curries of Thailand, you can find the usage of many dry spices such as cardamom, cinnamon or even nutmeg being used in the recipe. With a long list of needed ingredients, the flavors of Massaman Curry can be quite complicated and yet delish to the palate of anyone. You can have the option of chicken or beef for this dish. The dish would come with added potatoes and toasted peanuts.
Who would miss the many mouth-watering Thai desserts? This dessert would surely tempt those sweet tooth diners. Firstly, we have the Sang Kaya Fak Tong (สังขยาฟักทอง – RM7+), sometimes also known as the Thai Pumpkin Custard. It's a unique dessert with eggy sweet coconut cream custard steamed in a whole kabocha squash (Japanese mini pumpkin). The slice of dessert was served with added coconut cream and toasted sesame seeds syrup.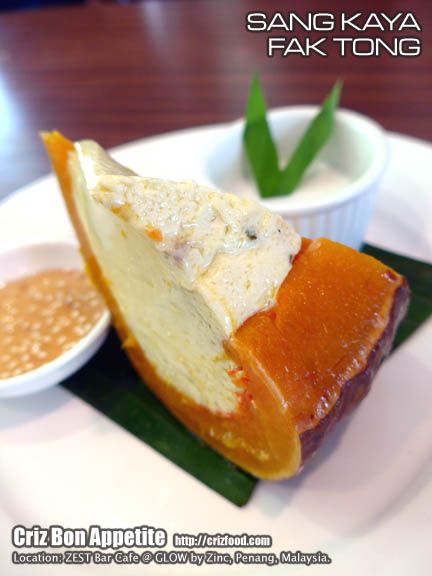 You would get to try out of the street desserts such as the Khanom Khao Mao (ขนมขาวเมา- RM7+), a sinfully sugary ripe banana wrapped in grated coconut and sticky rice, deep fried to perfect crispiness and served with extra coconut cream. Though sinful for your diet, it's the ultimate dessert to end your meal.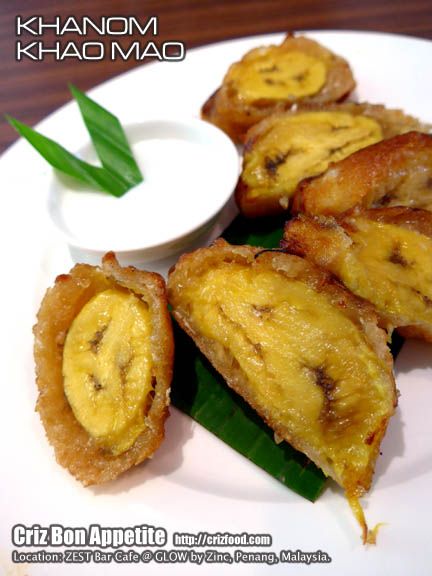 Overall, some of the dishes served here can be real fulfilling though they have been tweaked to suit the taste buds of the diners in this region. I'm sure most of us can't really consume the 100% authentic ones as they can be quite overpowering in terms of spiciness, sourness and sweetness. Anyway, Zest Bar can still be the perfect place to relax and dine while admiring the scenic view of George Town.
ZEST Bar Cafe @ GLOW by Zinc is located at the 1st floor of the hotel along Jalan Macalister just opposite Red Rock Hotel. There are about 20 car park spaces in this hotel with 10 spaces available right in front of the hotel and another 10 spaces behind the hotel via Jalan Naning (opposite Sum Sum Motors). There are also many coupon based parking spaces available surrounding the hotel. Please make sure you have your parking coupons ready as you would need to pay between 9.00am and 5.00pm. However, effective 1 July 2014, valet services would be available for your convenience.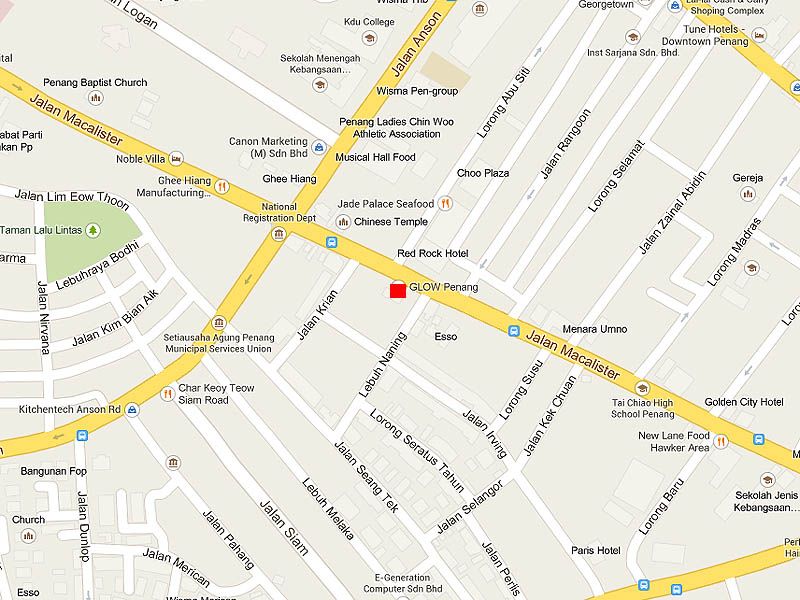 Name: ZEST BAR CAFÉ @ GLOW BY ZINC
Address: 101 Jalan Macalister, 10400 George Town, Penang, Malaysia.
Contact: 604-226 0084
Business Hours: 11.30am-5.00pm (lunch), 6.00pm-10.30pm (dinner by booking)
GPS: 5.416638, 100.322952
RATING:
Ambience: 7.5/10 (1-4 cheap, 5-7 average, 8-10 classy)
Food Choices: 7.5/10 (1-4 limited, 5-7 average, 8-10 many choices)
Taste: 7.5/10 (1-4 tasteless, 5-7 average, 8-10 excellent)
Pricing: 7/10 (1-4 cheap, 5-7 average, 8-10 expensive)
Service: 8/10 (1-4 bad, 5-7 average, 8-10 excellent)