You may have tried many hi-tea options in Penang, whether it's by the beach, in heritage buildings or even in some cafes but are you aware that you can now have it at 59Sixty Dining Room & Lounge @ The Top, Penang, right up at the 59th floor of the iconic KOMTAR (Kompleks Tun Abdul Razak) Tower? It's priced at 68nett for 2 pax or RM38nett/pax with a pot of your selected tea from 3.00pm until 5.00pm daily. Do make prior reservation so that you won't have to wait too long for your freshly prepared items. The best part of the deal is that you would get to have a great 360° panoramic view of Penang. Who knows, you might even spot your house from the high angles~ 🙂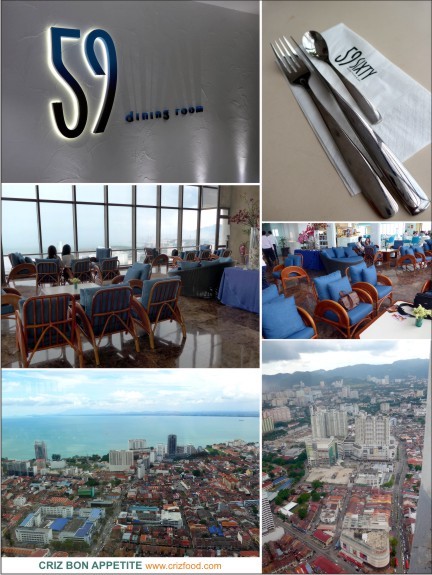 Let's have a look at what would be served for the 2 pax set. Firstly, you would get to choose your pot of tea (Sri Lanka's Dilmah tea brand) from 4 options, namely English Breakfast Tea, Earl Grey, Green Tea with Jasmine and Pure Peppermint Leaves. There would be more options available in the near future. For the English Breakfast Tea and Earl Grey, you would get additional herbs and spices to infuse your tea with more flavors such as mint leaves, lemongrass, honey, lemon slices, cherries and cinnamon barks.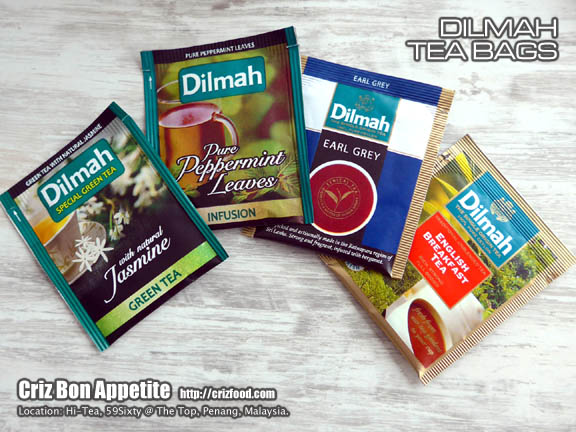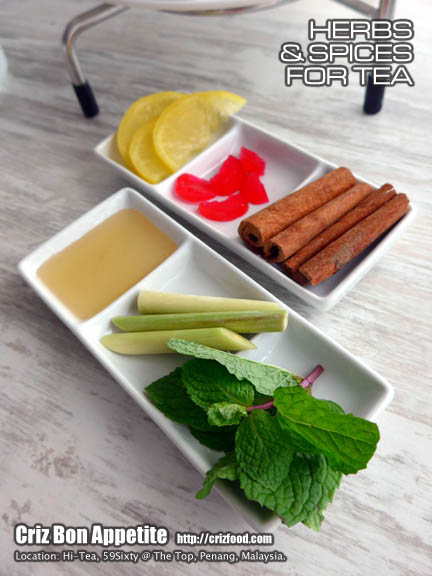 As for the English style Hi-Tea, you would expect to get a 3-tier serving portion for two. The first tier would consist of items such as fruit mousse, cheesecakes and chocolate fruit tartlets. The second tier would consist of club sandwiches, muffins and cookies whereas the bottom tier would consist of 2 types of scones served with strawberry jam and clotted cream.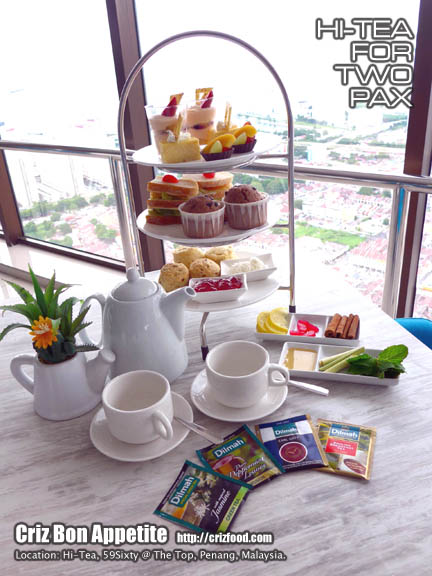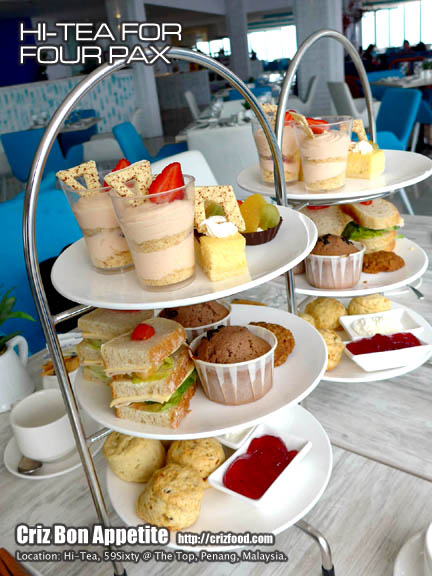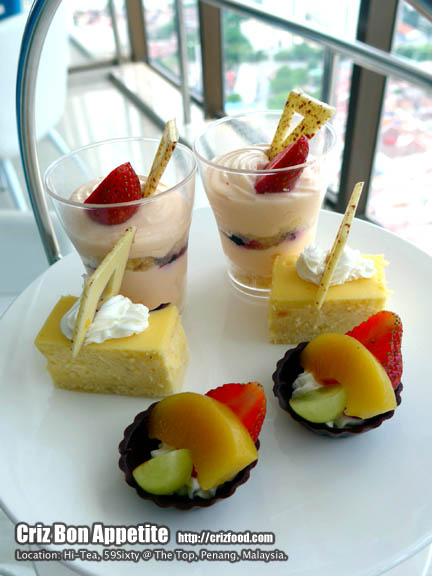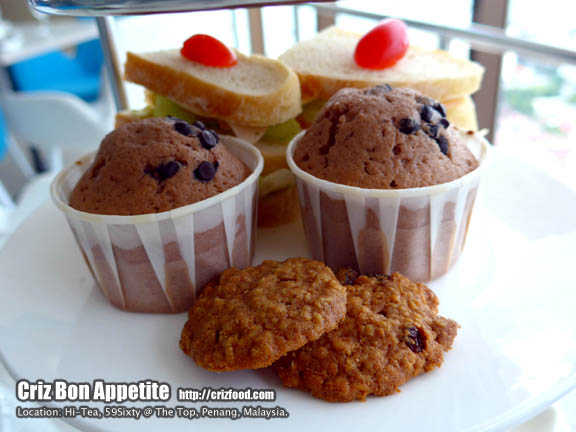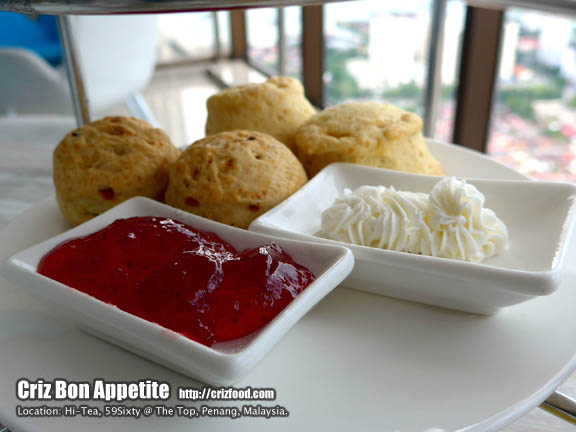 Overall, I quite like the concept of having hi-tea with panoramic view of the whole Penang. The price of RM68 for 2 pax is reasonable with a quality pot of tea, especially with Earl Grey and English Breakfast Tea which would come with additional addons of herbs and spices. However, I do find the items served to be a bit out of balance as the whole set consisted of more sweet items rather than a good ratio of sweetness versus saltiness. It was at 9:1 ratio. It will be great if the pastry kitchen can come out with a 7:3 or even 3:2 ratio of items. Instead of just the 3-tier "club sandwich" as the sole savory item, it would be great to replace it with 3 other smaller items such as cucumber & cheese sandwiches, mini egg croissants, vol-au-vents with tuna/turkey/chicken filling or even simple mini dinner rolls with salmon/turkey ham rolls. At least the diners would not feel too surfeit over too much sweetness.
59SIXTY DINING ROOM & LOUNGE AT A GLANCE:
Buffet Lunch (Monday-Friday): 12.00pm-2.30pm: RM88nett/pax
Brunch (Saturday, Sunday & Public Holidays): 11.30am-3.30pm: RM98nett/pax
Buffet Dinner (Daily): 6.30pm-10.00pm: RM168nett/pax
English Hi-Tea (Daily): 3.00pm-5.00pm: RM38nett per pax or RM68nett for 2 pax
Sixty Lounge (Daily): 4.00pm-2.00am: (Happy Hours: 4.00pm-8.00pm/In-House Band (Wednesday- Saturday): House rules of No Slippers, No Shorts, No Singlet/Vest and Above 18 years old apply.
Note: Senior Citizens (60 years old & above) and Children (3-7 years old) are entitled to 50% discount. Child below 3 years old is FOC.
The 59Sixty @ The Top, Penang can be accessible through the information counter next to Maybank Komtar @ Lebuh Tek Soon. Please make prior reservation prior to your dining there as it's a restricted access area and only the authorized ushers could lead you up to the top of the building. To get there, you have to drive along Jalan Dr Lim Chwee Leong into Jalan Ria and then turn right into Lebuh Tek Soon. It'll easier if you were to park nearby there. There are 3 car parks available here – Ground Floor Komtar (after Pos Malaysia Komtar), Komtar Multi-Storey Car Park (on your right), Open Space Car Park (after the Komtar Multi-Storey Car Park on your right via a small lane/exit for the car park). However, if you are dining until late, it's advisable to park at other more brightly lighted car parks such as the Prangin Mall Car Park (1400 car lots), 1st Avenue Car Park (170 car lots) or even the Open Space Car Park opposite Hotel Jen/next to St Giles Wembley Hotel Penang (100 car lots) and walk over to the entrance as some car parks adjacent to Komtar will be closed as early as between 9.00pm and 10.30pm. For those visiting the Sixty Lounge until late, you can park at the Open Space Car Park (after the Komtar Multi-Storey Car Park on your right via a small lane/exit for the car park). However, if you are staying up until the wee hours of the day, please travel at least in pairs to the car park as it's not so brightly lighted up. The Komtar area is currently under revitalization process, thus please give it some time to refurbish the conditions of all the surrounding car parks.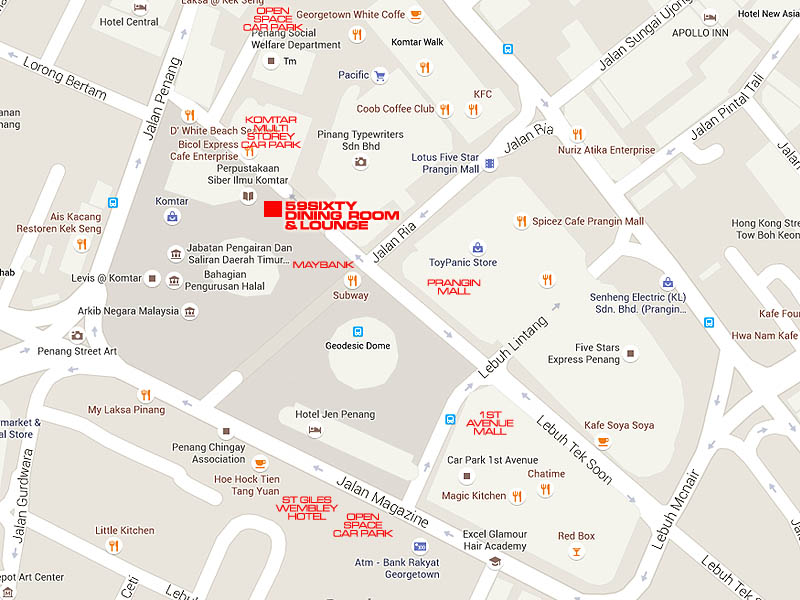 Name: 59SIXTY DINING ROOM & LOUNGE @ THE TOP, PENANG
Address: Level 59 & 60 Komtar, Jalan Penang, 10000 Penang, Malaysia.
Contact: +604-262 5960/+6017-289 0255
Business Hours:
Buffet Lunch (Monday-Friday): 12.00pm-2.30pm
Brunch (Saturday, Sunday & Public Holidays): 11.30am-3.30pm
Buffet Dinner (Daily): 6.30pm-10.00pm
English Hi-Tea (Daily): 3.00pm-5.00pm
Sixty Lounge (Daily): 4.00pm-2.00am (Happy Hours: 4.00pm-8.00pm/In-House Band (Wednesday- Saturday)
GPS: 5.414995, 100.329913
FaceBook: http://www.facebook.com/onlyworldgroup
RATING:
Ambience: 9/10 (1-4 cheap, 5-7 average, 8-10 classy)
Food Choices: 7/10 (1-4 limited, 5-7 average, 8-10 many choices)
Taste: 8/10 (1-4 tasteless, 5-7 average, 8-10 excellent)
Pricing: 7/10 (1-4 cheap, 5-7 average, 8-10 expensive)
Service: 8/10 (1-4 bad, 5-7 average, 8-10 excellent)