If you want to dine like the emperor, stay like the emperor and rock like the emperor, you should try out the Rock of Prosperity Chinese New Year Buffer Dinner 2016 at Starz Diner @ Hard Rock Hotel Penang from 6.30pm until 10.30pm on 7-8 February 2016. Priced at as low as RM99nett (Adult) and RM68nett (Children 6-12 years old), you would get to savor an extensive array of authentic Chinese and fusion under the expertise of the hotel's Chinese Sous Chef, Chef Yoong Toy Heng @ Chef Heng, Demi Chef De Partie, Chef Hong Swee Aun and their kitchen team. Please call +604-886 8057 or email fb.penang@hardrockhotels.net to book earlier to avoid disappointment.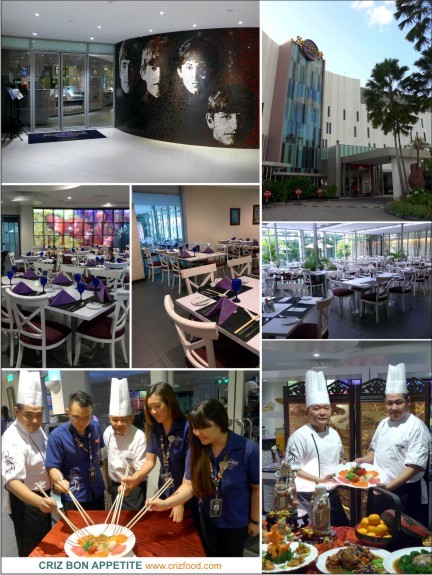 From left to right: Chef Hong Swee Aun (Demi Chef De Partie), Andy Chin (F&B Manager), Chef Yoong Toy Heng @ Chef Heng (Chinese Sous Chef), Angeline Chen (Asst. Marketing Communications Manager) and Sheryn Ng (Marketing Communications Executive
Here are the summary and menus for those days. Please click on the photos for clearer views.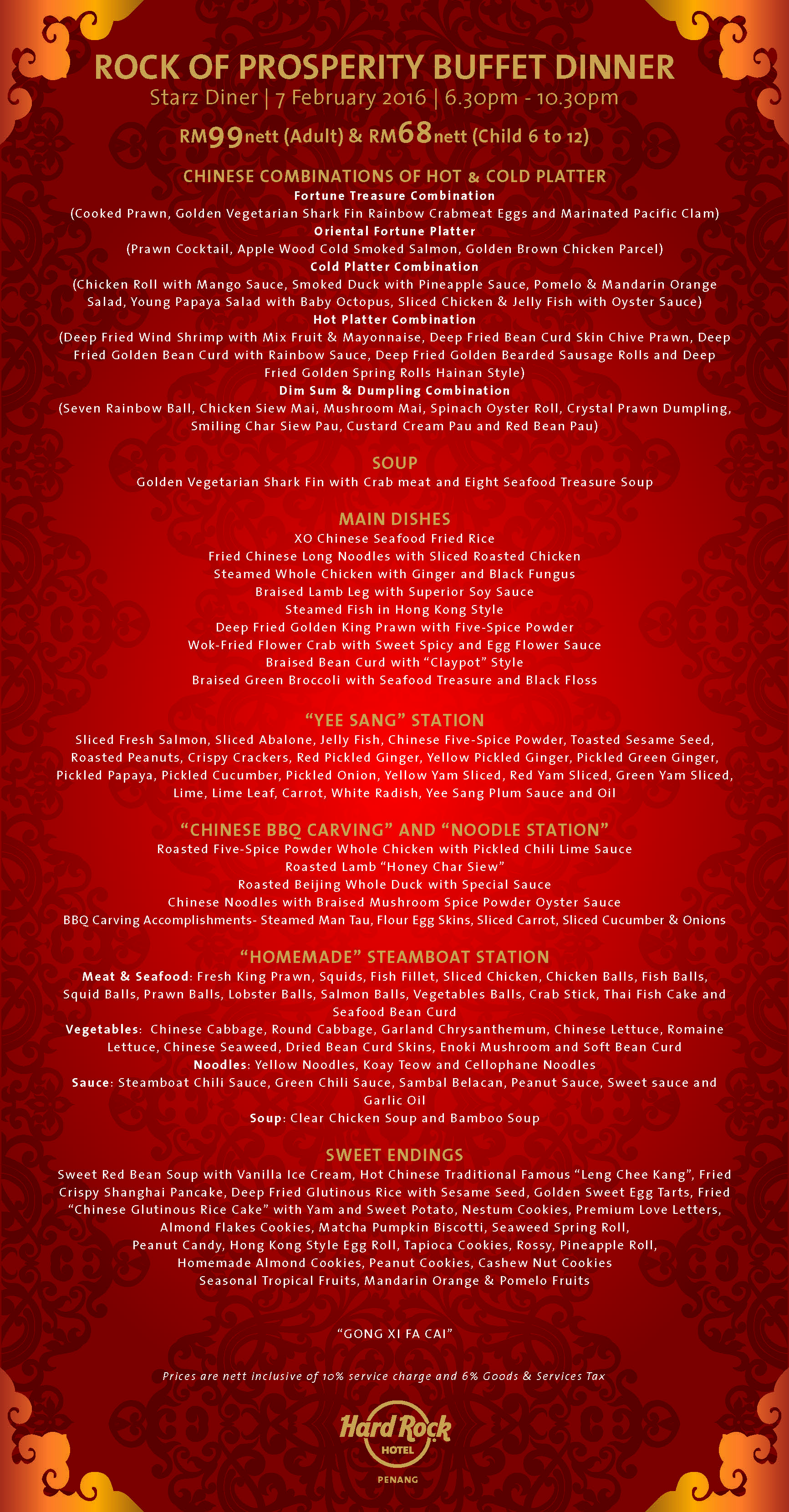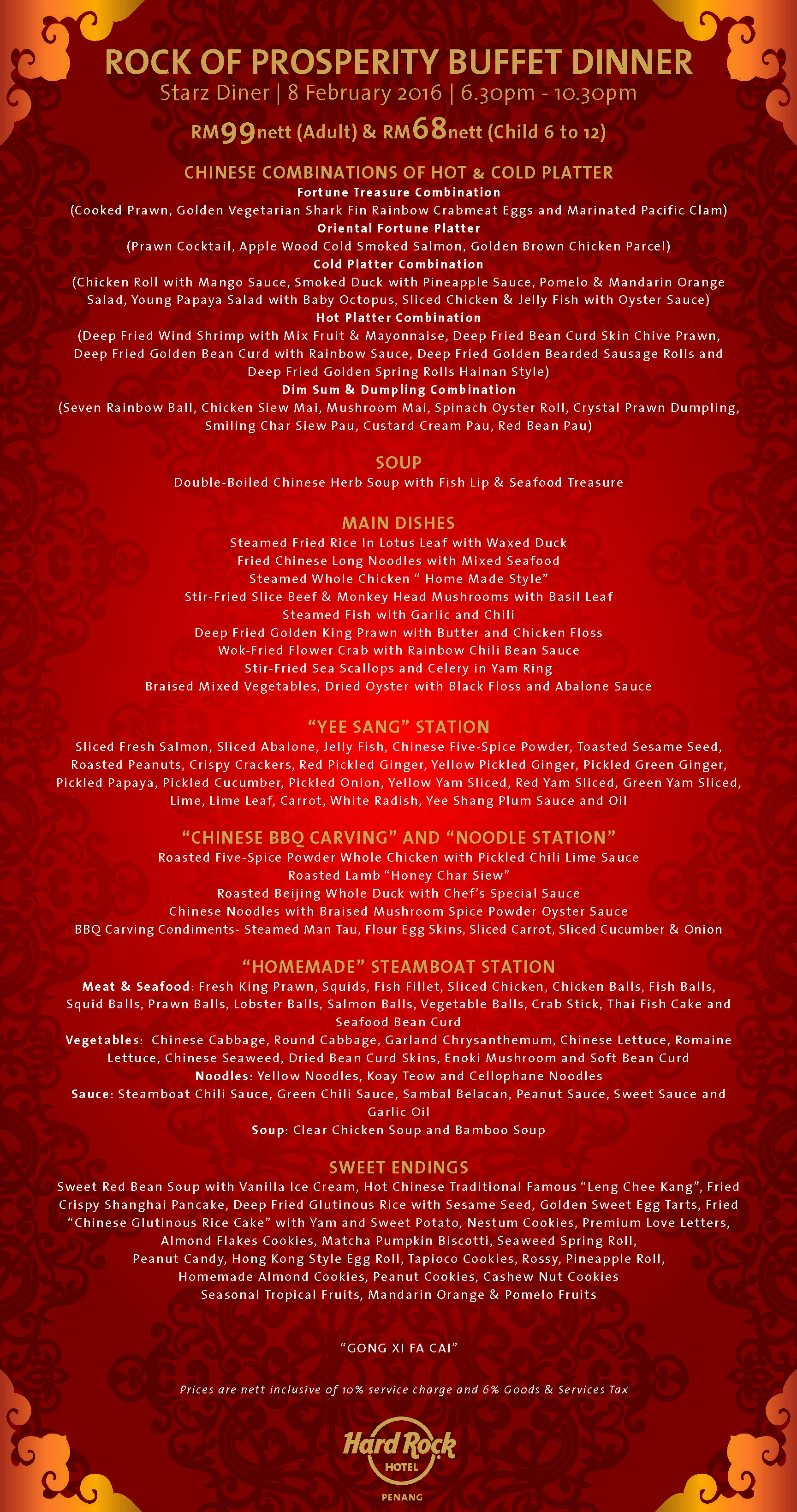 Here are some of the highlights of the buffet spreads for the Rock of Prosperity Chinese New Year Buffer Dinner 2016. For the 2-days of buffet dinners, you would get to lavishly indulge in a wide variety of Chinese cuisine which would items such as hot and cold platters, soup of the day, Chinese main dishes, Yee Sang, Chinese BBQ Carving, noodles, steamboat and desserts.
The best part to start off the auspicious occasion with great omen is the availability of a Yee Sang Station. You would find fresh ingredients ranging from Sliced Fresh Salmon (maybe fresh Tuna too), Sliced Abalone, Jelly Fish, Chinese Five-Spice Powder, Toasted Sesame Seed, Roasted Peanuts, Crispy Crackers, Red Pickled Ginger, Yellow Pickled Ginger, Green Pickled Ginger, Pickled Papaya, Pickled Cucumber, Pickled Onion, Yellow Yam Sliced, Red Yam Sliced, Green Yam Sliced, Lime, Lime Leaves, Carrot, White Radish and Plum Sauce. Let's usher in the year of the Fire Monkey with a big bang of great health, wealth and happiness.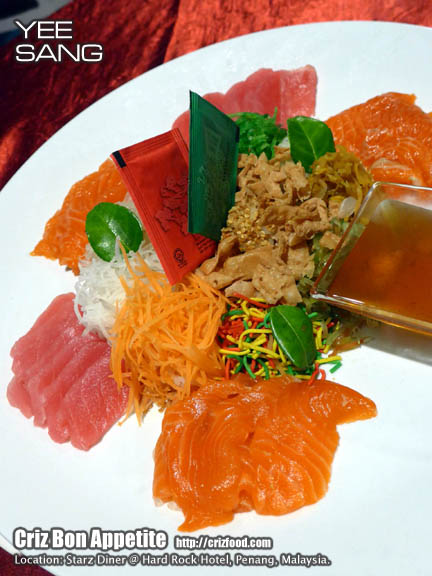 The chefs had also pepped a number of Cold Platter Combinations such as Chicken Roll with Mango Sauce, Smoked Duck with Pineapple Sauce, Pomelo & Mandarin Orange Salad, Young Papaya Salad with Baby Octopus plus Sliced Chicken & Jelly Fish with Oyster Sauce.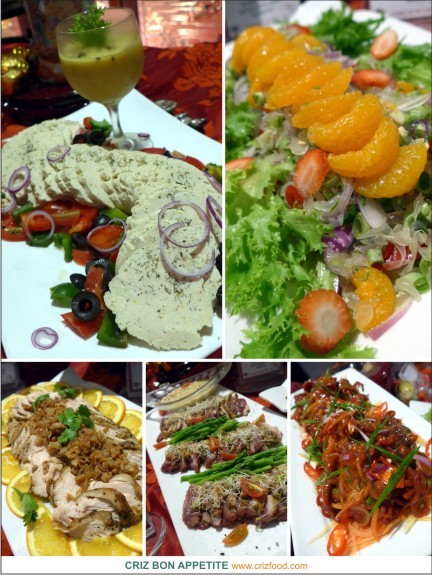 You might even get some of the appetizers in canapé servings.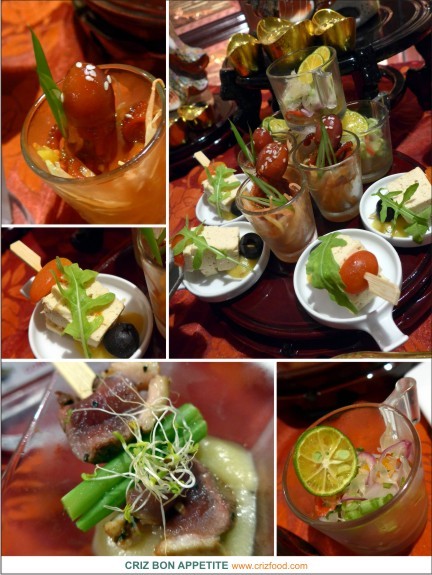 Some of the Chinese New Year dishes you could try out at Starz Diner would include Golden Vegetarian Shark Fin with Crabmeat and Eight Seafood Treasures Soup. It has been a long time since I had savored a rich stock starchy soup so heavenly pepped up with so many flavors. The kitchen indeed did put on hours of labor in simmering the stock. There was a significant taste of roasted poultry flavors in each sip. It was a dish so well done that it could put a lot of eateries in shame.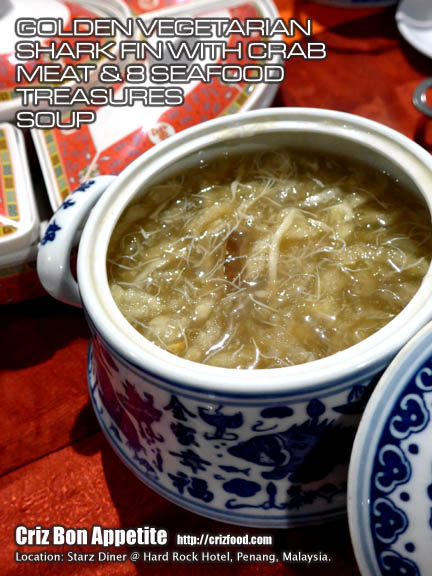 Special highlights from the main dishes are the XO Chinese Seafood Fried Rice, Steamed Whole Chicken with Ginger & Black Fungus, Braised Lamb Leg with Superior Soy Sauce, Deep Fried Golden King Prawn with Butter & Chicken Floss, Stir-Fried Sea Scallops & Celery in Yam Ring and Braised Green Broccoli with Seafood Treasure & Black Moss plus Steamed Fish with Garlic & Chilies. I was truly impressed with quality of most of the main dishes especially the Steamed Whole Chicken with Ginger & Black Fungus, Deep Fried Golden King Prawn with Butter & Chicken Floss, Stir-Fried Sea Scallops & Celery in Yam Ring and Braised Green Broccoli with Seafood Treasure & Black Moss. You practically find lots quality ingredients used such as scallops, macadamia nuts, various types of mushroom, soy based vegetarian pork belly, dried oysters, sea cucumbers, fish maws, black moss and more in quite a number of the dishes. Wow! It's like a meal fit for the emperor!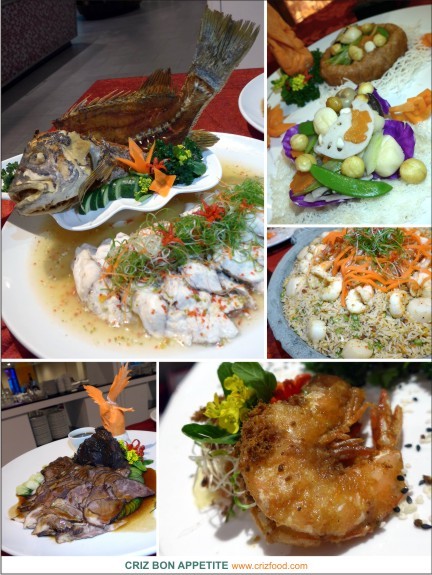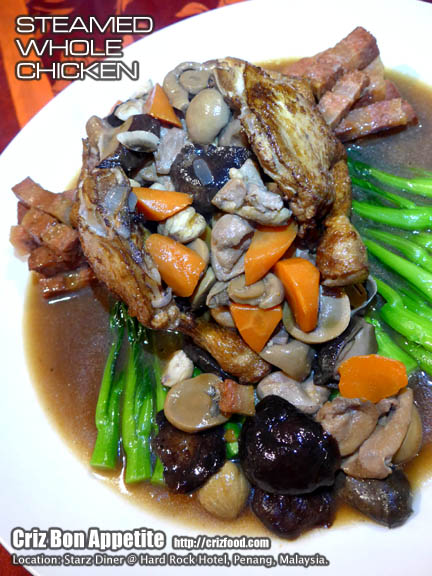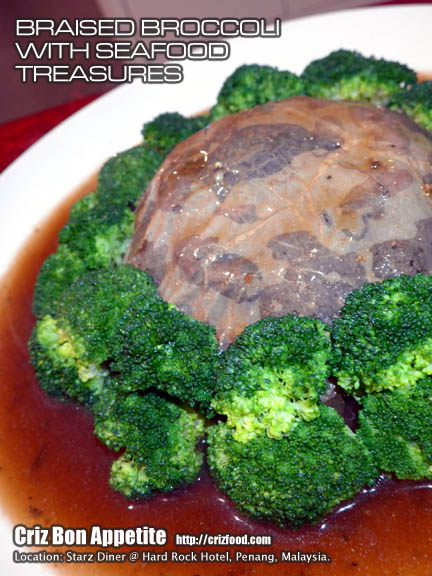 Having steamboats are always merrier encompassing families during Chinese New Year dinners. Bask in an array of meat, vegetables and noodles accompanied with Clear Chicken Soup and Bamboo Soup and a selection of sauces. The hotpot would be available at the buffet spread action counter – DIY style. However, there would be a chef on standby to help you with your requests.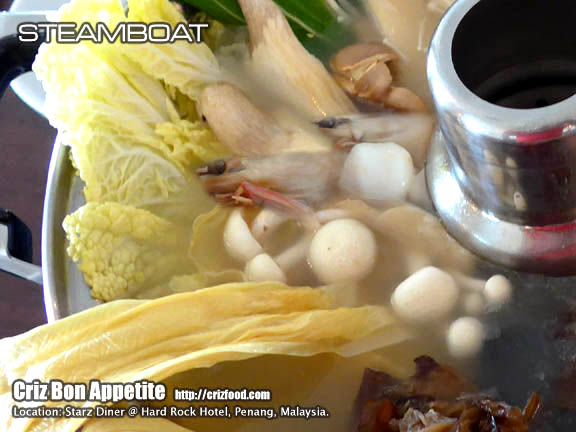 You could also end the meal with some sweet temptations such as a bowl of delicious Hot Chinese Traditional Famous 'Leng Chee Kang', Chinese Glutinous Rice Cake with Yam and Sweet Potato, Fried Crispy Shanghai Pancakes, some Chinese cookies, Mandarin oranges and more.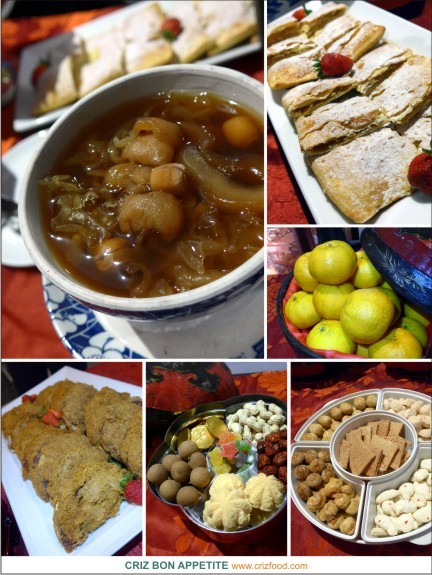 For those who would fancy a set dinner instead of a buffet dinner may opt for Hard Rock Café Prosperity Rock Platter, available for 2 persons at RM160nett or 3 persons at RM240nett. The promotion would be from 1-13 February 2016 from 11.30am until 11.30pm. Diners will be given a choice of Soup of the Day served with Garlic Bread or a House Salad – fresh green salad served with a choice of house dressing. For the mains, delight in a combo of Potato Skins, Chicken Fried Rice, Sweet and Sour Fish, Five Spices Bar-B-Que Chicken, Mini Beef Burgers with Plum Sauce, Deep Fried Prawn with Thai Chili Sauce, Hickory Smoked Pulled Lamb Sandwiches and Chicken Wings with Sweat Sticky BBQ Sauce. To end the perfect meal, enjoy a savory Hard Rock Cafe's signature dessert –Mini Apple Cobbler served with vanilla ice cream.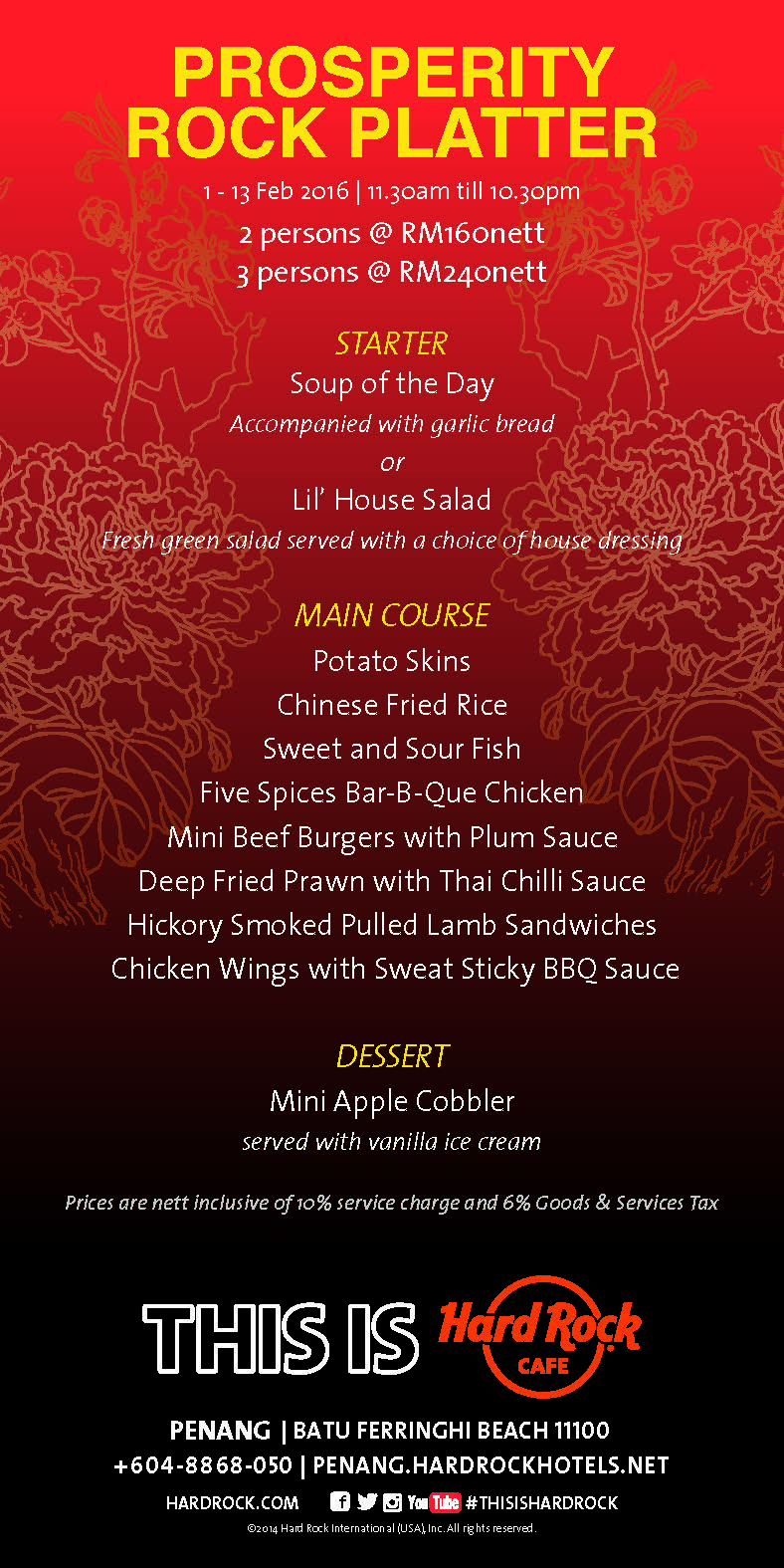 Overall, I quite like their Chinese New Year buffet spreads as they were more authentic than most eateries I have tried to date. With so many types of rich ingredients used, the taste of course excelled beyond my expectations. Thanks to the two skillful Chinese chefs that we could savor quality Chinese cuisine from Hard Rock Hotel Penang.
The Starz Diner is located at the left wing of Hard Rock Hotel Penang. Upon entering, just head to the left side and you will see a little glass door leading to the eatery.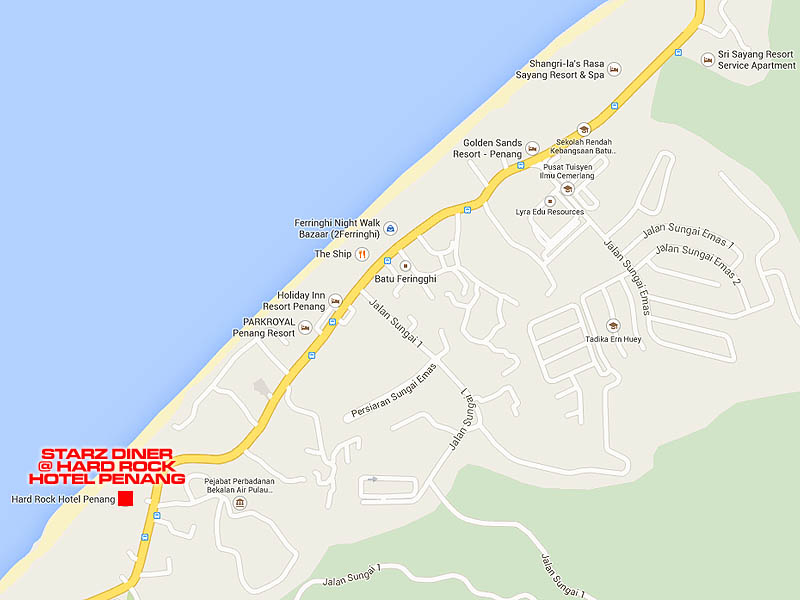 Name: STARZ DINER @ HARD ROCK HOTEL PENANG
Address: Batu Ferringhi Beach, 11100 Penang, Malaysia.
Contact: 604-881 1711
Business Hours: 6.30am-11.00am, 5.30pm-11.00pm
GPS: 5.467568, 100.241382
RATING:
Ambience: 8/10 (1-4 cheap, 5-7 average, 8-10 classy)
Food Choices: 8/10 (1-4 limited, 5-7 average, 8-10 many choices)
Taste: 8.5/10 (1-4 tasteless, 5-7 average, 8-10 excellent)
Pricing: 7/10 (1-4 cheap, 5-7 average, 8-10 expensive)
Service: 8/10 (1-4 bad, 5-7 average, 8-10 excellent)
RESERVATIONS:
Starz Diner/Pizzeria: Call +604-886 6057 or email fb.penang@hardrockhotels.net.
Hard Rock Café Penang: Call +604-886 8050 or email hrc.admin@hardrockhotels.net.
More information: Hard Rock Hotel Penang's F&B Promotions
Hard Rock International: With a total of 204 venues in 64 countries, including 157 cafes, 22 hotels and 11 casinos, Hard Rock International (HRI) is one of the most globally recognized companies. Beginning with an Eric Clapton guitar, Hard Rock owns the world's greatest collection of music memorabilia, which is displayed at its locations around the globe. Hard Rock is also known for its collectible fashion and music-related merchandise, Hard Rock Live performance venues and an award-winning website. HRI owns the global trademark for all Hard Rock brands. The company owns, operates and franchises Cafes in iconic cities including London, New York, San Francisco, Sydney and Dubai. HRI also owns, licenses and/or manages hotel/casino properties worldwide. Destinations include the company's two most successful Hotel and Casino properties in Tampa and Hollywood, Fl., both owned and operated by HRI parent company The Seminole Tribe of Florida, as well as other exciting locations including Bali, Chicago, Cancun, Ibiza, Las Vegas, Macau and San Diego. Upcoming new Hard Rock Cafe locations include San Juan, Lagos and Gran Canaria, Spain. New Hard Rock Hotel projects include Daytona Beach, Dubai, Los Cabos, Tenerife, Abu Dhabi, and Shenzhen and Haikou in China. For more information on Hard Rock International, visit www.hardrock.com.