Let's welcome the arrival of the Red Fire Rooster during this coming Chinese New Year 2017 with wonderful spreads of Chinese delicacies from Sukkah Coffee House @ Olive Tree Hotel, Penang. Olive Tree Hotel ensures only the best and finest dishes are served in the Chinese New Year menus. On Chinese New Year's Eve, Olive Tree Hotel will be offering both buffet and 8-course dinner in its Grand Ballroom. It is indeed an opportunity not to be missed for those who want to get a taste of traditional and authentic cuisines from various Chinese people groups such as the Hakka, Cantonese and Teochew. This will be accompanied by live performances like lion dance, Chinese orchestra and many more, guaranteed to keep the evening exciting. Skip the hassle of cooking and cleaning and spend more time with your family. Celebrate the first and second day of Chinese New Year with a buffet lunch or dinner with your loved ones. Large families can benefit on the Buy 5 free 1 promotion for buffet lunch on both days. Ongoing 7-course and 8-course meals are also available for pre-celebration until the 15th day of the Chinese New Year. These meals are available by advanced booking and each booking will be held in a Chinese New Year-themed private function rooms – ideal for private groups, family celebrations and company meals. For reservation and enquiries, please contact Sukkah Coffee House at +604-637 7873 to make prior booking to avoid any disappointment.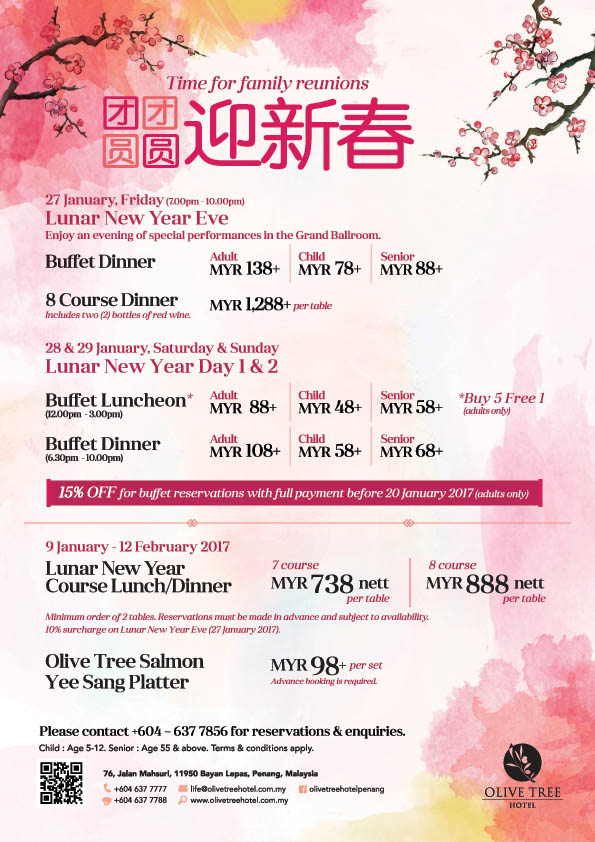 Let's dive in and savor the best of the best during this auspicious celebration with their RM888nett package. As how it should be, the Olive Tree Yee Sang Platter would be presented to the diners to "lo hei" in a great year of great fortune, a symbol of abundance, prosperity and vigor.
Next on the line up would be the Double Boiled Chicken Soup with Sea Cucumber and Scallops, a rich and nourishing soup which had obvious taste of the long simmering hours to pep it up.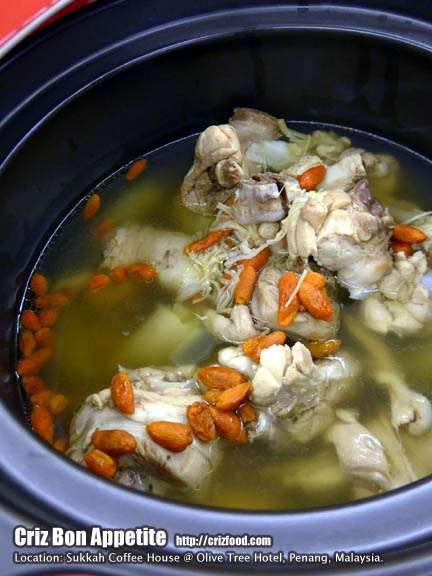 The Crispy Golden Roasted Duck was something that had us gobbling up more as it was done to perfection with crispy skins and tender meat.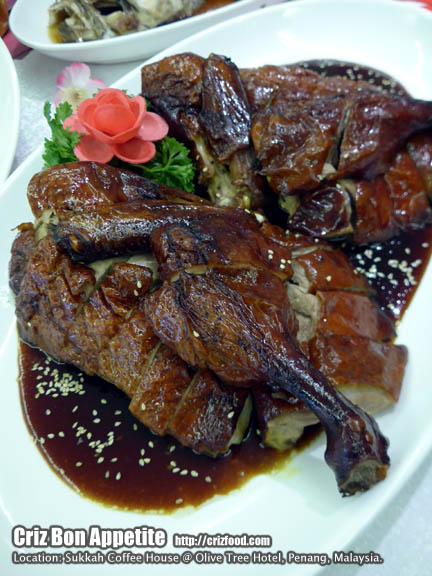 We also tried out their Steamed Garoupa with Superior Soy Sauce, fresh and succulent until the last bit. The size of the fish was just nice for a table of 10 pax.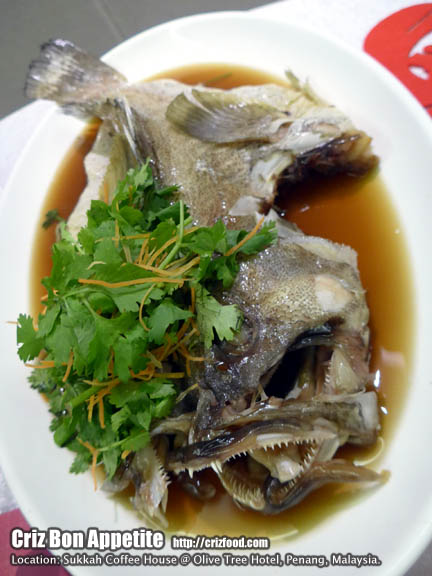 The Braised Mushrooms & Homemade Tofu with Scallops & Broccoli may look simple but the overall dish was filled with just the right flavors and "wok hei".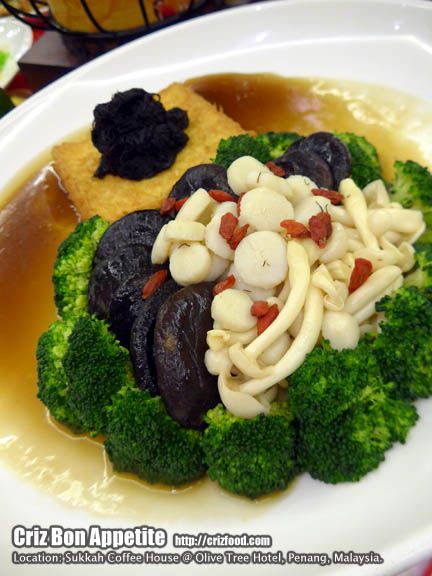 On the other hand, the Stir Fried Tiger Prawns with Butter Cream Sauce was something quite unique in flavors. I quite like the portion served too.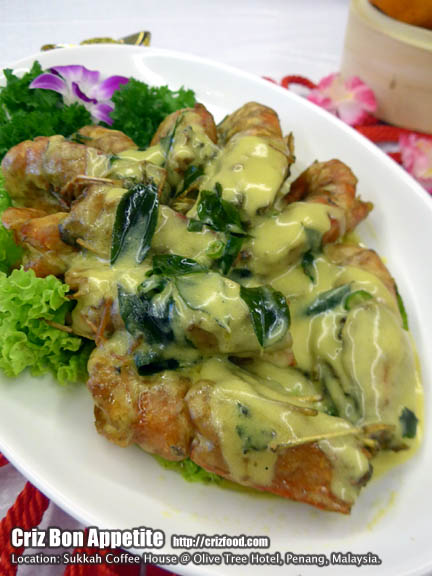 The Authentic Claypot Chicken Rice was something that I did not expect to see on the menu but it was so skillfully prepared with some charred flavors to pep up the flavors more. How I wished there with some deep fried bits of salted fish added to make the dish more Malaysian.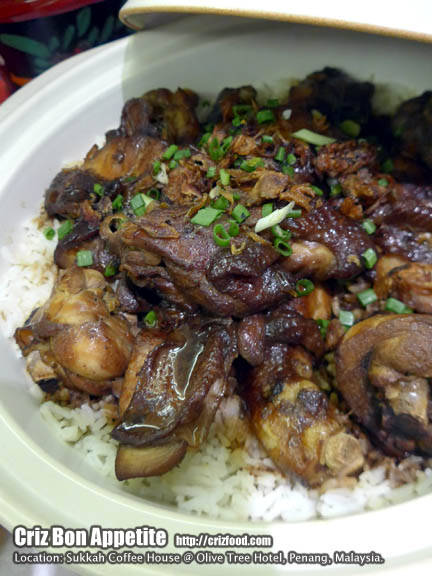 Lastly, we had Snow Fungus with Ginkgo Nuts in Soya Bean Milk which was a great dessert to end the meal.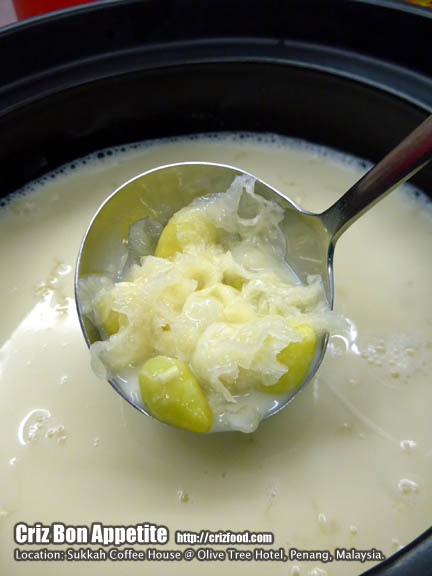 Overall, the package deal of RM888nett for 10 pax was more than adequate for consumption as the portion could be rather big compared to some of the eateries available out there. The dishes were flavorful and had some nicely pepped up dishes such as the roasted duck and claypot chicken rice.
Set menu spreads and other promotions as below: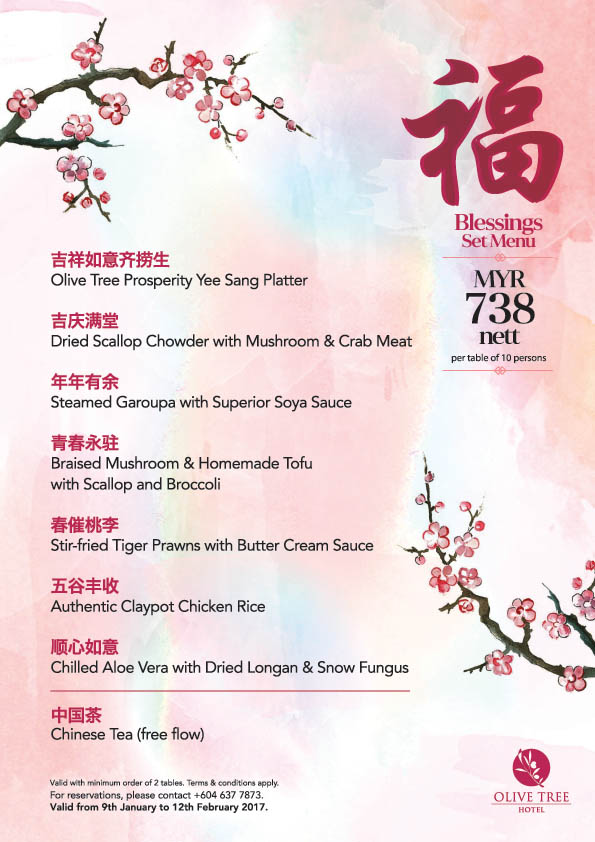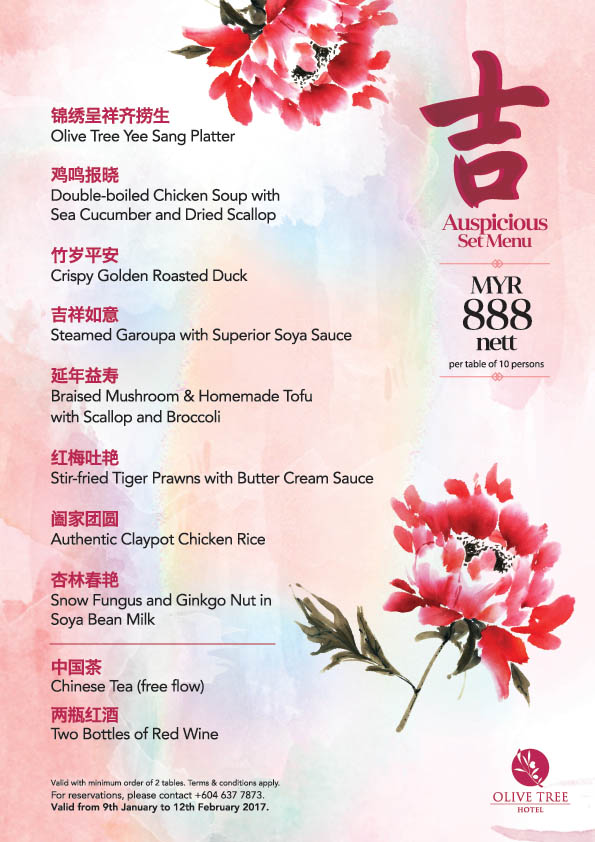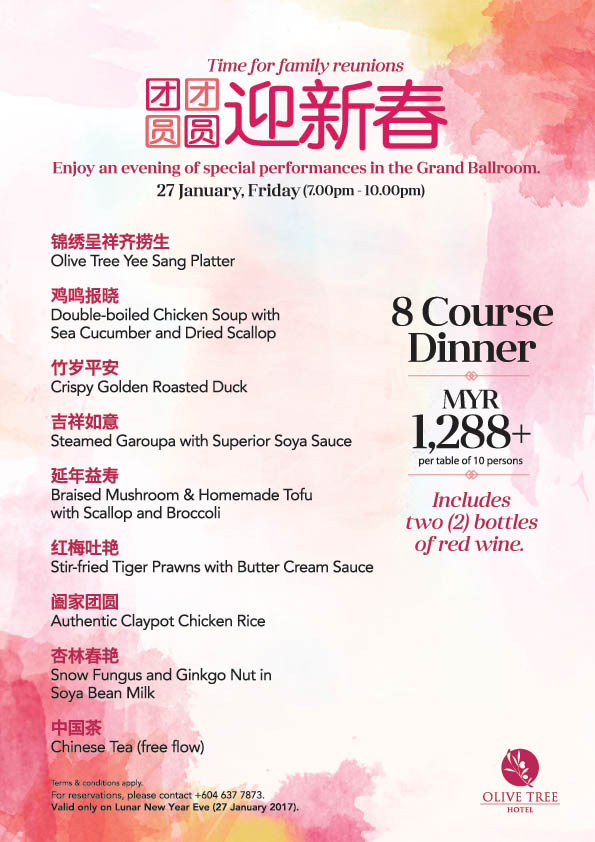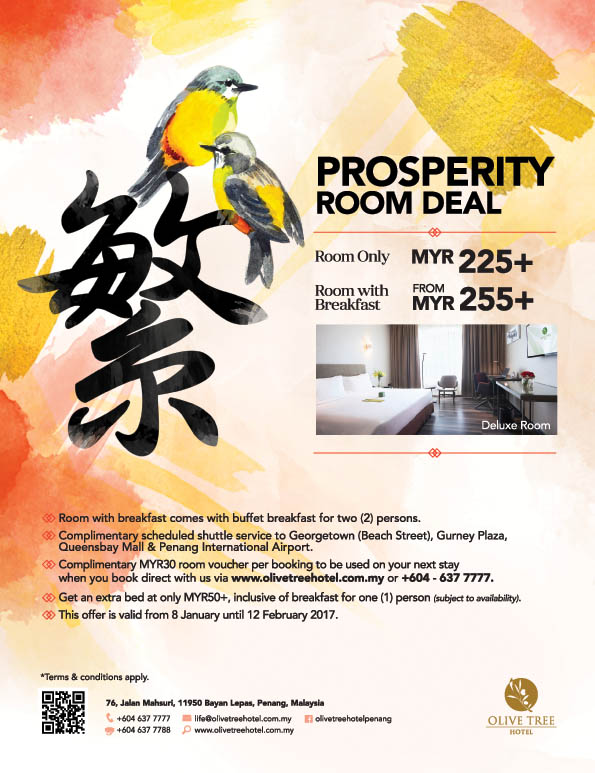 The Sukkah Coffee House @ Olive Tree Hotel Penang is located just opposite the Subterranean Penang International Conference & Exhibition Centre (SPICE – formerly known as PISA aka Penang International Sports Arena) along Jalan Mahsuri. If you are coming from Bukit Jambul via Jalan Tun Dr. Awang towards the Penang International Airport (PIA), turn left into Jalan Mahsuri at the traffic lights immediately after you have passed the SPICE. Keep right and drive up until the traffic lights and make a U-Turn. You can see the hotel on your left. Park your car and use the elevator or escalator to Level 2 and you can see the Sukkah Coffee House there.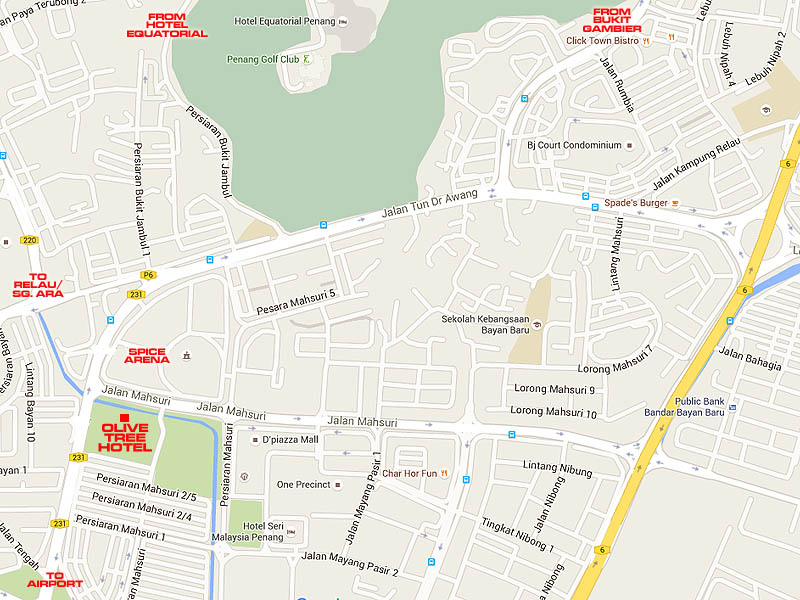 Name: SUKKAH COFFEE HOUSE @ OLIVE TREE HOTEL PENANG
Address: 76, Jalan Mahsuri, 11950 Bayan Lepas, Penang, Malaysia.
Contact: +604-637 7856
Business Hours:
Breakfast: 6.00am-10.30am
Lunch (Monday to Friday): 12.00noon-2.30pm
Lunch (Saturday & Sunday): 12.00noon-3.00pm
Dinner: 6.30pm-11.00pm
GPS: 5.327101, 100.279070
RATING:
Ambience: 7/10 (1-4 cheap, 5-7 average, 8-10 classy)
Food Choices: 8/10 (1-4 limited, 5-7 average, 8-10 many choices)
Taste: 8/10 (1-4 tasteless, 5-7 average, 8-10 excellent)
Pricing: 7.5/10 (1-4 cheap, 5-7 average, 8-10 expensive)
Service: 8/10 (1-4 bad, 5-7 average, 8-10 excellent)
About Olive Tree Hotel

: Nestled along the industrial and corporate corridors of Penang, the Olive Tree Hotel is a Green Building Index (GBI) compliant hotel that boasts easy access to major landmarks and hosts a convenient and conducive environment for business and leisure travelers alike. A 25-storey statement of well profound architecture and hospitality with a choice of 228 rooms and 24 suites, guests can expect not only a functional space that is sure to give the utmost comfort, but also a memorable experience. The Olive Tree Hotel Penang is also built to cater to meetings, conventions, banquets and weddings. It houses a Grand Ballroom with a mezzanine gallery that that can comfortably accommodate up to 720 people and 7 function rooms with various dimensions for various events.