Please take note that the stall has ceased operation in 2008 and the present coffee house has been renamed as Yummy Cafe. What you get from the coffee house and whichever stalls that carry the same name were not the original.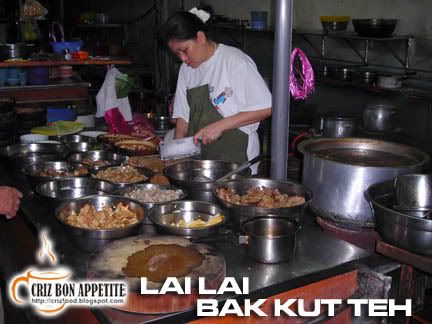 Bak Kut Teh is a popular Chinese soup in which contain meaty pork, simmer with many herbs and spices. This popular soup is taken with white rice or dark oil rice. There are quite a number of Bak Kut Teh stalls scattered all over Penang area. All of them have their own different recipes and thickness of the soup. The one that I like to frequent is situated in a corner coffee shop along Jalan Macalister. The stall is called Lai Lai Bak Kut Teh.
The reason we like to go there is that the owner is very generous with the soup as he will make sure that each clay pot he served will not be out of soup. We ordered our own selection of choice meat, a plate of boiled Cameron lettuce topped with a lot of meat floss, a plate of You Tiao (Yau Char Gwai or You Char Kway from the famous Penang shop) and four big bowls of white rice. Everything cost us only RM27.50 and the amount of meat in the clay pot could easily feed 3 adults. We managed to pack some back for lunch the next day. What I did with that is another story… haha. Could you believe that this portion is meant for only 2 persons?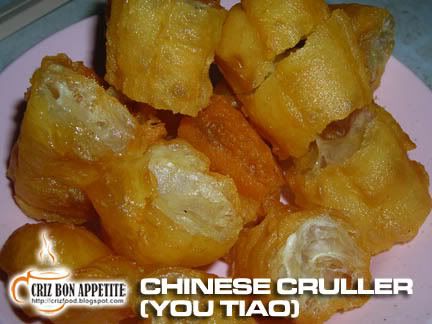 In fact, there are still many other options you can add into the Bak Kut Teh clay pot as shown in the photo.
The shop is just opposite Red Rock Hotel. If you are driving down from Komtar into Jalan Macalister, you will see a petrol kiosk on your left. The shop is just right after that.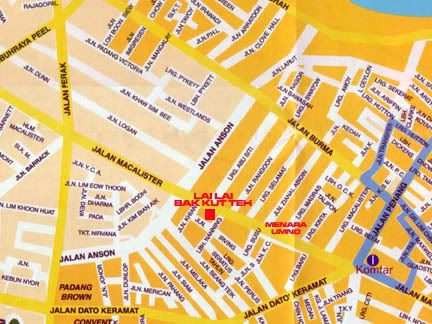 Name: SUPER LAI LAI BAK KUT TEH (Opposite Red Rock Hotel)
Address: 97, Jalan Macalister, 10400 Penang, Malaysia.
Contact: 012-473 1471
Opening Hours: 6.00pm – 1.00am (Closed Thursday)
GPS: 5.416585, 100.323029
RATING:
Ambience: 6/10 (1-4 cheap, 5-7 average, 8-10 classy)
Food Choices: 810 (1-4 limited, 5-7 average, 8-10 many choices)
Taste: 8/10 (1-4 tasteless, 5-7 average, 8-10 excellent)
Pricing: 7/10 (1-4 cheap, 5-7 average, 8-10 expensive)
Service: 7/10 (1-4 bad, 5-7 average, 8-10 excellent)