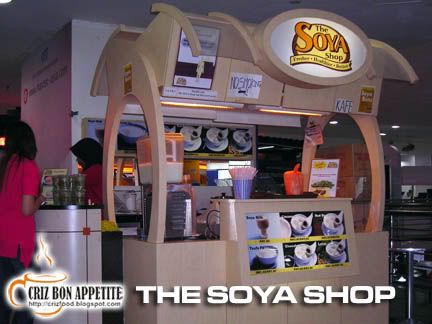 While I was down in Kuala Lumpur, I stumbled upon a stall in Low Yat Plaza selling soy milk and douhua (soy pudding). What caught my attention was the Tang Yuan served with soy milk. For your information, I love Tang Yuan and have been seen frequently patronizing the stall along Jalan Magazine in Penang.
The Soya Shop served great Tang Yuan with soy milk. It is a great dessert for the young as well as the old. Not only was the soy milk fresh and hot, you could freely choose either plain syrup or brown syrup of your choice, easily available on the table. This is a great idea for those, especially diabetics, who like it plain or not too sweet. The Tang Yuan comes in four flavors, namely Coconut, Chocolate, Red Beans and Pandan Lotus Paste. All of them were juicy soft and tasted great. Each bowl only cost RM2.80. The products served are completely halal.
I was too full from my lunch before this to try another bowl of douhua. I heard from Masak Masak that they do serve douhua with red kidney beans too but I did not see any publicity from this stall. Maybe they have it in another branch.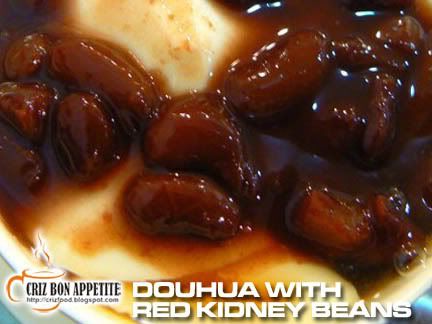 Photo Courtesy of Masak Masak
The Soya Shop has many branches in Hartamas Shoppig Complex (2nd Floor), Summit USJ (Ground Floor), Endah Parade (1st Floor), Low Yat Plaza (4th Floor), City Square Food Court (Lower Ground), 1 Utama Shopping Centre (Lower Ground) and Pasarakyat (Ground Floor), Giant Hypermarket, Bandar Kinara (Lower Ground) and many more to be set up soon. I managed to try out the one in Low Yat Plaza, so here is the map for the Bukit Bintang area branch.
Name: THE SOYA SHOP @ LOW YAT PLAZA
Address:
Level 4, Low Yat Plaza, Off Jalan Bukit Bintang,
55100 Kuala Lumpur, Malaysia.
Tel: 603-6275 8803 (Pasarakyat)
Website: http://www.thesoyashop.com/
Opening Hours: 10.00am – 10.00pm
GPS: 3.143933, 101.709784
RATING:
Ambience: 6/10 (1-4 cheap, 5-7 average, 8-10 classy)
Food Choices: 7/10 (1-4 limited, 5-7 average, 8-10 many choices)
Taste: 8/10 (1-4 tasteless, 5-7 average, 8-10 excellent)
Pricing: 7/10 (1-4 cheap, 5-7 average, 8-10 expensive)
Service: 7/10 (1-4 bad, 5-7 average, 8-10 excellent)