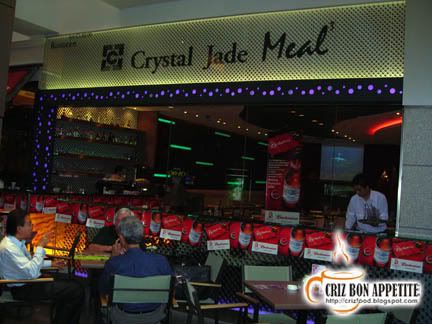 After shopping in the Pavilion KL, three of us decided to retire in Crystal Jade Meal3 Restaurant in the mall for dinner. The ambience of the restaurant was great with some soft music being played throughout our meals. Since I was still quite full with all the eating sprees, I ordered some appetizers such as Deep Fried Salty Cuttlefish and a Puffy Mushroom Soup. The cuttlefish was just average. It tasted like soggy tempura, mixed with some chili sauce and sprinkle with salt water. Nothing very special at all. The mushroom soup tasted like diluted instant mushroom soup topped with not-so-puffy pastry. They could have done better with this dish.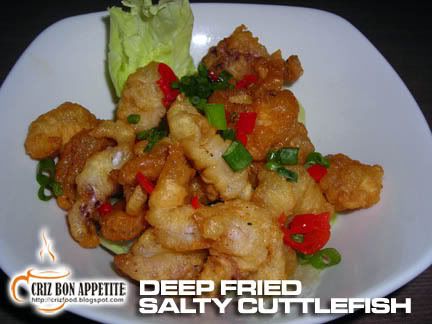 One of my friends ordered the Baked Rice with Seafood and Cheese. This dish tasted real great with generous amount of clams, mussels, squids and prawns. The creamy cheesy topping was matching enough with rice.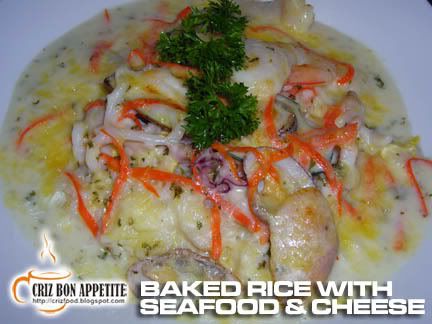 The other friend of mine ordered Aglio D'Olio Chix. It looked like spaghetti bolognaise but the taste was totally different. The chef did a bad combination of mixing spaghetti with some blended chili and herbs. On top of that, the chicken topping tasted like not marinated chicken coated with flour. Impressive presentation but taste wise was poor.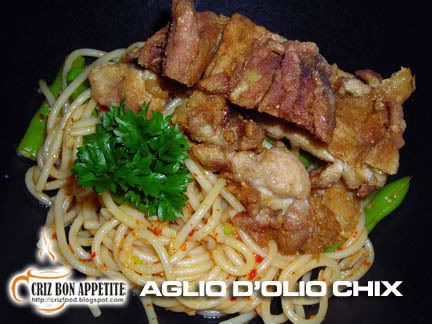 Maybe I was born and bred in Penang and got used to the rich taste of the food prepared here. Overall, with 3 drinks and 3 glasses of water plus 10% service charge and 5% government tax, the bill came up to RM81.55 which is quite pricey for the quality of food served.
The restaurant has many branches all over the world and 6 branches in Kuala Lumpur. There are two in the Pavilion, three in Midvalley Megamall and one in Lot 10. To get there, just walk into Pavilion Kuala Lumpur along the famous Bintang Walk (Jalan Bukit Bintang) and get a Pavilion map from the customer service counter. Find your way to the level 3 outside corridor of the mall. The restaurant is just right at the corner. This place also has bar corner for you to laze about and relax until quite late into the night.
Name: CRYSTAL JADE MEAL3 @ PAVILION KL
Address:
Lot C3.02, Level 3, The Pavilion
168 Jalan Bukit Bintang,
55100 Kuala Lumpur, Malaysia.
Tel: 603-2148 2116
Opening Hours: 10.00am – 10.00pm
GPS: 3.148518, 101.713936
RATING:
Ambience: 8/10 (1-4 cheap, 5-7 average, 8-10 classy)
Food Choices: 7/10 (1-4 limited, 5-7 average, 8-10 many choices)
Taste: 6/10 (1-4 tasteless, 5-7 average, 8-10 excellent)
Pricing: 7/10 (1-4 cheap, 5-7 average, 8-10 expensive)
Service: 7/10 (1-4 bad, 5-7 average, 8-10 excellent)