"Hey Jon! Where's my lasagna?" Hmm… Where have I heard this before? Yea… it's me! Haha. I felt like I have a part of Garfield hidden inside me as I am always craving for lasagna. After searching in many Italian restaurants for lasagna that's good and affordable, I ended up in Pasta & Pie at Northern Beach Café again and again. Why? It is because the dish can be ordered as ala carte or in a set which will cost you not more than RM16.90. I ordered the set as I can get an appetizer, a main and a dessert at a much lesser price.
You have a few choices to choose from and I chose the Mushroom Carrot Soup. The soup is thick and creamy and it comes with a breadstick. This is how I always love my soup to be. Yummy!
"Thou shalt not touch my lasagna!" Right! You got it! The lasagna is my favorite but the portion is too small to be shared with anyone else. The smell from the melted cheese and the smoothness of the meat and lasagna pasta has always sent me craving for more. It's a must to try.
As for dessert, I chose the Pumpkin Cheese Pie as it was not too filling compared to the many varieties of chocolate cakes and apple pies the stall has. The top of the slice of Pumpkin Cheese Pie was baked with crunchy almonds slices and accompanied with yummy custard sauce.
There are many other pies which I have tasted before such as the Chicken Pot Pie, Shepherd's Pie, Mushroom Chicken Pie and many other sweet pies that are really good as well. In fact, you can even custom ordered your birthday cakes, wedding cakes, dessert & sweet for your tea party by contacting Tony days before your function.
To get there is real easy. Just drive along Jalan Sultan Ahmad Shah where the Northam Hotel is and turn left into the Northam Beach Café. The stall is strategically located within the dining area.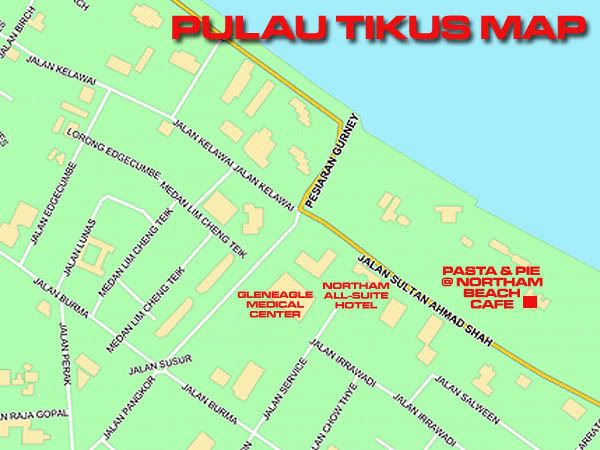 Name: PASTA & PIE @ NORTHAM BEACH CAFE
Address: 58, Jalan Sultan Ahmad Shah, 10050 Penang, Malaysia.
Tel: 016-555 0317 (Tony Cheah)
Opening Hours: 6.00pm – 11.00pm
GPS: 5.427159, 100.323522
RATING:
Ambience: 7/10 (1-4 cheap, 5-7 average, 8-10 classy)
Food Choices: 8/10 (1-4 limited, 5-7 average, 8-10 many choices)
Taste: 8/10 (1-4 tasteless, 5-7 average, 8-10 excellent)
Pricing: 7/10 (1-4 cheap, 5-7 average, 8-10 expensive)
Service: 8/10 (1-4 bad, 5-7 average, 8-10 excellent)