NOTE: The restaurant had changed management since early 2009. You might experience some changes in the menu and taste.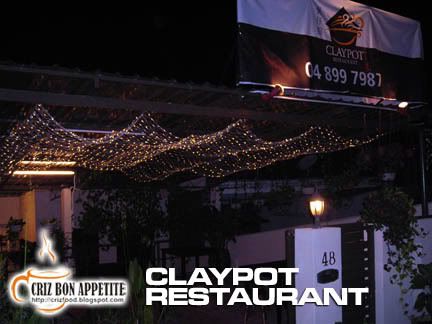 If you are thinking of taking your family or guests out for a nice warm homely cooking, do try out Claypot Restaurant up in Tanjung Bunga area. It has a nice and cozy atmosphere while you enjoy your meals. There is also a private room available for some serious discussions and an outdoor place for those who like to dine in the open air.
No doubt the food selections are quite limited, but each and every dish is a must to try. I have tried a few of their dishes on several occasions and I am happy with them. The taste of the food there is one of the best I have tried in town. Maybe you should see the food photos I am going to attach here and pay them a visit soon.
You can try this dish as starter while waiting for your other dishes to be served with hot steaming rice. These toasts have minced prawns and sesame seeds on them.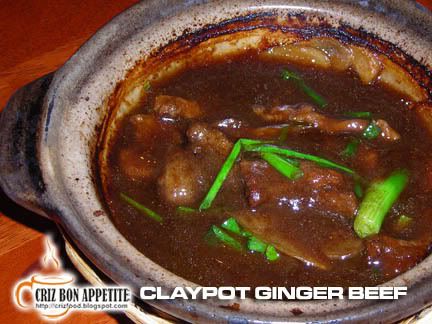 If you like beef, this one good dish to go with rice.
We will need a vegetable dish right? Try this spinach dish in a wetter version.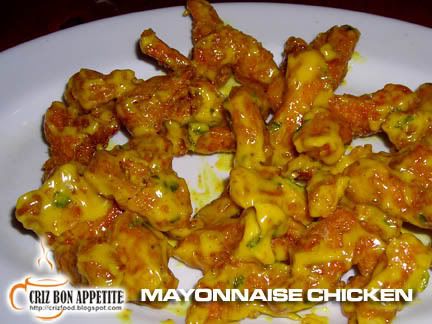 Kids will love this dish. It consists of crunchy chicken bites mixed with curry powder and mayonnaise. It is not hot at all but taste great!
This is a must to try. The pork is stewed with fermented red bean curds and potatoes. The meat is so tender that it melts in your mouth.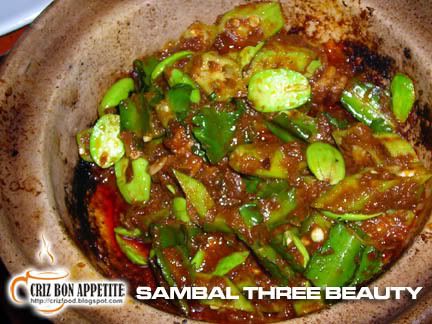 This is a combination of three vegetables, namely Goa beans, lady's fingers and stink beans (buah petai) fried with spicy shrimp paste. It's marvelous!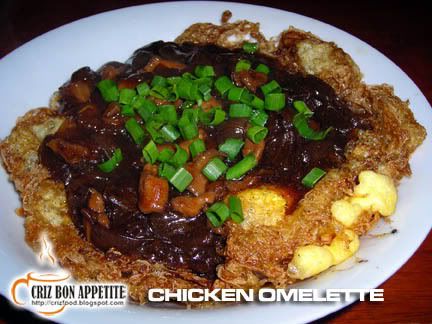 It's just a crunchy egg but the topping is wonderful. The gravy of the stir fried chicken cubes is slightly sweet and salty. This is an appetizing dish indeed.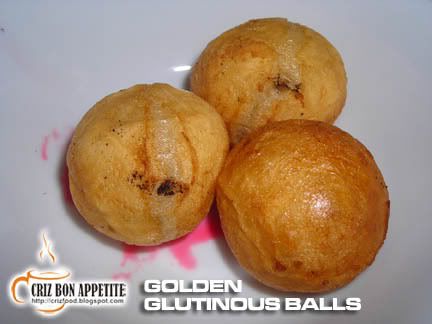 Normally, we have soup based glutinous rice balls but this one is unique. They come fried in three different flavors (peanut, red bean and black sesame) with some raspberry sauce. This is a good experience for those who like sweet desserts.
In case you are wondering how to get to this restaurant, I have attached a location map here. It is situated just behind Mutiara Selera Food Court at the base of Pearl Hill. To go to this restaurant, just drive towards Batu Ferringhi. When you reach the Penang Swimming Club on your right, drive ahead until you see Caltex petrol kiosk on your left. Drive ahead until you reach a traffic light (Mutiara Selera Food Court) and turn left. At the first Y junction, turn right. At the second Y junction, turn left. That's Jalan Sungai Kelian. Drive ahead and you will see the restaurant on your right opposite Jalan Loh Poh Heng.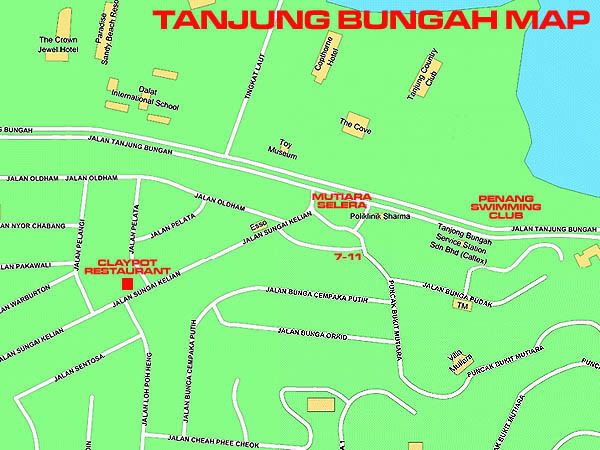 Name: CLAYPOT RESTAURANT
Address: 48 Jalan Sungai Kelian, Tanjung Bunga, 11200 Penang, Malaysia.
Tel: 604-899 7987, 012-421 1363 (Ms. Tenny)
Opening Hours: 12.00noon – 3.00pm, 6.00pm – 10.30pm (Closed Monday)
GPS: 5.464220, 100.289791
RATING:
Ambience: 7/10 (1-4 cheap, 5-7 average, 8-10 classy)
Food Choices: 7/10 (1-4 limited, 5-7 average, 8-10 many choices)
Taste: 8/10 (1-4 tasteless, 5-7 average, 8-10 excellent)
Pricing: 7/10 (1-4 cheap, 5-7 average, 8-10 expensive)
Service: 8/10 (1-4 bad, 5-7 average, 8-10 excellent)