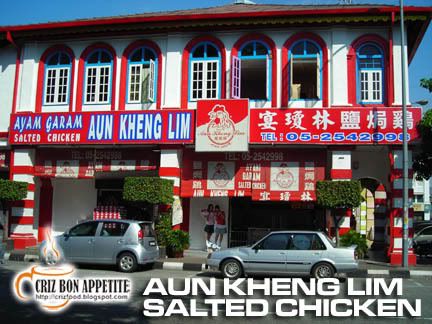 My friends always described me as a nut when it comes to getting gifts for them. They always get food rather than something that they can keep and appreciate. Well, they were right and errr… isn't a nut food too? 😛 I was down in Ipoh for just a few hours and I ended filling up my car with nothing but delicious food from Ipoh. What a typical me… haha! This time, it was Ipoh's famous salted chicken. I have tried so many different shops in Ipoh as well as a few from Penang but I still like this shop the best.
The herbs (Dong Quai or Chinese Angelica of Female Ginseng) stuffed inside the chicken and under the wings made the chicken just nice for my taste bud. Moreover the salt used to bake the wrapped chicken does not make the meat over salty. The meat still remained juicy and yummy. I always have the problem not having enough of the delicious chicken as it's rather small and not as meaty as some chicken meat. Maybe that's the ideal size to get the best taste out of it.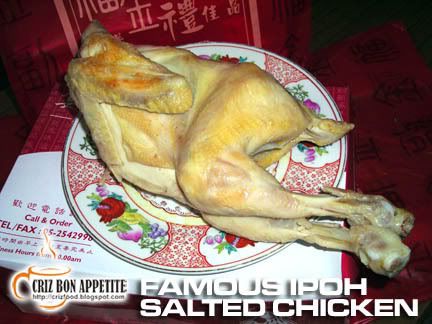 Do you know what is so great about getting this salted chicken? It's not only good to be served as one of the delicious dishes on your dining table, it can also be made into a delicious sandwich. Without fail, I would make some each time I get hold of a bird. The herb and slightly salted fragrance of the meat, together with some fresh lettuce, tomatoes and mushrooms always make great sandwiches. This is what I had for my lunch today. You should try that too! 🙂
The price per bird (not really that meaty but nice) is RM16 nett. You can ask them to pack for you individually in a box with a beautifully designed red plastic bag if you intend to make it a gift for someone. Finding the way to the shop is rather easy if you know the way well. Just move around the main road along Jalan Raja Musa Aziz until you see a corner shop with red, white and blue stripes on your right. That's the shop.
Name: AUN KHENG LIM SALTED CHICKEN
Address: 24, Jalan Theatre, 30300 Ipoh, Perak, Malaysia.
Tel: 605-254 2998
Opening Hours: 10.00pm – finish
GPS: 4.594680, 101.083274
RATING:
Ambience: 6/10 (1-4 cheap, 5-7 average, 8-10 classy)
Food Choices: 5/10 (1-4 limited, 5-7 average, 8-10 many choices)
Taste: 8/10 (1-4 tasteless, 5-7 average, 8-10 excellent)
Pricing: 7/10 (1-4 cheap, 5-7 average, 8-10 expensive)
Service: 8/10 (1-4 bad, 5-7 average, 8-10 excellent)