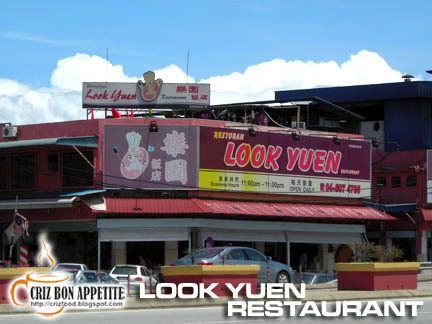 Since Aeon Jusco Bandar Perda had already opened since 22 August 2008, we decided to pay the place a visit for some Big Apple donuts. LOL! But on the way there, we ended up at one of my favorite restaurants there when I was working in the Bukit Minyak Industrial Area. Look Yuen Restaurant has been serving many of the workers as well as residents there for years. It's almost always packed during lunch and dinner hours. In fact, this is the only restaurant that has its kitchen stationed upstairs in another shoplot. It was interesting to see how they transfer food from upstairs using the mini automated elevators.
The first dish served was their house specialty – Steamed Glass Noodle (Tang Hoon) with Homemade Fish Balls (RM5). The simple combination of sauce, big onions and spring onions went well with the noodles. The fish balls were fresh and springy.
Next was another of their specialties, the Honeyed Fried Chicken (RM7). Choice pieces of chicken were fried to perfection. The meat was well marinated and was very tender to my liking.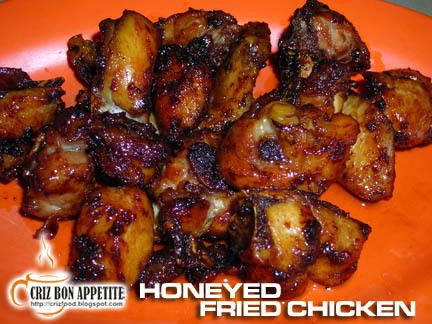 As usual, I love to try out every restaurant's Spicy Buttered Prawns (RM14). Eight big fresh and juicy prawns were served. It was very yummy and the best part was that it was not over oily at all. I would recommend this dish as it's worth the amount to have fresh prawns that cost barely RM2 each.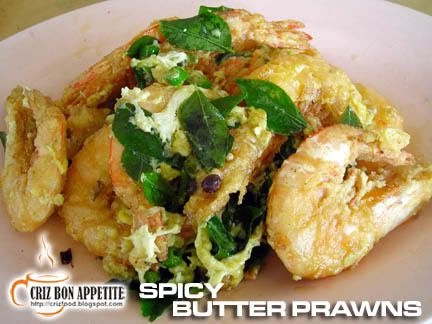 As for the pricing, RM29.60 inclusive of rice and drinks was not expensive at all. Since some are you are not familiar with the road to get to the restaurant, I will show you the easiest route here. If you coming from the Penang Bridge, keep towards your right and turn into the North-South Highway towards AutoCity / Ipoh / Kuala Lumpur. After you have passed the Juru Rest Area, keep to your left and turn left into Jalan Juru (Turn right and you will reach AutoCity). When you reach a traffic light at a "T" junction, turn left Jalan Bukit Tengah which will lead you to Bukit Mertajam town. Drive on. I will show you how to get there next as highlighted in the red box.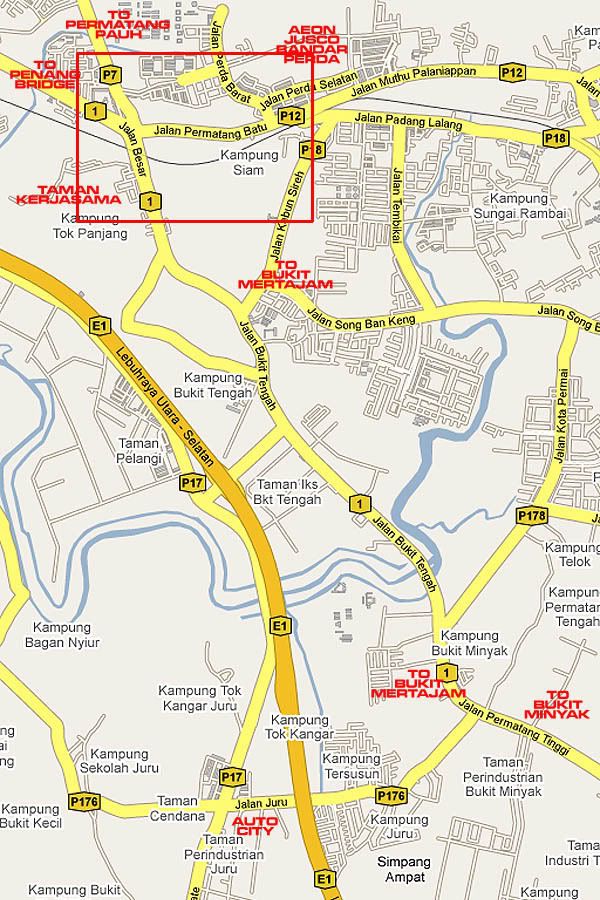 You will pass by two traffic lights (the 2nd traffic light will lead you to Aeon Jusco Bandar Perda). Drive on but keep to your left until you will see an overhead bridge to Permatang Pauh. DO NOT GO OVER THE OVERHEAD BRIDGE! Turn left into Jalan Kerjasama (about 50m before the overhead bridge) and right into Lorong Kerjasama 1. You can actually see the restaurant at the far end with huge signboards at the junction of Tingkat Kerjasama 4.
If you are planning to pay a visit to Aeon Jusco Bandar Perda, there's a U-turn further up under the overhead bridge. When you reach the first traffic light, just turn left into Jalan Kebun Sireh. You will see the Jusco signboard from a far. When you reach another traffic light at Jalan Padang Lalang, turn left until you reach another traffic light. Turn right and drive on and you will see Bandar Perda on your left. Aeon Jusco Bandar Perda is just inside the township.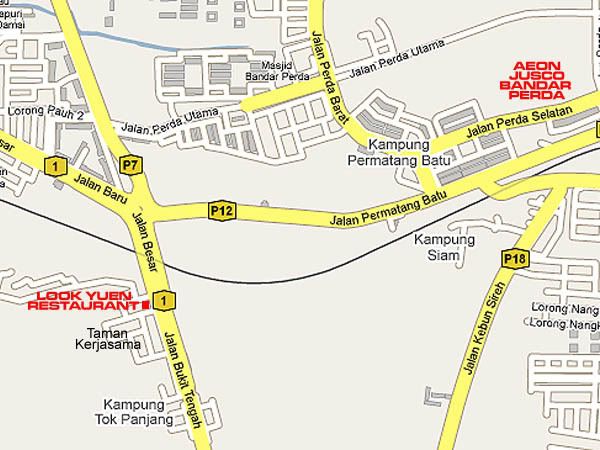 Name: LOOK YUEN RESTAURANT
Address: 2 Tingkat Kerjasama 4, Taman Kerjasama, 14000 Penang, Malaysia.
Contact: 604-507 4785
Opening Hours: 11.30am – 11.00pm (Daily)
GPS: 5.361289, 100.425586
RATING:
Ambience: 7/10 (1-4 cheap, 5-7 average, 8-10 classy)
Food Choices: 8/10 (1-4 limited, 5-7 average, 8-10 many choices)
Taste: 8/10 (1-4 tasteless, 5-7 average, 8-10 excellent)
Pricing: 7/10 (1-4 cheap, 5-7 average, 8-10 expensive)
Service: 8/10 (1-4 bad, 5-7 average, 8-10 excellent)