Note: This restaurant has ceased its operations at Penang Times Square and has moved to Gurney Plaza, Penang, under the name of Xiao Nan Guo Cuisine.
UPDATED 26 MARCH 2009: Effective today until a time the management had decided to cease this special promotion, the EAT-ALL-YOU-CAN Daily Buffet would be from 10.30am until 11.00pm. Each person would be entitled to order as many items as he/she could eat within the stipulated 2 hours time frame at RM49.90+ per person. No matter what time of the day you had decided to walk in to have your buffet, count down will start the minute you start ordering your food. Please take note that for every 100gms of food wastage, an additional RM10 would be charge.
Prior to the grand opening of another of Penang's glamorous landmark, Penang Times Square supposedly scheduled to be in June/July 2009, a few restaurants had already popped up recently within the premises, namely Haven Delights, Express Café and Tsuruya Sushi Bar. One of the notable ones would be Haven Delights, a restaurant that served many varieties of cuisine from Shanghai, Japan, Hong Kong and Korea. Strategically located at level one of the mall facing the main road of Jalan Dato Kramat with panoramic view of Komtar, Sunway Hotel, Red Rock Hotel and Grand Continental Hotel, this restaurant has set another great standard within the Georgetown area for serving delicious food.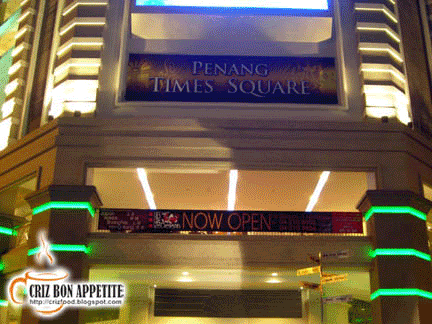 Haven Delights has an extensive range of dishes to tempt your every desire. In fact, the restaurant has over 240 dishes, desserts and beverages for you to choose from. I had also faced a hard time trying to figure out what I should have, especially not all the items have photos shown or they were in some foreign language that I could not understand. The best would be to get those experienced staff to recommend to you what's the best in the restaurant.
Well, the waiters and waitresses sure knew their jobs well with what was recommended for my dining experience. The first dish which was Red Dragon Prawns with Jammy Sauce (RM20) had already caught me off guarded. The whole presentation was so colorful with balls of dragon fruits, capsicums, carrots, yellow pickled ginger and 4 batter fried king prawns stir fried to perfection with a hint of apple cider, lemon and mustard in the sauce. This is a must to order.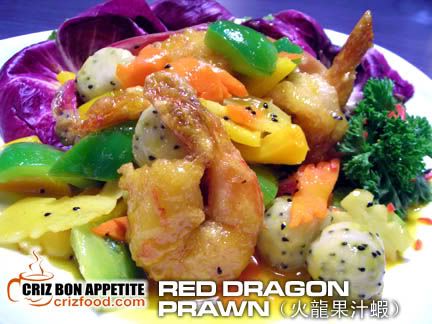 Chicken Ban Ban (RM10) was next. The presentation was awesome. Big chunks of batter fried chicken meat were topped with crispy fried egg white and seaweed strips. The dish has 3 different types of garnishing sauces such as mayonnaise, wasabi and a spicy sweet sauce. Again this would be another dish not to be missed.
Suddenly, I sensed a unique seafood aroma moving closer to my table and there was my Soft Shell Crab (RM12). Two whole soft shell crabs were deep fried to crunchiness with a generous amount of salad in the middle of the plate. The salad sauce was quite spicy but sweet. It blended in real well with those crunchy soft shell crabs. I would surely order this dish again during my next visit.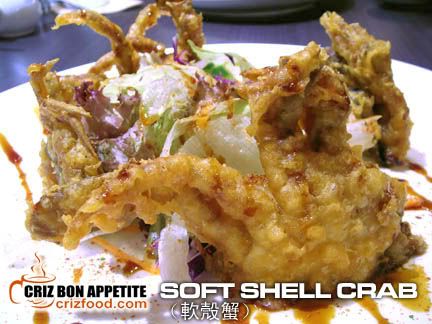 I had also ordered another a small side dish to try out. The Salted Pepper Mantis Prawns (RM15) was indeed salty as the name but still great for my consumption. It has some crispy fried mantis prawns (tasted more like shrimp paste aka belacan frying flour) stir fried with some chopped chillies, spring onions and ginger. This dish would suit well with rice or noodles.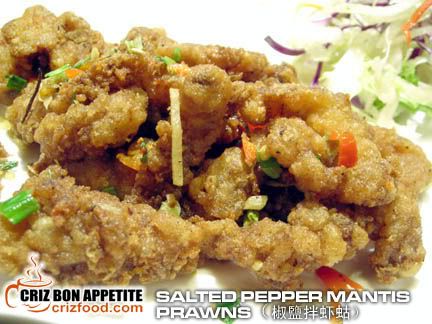 To compliment with the above dish, I had ordered a plate of Japanese Yaki Udon (RM12). Before I could finish taking shots of the rest of the dishes, I had to switch to video mode. You know why? MY FOOD WAS ALIVE!! Here's a short video on what happened.
Basically, the hot steam emitted from the Udon has created a sensational effect on the paper thin bonito flakes (Katsuobushi/dried, fermented and smoked skipjack tuna shavings) garnished on the noodles. It was real impressive. As for the taste, it was indeed a beautifully sour and salty combination of their secret Japanese sauces. This large plate of Japanese Udon has a generous amount of prawns, chicken meat and vegetables. You should try out this dish too.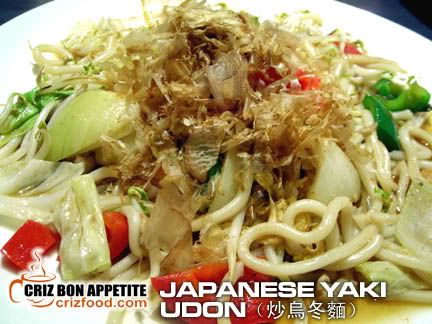 Another of their most sought after rice dishes would be their Hong Kong Fried Rice (RM10). Wow! The fried rice was extremely delicious. The Cantonese sure knows how to fry their rice with enough of "wok hei" (high heat frying). Every single grain of the rice was so flavorfully coated with the right taste. The dish had cut prawns pieces, chicken slices, green peas, cashew nuts and egg, garnished with a generous amount of meat floss, chopped spring onions and fried shallots. This is another must to order.
If you would like something spicier, you can always try out their Cajun Fried Rice (RM10) as the Cajuns are famous for cooking well seasoned and somewhat spicy food. The dish had cut prawn pieces, chicken slices, corn kernels and garnished with chopped spring onions. No doubt this dish has the right spicy taste but my preference would still be the Hong Kong Fried Rice.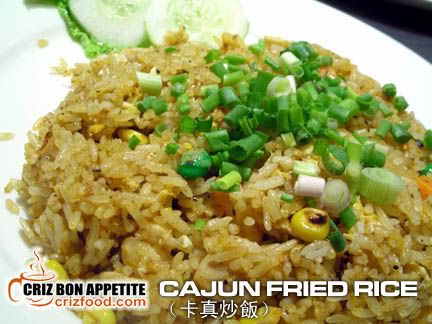 If you feel like having some side dishes, you can always order their Shanghai Juicy Meat Dumpling (RM8). The filling has all the fragrant taste with the well marinated meat. Somehow I find the skin a bit too thick and they should have more soup in each dumpling.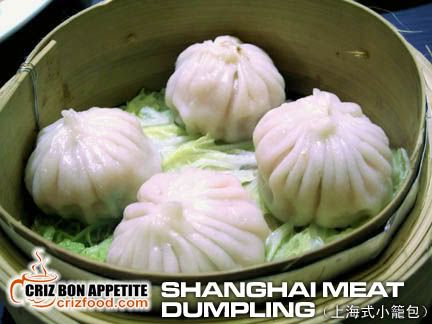 You could also order their Potato Salad (RM5) for appetizer. The dish has a large scoop of semi coarsely mashed with the right amount of cream, butter and herbs on top of a bed of finely sliced greens. This would be good for light eaters.
As for desserts, basically the choices are quite limited with many items being ice cream based. The only warm dessert which happened to be my favorite too was the Silky Egg with Water Chestnut (RM6). The dessert had sliced red dates, white fungus and finely sliced water chestnuts simmered with in a beaten egg white broth, mildly sweetened with rock sugar. This is really good.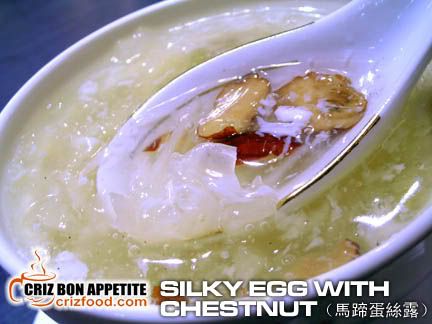 The rest of the desserts was rather common as all had ice cream scoops but with different presentations. The most eye-catching one in the menu would be the Tempura Ice Cream (RM8). It was just two large scoops of vanilla ice cream with raspberry sauce, garnished with some loose tempura batter and a sweetened cherry.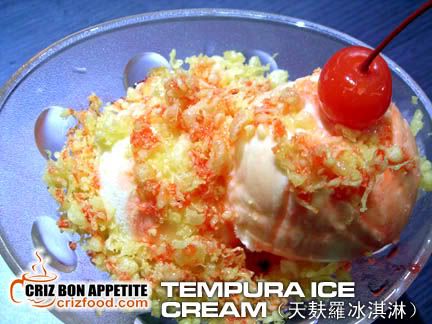 The bombastic named Ice Fire Golden Banana (RM8) was another case. It was just a rainbow colored scoop of ice cream presented with some raspberry sauce and batter fried slices of a banana. I felt that this is a bit pricey for the amount served, especially when it was served on a large plate.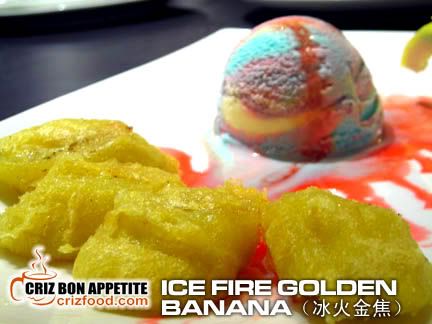 At least the Kuru Gama Ice Cream (RM8) was rather unique with some black sesame seeds blended into the ice cream. The ice cream was mild in black sesame taste, with lots of crushed peanuts. I also felt this dessert to be a bit overpriced as two scoops would at least justify the amount paid.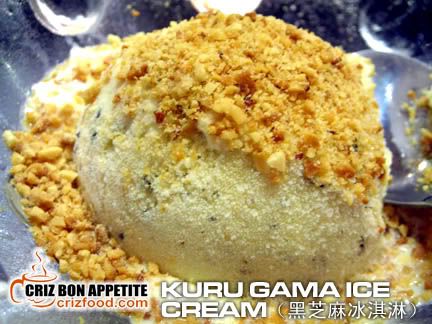 Overall, the food here could be real good if you know how to combine them well especially for a family or group eat out. On top of the Ala Carte Menu, you can also check out their other quality food and set meals such as the Chinese Dome Set with 5 dishes priced at RM46+, Grilled Cod Fish with Potato Cream priced at RM35nett or quality Kobe Beef option namely Kobe Beef Tataki (RM88nett), Kobe Beef Ishiyaki (RM58nett) and Kobe Beef Sashimi (RM88nett).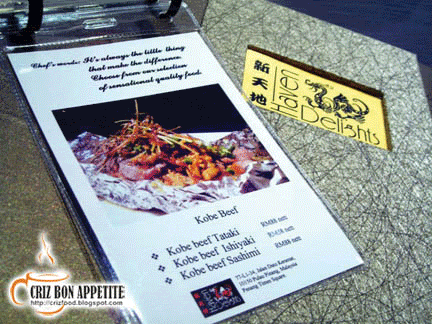 They do also have daily buffet lunch and dinner where you have the options to order anything from their 90+ dishes buffet menu priced at RM49.90+ per adult. Children would be at half price. There would also be free flow of finger food, broth, ice cream, etc of the day at another side table buffet line. If you intend to visit the place, do take note of the 2 hours time frame for the buffet. Buffet hours would be as 12.00noon-2.00pm, 2.00pm-4.00pm, 5.00pm-7.00pm, and 7.00pm-9.00pm daily. Everything in the restaurant would come with a 5% service fee.
Just let me share with you some of the night scenes at Penang Times Square prior to the official launch for Phase 1. Phase 2 would be completed within the next two years.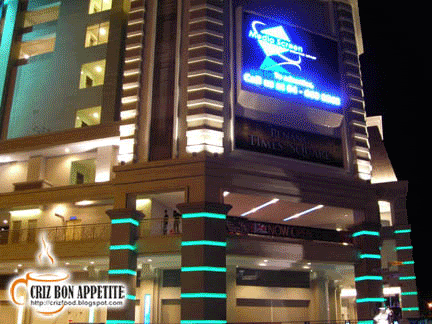 The best way to reach the shop would be by using Jalan Magazine (Traders Hotel). Drive into Jalan Dato Kramat (2nd junction at the right of Gama Supermarket) until you have reached Penang Times Square on your left. Find a parking space along the road or within the allocated parking bay. Just walk into the mall and go to Level 1. The restaurant is very prominently located either by mode of escalator or elevator.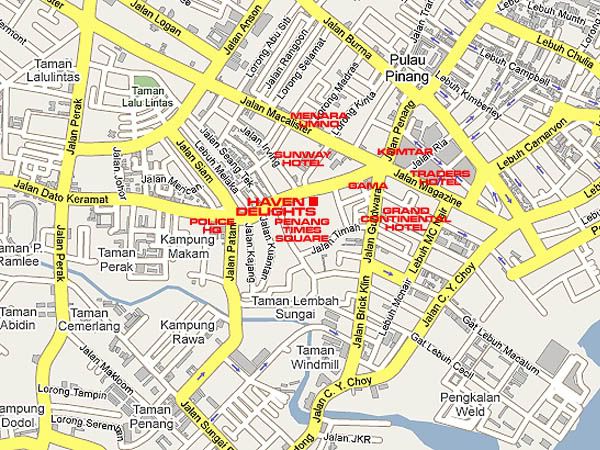 Name: HAVEN DELIGHTS
Address: 77-L1-34, Jalan Dato Kramat, 10150 Penang, Malaysia.
Contact: 604-210 8855, 210 8856, 016-492 1658 (Ms. Angie Ng)
Opening Hours: 10.30am-11.00pm
Buffet Hours: 12.00noon-2.00pm, 2.00pm-4.00pm, 5.00pm-7.00pm, 7.00pm-9.00pm
GPS: 5.414701, 100.331871
RATING:
Ambience: 8/10 (1-4 cheap, 5-7 average, 8-10 classy)
Food Choices: 9/10 (1-4 limited, 5-7 average, 8-10 many choices)
Taste: 8/10 (1-4 tasteless, 5-7 average, 8-10 excellent)
Pricing: 7.5/10 (1-4 cheap, 5-7 average, 8-10 expensive)
Service: 8/10 (1-4 bad, 5-7 average, 8-10 excellent)