Penang has quite a number of records in the Malaysian Book of Records and this yummy Chinese Cruller or Fried Bread Stick (You Tiao) from Te Chang You Tiao Wang (Extra Long Chinese Cruller King) could well fall into one of the category as being the longest (as I know) in Malaysia. This crunchy golden brown, deep fried strip of dough was about 14" long, one and the half times the length of a normal You Tiao selling elsewhere.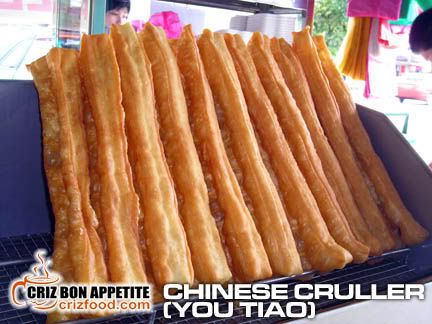 Even a specially designed aluminum stove had to be constructed to ensure evenly spread heat to cook this dessert.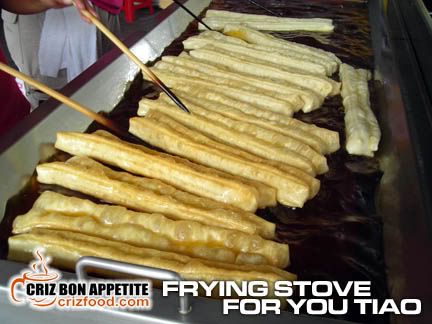 At present, there are only two types of crullers available at the stall, the extra long cruller (RM1 each) and the Black & White Sesame Twins (3 for RM2). The Black & White Sesame Twins is quite similar to Ma Keok (Horse Shoe Shaped Sweetened Crullers) except that they were kneaded differently with black and white sesame seeds sprinkled on them.
It was not the extra long crullers that impressed me but the fusion of what it had become today. I could not have imagined that they can be stuffed with so many different combinations and yet tasted great. Would you love to try out Stuffed Cruller with Meat Floss and Mayonnaise (RM2.50)?
Stuffed Cruller with Tuna Mayonnaise was my favorite. Selling at RM2.50, it had tuna flakes mixed with mayonnaise, chopped onions, cabbages and carrots. Simply crunchy and delicious!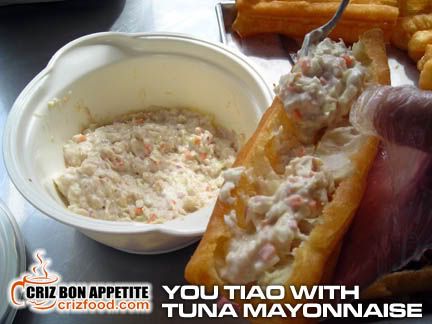 You can even have Stuffed Cruller with Sausage and Mayonnaise (RM3). This would be a favorite for children.
There were actually a few other sweeter combinations for you to choose. Each set would cost you only RM2. They are Kaya & Butter, Honey & Butter and Peanut & Butter. Instead of having one long cruller with one filling, I opted for the Mixed Cruller which has half meat floss and half tuna mayonnaise (RM2.50).
On top of that, they have Black Soy Bean Milk at only RM1. The crullers are best taken when they are fresh and crispy. Leaving them too long with the mayonnaise stuffing would not ensure their crispiness.
If you are coming from Jalan Air Itam (near Kek Lok Si Temple) towards Jalan Paya Terubong, you would pass by SJK (Cina) Kong Ming 2 on your right and then East Coast Seafood Restaurant on your left. The stall is just a bit further up on your right before the Lintang Paya Terubong/Jalan Paya Terubong traffic lights. In fact, it is just next to the Paya Terubong Lao Foo Zhi Bak Kut Teh stall. This extra long Chinese cruller originated from Kuala Perlis. They are the main supplier of You Tiao to one of the famous seafood restaurants there. You could even try them out at their main branch in Kuala Perlis, Perlis, Malaysia.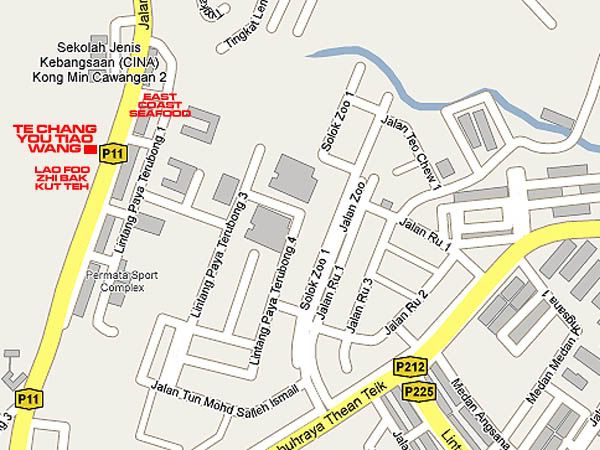 Name: TE CHANG YOU TIAO WANG ENTERPRISE
Branch Address: 1250-A, Jalan Paya Terubong, 11060 Penang, Malaysia.
Contact: 016-433 7301 (Mr. TH Tan)
Main Branch Address: 76, Jalan Sarawak, 02000 Kuala Perlis, Perlis, Malaysia.
Opening Hours: 6.00am-5.00pm (Closed Alternate Tuesday)
GPS: 5.394222, 100.276417
RATING:
Ambience: 6/10 (1-4 cheap, 5-7 average, 8-10 classy)
Food Choices: 6/10 (1-4 limited, 5-7 average, 8-10 many choices)
Taste: 7.5/10 (1-4 tasteless, 5-7 average, 8-10 excellent)
Pricing: 6/10 (1-4 cheap, 5-7 average, 8-10 expensive)
Service: 8/10 (1-4 bad, 5-7 average, 8-10 excellent)