If you are a frequent diner at the Northern Beach Café situated along Jalan Sultan Ahmad Shah in Penang, you would notice that there was this little stall selling great French food by the name of La France. Well, that was history! Today, that former little stall by the beach cafe, manned by the loving couple, Frenchman Nathan (who lives near to the border of Germany) and his lovely wife, Ginny, has moved into a cozy mansion of their own, right in the heart of the beautiful George Town, Penang. The all new La France Café & Restaurant now promises a more unique and fresh home cooked French cuisine with a little touch of German. Merveilleux! Wonderful!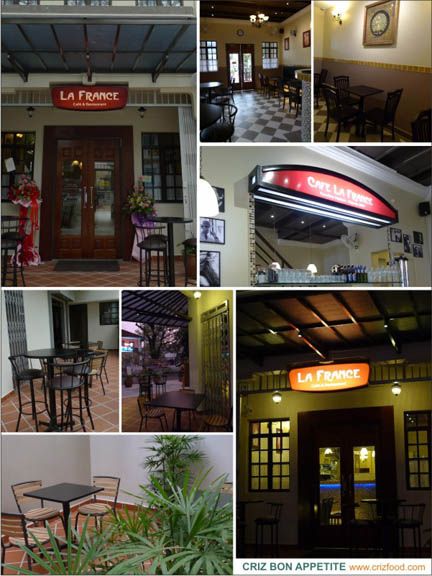 There are two type of menus available here, namely the Menu Dejeuner (lunch from 12.00 noon onwards) and Menu Diner (dinner from 6.00pm onwards). The latter has a few additional items added in for a more fulfilling dinner. Let's start with the entrees (starter). One of the dishes which I tried out was the Potage du Jour (Soup of the Day – RM5.90) which happened to be Mushroom Soup. It would be served fresh from the kitchen with some sprinkles of black pepper. The soup had a distinctive earthly taste from the finely chopped Shitake mushroom within (most restaurant would just blend all in). It had this sweet but not too creamy taste which was quite different from elsewhere. Instead of the normal usage of flour to create that broth like soup version, the chef applied a healthier method by substituting flour with some freshly mashed potatoes and a mild touch of chopped parsley. Simply healthy and delicious! The soup would not come with any bread or bun, so you might want to order some Pain d'ail (garlic bread – RM3 for 5pcs ciabatta slices).
There was also the Croques Monsieur (Oven baked Ciabatta) – Croc' Ham & Cheese (Pork Ham – RM9.80) served with some sautéed potatoes and fresh greens. The whole dish was heaven! The half-sliced ciabatta had just the right crisp on the surface while maintaining the softness within. The bread has some light spread of butter, chopped parsley, pork ham and cheese, prior to being oven baked to perfection. The taste of the cheese was rather different as Mozarella cheese alone would not have that sharp salty cheesy taste. Some crumbles of bleu cheese were used too. The other two side dishes needed some compliments as well. The sautéed potatoes were awesome with a nice aromatic taste from some added herbs. The fresh greens may look normal but when you mix them together with the special dressing created by the chef, it was totally another response. The slightly mustard spiced dressing with some butter-flour roux béchamel sauce and herbs was superb for any salad.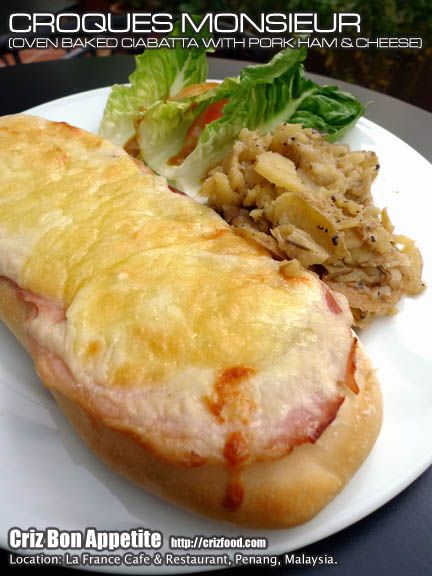 Another dish that you should not miss out for any meal would be the savory croissants. The Croissant Poulet (Yoghurt Chicken – RM10.90) which was crispy, flavorful yet healthy was another dish to remember. The stuffed chicken meat mixed with some yoghurt and fresh herbs, topped with some cheese and baked to perfection was a perfect lunch for me. It also came with two delicious side dishes as above. You can also try out their Croissant Jambon (Pork Ham – RM10.90), Croissant au Thon (Tuna – RM10.90) or Croissant Saumon Fume (Smoked Salmon & Egg – RM14.90)
As for pasta, they would use the twirl like fusilli pasta. I tried out the Aglio Olio with Extra Virgin Olive Oil (RM9.00). This version was totally different compared to others. I guessed different restaurant prepared this dish differently. Basically, Aglio e Olio means garlic and oil. The pasta came with some cut dried chili pepper, cut black olives, chopped parsley, sliced garlic, some sprinkles of black pepper, mixed with some extra virgin olive oil and garnished with some parmesan cheese. Overall, it may look rather dry for some but each mouthful gave a totally different cheesy experience. Finally, the whole dish was cleared. Personally, I felt that it may need just a bit more dashes of olive oil, a more fragrant sautéed garlic slices and some available chili flakes for those who love the dish to be a bit more spicy.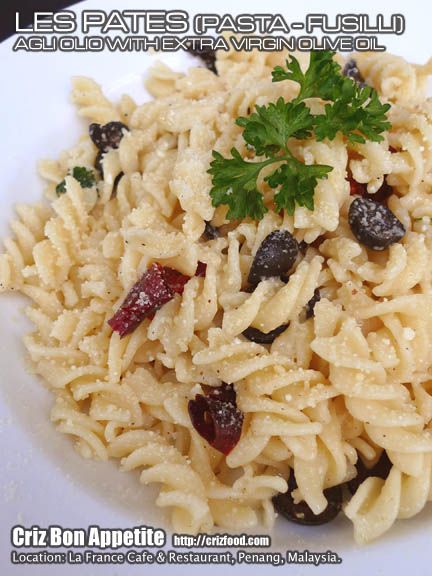 There was also the Crepes de Bleu (Savory French pancakes) section to try out in the menu but I opted for other dishes as it basically consisted of fillings such as eggs, chicken, tuna and smoked salmon but there was this dish that caught my attention. It was the Oven Baked Crepes Beef Bolognese (RM13.90) with cheesy toppings. Well, I had too much of meat and cheese for a day, so I leave it for another day. Instead, I headed for the Dessert Maison section. I had the Crepes Suzette (RM5.90). It was a hot and cold dessert with two folded hot crepes, topped with slightly sweetened fresh orange juice and served with a scoop of vanilla ice cream. The tangy taste of the juice on the crepes combined with the creaminess from the ice cream was simply refreshing.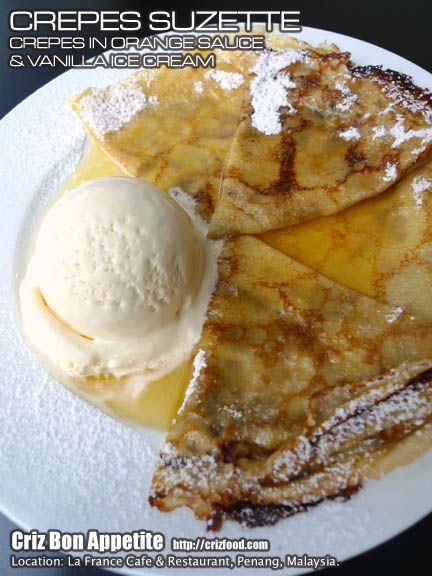 The next dessert which was the Crepe Compote (Apple & Banana – RM6.80) was another great dessert. The crepes were rolled up with some fruit compote, sprinkled with some icing sugar and garnished with some hot chocolate sauce. This was another superb dessert for all. The natural sweetened compote had a bit of wine after taste due to the cooking reaction by the combination of the two fruits. It had some raisins and a bit of grounded cinnamon added in for that flavorful taste.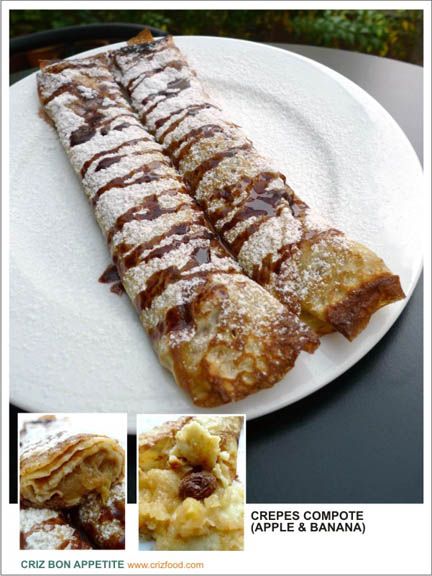 As I had mentioned earlier, the menu had some additional dishes added in. Let me share with you what you would expect from here. There's the Omelettes Soufflees (Fluffy) with choices such as the Omelette Champignon (Fresh Mushroom – RM9.90) Omelette Fromage (Cheese – RM9.50), Omelette Jambon Fromage (Ham & Cheese – RM10.50) and Omelette Forestiere (Mushroom, Ham & Cheese – RM12.90). I had decided to go for the Omelette Jambon Fromage (Ham & Cheese – RM10.50) which had chopped hams, onions, chopped parsley, black pepper and cheese. It was cheesy and flavorful. The dish also came with some Pomme Frite (French Fries) and greens. This was another marvelous dish by the restaurant.
There are two additional dishes for dinner in the Les Regionales (French Local Specialties) section. Other than the Quiche Alsacienne with Bacon & Cheese (RM9.50) and Bratwurst with Sauteed Potatoes (RM11.80) available for both meals, I tried out the Kartoffelpuffer (Alsacien Potato Pancakes – RM10.90). It was a thin fried savory pancake originated from Europe which consisted of grated potatoes, flour, eggs, onions, chopped parsley, topped with sautéed mushrooms in bechamel sauce and served with greens. It tasted quite normal to me as it was but when combined with the sauce, the creaminess and buttery taste of the evenly coated pancake was awesome. The slightly burned edges of the potato pancake gave it that extra flavor. The dish also came with some fresh greens.
Another of the dinner dish would be the Schnitzel (Grilled Chicken Cutlet – RM14.90). The grilled chicken with a flavorful layer of pork ham and served with white sauce was very tasty. It had some nice crisps at the edges while keeping the moist with the tender meat. This came with some sauteed potatoes and greens.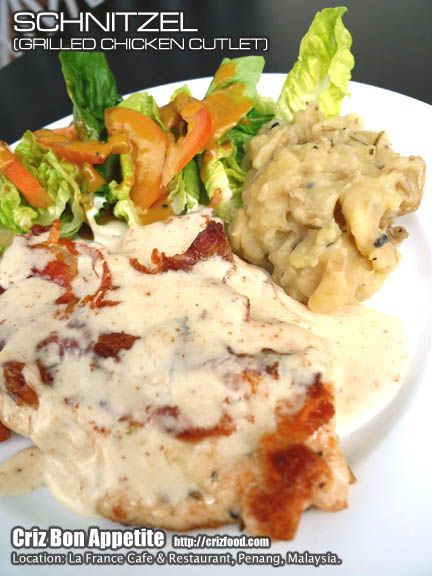 La France Café & Restaurant is not just a place for your meals but also a great place for meet ups. You can have some nice desserts during tea time or supper over some hot and cold beverages. On top of that, they do serve imported lager such as the Kronenbourg 1664 (RM16.90), which was reported symbolized the French art of pleasure, exquisite in every details and universally desirable.
Overall, the dishes served here are delicious, provided you are a lover of cheese and healthy food, as all the food served here are made fresh from selected quality ingredient and does not contain any monosodium glutamate (MSG). The portion may look rather fine and small in some dishes but it's the standard size as served in France. It would be more than enough to fill up your appetite… unless you are an extremely big eater. Some of the cheese based dishes may contain some crumbles of blue (bleu) cheese which would give the dish a unique, sharp and a bit salty flavor. All dishes are fairly charged with a nett price tag.
La France Cafe & Restaurant would not be visible by the main road. If you are from town towards Pulau Tikus along Jalan Burma, keep to your right after passing the Giant Supermarket (Penang Plaza) at the junction of Jalan Burma/Jalan Larut. Keep driving until you have passed Him Heang, a church, Jemputee (junction of Jalan Burma/Jalan Chow Thye), a vegetarian food court and Malaysian Chin Woo Association on your right. Turn right into Jalan Servis (between Chin Woo Association and Malaysian Buddhists' Association) and drive all the way in until your see a right junction (Jalan Irrawadi). At the corner lot, you would see the El Case Wine & Dine Restaurant. La France Café & Restaurant is just opposite the café in a state-of-the art mansion. You won't miss it at all.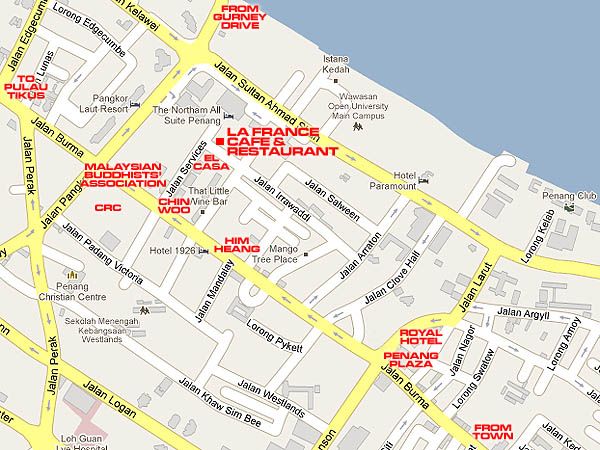 Name: LA FRANCE CAFÉ & RESTAURANT
Address: 3B, Jalan Irrawaddi, 10050 Penang, Malaysia.
Contact: 012-412 7355 (Ginny), 012-491 3360 (Nathan)
Business Hours: 12.00pm-10.00pm (Closed Tuesday – Dinner 6.00pm onwards)
GPS: 5.42628, 100.320936
RATING:
Ambience: 8/10 (1-4 cheap, 5-7 average, 8-10 classy)
Food Choices: 7.5/10 (1-4 limited, 5-7 average, 8-10 many choices)
Taste: 8/10 (1-4 tasteless, 5-7 average, 8-10 excellent)
Pricing: 7/10 (1-4 cheap, 5-7 average, 8-10 expensive)
Service: 8/10 (1-4 bad, 5-7 average, 8-10 excellent)