Just a few days into Chinese New Year 2016, it's going to be Valentine's Day, which also coincides with Renri (7th day of lunar first month – Human Day/Everyone's Birthday). On this special day, it's not meant only to celebrate romantic love between couple but also a day to shower your loved ones with lots of love, gifts and blessings. This year, at David Brown's Restaurant & Tea Terrace at Strawberry Hill up Penang Hill, would be offering unique set meals for Valentine's Day. Priced at RM338++/per couple or RM170++/pax (in the case you would want to bring your parents or siblings along), you would be served with a 5-course dinner (with double main courses) plus coffee/tea. The promotion will be available from 12-14 February 2016.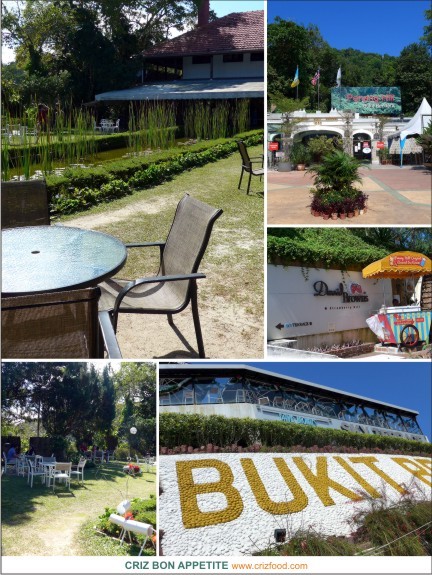 However, if you make the booking for 14 February 2016 with full payment now, the management would compliment you with a bottle of their in-house red/white wine. Two sessions would be available for the day – Session 1: 6.30pm-8.00pm and Session2: 8.30pm-10.00pm~ 🙂 Please contact +604-828 8337 or +6018-409 6277 for more information or to make your reservation today.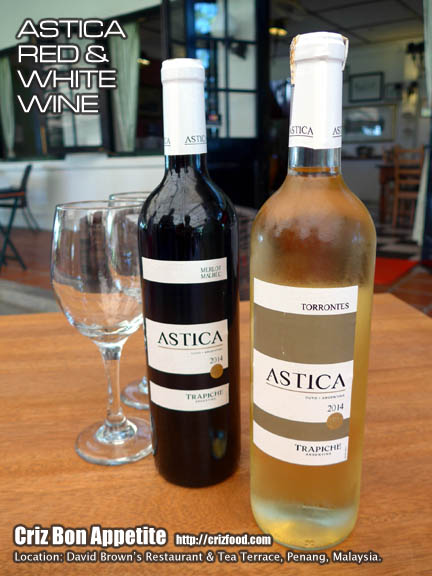 Prior to the start of any set dinner, you would be served with an in-house made bread roll each, accompanied with butter.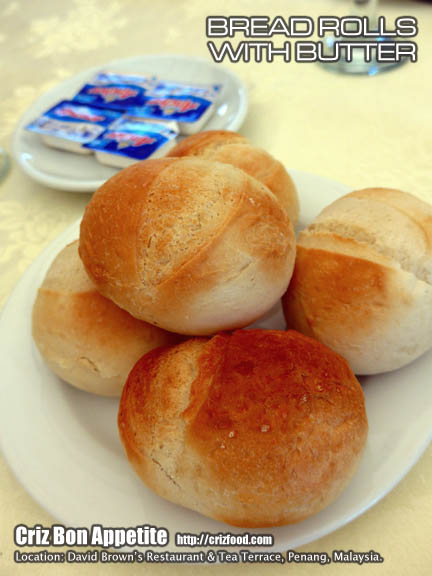 For starter, we were served with Rouleau de printemps (spring rolls) which was something different as it came with a piece each of Cod Fish Paper Roll and Mango Spring Roll. Both the rolls had basically the same ingredients except the Mango Spring Roll came with Vietnamese paper roll with shredded raw mango strips added.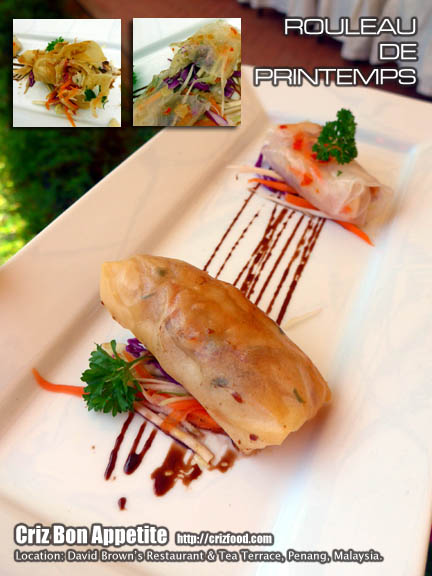 We also tried out their Lobster Bisque Soup with added Slipper Lobster Meat. It was a great soup with nice flavors from the roasted shells and those added chunks of slipper lobster meat did give that extra bite. It would be great too if some croutons or even gnocchi be added in for more texture.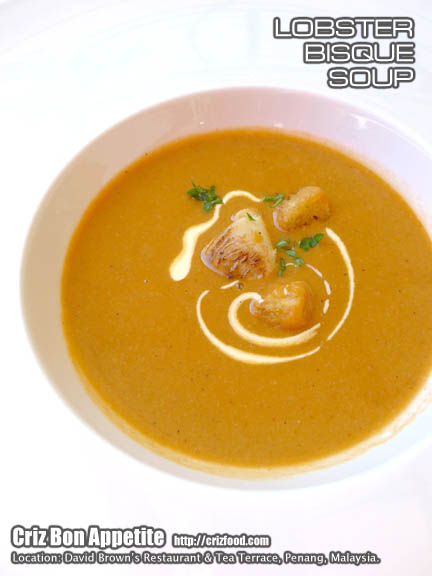 As for the First Main Course, it would be Chicken Roulade served with Poivrade Sauce & Potato Confit. The crushed pistachio nuts and herbs stuffed chicken had just the right flavor and texture. Combined with the peppery mirepoix reduction sauce, both complemented each other real well.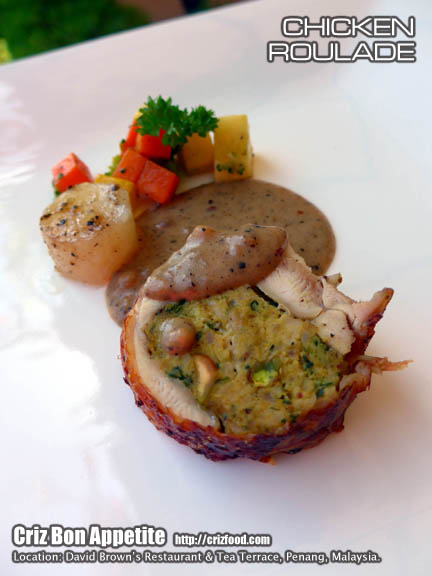 The Second Main Course would consist of an option of 3 choices such as Cod, Lamb or Beef.
The first option would be the Steamed Chiteau Cod served with Seafood Veloute and Chives Pomme Puree. The smooth texture of the steamed Pacific Cod combined with the roux formed buttery seafood sauce and accompanied with some chives boosted mashed potatoes (pomme puree) would be perfect for those seafood lovers.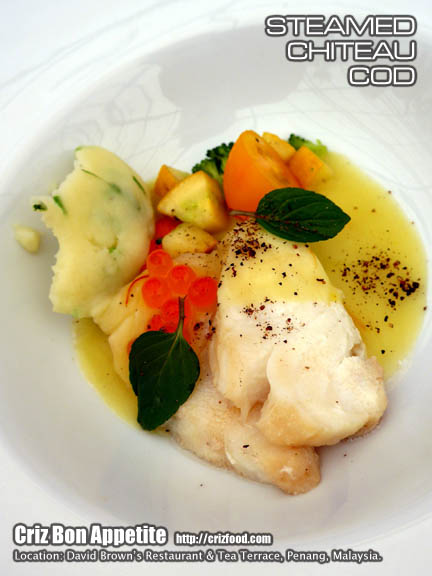 The second option would be the Lamb Stew served with Balsamic Port Wine Sauce and Potato Confit. The slightly fatty, tender yet juicy slab of stewed lamb combined real well with the balsamic vinegar and Port Wine reduction. I wished I could have more of this heavenly dish over some nicely toasted garlic bread (**hinting**) 😛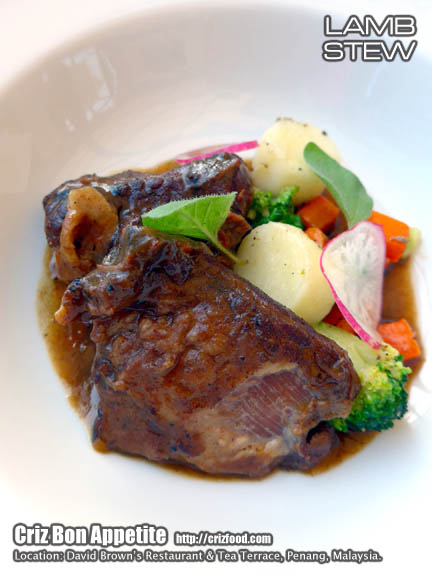 The third option would be their Pan-Seared Grain Fed Tenderloin served with Australian Potato Crisps and Au Jus. I simply love how the kitchen prepared their beef tenderloin – medium-rare, tender and juicy. Combined with it natural beef juice (Au Jus), it was perfect. I just wished they could have served more of the Australian Potato Crisps rather than providing only one wedge.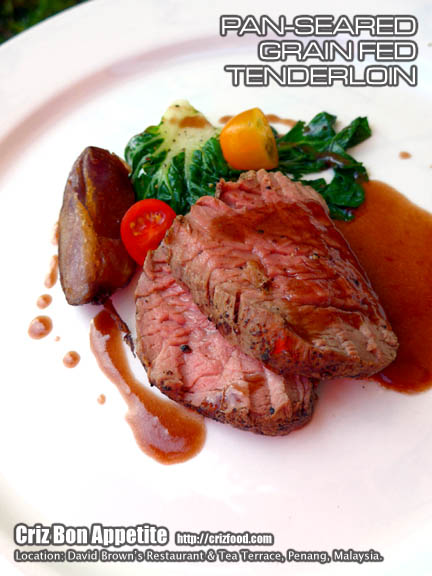 I always love the dessert for their set meals and this time we had the opportunity to try out their Chocolate Strawberry Mousse & Sponge served with a scoop of vanilla ice cream and some berries. Can I have more? Slurp~ 🙂
To end the meal, it's either Tea or Coffee. As for me, I would always go for their aromatic and full-bodied Italian Caffe Vergnano Espresso Rico '700 brew.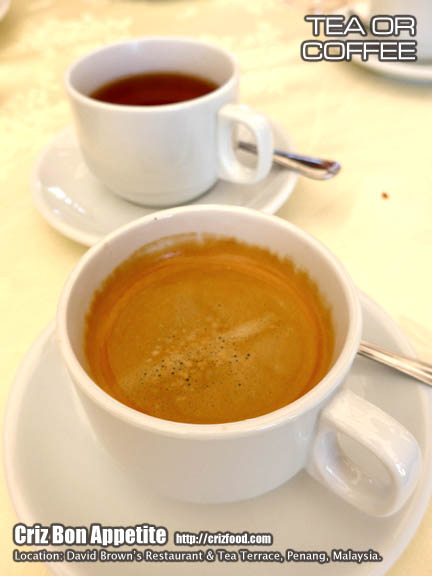 Overall, I do find the package a great deal as they sure know how to utilize quality ingredients for their cooking. However, the portion served this time could be more towards fine dining with smaller serving through the courses. Anyhow, it was still a fulfilling meal to buzz up the occasion.
In order to get to the restaurant, you would need to take a train up Penang Hill. For MyKad holders, it's RM10/pax (adult) or RM4/pax (senior citizen, child & student). As for visiting tourists, it's RM30/pax (adult & senior citizen) or RM15/pax (child & student). Daily train operation hours will be 6.30am-11.00pm (last train from top station). It's not hard to find David Brown's Restaurant and Tea Terraces as it's located above the small Strawberry Hill next to the train station. Upon disembarking from the train, just walk towards the end and turn right and you can see a stairways leading up to the restaurant.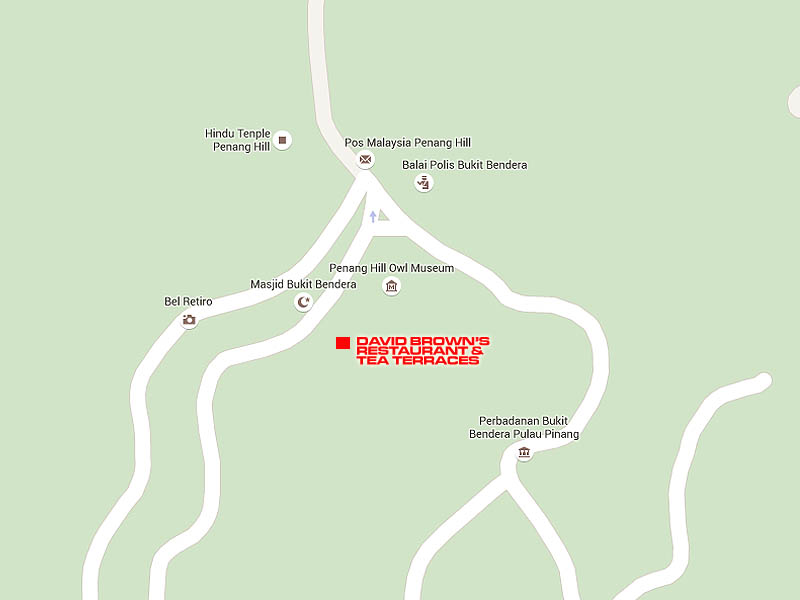 Name: DAVID BROWN'S RESTAURANT & TEA TERRACES
Address: Lot 400, MK 17, Daerah Barat Daya, Strawberry Hill, Bukit Bendera, 11300 Air Itam, Penang, Malaysia
Contact: +604-828 8337 or +6018-409 6277
Business Hours: 11.00am-3.00pm (lunch), 3.00pm-6.00pm (tea), 6.00pm-10.00pm (dinner – last order at 9.00pm)
GPS: 5.424210, 100.268632
RATING:
Ambience: 9/10 (1-4 cheap, 5-7 average, 8-10 classy)
Food Choices: 7/10 (1-4 limited, 5-7 average, 8-10 many choices)
Taste: 8/10 (1-4 tasteless, 5-7 average, 8-10 excellent)
Pricing: 7.5/10 (1-4 cheap, 5-7 average, 8-10 expensive)
Service: 8/10 (1-4 bad, 5-7 average, 8-10 excellent)