Won't it be cool if you could celebrate your Christmas with your loved ones and friends up Penang Hill this year? David Brown's Restaurant & Tea Terrace has the perfect solution for you this year with their two promotions. One would be their Christmas Eve Set Dinner at RM188++/pax (24 December 2015 only) and the other would be their December Set Dinner Promotion at RM98++/pax (1-31 December 2015 except Christmas Eve). Dinner time would be from 6.00pm until 10.00pm. In order to get to the restaurant, you would need to take a train up Penang Hill. For MyKad holders, it's RM10/pax (adult) or RM4/pax (senior citizen, child & student). As for visiting tourists, it's RM30/pax (adult & senior citizen) or RM15/pax (child & student). Daily train operation hours will be 6.30am-11.00pm (last train from top station).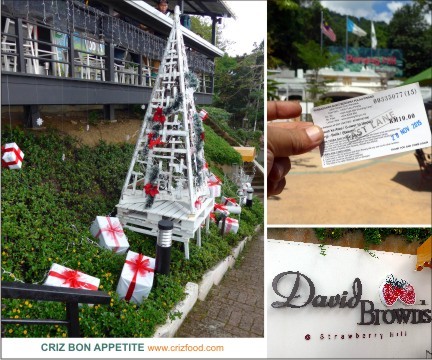 Let's have a look at what would be served during the Christmas Eve Set Dinner Promotion 2015 (24 December 2015 only and no ala carte dishes will be served during dinner on this specific day). Please also take note that if you pre-book the set dinner with full payment before 15 December 2015, you would be entitled to a 20% discount.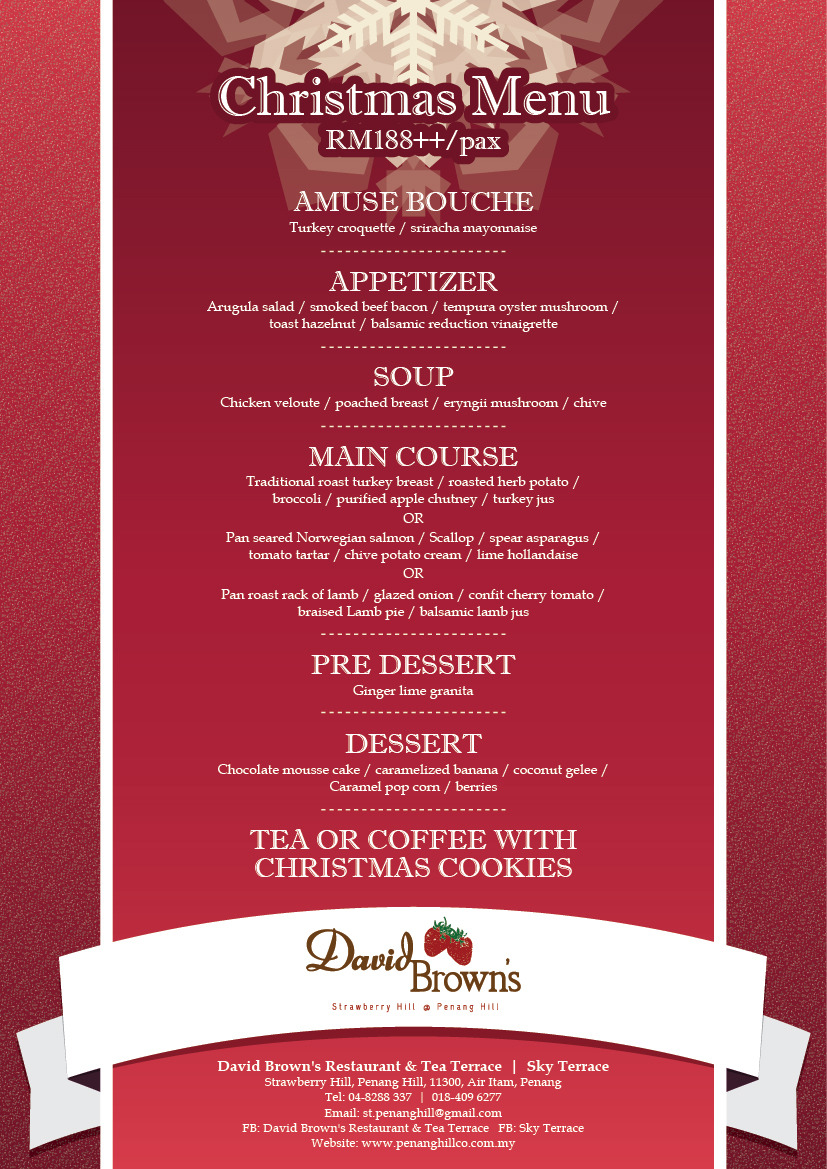 Prior to the start of any set dinner, you would be served with an in-house made bread roll each, accompanied with butter.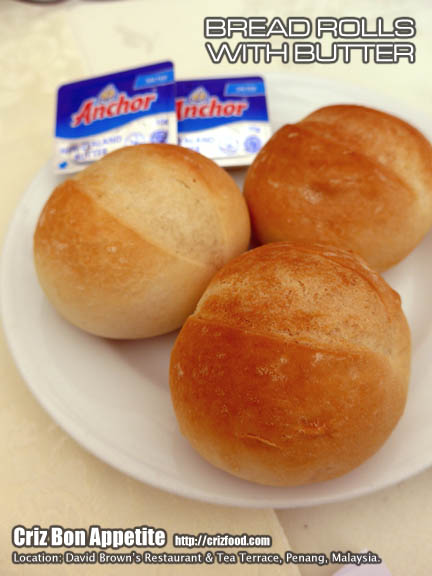 To get your Christmas mood rolling, you would be first served with their complimentary version of Amuse Bouche. It's a turkey croquette served with some hot pepper and vinegar spiced up sriracha mayonnaise. The item indeed boosted up my appetite for more delicious dishes to follow.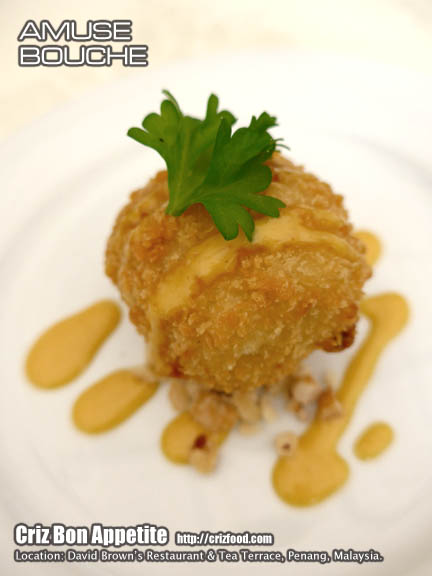 As for appetizer, it had Arugula Salad (commonly known as salad rocket), dressed with balsamic reduction lemon vinaigrette and topped with some slices of smoked beef bacon, tempura oyster mushroom with light sprinkles of crushed hazelnut. It was a simple and yet palatable to start off the meal.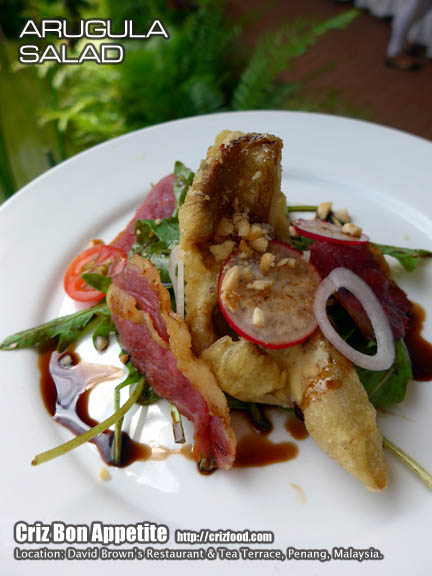 We had Chicken Veloute Soup next. The texture of the soup really reminded me of KFC's gravy for their mashed potatoes. It came with some slices of poached chicken, grilled eryngii mushrooms and a sprinkle of chopped chives. Maybe I have a strong taste bud as I found the soup to be a bit light to my liking. Somehow, it lacked some "roasted" flavors in it. It would be great if the kitchen have utilized some thick broth from simmering some roasted chicken parts to pep up the flavors more. Adding in some heavy cream would also give the soup more texture.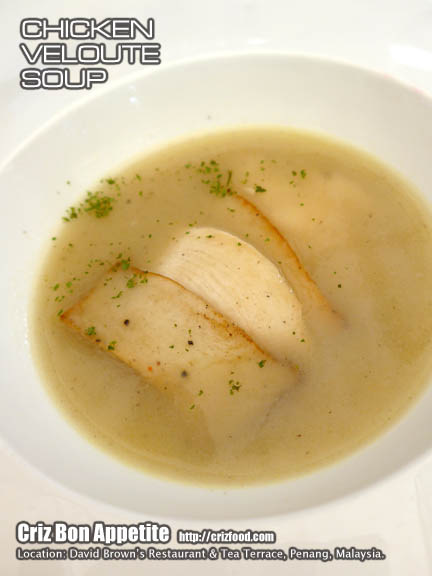 There are 3 options for the mail meal, namely turkey breast, Norwegian salmon and lamb racks.
The first option was the Traditional Roasted Turkey Breast, served with roasted herb potatoes, broccoli, purified apple chutney and glazed with some turkey juice. I quite like the whole combination especially with a twist with the usage of purified apple chutney and turkey juice though my favorite would still be the traditional cranberry and giblet sauces.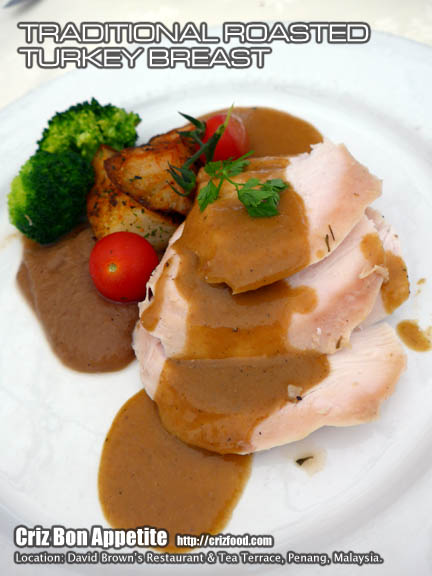 The second option was the Pan Seared Norwegian Salmon & Scallop, served with spear asparagus, tomato tartar, chives potato cream, and lime hollandaise. Every items on the plate complemented the perfectly pan seared salmon real well.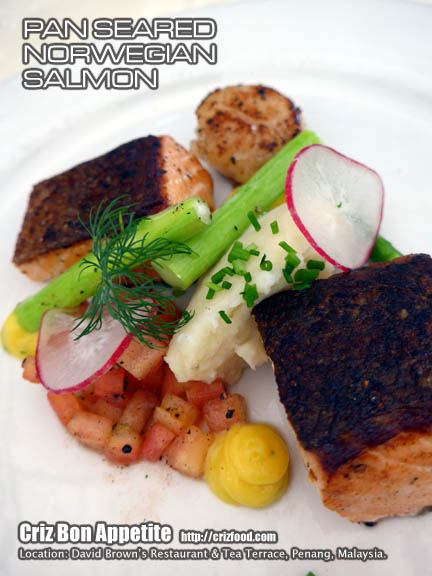 The third option which was the Pan Roasted Rack of Lamb was my favorite amongst the 3 options. The dish was served with glazed onions, confit cherry tomatoes, braised lamb pie with some balsamic lamb juice. It was the heavenly dish that would linger in my mind for quite awhile.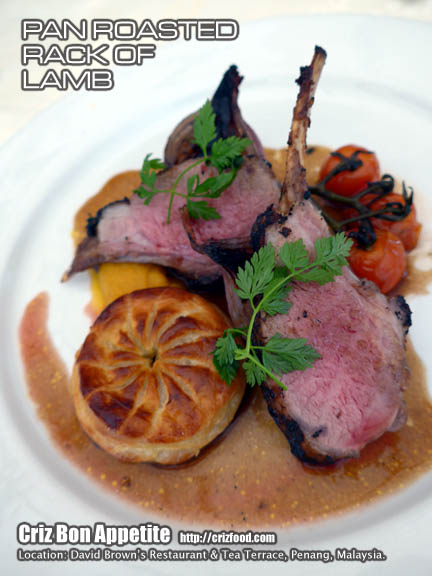 To clear the heaviness of the food you had consumed earlier, they have a pre-dessert of Ginger Lime Granita. It may look like some crushed ice but the flavors were just right with some crunchy texture.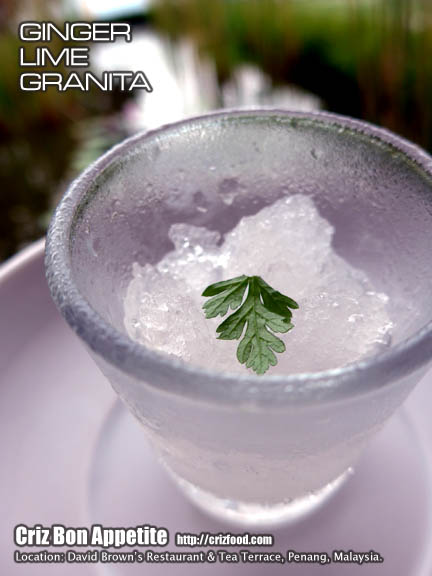 The dessert was rather unique as the Chocolate Mousse Cake was skillfully decorated with some caramelized popcorns, caramelized banana, coconut gelee with an assortment of berries. The whole combination had just the right sweetness to my liking.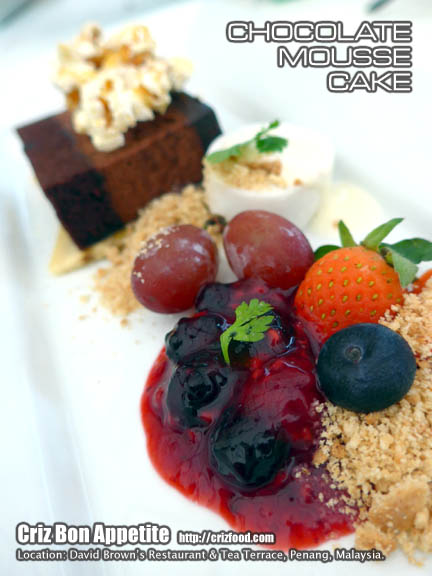 Lastly, you have the option to choose between Tea or Coffee with a Christmas Cookie to end your meal. I would recommend you to have their coffee as they are using the Italian brand Caffe Vergnano Espresso Rico '700 which has an intense and full-bodied flavor with hints of chocolate finishing. This blend had just the right balance of fragrantly roasted Arabica combined with the rich and full-bodied Robusta. It was the perfect beverage to end the meal.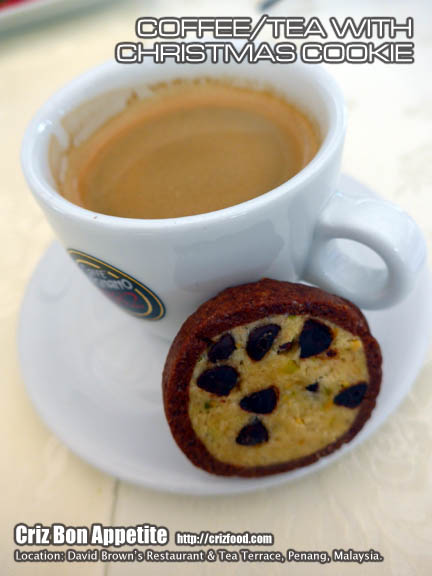 In case you can't make it on Christmas Eve, you can also check out their December Set Dinner Promotion at RM98++/pax (1-31 December 2015 except Christmas Eve). Here's the menu.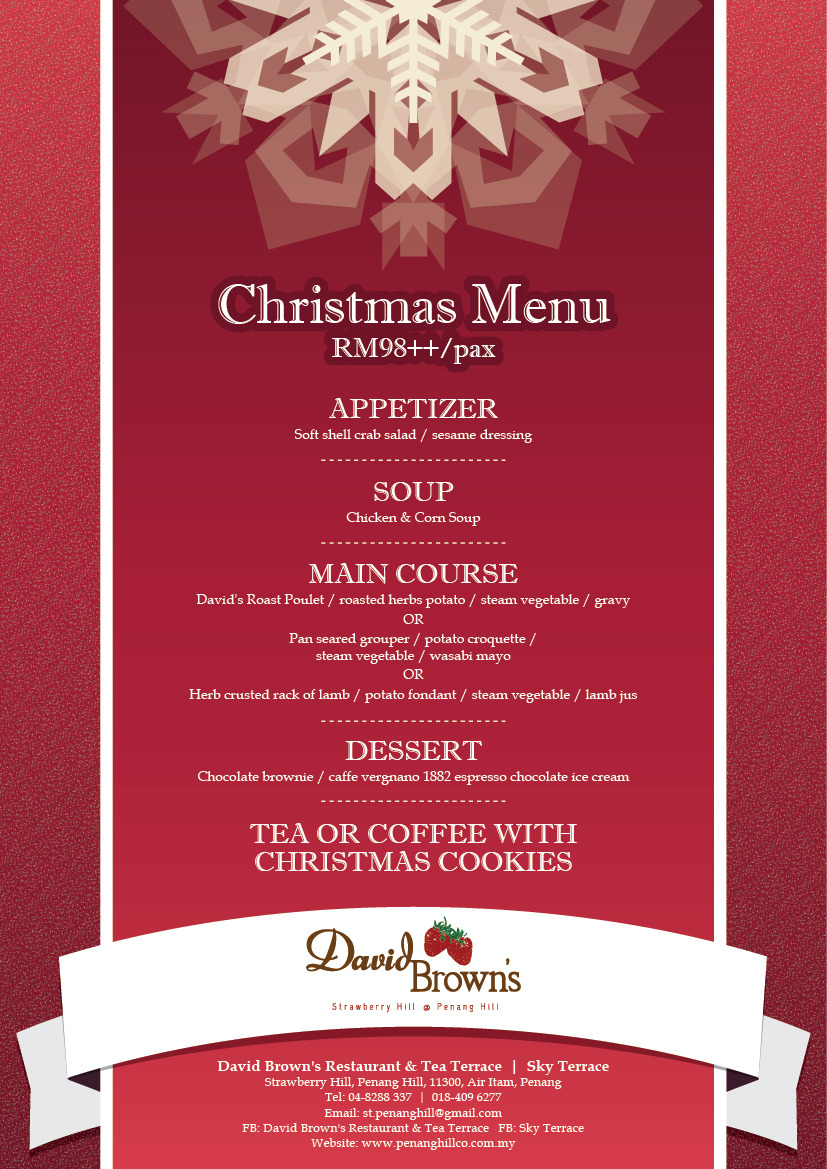 While waiting for your meal to be served, you would always get to try out their in-house made bread roll with butter.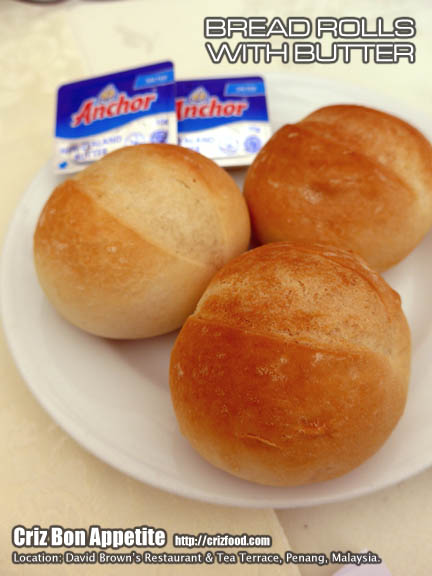 To start off, you could savor their Soft Shelled Crab Salad with Sesame Dressing as appetizer. With some crunches of the batter fried soft shelled crab combined with the many greens plus fragrantly pepped up sesame dressing, it was a great start before the main meal.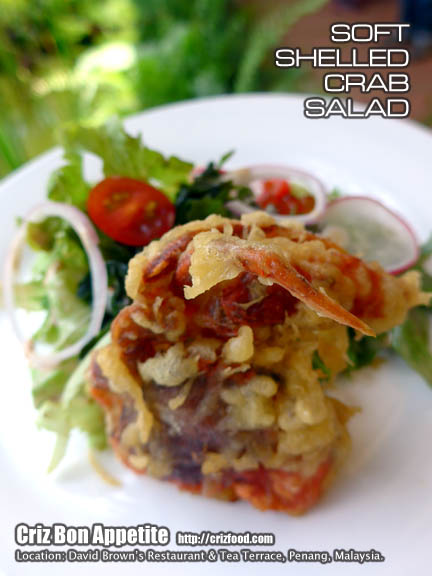 We were then served with Chicken & Corn Soup. I quite like the texture and flavors of this soup. At least there were some bites in it.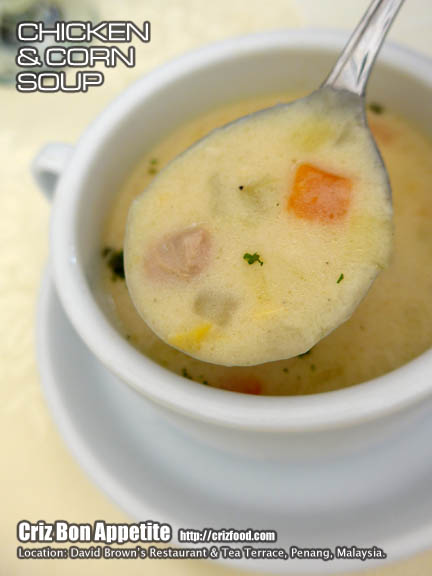 There are 3 options for the main course such as poultry, fish and lamb rack.
The first option was the David Brown's Poulet, served with roasted herbed potatoes, steamed vegetables and gravy. This was quite a fusion dish with the L-shaped chicken drumsticks being marinated with dozen types of herbs and spices. For those who prefer stronger flavors, this dish would suit you well.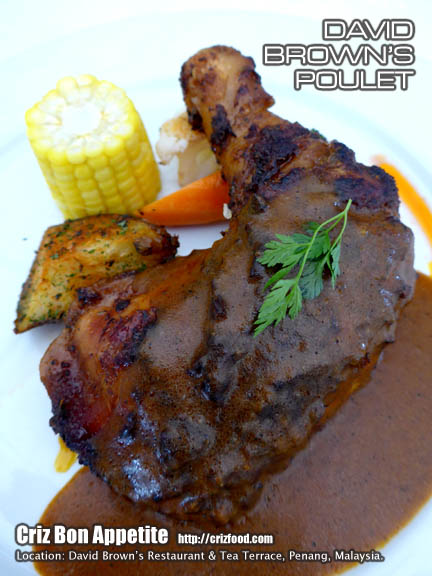 The second option was the Pan Seared Grouper, served with potato croquette, steamed vegetables and wasabi mayonnaise. It was a fuss-free dish for a dinner option.
The last option was the Herb Crusted Rack of Lamb, served with potato fondant, steamed vegetables and lamb juice. It was not a bad choice actually, considering that the meat was tender and juicy to my liking.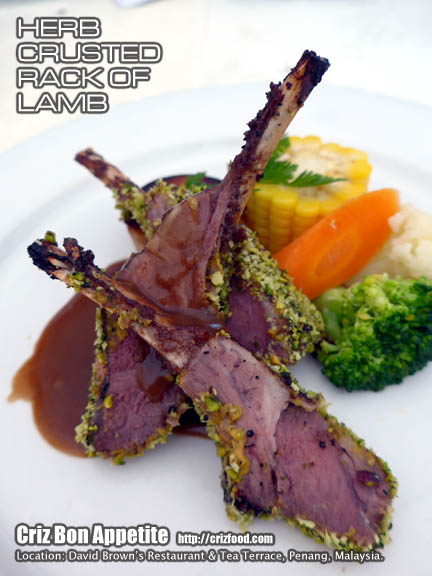 As for dessert, it was the heavenly Chocolate Brownie with their signature homemade Caffe Vergnano 1882 Espresso Chocolate Ice Cream. The slightly crispy crusted and moist brownie combined with the earthly bitter sweet ice cream was the perfect dessert to end the meal.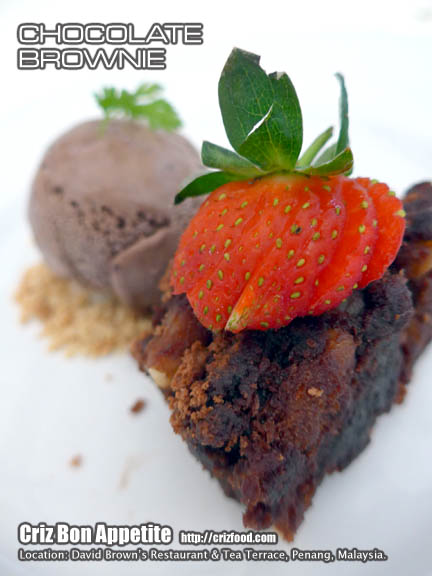 If you get enough of the ice cream, you could always order coffee rather than tea to end the meal. They would be serving Coffee or Tea with Christmas Cookie during this season.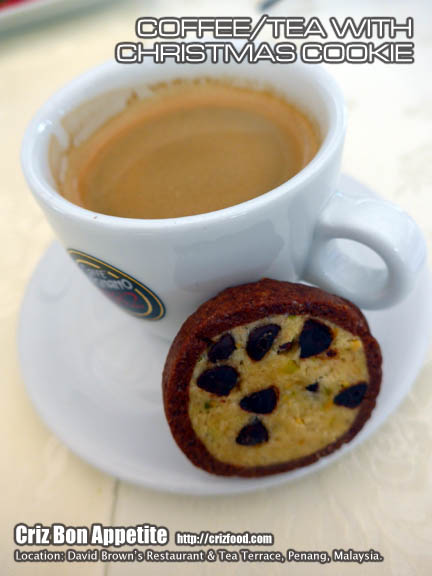 Overall, I do find some of the dishes served here to be quite impressive, especially the Christmas Eve Set Dinner. It might be a hefty sum for some to foot but you can be assured of quality ingredients being used in the menu. Just take a short getaway up the hills and be mesmerized with the cool breezy and scenic night view of the island. I'm sure you would not regret making that decision.
It's not hard to find David Brown's Restaurant and Tea Terraces as it's located above the small Strawberry Hill next to the train station. Upon disembarking from the train, just walk towards the end and turn right and you can see a stairways leading up to the restaurant.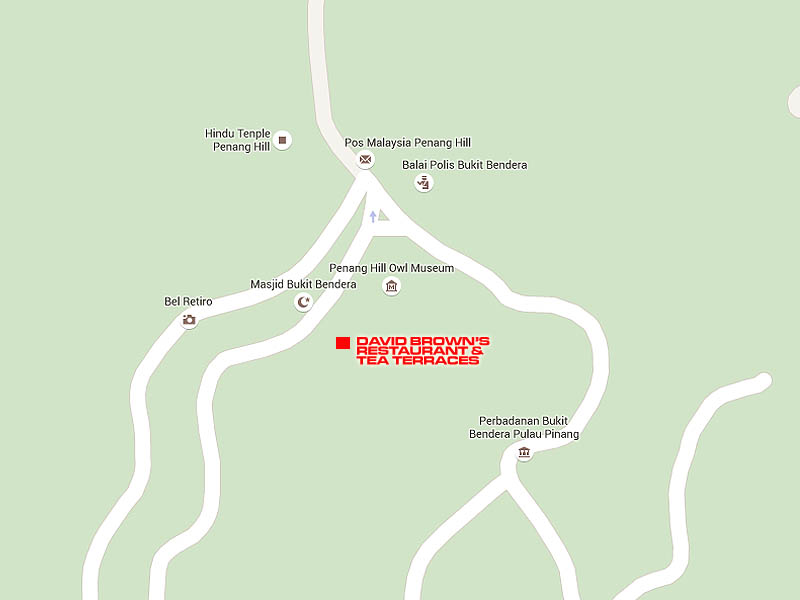 Name: DAVID BROWN'S RESTAURANT & TEA TERRACES
Address: Lot 400, MK 17, Daerah Barat Daya, Strawberry Hill, Bukit Bendera, 11300 Air Itam, Penang, Malaysia
Contact: +604-828 8337 or +6018-409 6277
Business Hours: 11.00am-3.00pm (lunch), 3.00pm-6.00pm (tea), 6.00pm-10.00pm (dinner – last order at 9.00pm)
GPS: 5.424210, 100.268632
RATING:
Ambience: 9/10 (1-4 cheap, 5-7 average, 8-10 classy)
Food Choices: 7/10 (1-4 limited, 5-7 average, 8-10 many choices)
Taste: 7.5/10 (1-4 tasteless, 5-7 average, 8-10 excellent)
Pricing: 7.5/10 (1-4 cheap, 5-7 average, 8-10 expensive)
Service: 8/10 (1-4 bad, 5-7 average, 8-10 excellent)