The Eastern & Oriental Hotel (E&O Hotel) started in the late 1800s when the renowned Armenian Sarkies brothers, Martin and Tigran, settled down in Penang and established the Eastern Hotel in 1884. With its success, they opened another hotel in 1885, the Oriental, on an adjacent piece of land facing the sea. Both combined, these two hotels became the largest hotel in Penang. In 1891, another Sarkies brother, Arshak, joined the business and a large ballroom in 1903. Thus, the E&O became the center of the social life and gaiety of Penang and its surroundings. In 1922, Arshak secured a large plot of land for the hotel which extended its already impressive sea frontage. The land now housed the magnificent Victory Annexe with more rooms, making the property larger with 842-foot seafront, the longest of any hotel in the world.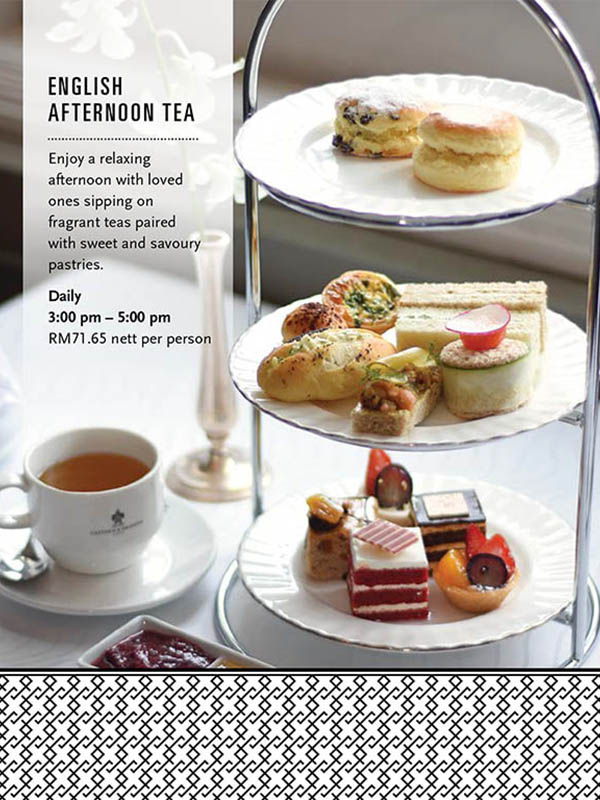 Today, E&O Hotel still treasures its heritage by retaining its charm and weathered the passage of time with character and grace. Hence, they do have a posh yet affordable English Afternoon Tea daily at RM71.65nett per pax (RM76 nett per pax from 1 May 2019 onward) from 3.00pm until 5.00pm. You will get the experience of having tea time snacks with nice crockery tea set and silverware just like how it was during the colonial days, while overseeing the best view of the Straits of Malacca from its Planters Lounge, Level 6, Victory Annexe building.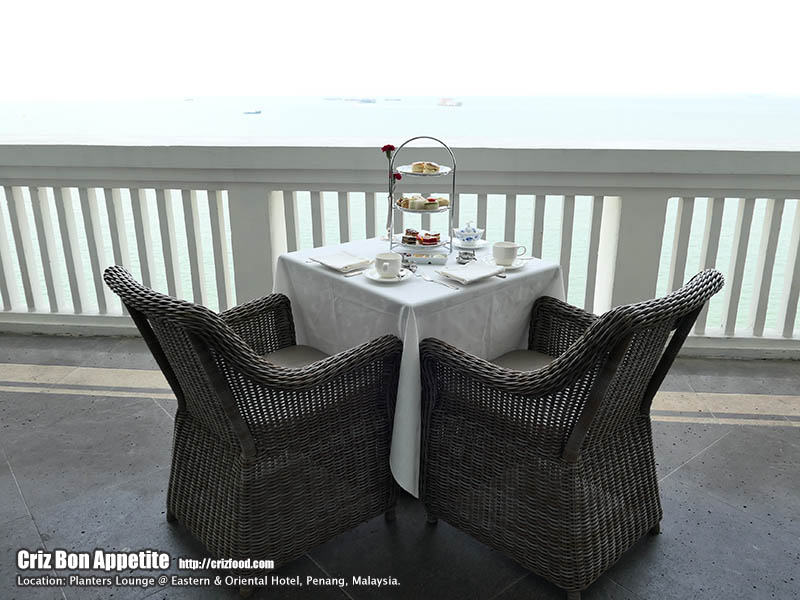 For each English Afternoon Tea set, you would have the option to choose the tea of your choice from 16 types of tea, namely Assam Mokalbarie, Irish Whiskey Cream, Earl Grey, Jasmine Gold, Fancy Sencha, Vanilla Roibosh, Mint & Fresh, Raspberry Royal, English Breakfast, Darjeeling Jungpana, Tarry Lapsang, Greenleaf, Morgentau, Pure Chamomile, Verbena and Soft Peach. There will be sugar cubes and fresh milk to tweak your tea to your liking.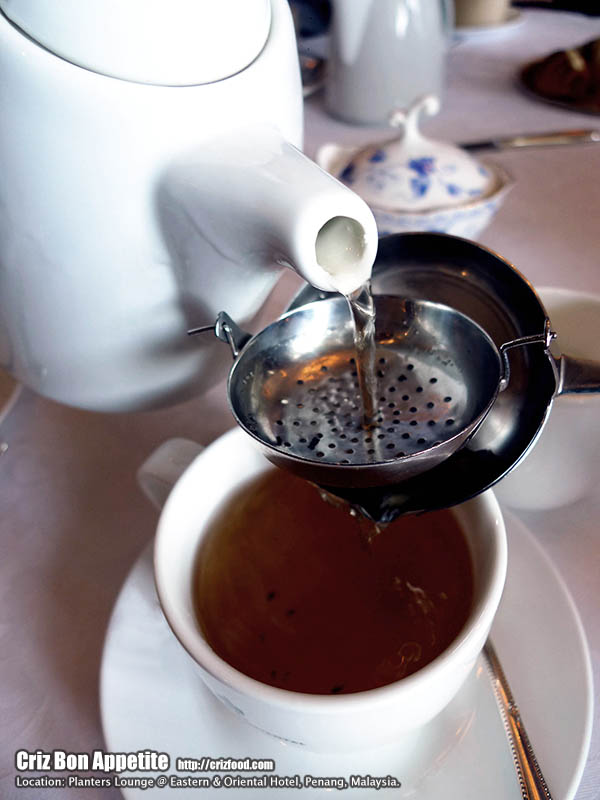 As for the finger food, you get to savor some of the best scones in this region, namely the Plain Scone and Raisin Scone, served with their homemade strawberry jam and pineapple jam plus their specially inhouse made clotted cream. Others delicious items on your palate would include Finger Sandwiches (Smoked Salmon Tartare Sandwich, Crab Meat Slaw Sandwich, Corn Fed Chicken Ragout and Truffle Scented Egg, Marinated Tuna Flakes Sandwich, Organic Spinach Quiche and Cucumber, Dill and Cream Cheese Sandwich) and Cake & Tea Pastries (Opera, Fruit Cake, Red Velvet, Fruit Tartlet and Millefeuille)
Here's a glimpse of the menu for your references. Please click to enlarge for a clearer view.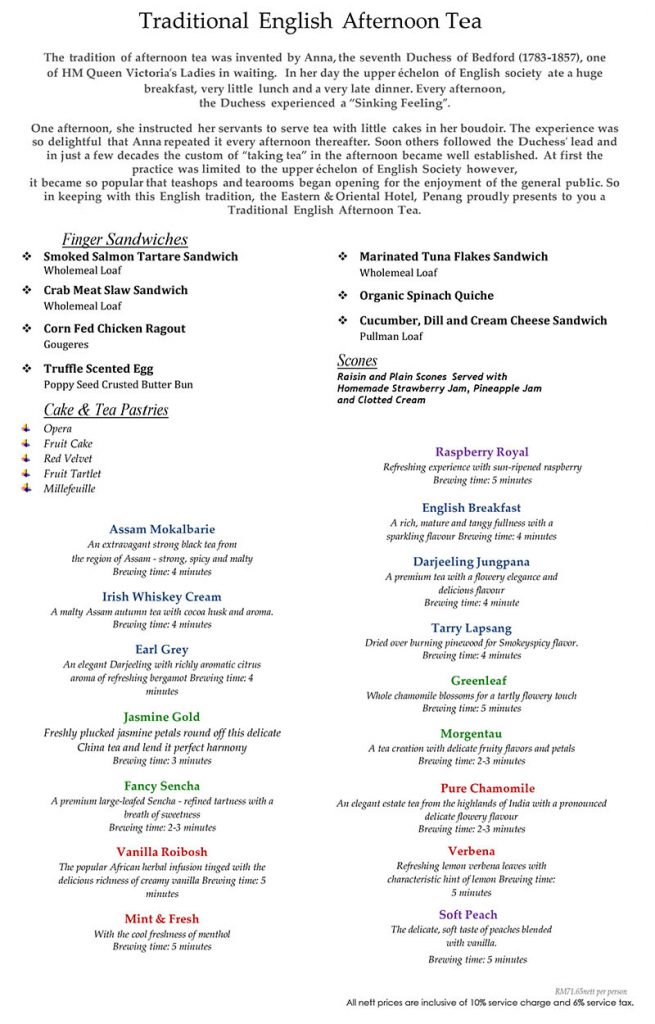 Eastern & Oriental Hotel, Penang (next to Penang Bowl) is located along Lebuh Farquhar. If you are coming from Jalan Sultan Ahmad Shah towards Weld Quay, keep to your left immediately after passing by CitiBank. When you see the Penang Bowl building on your left (UMW Toyota opposite), please slow down. Turn left immediately after the Penang Bowl entrance. The E&O Hotel car park is situated just inside the Victory Annexe building. Parking charges would be a maximum of RM6 (weekdays: Monday-Thursday) and RM12 (weekends: Friday- Sunday). You would need to go down to the lobby and take another elevator to the sixth floor of the building.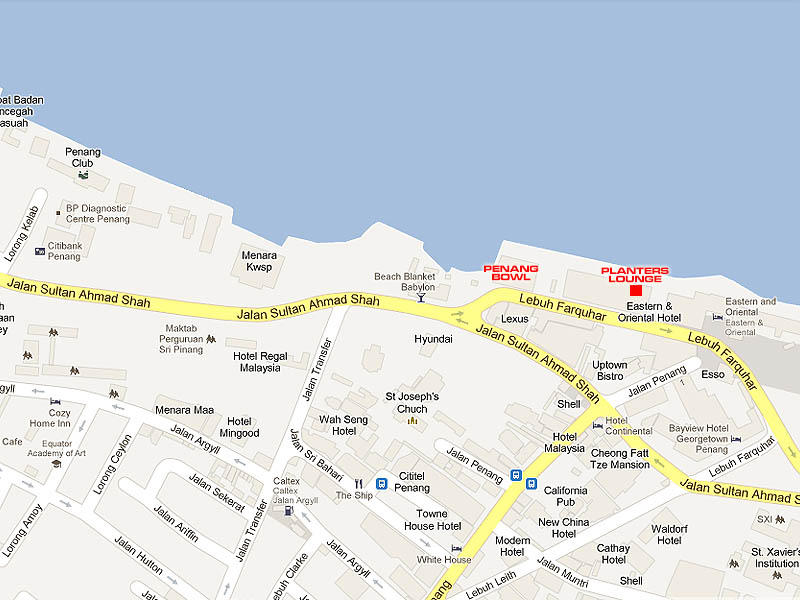 Name: PLANTERS LOUNGE @ EASTERN & ORIENTAL HOTEL
Address: Level 6, Victory Annexe, 10 Lebuh Farquhar, 10200 Penang, Malaysia.
Contact: 604-222 2000
GPS: 5.423354, 100.336294
RATING:
Ambience: 8/10 (1-4 cheap, 5-7 average, 8-10 classy)
Food Choices: 7/10 (1-4 limited, 5-7 average, 8-10 many choices)
Taste: 8/10 (1-4 tasteless, 5-7 average, 8-10 excellent)
Pricing: 8/10 (1-4 cheap, 5-7 average, 8-10 expensive)
Service: 8/10 (1-4 bad, 5-7 average, 8-10 excellent)