I'm sure many have heard about Sushi Mentai, especially those from Klang Valley, Johor and Penang. Through collaborative alliances with strategic business partners, Sushi Mentai's philosophy is straightforward to the point – To bring affordable and quality Japanese food, mostly Japan imports, to enable everyone regardless of status and income, to enjoy the gastronomical fares without worrying much about the high food bills as experienced in many exquisite Japanese restaurants in Malaysia. With the tremendous success of its first branch at Elit Avenue in Bayan Baru, Sushi Mentai has now opened its second Penang branch at All Seasons Place in Air Itam on 16 October 2015 to cater to the needs of the public. For those from mainland Penang, you would be pampered with Sushi Mentai's wide spread of Japanese cuisine with the opening of its third branch in Bukit Mertajam real soon~ 🙂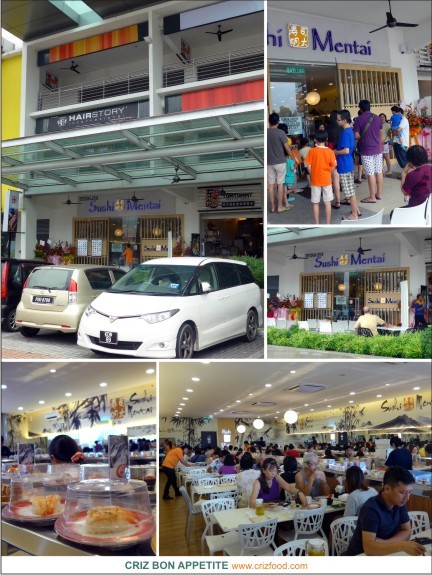 Though Sushi Mentai's may look simple with only 25 sushi options for both yellow plate (RM1.80++/plate) and red plate (RM2.80++/plate) category respectively on the conveyor belt, you would be in for surprises as they do occasionally come out with many other interesting and flavorful creations (not from the menu) to tempt the taste buds of its diners. Let me show you some of the recommended ones as well as new signature creations such as their Tamago Mentai (yellow plate – egg), Chuka Kurage (yellow plate – jellyfish), Salmon Mentai (red plate – fish), Ebi Fried Kani Maki (red plate – prawn) and Ebi Tempura Fountain (red plate – prawn). Wow! No wonder the restaurant went by the name Sushi Mentai as their in-house concocted Mentai sauce (a combination of mentaiko aka cod fish roe with mayonnaise and maybe with a light squeeze of lemon juice) surely did sharpen up the flavors in each of their creation. I quite like the distinctive flavors and textures in their Ebi Fried Kani Maki as the crispiness from the added batter fried prawns wrapped in some lettuce combined with the fluffy yet chewy vinegar added Japanese rice was just perfect. It had mild touch of sesame oil added and it made the whole concoction quite addictive in each bite. Another must note would be their Ebi Tempura Fountain, something so simple and yet brought out the real taste of sushi. It had sushi rice stuffed inari (fried bean curd pocket) topped with a whole tempura prawn and drizzle with a light touch of nikiri (Japanese sweet soy sauce) and mayonnaise, then garnish with some ebiko (shrimp roe) and some chopped greens.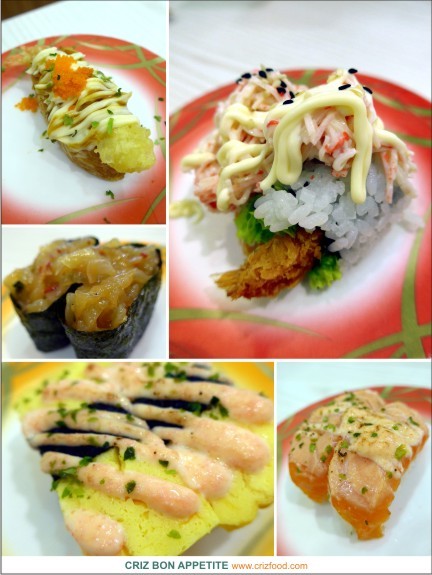 Instead of just sushi, there are many other selections in their menu ranging from Appetizer, Salad, Sashimi, Special Maki (special roll), Temaki (hand roll), Yakimono (grill), Agemono (fried), Menmono (noodles), Donmono (rice), Wanmono (bowl) and Beverages. You can click on the menu link up there for their full range of dishes.
Let me share with you my dining experiences with some of the dishes ordered starting with an appetizer called Chuka Idako (seasoned baby octopus – RM4.80++). You can practically taste all the sweet and sesame oil infused flavors in each of the nicely braised marinated baby octopus. The best part was that the dish was served chilled to my expectation.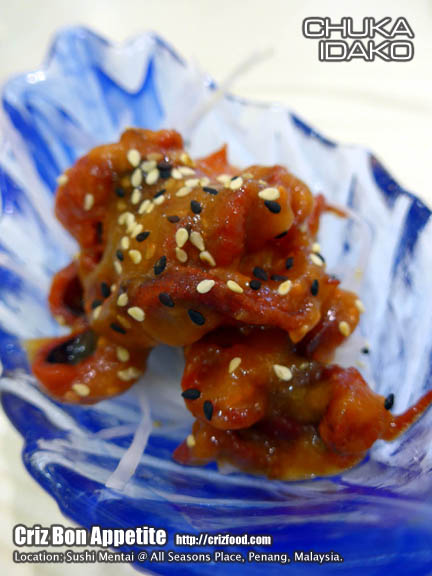 As for sashimi, I would always go for fresh salmon cuts and indeed their Salmon Sashimi (RM10.80++/5 pieces) was really value for money. Other than at some buffet spread where I could eat all the salmon sashimi I ever wanted, I've yet to find an eatery serving such thick slabs of sashimi at such a low price.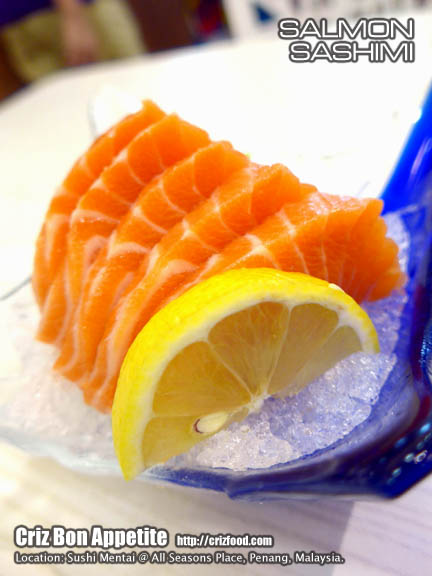 Their signature maki set of Salmon Mentai Dragon Maki (RM12.80++) was a hit on my list as the batter fried prawn rolls with torch burned mentai sauce coated salmon slices were heavenly to my palate of quality Japanese dishes.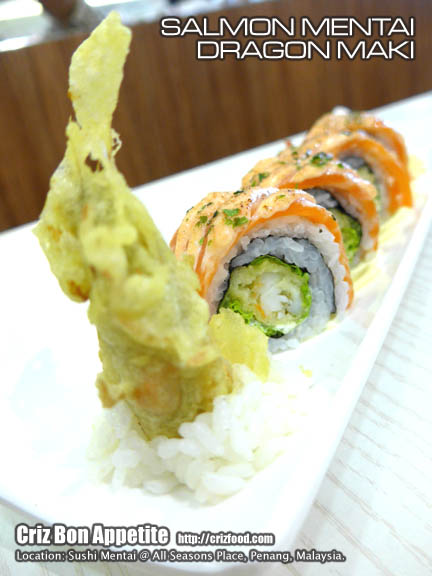 For some grilled seafood, I opted for their Salmon Mentaiyaki (RM14.80++) which came with two piece of mentai sauce coated grilled salmon. The taste wasn't that bad but it could have been better if the fish were to be of a thicker cut. Anyway, I'm not complaining as the price was quite reasonable compared to paying over RM20++ dining elsewhere for such portion served.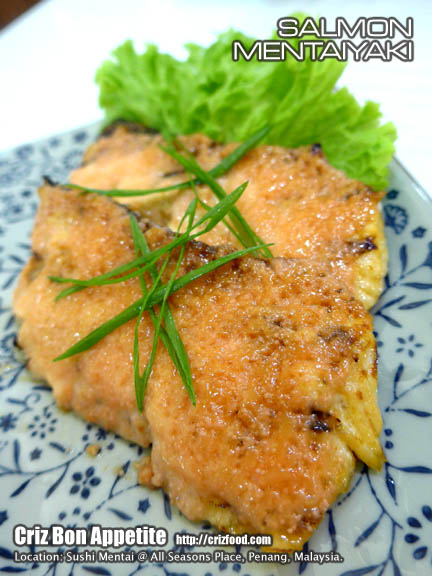 I wanted something light yet fulfilling at the agemono section, thus I tried out their Takoyaki (squid tentacle filled wheat flour ball – RM4.50+/5 pieces). I would say these were some of the good ones I had for awhile as each has just the right juicy bite and were dressed with takoyaki sauce and mayonnaise plus generously garnished with lots of nori and bonito flakes.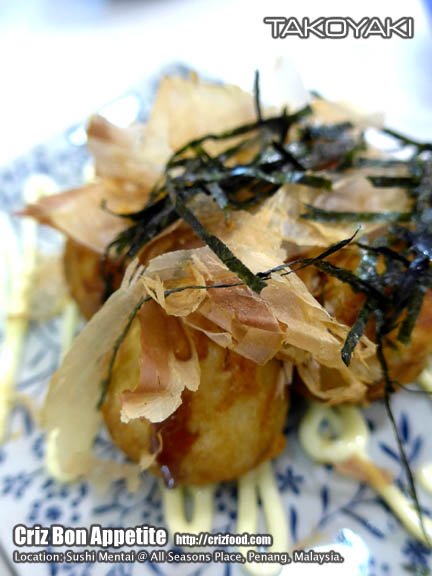 I had their Tempura Udon (RM13.80++) as my next dish. The dish may look rather simple with some udon in clear soup topped with some nori (seaweed) and two pieces of the Japanese fish cakes, on top of the two tempura prawns but the serving of udon was humongous. Instead of the standard serving of 120g for udon, the serving was almost 170g, which meant it was a big too much for small eaters whom would want to savor their other dishes. However, I would want to compliment them for the soup broth. This was the type of rich flavored dashi stock base I would love to consume with my udon especially on a humid day.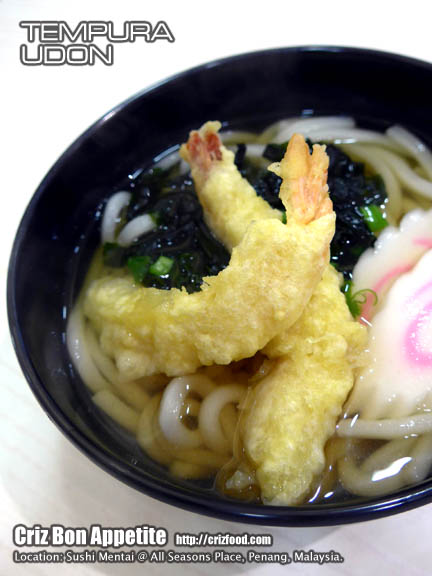 Sushi Mentai has the reputation of serving great Japanese curry, thus I also tried out their Tori Katsu Curry Rice (RM13.80++). Gosh! I was dumbfounded with the amount served for this dish. Are they sure that this was the portion for one person? The dish had half a plate filled with compactly cooked Japanese rice and the other half filled with loads of potato and carrot chunks in Japanese curry and topped with a whole deboned breadcrumbs fried drumstick. One glance at the dish and I was already feeling full~ LOL~ 😛 Anyway, for those big eaters, you would be happy to order this dish. Maybe it would be also be a great idea to share this dish with another friend so that you can consume more options. I loved the sweetness of both the potatoes and carrots with a light hint of citrus flavor enhanced non-spicy curry powder broth. On the other hand, the choice of using deboned chicken drumstick was ideal for this dish as the meat was moist and tender as it should be. The rice set came with a complimentary bowl of miso soup.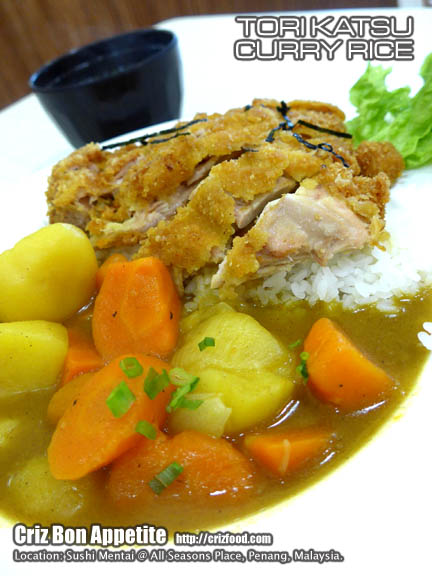 Instead of ordering the usual Chawan Mushi (RM3.80++) or Miso Soup (RM1.80++) as I normally would do, I saw one dish that was rather unique I have yet to see from other Japanese restaurants. It was their Asari Miso Shiru (RM4.80++). The bowl of soup was basically miso soup with added clams. I had it quite a few times at one Korean restaurant and had fallen in love with the richness and sweetness of the soup and finally I can find it at Sushi Mentai. For the price, it was a hearty bowl of soup filled with lots of juicy clams plus generous amounts of nori and bean curds.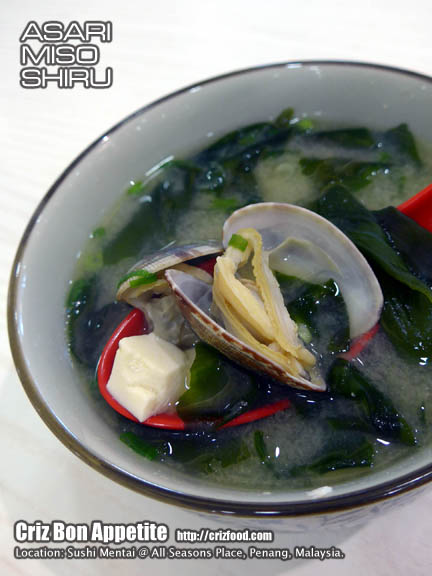 As for beverages, I opted for a set of hot and cold green tea (RM1++ each). It came with a jug of green tea and a bucket of ice cubes – all free-flow. It was a great bargain.
Overall, I'm happy with the taste and quality of the dishes served here at Sushi Mentai. It might not be the best compared to some other upper class Japanese restaurants with proper Japanese chefs but it was good enough to soothe my craving when I needed some Japanese cuisine. The damage for the whole meal was RM109.75 inclusive of the 6% GST and 10% service tax for two pax. However, the amount of dishes we ordered would be adequate for 3-4 persons. With such economical pricing, do expect huge crowds during peak period of the day, especially during weekends. Please also take note that they would not entertain any prior reservations as their system is on a first come first serve basis. No worries as they do also provide sitting area right in front of the eatery while you wait for your turn.
Sushi Mentai @ All Seasons Place is located on the ground floor at the left wing of the building. You won't miss it as it's strategically in between Summer Dessert Bakery and Tomyummy Noodle House. You can park your car at the basement car park as you enter the building or right at the front area of the building. If you still do not know how to get there, you can always check out the location maps and use their Waze function.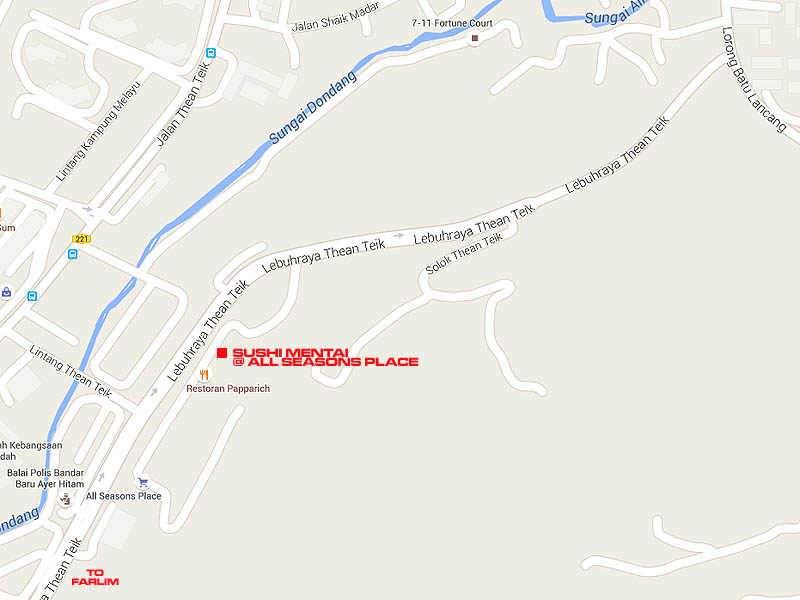 Name: SUSHI MENTAI @ ALL SEASONS PLACE
Address: 6G-1-13, All Seasons Place, Lebuhraya Thean Teik, 11500 Air Itam, Penang, Malaysia.
Contact: For walk-ins only
Business Hours: 12.00pm-9.30pm (Mon-Fri), 11.30pm-9.30pm (Sat, Sun & Public Holidays)
GPS: 5.396963, 100.290707
RATING:
Ambience: 7/10 (1-4 cheap, 5-7 average, 8-10 classy)
Food Choices: 8/10 (1-4 limited, 5-7 average, 8-10 many choices)
Taste: 7.5/10 (1-4 tasteless, 5-7 average, 8-10 excellent)
Pricing: 7/10 (1-4 cheap, 5-7 average, 8-10 expensive)
Service: 9/10 (1-4 bad, 5-7 average, 8-10 excellent)