* Published in HungryGoWhere Malaysia Food Guide: HUONG QUE VIETNAMESE RESTAURANT @ Penang
With lots of factories in Penang employing Vietnamese workers, more and more Vietnamese restaurants are popping up on the little food paradise island. The latest would be Huong Que Vietnamese Food located a stone throw away from the Penang Times Square. Quietly tucked within one of the colonial-style houses along Lebuh Melaka, Penang, you could find the humble restaurant bustling with regulars. As it's quite a normal practice in Penang that if you see crowds, the food must be good. Well indeed, the dishes served here are very homely style and at times you could find some exotic choices too. The menu here could be quite simple. However, there would be a photo album menu for you to choose your meal since most of the items are labeled in the Vietnamese language. All prices are nett.
The first thing to check out at any of the Vietnamese restaurants would be the quality of their signature Huong Que Pho (Vietnamese Beef Noodles – RM8.70). I'm impressed with their rich stock which has obviously gone through many hours of simmering. It had sweet and flavor spices-spiked boney rich flavors with some magical touches of their fish sauce. The noodles' texture was silky smooth with the right al dente. The portion served was also quite huge with generous amount of beef slices for the price paid. Each set would come with a basket of fresh basils, bean sprouts and a slice of lime. This is the far best pho I had taken in Penang.
Alternatively, for those non-beef takers, you can always opt for their Hu Tieu Gio Heo (Vietnamese Pork Noodles – RM8.70). The taste is almost similar to that of the local Koay Teow Th'ng but with the extra fragrant from their added fish sauce. The big bowl of noodles would come with some minced meat balls, bean sprouts, prawns and some innards. You can always request to omit the innards since most Vietnamese dishes would surely have them.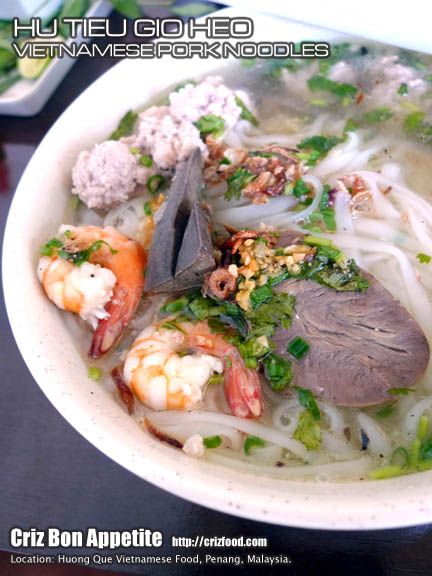 Another item in their menu would be quite exotic for the palate of major diners but it could be the staple food of another. That would be the Hot Vit Lon (Boiled Fertilized Developing Embryo Duck Egg – RM3.00 each) or also known as Balut. These commonly found street food of Vietnam, Laos, Cambodia and Philippines are quite rare in Penang. I was having the phobia of consuming something not in my daily diet. However, being a food writer, it's a must to try out anything that's edible. I would say, the outlook could be quite deceiving as the taste was something like a boiled hard-boiled egg with distinctive duck flavors, though some parts could have a bit of oozy raw aftertaste. Basically, it's more like chewing the cartilage of a stingray, which was not too bad. The duck egg came with a condiment of pounded chilies, some spiced salt and lime. My advice would be to consume the Balut while it's warm plus the provided condiments to prevent the strong flavors of rawness from emitting further. For those courageous newbies, quickly pop it into your mouth with as much sauce as you could, give it a few fast chews before swallowing the mass and do ignore the sneaking suspicion that your tongue might detect faintly the fibrous tickle of feathers. Try not adding in the basil leaves as it would require more chews. To the natives of those countries, Balut can be considered a natural source of Viagra to prove your manliness. Is it? LOL~
Huong Que Vietnamese Food | Address: 37 Lebuh Melaka, 10400 Georgetown, Penang, Malaysia. | Tel: 604-228 8727 | Opening hours: 12.00pm-11.00pm (Closed on Tuesdays) | GPS Coordinates: 5.413001, 100.323058 | Non-Halal