Gurney Plaza, Penang's Premier Lifestyle Shopping Mall, had launched their Food Guide 2012/2013 – Your Gourmet Journey at Gurney Plaza yesterday, witnessed by YB Danny Law, Penang State EXCO for Tourism Development & Culture and some attending food bloggers. As Penang has been named as one of the Asia's greatest food destinations by CNNGo just early this year, the management of Gurney Plaza came about just at the right time to launch this food guide to enable tourists and locals to experience the exquisite journey of gourmet goodness. With the availability of this food guide, diners would be able to savor more than 80 unique and delectable restaurants, specialty retailers and cafes throughout the complex. Just head on to the Customer Service Counter at Level 1 to grab this booklet, while stocks last.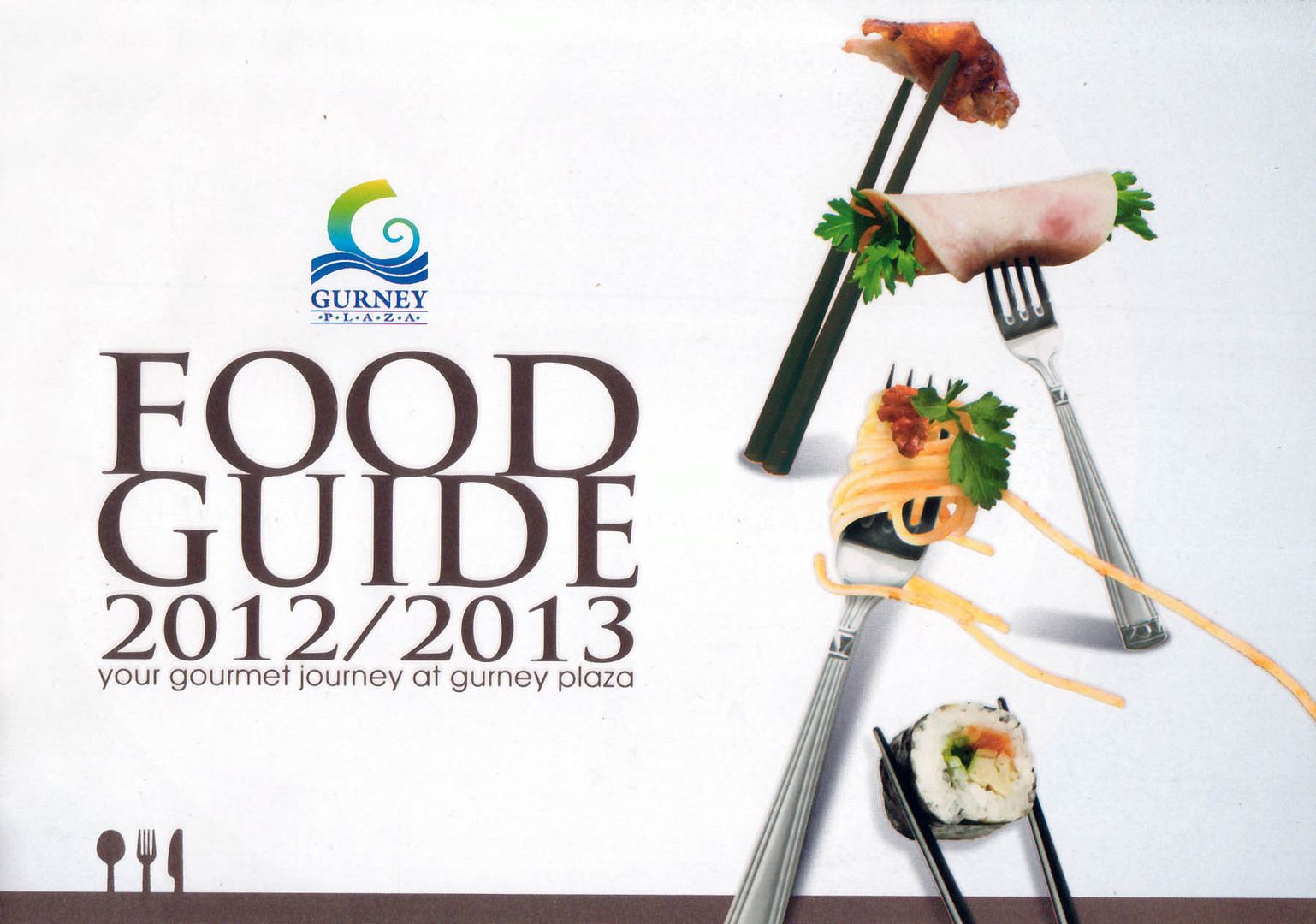 Four Penang food bloggers have been carefully screened through to assist the Gurney Plaza management to review some of the restaurants within the mall. Amongst them were CK Lam, myself, Steven Goh and Lingzie.
In attendance were YB Danny Law, Penang State EXCO for Tourism Development & Culture, Mr. Lawrence Teh, Gurney Plaza Centre Manager, Mr. Steven Goh, myself, Ang Kevin & Nicholas Theng, co-founders of www.awesomepenang.com. The Food Guide 2012/2013 was officially launched by YB Danny Law, followed by signature session by YB Danny Law, Steven Goh & myself.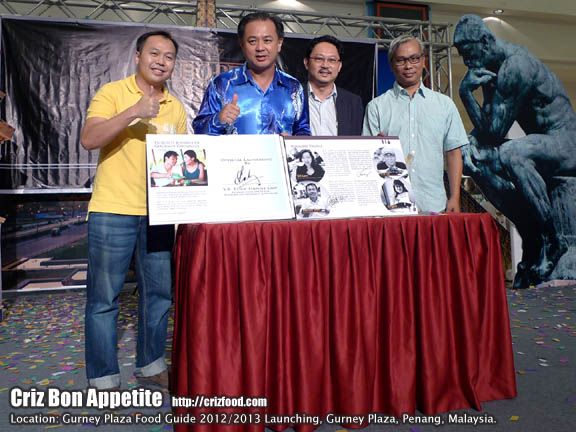 The "Matterhorn Challenge" organized and sponsored by Euro Deli was held immediately after the launching. 20 participants gathered at the new atrium to decide who would be the biggest eater to finish off the 9"W x 6"H Matterhorn burger within the stipulated time frame of 45 minutes. It was a challenging task to gobble down the approximately 3kg in weight burger in which the pork patty alone was about 1.5kg in weight.
Just look at how condense those patties were. It would take me a week to consume one such burger. Sweat~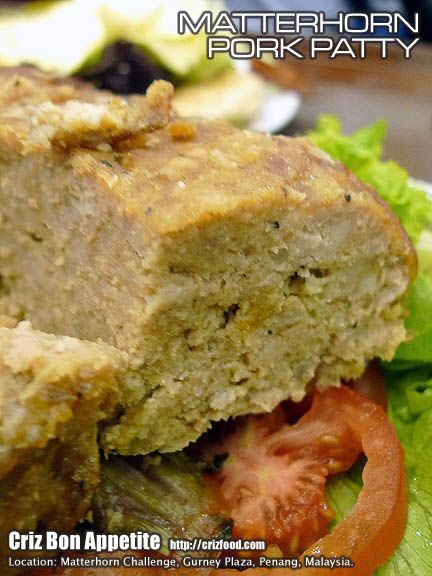 Here's the size of the Matterhorn burger in comparison to the size of the trophies.
Some of the participants even gave up in the midst of the challenge. I tried having only 1/12 of the burger and it was really tough. Having one Matterhorn sized burger would be like having 12 double cheese burgers at one go. Sweat~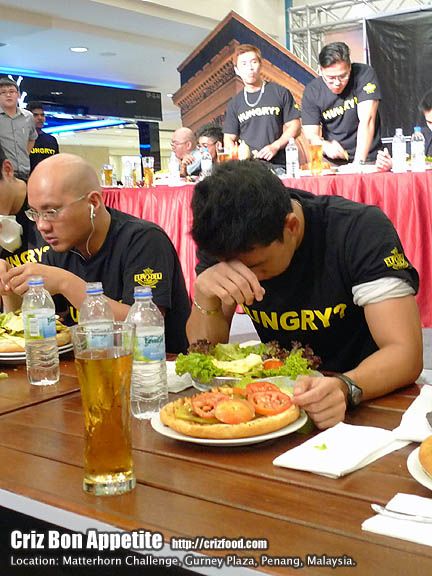 Even YB Danny Law could not resist posing with the huge Matterhorn burger. Gosh! It was even bigger than his face! LOL!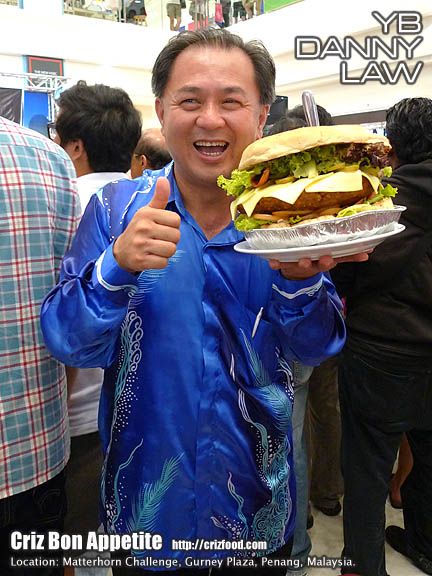 Nevertheless, Steven Goh would always be in his comical ways in handling food as well.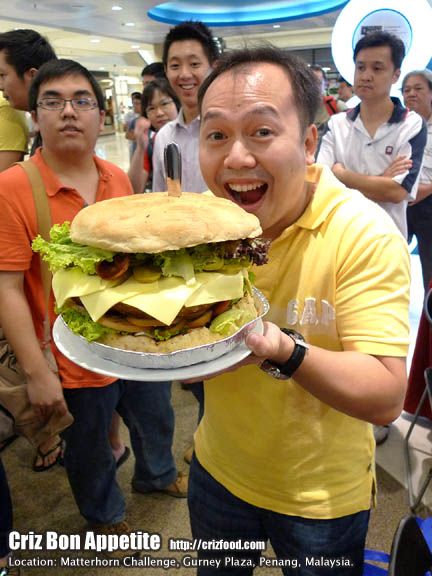 The two AwesomePenang co-founders, Nicholas Theng and Ang Kevin did not miss out the opportunity as posers too. Haha!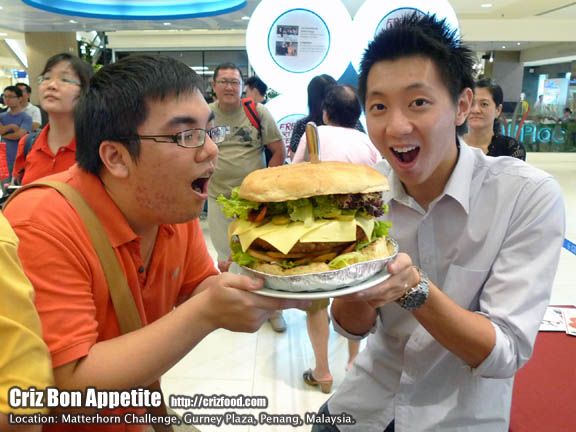 Although there were so many huge participants in the challenge, no one was able to finish the huge burger. Eventually, the champion went to a medium-size built contestant, Mr. Wilson Chew, with the least amount left – 1.035kg remains.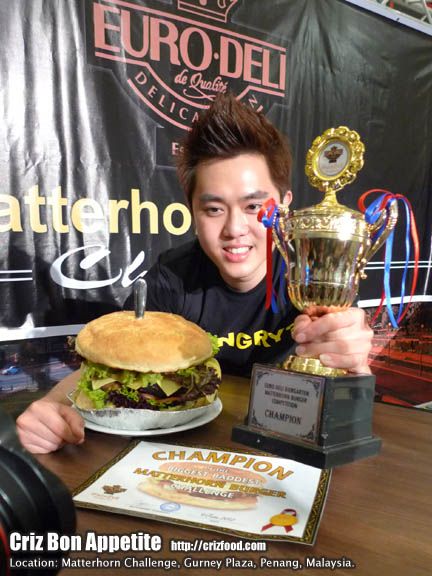 The other 2 winners finished with a marginal 1.075kg and 1.110kg remains. They were 1st Runner-up, Mr. Lee Tat Fong and 2nd Runner-up, Mr. Goh Thain Seong.
The event ended with us guests and media adjourning to Euro Deli for our dinners.