For those who would like to have fuss-free meals in a less crowded place with great ambience and good service, you could consider paying Sea Queen Restaurant at Straits Quay, Penang. Currently, they do provide quick lunch set meals during weekdays (11.00am until 2.30pm, excluding public holidays) at RM7.90++ per set – a bowl of rice with your choice of dish, on top of a complimentary bowl of their home-cooked soup-of-the-day plus free-flow of tea/water. One thing for sure, you won't get bored as there's a total combination of 32 options for your lunch, namely 4 meat options (chicken, fish fillet, mantis shrimps & pork), cooked to your preferred style, namely with dried chilies sauce, dried shrimps sauce, spring onions & ginger sauce, sweet & sour sauce, marmite sauce, wheat flakes, lemon sauce or mixed vegetables.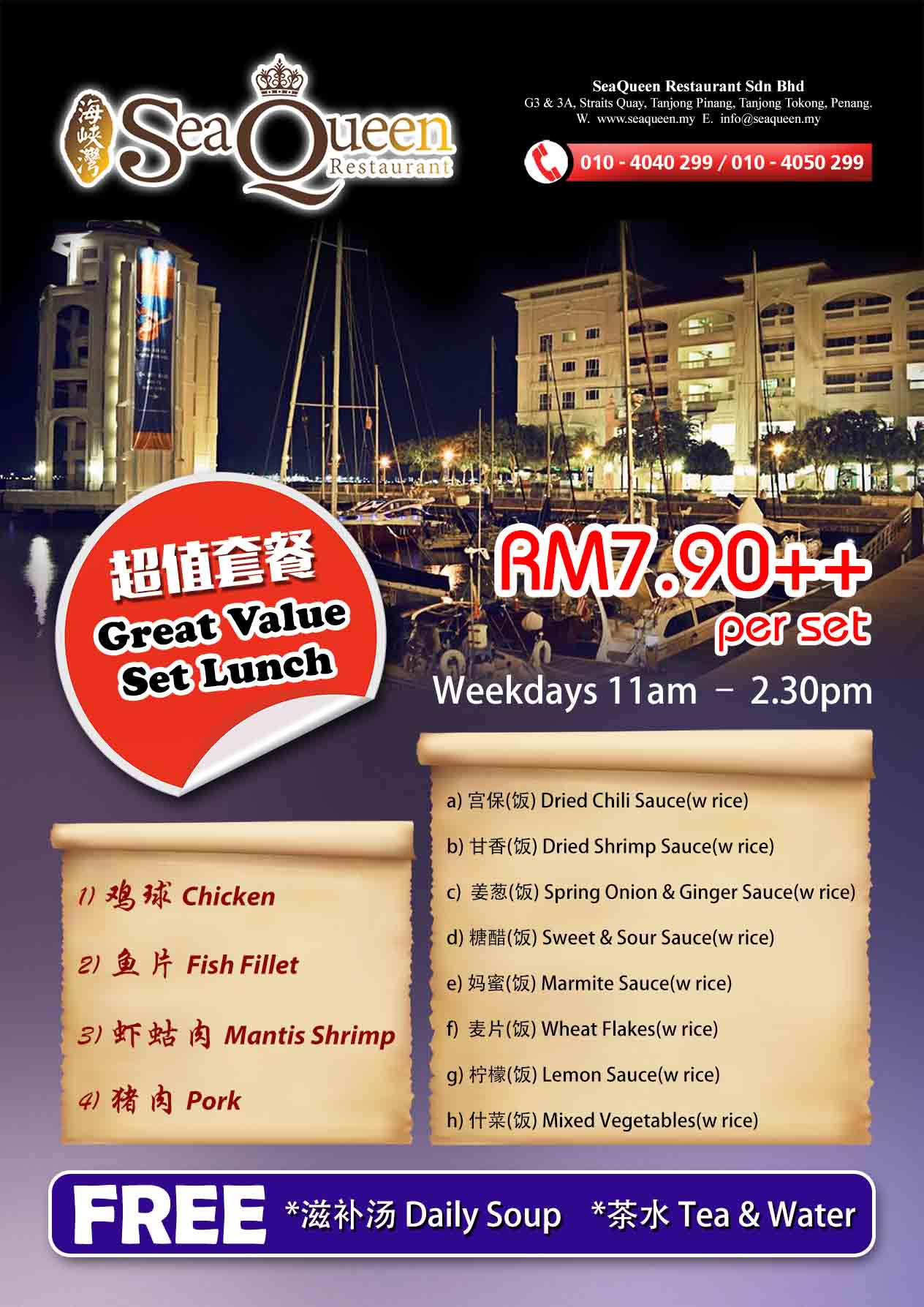 During one of our visits to Straits Quay Marina Mall, we paid the restaurant a visit and tried out their set lunch. To get a better experience, we ordered chicken with marmite sauce, thus Marmite Chicken. The set came with a bowl of hot steaming rice, some generous amount of chicken slices in sweet based marmite sauce plus some side greens. We were served Pork Tripe Soup for the day and it was quite rich in flavors, especially from pepper corns. Overall, it was one of our preferred choices.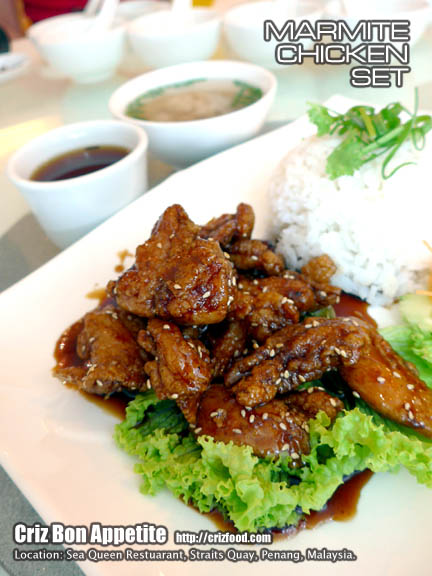 We also tried out their Fish Fillet in Lemon Sauce. Flavor wise, it was appetizing. However, it would be better if the kitchen were to cook the fish in bigger slices instead of cutting them into strips to maintain the moist within.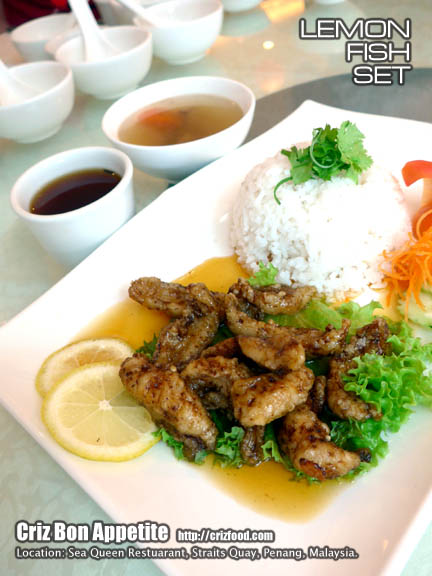 Lastly, we ordered their mantis shrimps in dried shrimp sauce. Locally, we called this dish Kam Heong Mantis Shrimps which has a bit of curry powder, stir fried with dried shrimps and curry leaves. No doubt this was another dish in demand. However, I personally would prefer the batter coated mantis shrimps to be crispier with less sauce. It was a bit overwhelming to go with the rice.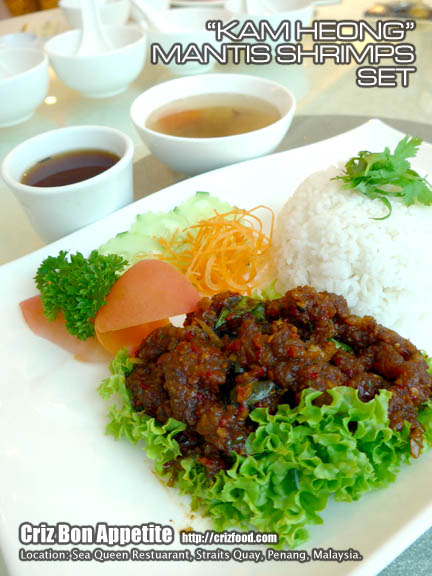 Overall, I do find the set meals here to be fuss-free and yet affordable. We could resist dining in an air-conditioned restaurant and paying only RM7.90++ for a meal and to be served like a king or a queen? Moreover, there are 32 combinations of set meals you can choose from and the soup provided would be of good quality. Please do take note that the set lunch is only available on weekdays.
You can check out more on my reviews on their Ala Carte Dishes and Wedding Packages by clicking on the links.
It's easy to locate the restaurant as it's located within the Straits Quay Marina Mall premises. Drive all the way up Jalan Tanjung Tokong until you see Tesco Seri Tanjung Pinang on your right. At the traffic lights, turn right into Jalan Seri Tanjung Pinang. Drive all the way until you see the colonial style mall building. Turn into the left of the building and drive straight until the end towards the beach area and you will see the restaurant. Parking is at RM1 per entry.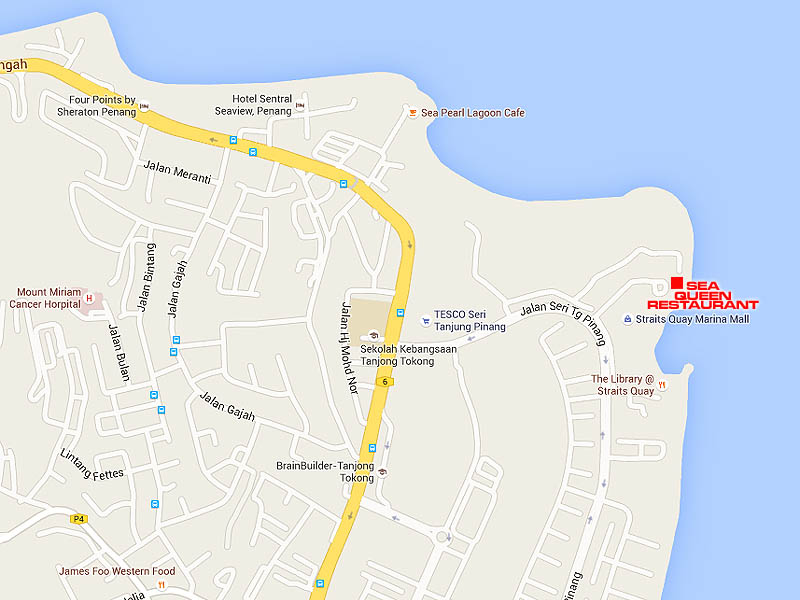 Name: SEA QUEEN RESTAURANT
Address: G3 & 3A, Straits Quay, Seri Tanjung Pinang, Tanjung Tokong, 10470 Penang, Malaysia.
Contact: +6010-404 0299, +6010-405 0299
Website: www.seaqueen.my
Business Hours: 11.00am-2.30pm/6.00pm-10.30pm (Daily), 11.00am-11.00pm (Public Holidays)
GPS: 5.459273, 100.314161
RATING:
Ambience: 8/10 (1-4 cheap, 5-7 average, 8-10 classy)
Food Choices: 8/10 (1-4 limited, 5-7 average, 8-10 many choices)
Taste: 7/10 (1-4 tasteless, 5-7 average, 8-10 excellent)
Pricing: 7/10 (1-4 cheap, 5-7 average, 8-10 expensive)
Service: 8/10 (1-4 bad, 5-7 average, 8-10 excellent)