Sawadee krap~ Gin khao ru yang krap? Hello~ Have you eaten yet? If not, let's plan a trip to Spice Market Café @ Rasa Sayang Resort & Spa, Penang, to savor their latest Northern Thai Cuisine Promotion from now until 30 June 2016. The promotion would be priced at RM173nett (adult) and RM87nett (child above 6 years old) with free-flowing spiced beverage and available from 6.30pm until 10.30pm on every Sunday to Thursday. Do also check out their P60 promotion (Every Monday & Tuesday from 1 January 2016 until 22 December 2016) where diners would only pay 60% of the actual published rate (not available on the eve of the public holidays and public holidays). Who could resist the 6-in-1 International Buffet with so many choices at Spice Market Café?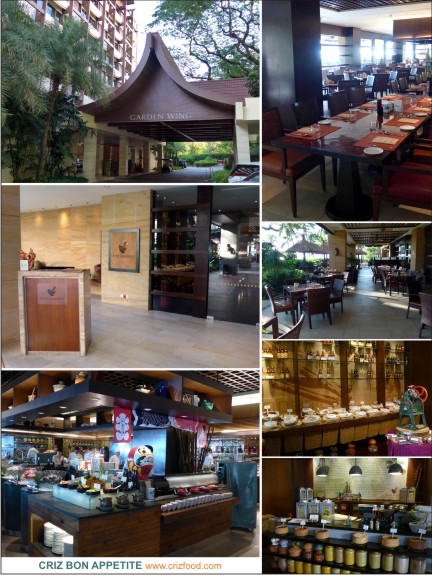 With 2 specially invited guest chefs from Shangri-La Hotel (Chiang Mai), the spreads would be even more interesting at Spice Market Café as Chef Damrongsak Khammonghon (Sous Chef) and Chef Pratthung Taka (Chef de Partie), would feature some of the famous Northern Thai dishes such as the Chiang Mai Curry Noodles with Braised Chicken Drumstick, Chiang Mai Deep-Fried Chicken with Herbs, Thai Spicy Prawn with Lemongrass and Prawn Salad with Shallot and more.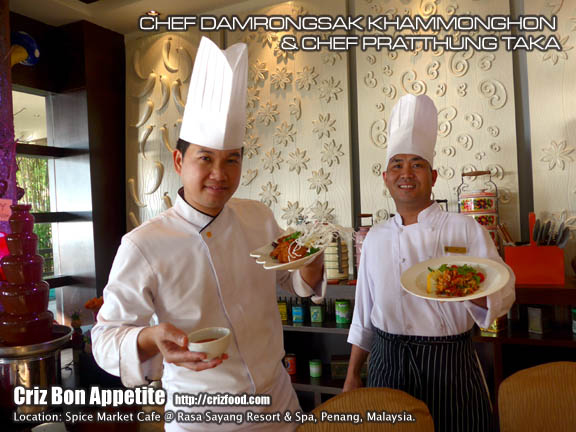 Before I go into the dishes being promoted, let me explain a bit here on Thai cuisine. Many people have the wrong perception that all Thai dishes taste more or less the same. They are not. In general, there are actually 4 different regions (Northern, Northern Isan, Central and Southern) in Thailand, each pepping up their version of flavorful dishes based on the availability of ingredients found in the region. Northern Thai cuisine tends to be less spicy and less sweet with more usages of herbs and spices. Northern Isan dishes on the other hand tend to be simple and yet spicy. Both Northern regions use lots of glutinous rice as their staple food. The Central Region is where most of the Thais are located and is rich in aquaculture plus agriculture harvests, thus the dishes found here are more refined with some Chinese cuisine influences. The Southern Region is more Malay influenced with the dishes having a higher level of spiciness, sweetness and sourness. Moreover, they tend to use more coconut milk in their dishes due to the easy availability of fresh coconuts. Both Central and Southern regions would consume more fragrant rice as their staple food.
Let have a look at the dishes for their Northern Thai Cuisine from one of their 3 menus in rotation for the day. As appetizer and salad, we had Yum Hed Khem Thong Goong Sod (Spicy Enoki Mushroom Salad with Prawns), Lab Gai (Minced Chicken Salad with Ground Rice and Mint Leaf), Yum Nua Yang (Grilled Marinated Beef Salad with Celery & Cucumber), Yum Mamuang (Green Mango Salad with Shallot and Dried Shrimps), Thod Man Pla (Deep Fried Fish Cake), Pla Goong (Shrimp Salad with Lemongrass and Mint)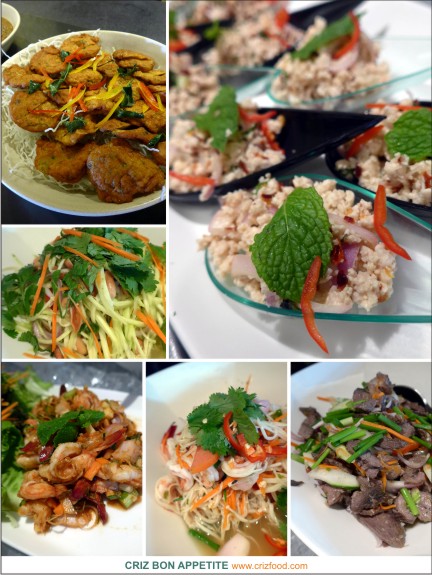 For soup and main dishes, you would get to try out their Tom Yam Goong (Thai Spicy Prawn Soup with Lemongrass and Coriander), Kaeng Khiew Warn Gai (Simmered Thai Green Curry with Chicken and Eggplant), Gai Nam Mun Hoi (Stir Fried Chicken with Oyster Sauce), Kaeng Massaman Nue (Braised Beef with Massaman Curry and Peanuts), Choo Chee Goong (Deep Fried Prawns with Red Curry Sauce & Kaffir Lime Leaves), Talay Phad Cha (Stir Fried Spic Seafood), Thao Hoo Phad Med (Stir Fried Tofu with Cashew Nuts), Phad Thai Goong (Thai Style Stir Fried Noodle with Tamarind Sauce) and Khao Suay (Steamed Rice).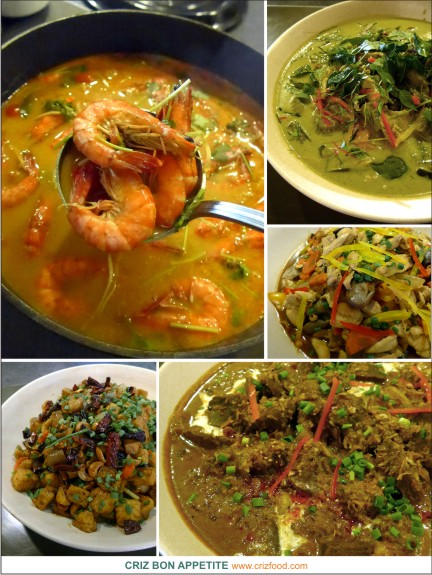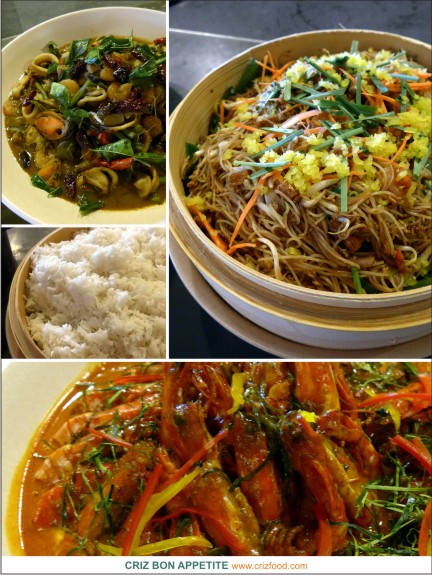 The desserts consisted of Khao Niew Mamuang (Mango with Sticky Rice), Gluay Bhuat Chee (Warm Banana in Coconut Syrup), Saku Pueak Maprao Awn (Tapioca Pearls in Syrup & Fresh Coconut), Bua Loy (Rice Flour Dumplings in Coconut Milk) and Phollamai Ruam (Seasonal Fruit Platters).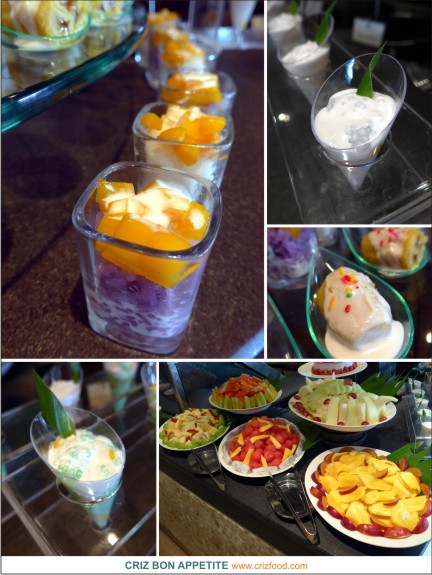 As for the beverage, you can try out their Nam Ma Nau Cha Krai (Lemongrass Lemonade). Two other beverages would be served on different days, namely Nam Manglak (Thai Basil Seeds Drink) or Nam Mamuang (Thai Mango Juice).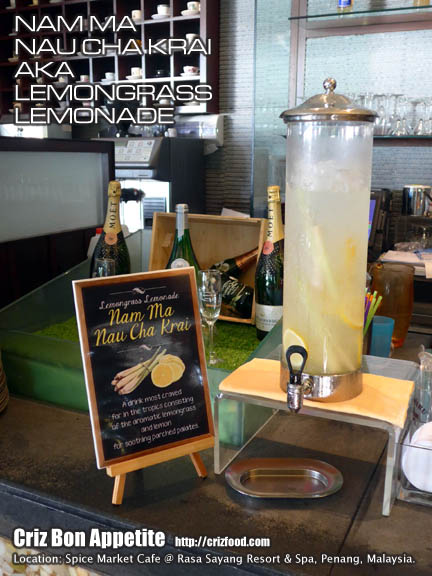 The rest of the dishes were of international standards with a mix and match of local, Asian and Western dishes. There is also a special corner filled with goodies just for the kids.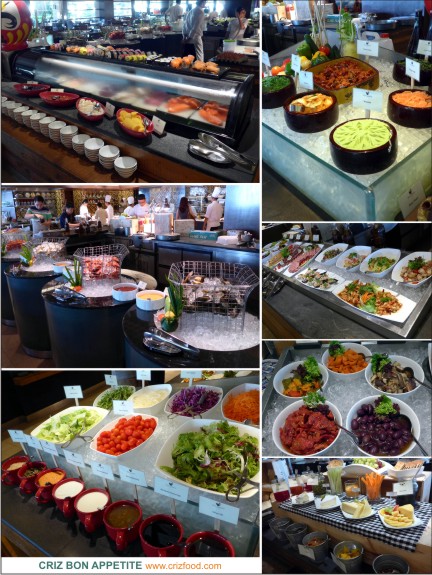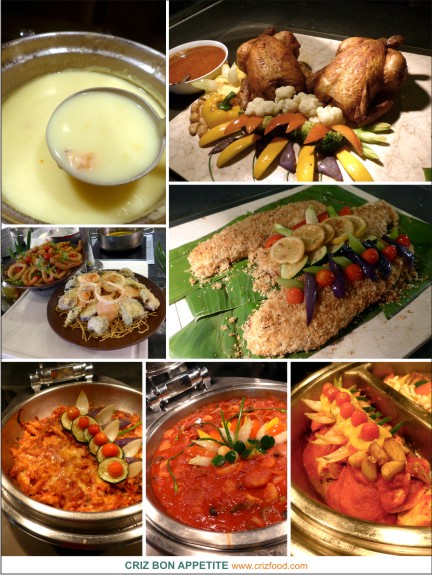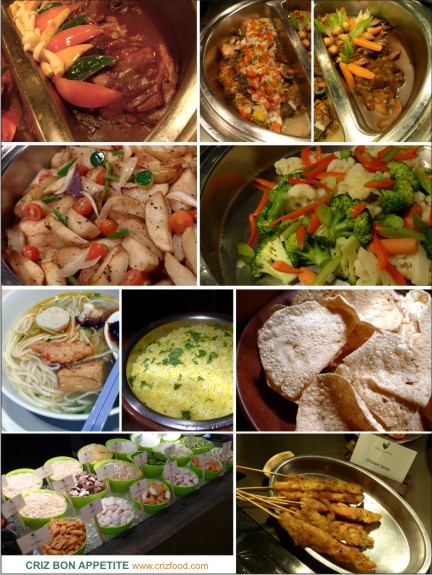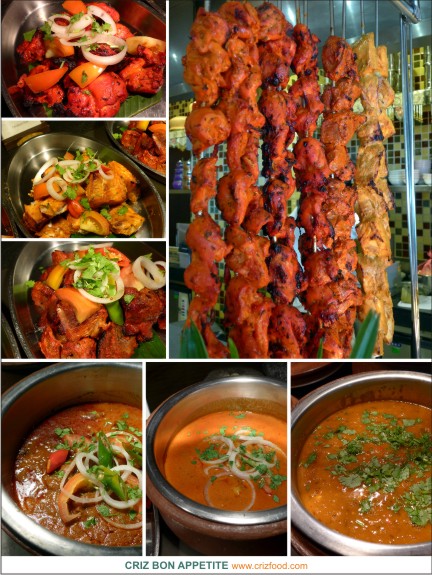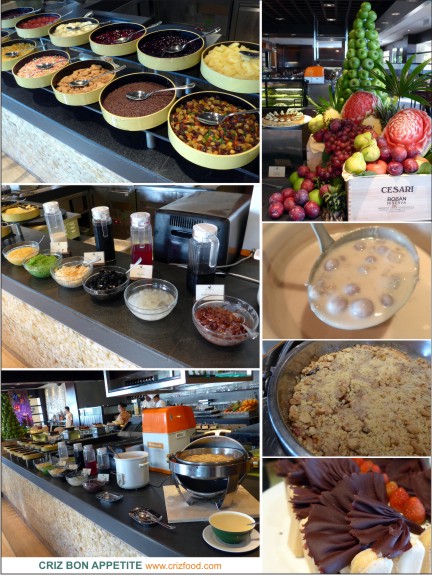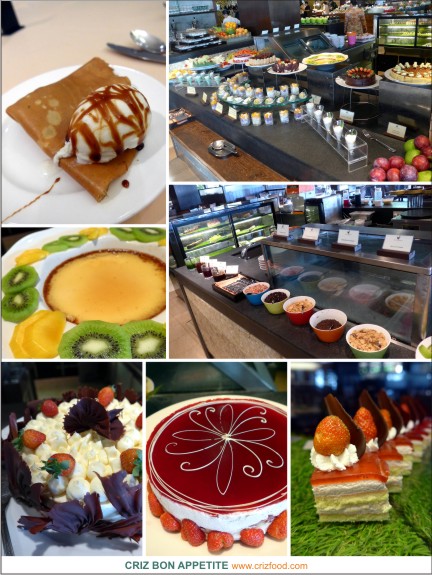 \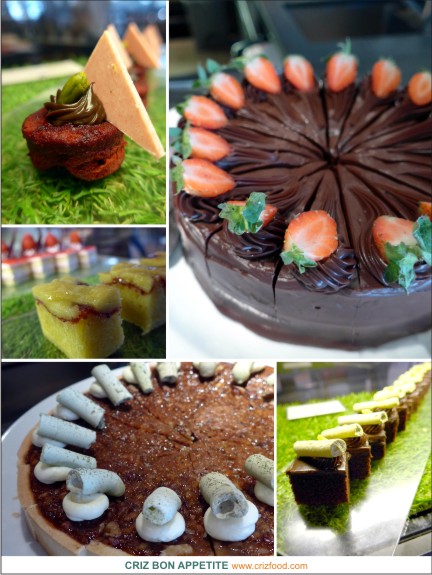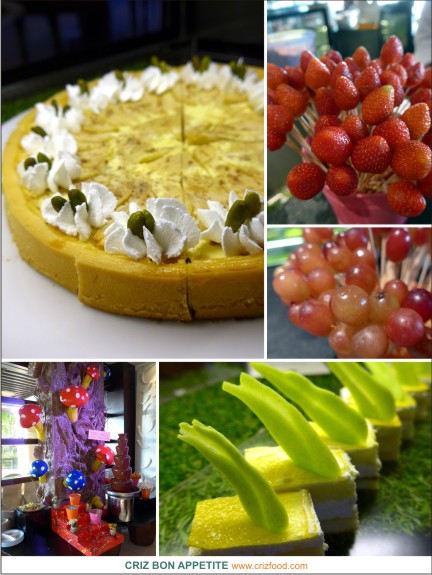 Overall, the dishes served here were of the highest quality, especially in freshness. Even the ingredients used were sourced from their own highland and prepared just the way they served back in Chiang Mai, Thailand. You would definitely be spoiled for choices here at Spice Market Café… even the kids~ 🙂
More promotions: Every Friday and Saturday, Spice Market Café features the Seafood Buffet Dinner at RM185nett per adult and RM93nett per child, inclusive free-flowing cordial. Sunday Brunch is from 12.00noon to 3.00pm and priced at RM138nett per adult and RM69nett per child.
The Spice Market is located at the ring wing (Garden Wing) of Shangri-La's Rasa Sayang Resort & Spa, Penang. If you are coming from Georgetown towards Batu Ferringhi/Teluk Bahang, drive all the way up through the winding roads until you see a building with attap house roof design on your right. That's Shangri-La's Rasa Sayang Resort & Spa. As you enter the hotel, drive toward the right side of the building and park your car there. Walk towards the right wing which is the Garden Wing. Upon entering, walk straight towards the glass door and keep a watchful eye for the restaurant which is to your right side.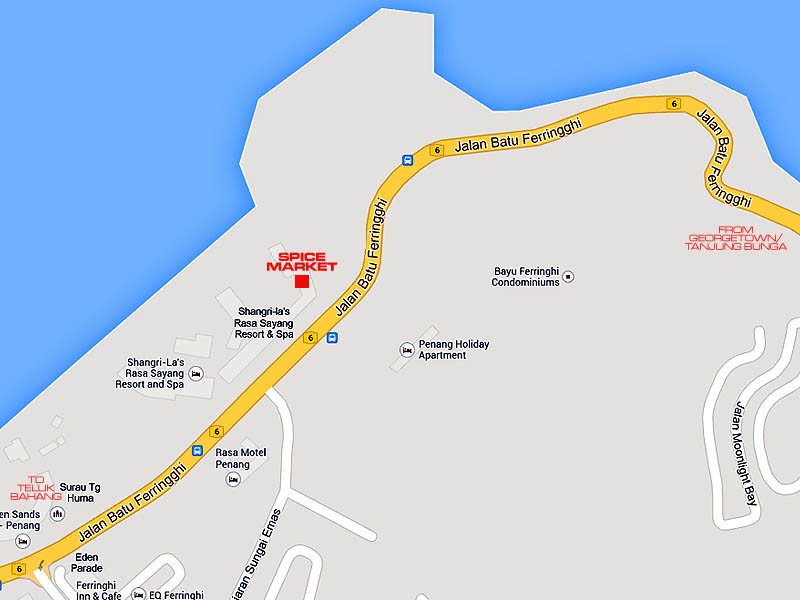 Name: SPICE MARKET @ RASA SAYANG RESORT & SPA
Address: Batu Ferringhi Beach, 11100 Batu Ferringhi, Penang, Malaysia.
Contact: 604-888 8888
Business Hours: 6.30pm-10.30pm
GPS: 5.479097, 100.254663
RATING:
Ambience: 8/10 (1-4 cheap, 5-7 average, 8-10 classy)
Food Choices: 9/10 (1-4 limited, 5-7 average, 8-10 many choices)
Taste: 8/10 (1-4 tasteless, 5-7 average, 8-10 excellent)
Pricing: 8/10 (1-4 cheap, 5-7 average, 8-10 expensive)
Service: 8/10 (1-4 bad, 5-7 average, 8-10 excellent)
About Shangri-La Hotels and Resorts

: Hong Kong-based Shangri-La Hotels and Resorts currently owns and/or manages 98 hotels under the Shangri-La brand with a room inventory of over 40,000. Shangri-La hotels are five-star deluxe properties featuring extensive luxury facilities and services. Shangri-La hotels are located in Australia, Canada, mainland China, Fiji, France, Hong Kong, India, Indonesia, Japan, Malaysia, Maldives, Mongolia, Mauritius, Myanmar, Philippines, Qatar, Singapore, Sultanate of Oman, Taiwan, Thailand, Turkey, the United Arab Emirates and the United Kingdom. The group has a substantial development pipeline with upcoming projects in Mainland China, Cambodia, Hong Kong, India, Myanmar, Philippines, Saudi Arabia and Sri Lanka. For more information and reservations, please contact a travel professional or access the website at www.shangri-la.com.