I'm sure I need not have to mention much about Starbucks® in Malaysia as most of you would have known the brand throughout their 15 years of operations in Malaysia. It's operated by Berjaya Starbucks® Coffee Company Sdn. Bhd., a joint-venture between Starbucks® Coffee International and Berjaya Group Berhad. With over 150 outlets and 'drive-thru's throughout Malaysia since their first store opening in Kuala Lumpur on 17 December 1998, Starbucks® promised to bring in more great deals during this Christmas 2013 (Promotion period: 6 November 2013 – 6 January 2014) based on the theme "Create Wonder and Share Joy with Favorite Seasonal Traditions". We had a fun-filled briefing on the seasonal promotion at Starbucks® Drive-Thru, Tanjung Tokong, Penang recently.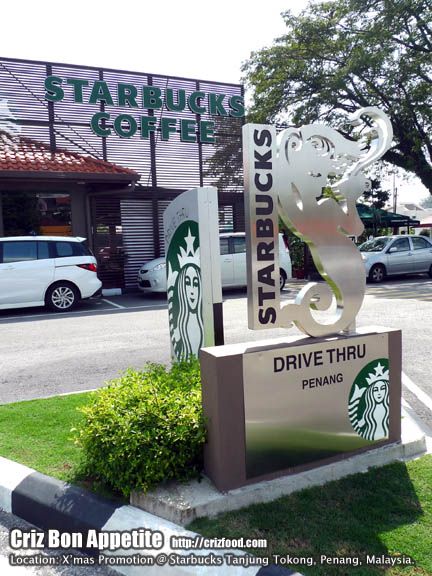 "Starbucks® Drive-Thru Tanjung Tokong is the most profitable drive-thru outlets amongst all six throughout Malaysia. It's also the outlet with the most completed merchandises in Penang," stated Sdyney Quays, Managing Director of Berjaya Starbucks® Coffee Company.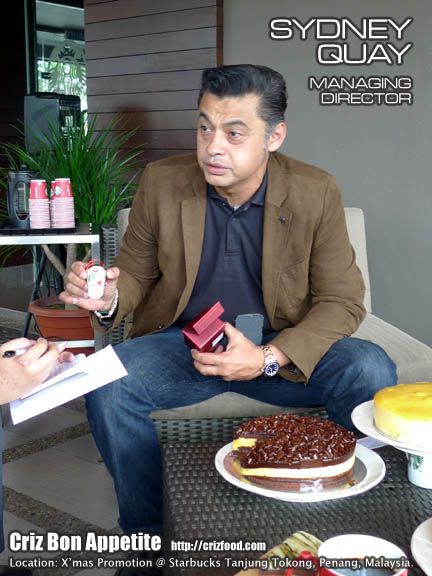 Amongst the once-a-year favorites would be their freshly brewed Starbucks® Seasonal Favorite Coffees (RM40 for 250g coffee beans pack or RM33 for 12 sachets of ready brew packs), the perfect salute for each season. These are the Starbucks® Christmas Blend (Whole Beans or VIA Ready Brew Christmas Blend), a dark roasted coffee with a blend of lively Latin American coffees and smooth Asia Pacific coffees, including rare, aged Indonesian beans; full bodied, medium acidity with soothing sweet, spicy plus herbal aromas and Starbucks® Christmas Blend Espresso Roast, a darker espresso roast with sweeter and dense flavors to the mellow smoothness of the Asia Pacific beans.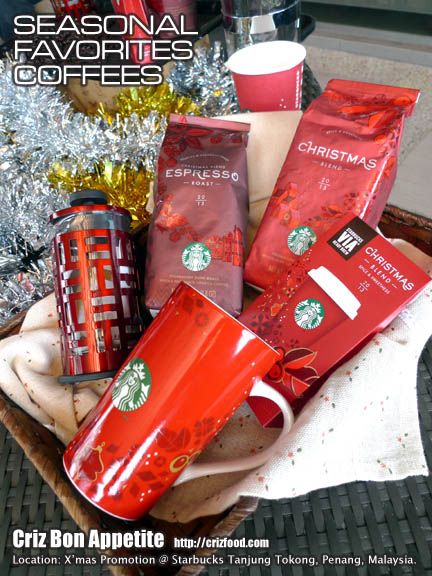 There are also 3 new flavors of delicious cakes introduced this year. All cakes would be priced at RM10.90/slice. The most notably one would be their Trio Forest, a rich moist chocolate cake, stuffed with juicy caramelized dark cherries, topped with a layer of chocolate ganache and beautifully presented with a generous amount of shaved chocolate flakes. The Mango Tango which had mango slices stuffed between layers of light sponge cake would be ideal to go with the Starbucks® Christmas Blend. The Midori on the other hand was also unique by itself. The trio layered sponge cake had a topping of cream cheese with slathered pistachio dressing.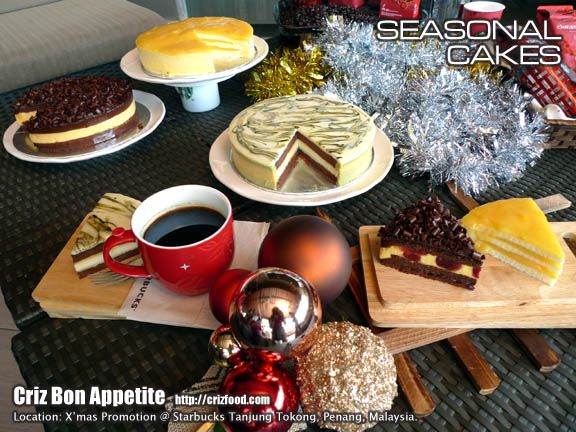 Christmas is a time to create wonder and share joy with family and friends over stories, memories and delicious Starbucks® food and beverages. Again this year, Starbucks® is bringing back their Christmas beverages with a bit of twist from last year's. You can now enjoy their enhanced versions of Toffee Nut Latte, Toffee Nut Frappuccino® blended beverage, Peppermint Mocha Frappuccino® blended beverage and Cranberry White Chocolate Mocha Frappuccino® blended beverage.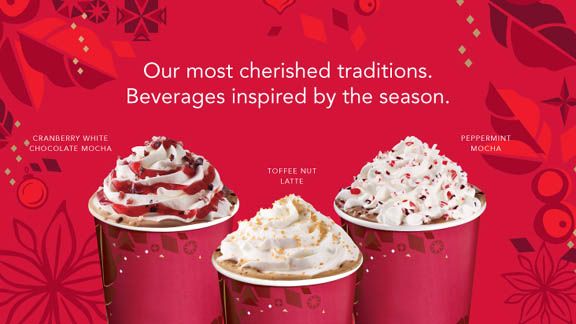 Toffee Nut Latte Frappuccino® is a flavorful holiday beverage. It has the rich, buttery flavor of sweet toffee combined with toasted nuts, blended with their smooth espresso and velvety steamed milk. Topped with whipped cream and toffee-flavored sprinkles, it's no surprise that this warm, heavenly beverage is sure to put you in the mood for Christmas.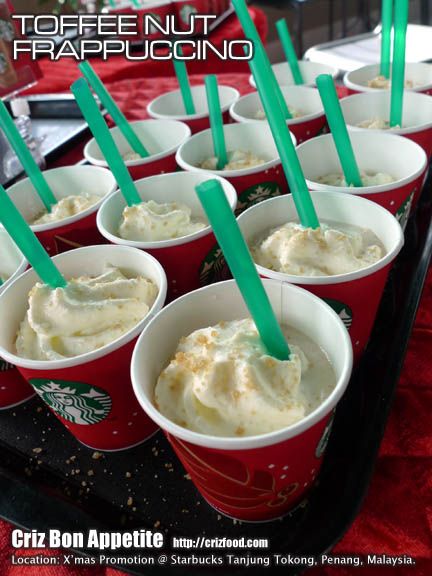 The Peppermint Mocha Frappuccino® is another great beverage for peppermint lovers. It has a combination of espresso, steamed milk, bittersweet chocolate and peppermint flavor in this seasonal favorite. Topped with classic whipped cream and a light sprinkles of Christmas cane candies, the Peppermint Mocha is brimming with Christmas cheer that is sure to please.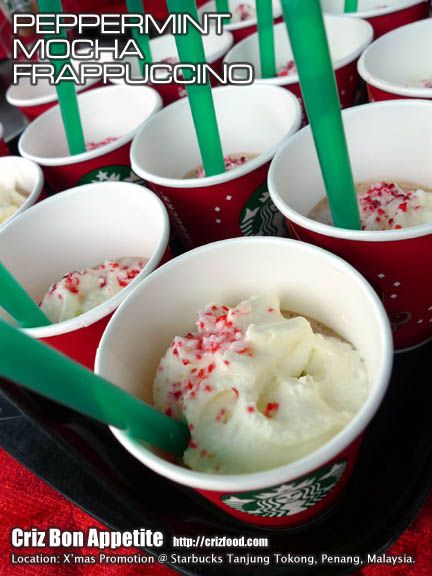 Back by popular demand, the Cranberry White Chocolate Mocha Frappuccino® is the perfect sweet treat to sip during this season. Starbucks® signature espresso is combined with freshly steamed milk and luscious white chocolate, then topped with whipped cream, a tart cranberry drizzle and crystallized cranberry sugar.
Another gifting option or even as collectible items would definitely be the Starbucks® Card. This year, Starbucks® had added another new card design named "Merry Christmas". You would have the options to choose from the 3 distinctive designs, namely "Merry Christmas", "Snowman" and "Christmas Tree". Do grab either one of the limited edition designs or maybe all if you are into collecting them. Each card required a minimum activation fee of RM30.
Also available this year would be their limited edition Starbucks® Planner 2014 which has a special compartment to store your iPad. Priced at RM159 each, this planner could also be redeemed FOC via certain termed purchases by mode of your Starbucks® Card. The requirement of purchases would be any 3 purchases of the Christmas beverages plus 15 purchases of "Grande sized" beverages. Terms & conditions apply.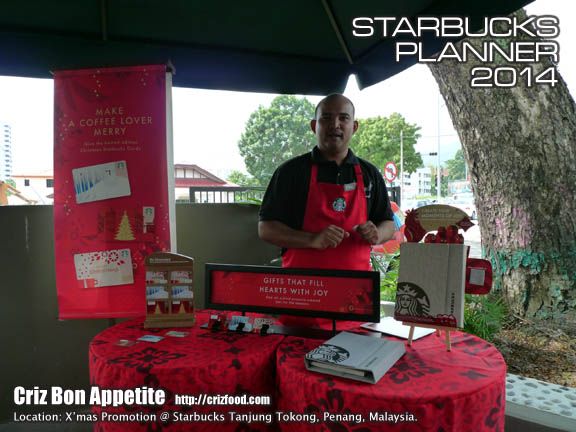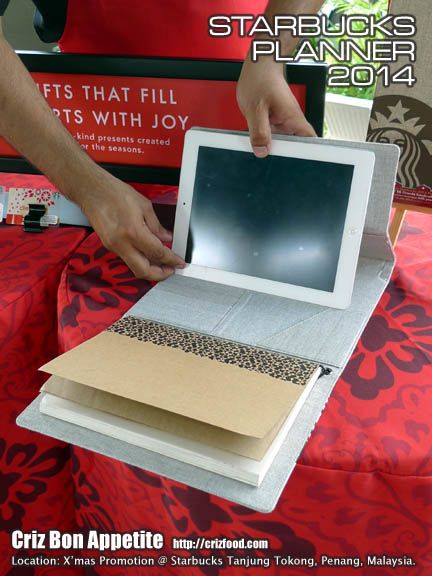 Planning to set the Christmas moods with more giving and sharing? There are more than 60 items at each Starbucks® outlet, ranging from Starbucks® Seasonal Favorite coffees, Starbucks® Card, Starbucks® Planner 2014, Starbucks® soft toys, Starbucks® mugs, Starbucks® tumblers, Starbucks® Christmas ornaments and more for you to choose.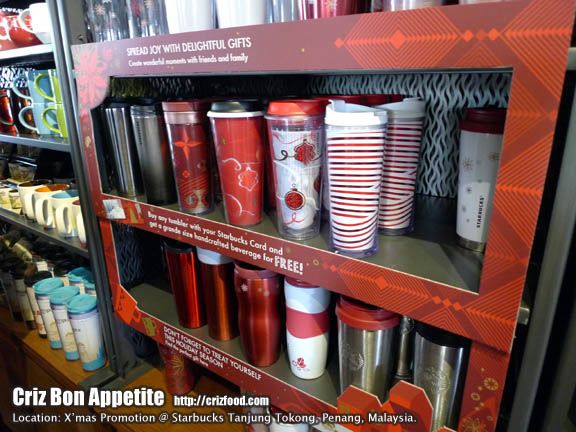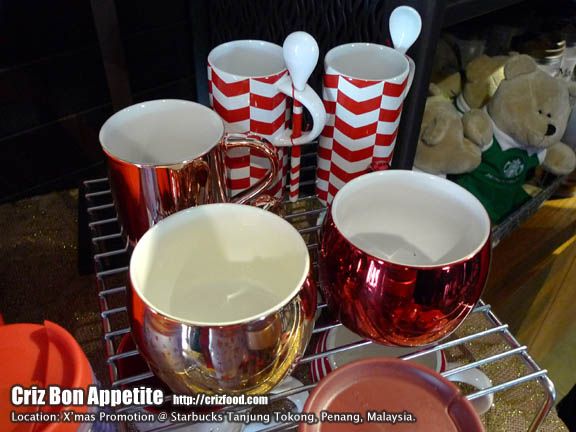 The most notable one would be the Swarovski crystal studded Starbucks® Christmas ornament priced at RM185.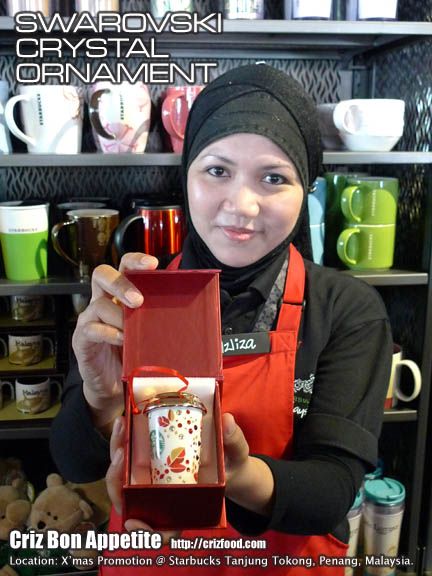 Thanks to Starbucks® for the invitation as well as the lovely bring home gifts~ 🙂
Name: STARBUCKS® DRIVE-THRU @ TANJUNG TOKONG, PENANG
Address: 4-G, Jalan Pantai Molek, Tanjung Tokong, 10470 Penang, Malaysia.
Contact: 604-890 6008
Business Hours: 6.30am-1.00am (Sun-Thurs), 24 hours (Fri & Sat)
Website: http://www.starbucks.com.my/
GPS: 5.446571, 100.305556