While Earth Day will fall on 22 April each year, "Every day is Earth Day in the Shangri-La's Kitchen," said Suleiman Tunku Abdul Rahman, Director of Communications, Shangri-La's Rasa Sayang Resort & Spa and Golden Sands Resort, Penang. With the theme "Rooted in Nature", Shangri-La Group of Hotels and Resorts worldwide support sustainable food produces from its local agriculture and aquaculture sectors. It's an initiative to raise awareness on consuming freshly farmed food which had gone through strict international standard requirements without harming the environment. Not only will this campaign support the livelihood of its local farmers and fishermen, it will also enable diners to have fresher and healthier choice of diet without worrying about the presence of pesticide, hormone or antibiotic in their food. Moreover, dishes on offer will include produce and herbs grown on hotel grounds, locally sourced organic vegetables and fruits, line-caught fish, free-range poultry and beef, honey from a hotel's own beehive, etc. According to Peter Finnegan, Shangri-La's Group Director of Food and Beverages, "Our goal is to serve 75% more sustainable sourced food on the menus by year 2020."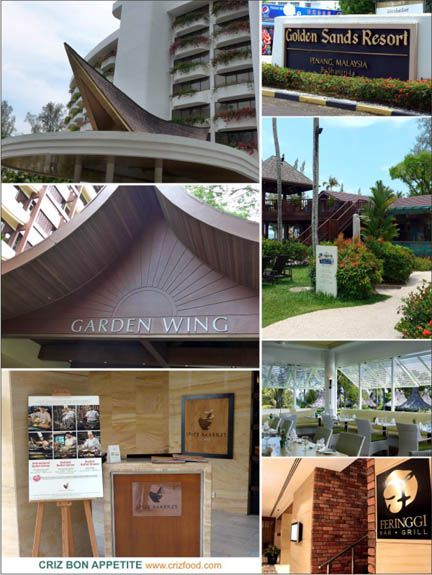 While engaging local partners such as the GST Group (seafood) and Ayamplus Food Corporation Sdn. Bhd. (poultry) in their "Rooted in Nature" campaign, we were fortunate to be given the opportunity to attend a food source trail at GST Group Fish Farm located offshore of Pulau Jerejak, Penang. GST Group is also the only European Union compliant fish farm in Malaysia, with two other fish farms in Pulau Aman and Pulau Pangkor plus a retail shop located in Simpang Ampat, Penang. The initial GST actually came from the founder's name, Goh Siong Tee, 90 years old, decades ago and not to be confused with the recently implemented GST (Goods & Services Tax). "The name did draw a lot of attentions but in a good way too as it helps us to promote our business better," jokingly stated by Joey Ong, Senior Business Development Executive. After having some breakfast sponsored by the hotels, we embarked on our journey via 3 fishing boats towards our destination. Anyway, we did not spot any mermaids or mermen on the way~ LOL~ 😛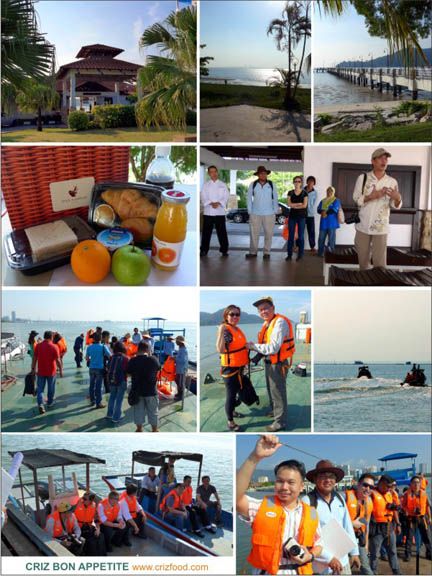 We were briefed by En, Mohd Addin Aazif, Senior Aquacultural Technician, as well as by Mr. Goh Chin Twan, GST Group Marketing Manager, on the ecologically and ethically farmed fishes which ranged from species such as red (crimson) snapper (ikan merah pucat/ang sai/紅雞), golden snapper (ikan jenahak/ang cho/紅鰽), giant (goliath) grouper (ikan kertang/long dan/龍膽), pearl grouper (kerapu mutiara/long hu ban/龍虎斑 – a 2006 hybrid species between giant grouper and tiger grouper), cobia (ikan haruan tasik/hai lay/海鱺 – sashimi species), giant trevelly (ikan gerepuh/gu kang cheoh/牛港鰺 – commonly known as GT) and more.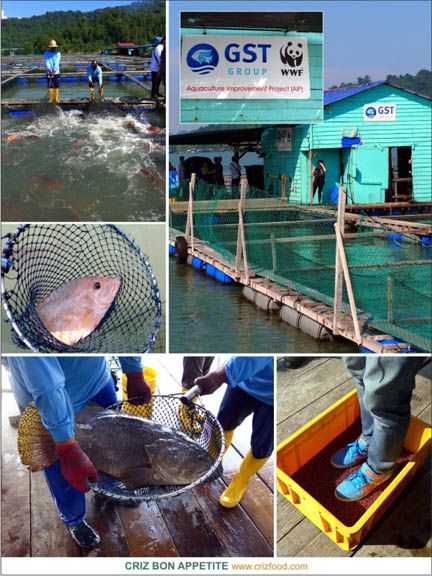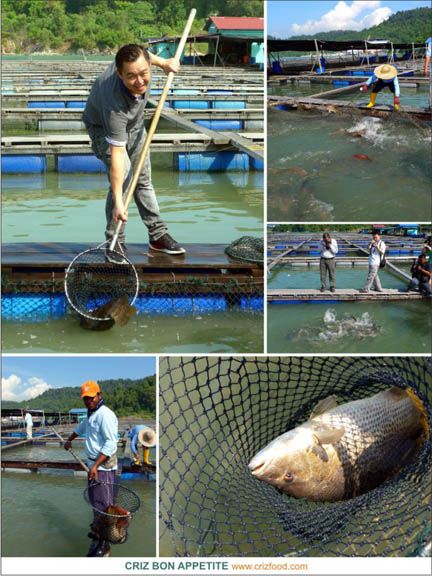 Of course, the chefs from both Golden Sands Resort (Chinese Chef, Chef Danny Tan) and Rasa Sayang Resort & Spa (Executive Chef, Chef Lim Soon Leong & Chef de Cuisine, Chef Matthias Tretbar) could not resist camwhoring with some "edible fishes", especially with the juvenile 17kg Giant Grouper (Ikan Kertang/Long Dan/龍膽). The Giant Grouper can reach to a maximum size of 2.5m and weigh more than 350kg.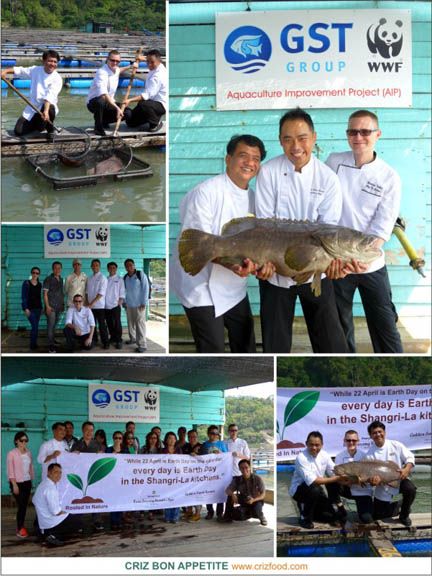 After a fun-filled and knowledgeable expedition, we continued our journey up Batu Ferringhi towards the two participating Penang hotels – Golden Sands Resort and Rasa Sayang Resort & Spa. Each hotel has two participating eateries. Diners can identify the Rooted in Nature dishes by spotting a "pea shoot" logo printed alongside the dish description. It's to ensure that the fresh ingredients used strictly follow at least one of the 5 guidelines, which are local produces, pesticide-free products, free-range livestock & poultry, sustainably sourced food and organic & fair trade products. You can check out the "pea shoot" logo as printed on the hot beverage below.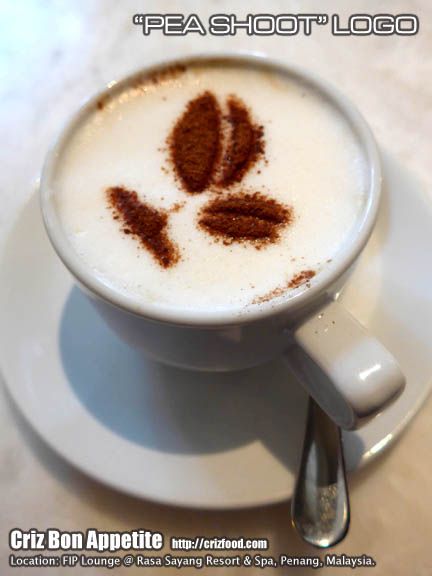 At Golden Sands Resort, we were led to Sigi's Bar & Grill (the other Rooted in Nature participating eatery is their Garden Café). At the venue, we had the opportunity to try out some of the chefs' skillfully prepared dishes from their "Rooted in Nature" menu from Grilled Sea Bass, Grilled Free Range Chicken & Organic Tofu to SIGI's signature dessert of Double Scope Yam and Coconut Ice Cream with Fresh Whipped Cream.
On the other hand, Rasa Sayang Resort & Spa's Spice Market (the other Rooted in Nature participating eatery is their Feringgi Grill) indeed do serve an extensive varieties of fishes, namely the Pearl Groupers and Red Snappers, cooked in a few unique flavors. These dishes will be available amongst the buffet spread from time to time.
We actually started the meal off with a bowl of Double-Broiled Free-Range Chicken Herbal Soup. Wow! I was impressed by the flavorful and nourishing herbal soup. It was indeed a great bowl of soup to replenish all the sweat and energy lost under the scorching sun during our field trip earlier. In fact, it was one of the best soups I've tasted with the usage of quality herbs, combined with the rich flavors from the hormone-free and antibiotic-free range chicken.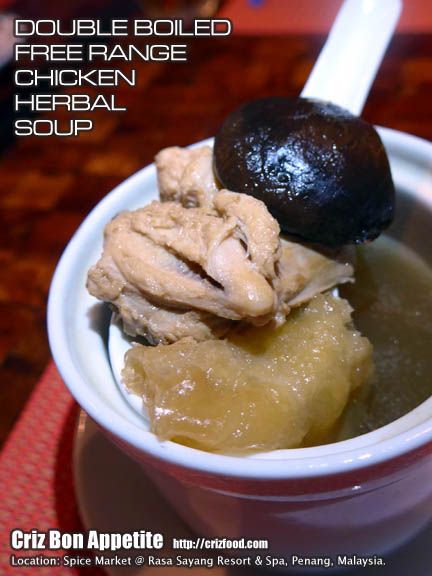 Amongst the many fish dishes served on the day, we were presented first with the non-spicy Chinese Style Steamed Pearl Grouper with Superior Sauce. It was just a commonly prepared banquet style dish but you could ascertain that it was at its freshest. How would you judge a fresh and mud-free fish from any restaurant? It's in the basic ingredients used to pep up the flavors without the presence of julienned ginger.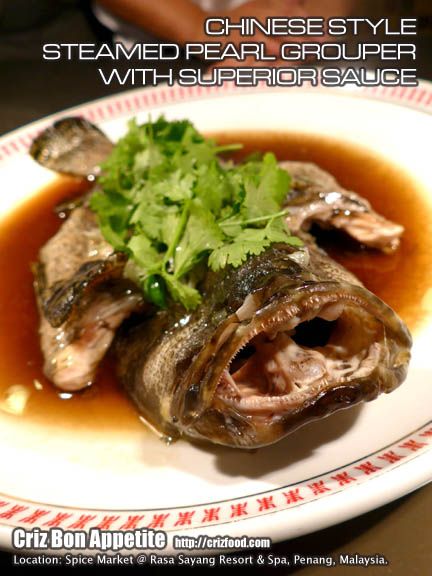 We were also served with the Indian Style Red Snapper Curry. It may be another commonly available dish at most Indian and Mamak restaurants but again Spice Market lived up to its name by infusing quality herbs and spices into the dish. Moreover, the added sliced tomatoes and lady's fingers were great complements. Can I have more steamed rice with this dish?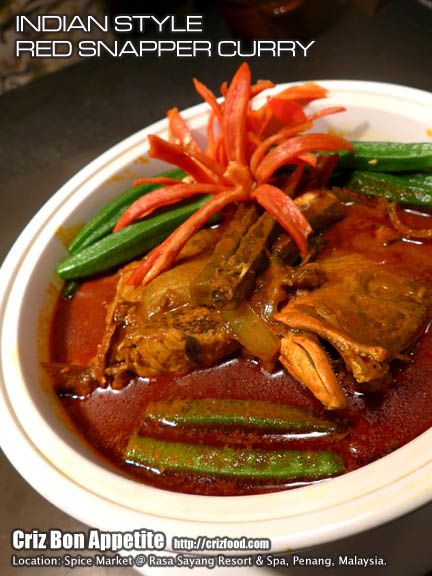 We then had the Malay Style Ikan Merah Masak Tiga Rasa (Malay Style 3-Flavors Red Snapper). I guessed each restaurant has its own style of presenting this dish. Most of the time, it was just batter fried fish in sweet and sour sauce with added bird eye chilies (cili padi). However, the chef here presented the dish with their own concocted gravy. It was indeed a dish favorable to my taste bud.
Somehow, the next dish which was the Nyonya Style Steamed Pearl Grouper had me indulged sinfully with more steamed rice. It was heavenly. Most the distinctive flavors from the usage of fresh ingredients used in Nyonya cooking were present with the additional refreshing flavor from the added mint leaves. However, I found the gravy to be too finely presented as in the herbs and spices being too finely blended. It would be great if the kitchen would coarsely blend them to give that little bit of bites. A little bit more of added ginger flower (bunga kantan) would surely pep up the dish further too.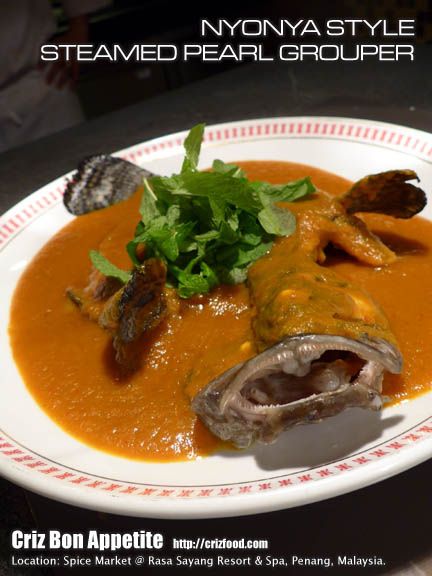 The last of the fish dish was the humongous sized Italian Style Baked Pearl Grouper Parmigiana. If my guess were to be right, it could be around 5kg or more. It was like having pizza but with fish instead of dough as base. Though it was real presentable as a whole fish, it would be better to work with fish fillet instead. The whole dish was delicious but somehow the thick slab of flesh did not absorb the flavors from the ingredients used. This could be my personal preference dealing with meaty fish but I can assure you that the fish was extremely fresh without any trace of muddy after taste.
We ended up with a sweet treat created by their skillful pastry chef. It was the Lemongrass Crème Brulee with Coconut & Pandan Sauce. It had a smooth texture with a mild spiced up flavor from the lemongrass. The dessert went well with the condiment of coconut and pandan sauce.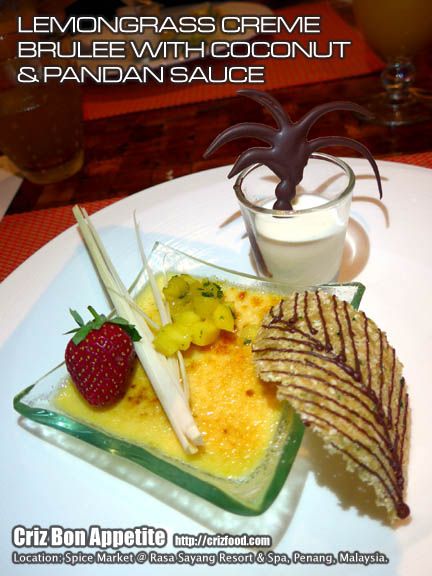 Somehow, something got the sweet tooth out of me on that day which was never a norm for me. I could not have enough of desserts! LOL~ In the end, I adjourned to the FIP (Fun, Interactive & Play) Lounge next door and ordered the first thing that caught my attention. It was the Black Forest Chocolate Pizza served with Fresh Vanilla Pods Ice Cream. It was a decision I would never regret as the pizza had just the right ratio of bitterness against sweetness, from the base, shaved chocolate, black forest right up to the ice cream. By then, I was already up Cloud 9, indulging in the heavenly dessert. By the way, you could always check out FIP's Weekend Coffee & Cakes Buffet at RM47nett/adult and RM24nett/child, serving from 3.00pm until 6.00pm (Saturday & Sunday).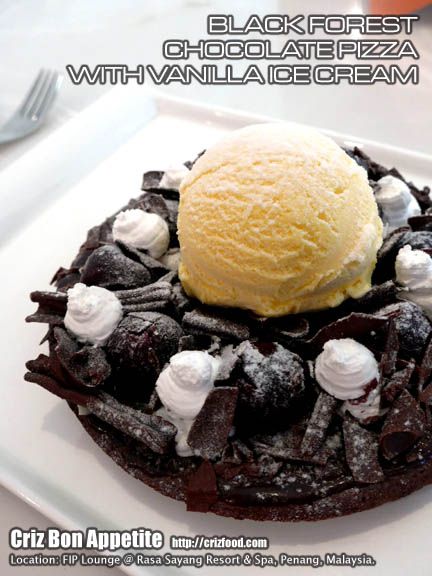 Overall, from my previous dining experiences at both Golden Sands Resort's Sigi's Bar & Grill and Rasa Sayang Resort & Spa's Spice Market, compared to now, the quality of dishes always gets better, with their assurance on the usage of the freshest ingredients plus high quality herbs and spices. Do support them on their mission to accomplish the best out of their Rooted in Nature campaign. It's not only a WIN-WIN working relationship between the hotels and local suppliers but a WIN-WIN-WIN scenario for us diners as we are served with healthier and sustainable sourced food.
Name: GOLDEN SANDS RESORT
Address: Batu Feringgi Beach, 11100 Penang, Malaysia.
Contact: 604-886 1911
GPS: 5.476330, 100.251440
Name: RASA SAYANG RESORT & SPA
Address: Batu Feringgi Beach, 11100 Penang, Malaysia.
Contact: 604-888 8888
GPS: 5.478365, 100.253709
RATING:
Ambience: 8/10 (1-4 cheap, 5-7 average, 8-10 classy)
Food Choices: 8/10 (1-4 limited, 5-7 average, 8-10 many choices)
Taste: 8/10 (1-4 tasteless, 5-7 average, 8-10 excellent)
Pricing: 7/10 (1-4 cheap, 5-7 average, 8-10 expensive)
Service: 8/10 (1-4 bad, 5-7 average, 8-10 excellent)