For those who are into Vietnamese cuisine but have no opportunity to travel out to the country at the moment to experience the authentic gastronomic adventures, you can now visit Nada Lama @ Hotel Equatorial, Penang, to savor their "Lively Vietnam" Buffet Promotion. For a short and limited period of 18-24 August 2015, 6.30pm until 10.00pm, you can now try out the most diverse healthy gastronomies in the world with its lively, fresh flavors and artfully composed meals under the expertise of Chef Tran Kim Hoang Trong and his team. The buffet is priced at RM148nett (adult) and RM74nett (child) with different menus on a rotation basis.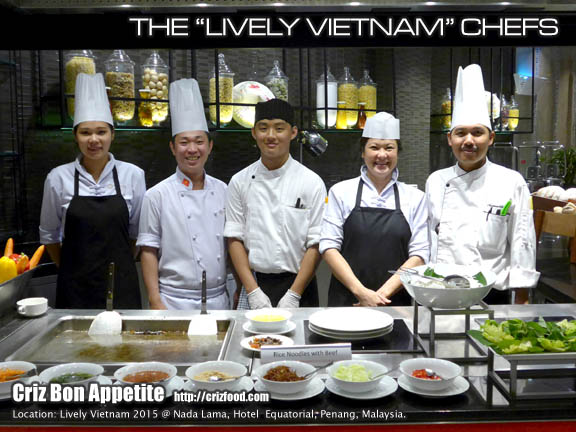 Let's jump into the simple and yet enchantingly sophisticated cuisine, starting from the Salads, Starters and Soup Sections. You would find spreads such as the Vietnamese Rice Paper Rolls with Beef Slices, Duck with Cabbages & Banana Blossom Salad, Watercress with Beef Salad, Steamed Rice Cake with Dried Shrimps, Green Papaya Salad with Prawns, Pea Sprouts with Tuna Salad and Salted Vegetables with Chicken Soup. Wow! It was an impressive spread of dishes that caught my attention. Practically everything here suited my palate real well. However, I should think that the kitchen had forgotten to sprinkle the rice cakes with dried shrimps~ LOL~ 😛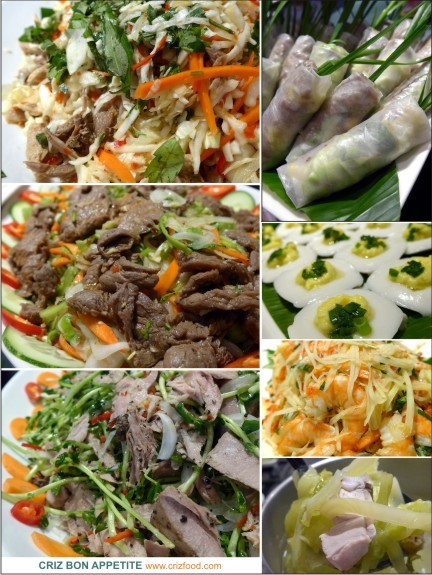 As for the Hot Buffet Section, you would get to try out their Vietnamese Style Stewed Beef, Vietnamese Stewed Chicken in Ginger, Stir Fried Angle Beans in Hot Garlic Sauce, Wok Fried Squid in Sweet & Sour Sauce, Deep Fried Eel in Tamarind Sauce, Fish Paste Stuffed Fried Tofu in Tomato Sauce, Stewed Prawns in Caramelized Fish Sauce, Grilled Duck Legs with Red Fermented Bean Curd, Stewed Red Snapper with Black Beans, served with White Rice and Chicken & Egg Fried Rice. I immediately fell in love with the Vietnamese Style Stewed Beef as each bite of the juicy and tender meat was pepped up with simple and yet flavorful texture. The Fish Paste Stuffed Fried Tofu in Tomato Sauce may look simple but each of the silky soft deep fried tofu with smooth fish paste was remarkably addictive. On the other hand, the Stewed Red Snapper with Black Beans complemented real well with the Chicken & Egg Fried Rice. Thumbs up!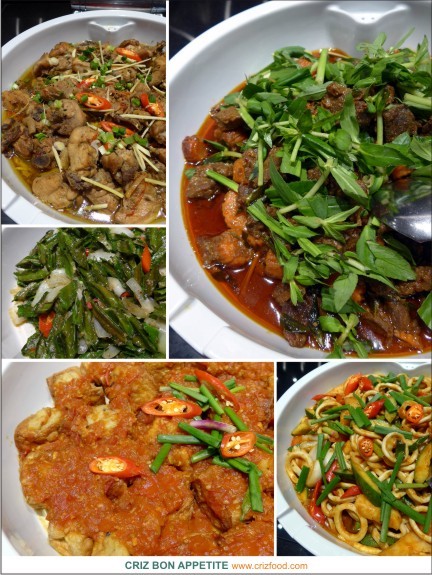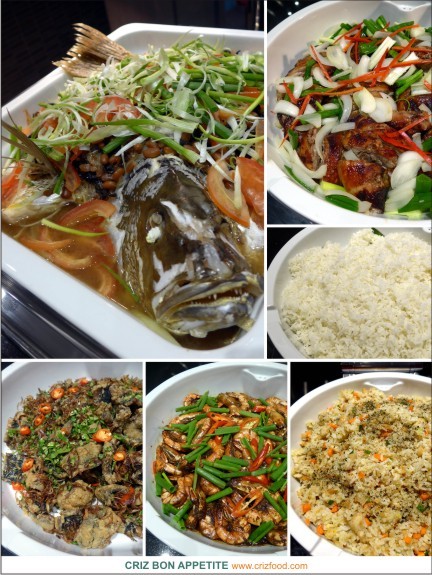 At the Live Cooking Sections, you would get to savor their Chicken & Dried Bamboo Glass Noodles and Skillet Fried Beef with Rice Noodles. Somehow the soup base for the noodles had some hidden added herbs infused in it, somewhat like the flavor of ginseng but milder. The whole concoction was delicious. I was totally impressed by how the Vietnamese team marinated the beef slices unlike those I have tried elsewhere which were rather bland. With the combination of rice noodles, fresh greens and some pickled carrots, it was indeed a comfort dish. The only thing was that I had wished to have some added fried chili flakes in oil to spice up the dish a bit more. Now I'm yearning for more of the Bún Bò Xào~ 😛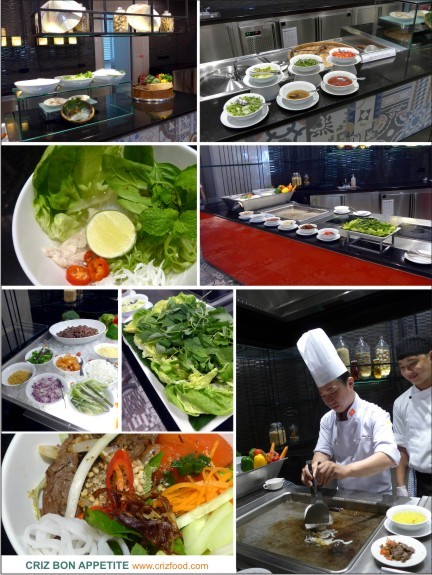 We also had our mouth sweetened up at their Dessert Section. You get to savor their Baked Cassava (Tapioca) Cake, Jelly & Pomegranate Seeds in Sweet Syrup, Green Beans & Seaweed in Syrup, Mung Beans in Coconut Milk and Stewed Lotus Seeds with White Fungus.
On top of all the robustly flavored dishes, there were also some sections for those international spreads such as the DIY Salad Section, the Fruit Cuts & Fruit Cocktail Section and the International/Local Dessert Section.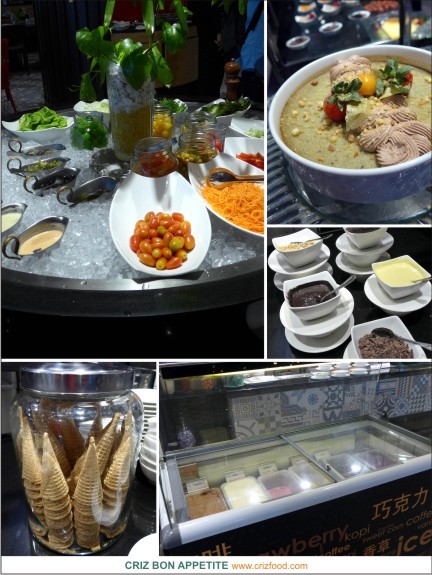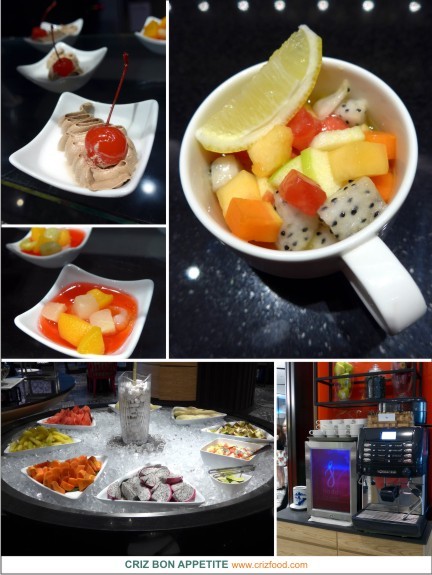 Overall, I would say this was one of the best buffets I have had on Vietnemase cuisine for a super long time. At least you could taste the authentic flavors of Vietnam with their imported fresh greens and herbs. Thanks to Chef Tran Kim Hoang Trong and his team for taking their efforts in looking into such details. Vietnamese cuisine would contain lots of fresh greens, beef and duck, thus some of you might think that the cuisine would not be suitable for you. Well, there are also other spreads of seafood and chicken which would be palatable to most diners. A set of menus will be on rotation basis to enable diners to experience the best of what Vietnam has to offer.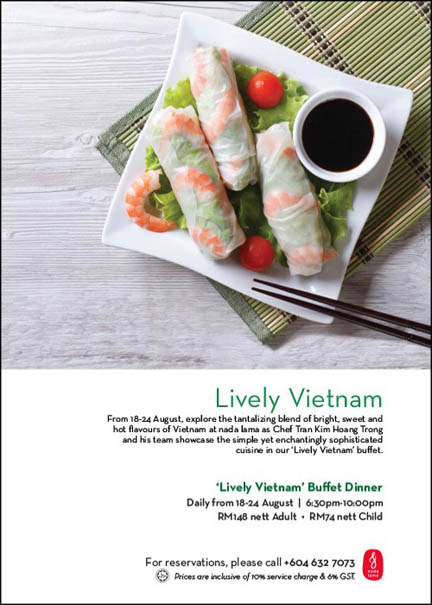 If you are coming from Bayan Baru area towards Jalan Tun Dr Awang, make a right turn into Persiaran Bukit Jambul at the second traffic lights. Drive all the way up the sloppy road until you see INTI International College on your left. Drive about another 150m onwards and turn right into Jalan Bukit Jambul at the first junction you see. You will see the hotel on your left. The easiest way to get there would be by parking your car on the right side of the building as your enter the hotel's car park. Take the nearest stairway up a level and you will see the restaurant on your left. Nada Lama is just opposite the Kampachi Japanese Restaurant by the pool side.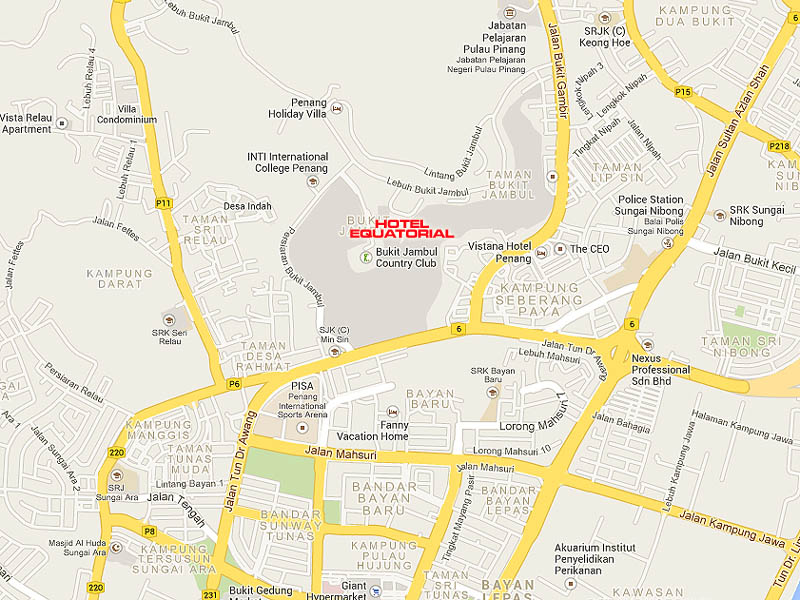 Name: NADA LAMA @ HOTEL EQUATORIAL
Address: Jalan Bukit Jambul, 11900 Bayan Lepas, Penang, Malaysia.
Contact: 604-632 7073
Business Hours: 6.30pm-10.00pm
GPS: 5.337122, 100.285308345
RATING:
Ambience: 8/10 (1-4 cheap, 5-7 average, 8-10 classy)
Food Choices: 8/10 (1-4 limited, 5-7 average, 8-10 many choices)
Taste: 8/10 (1-4 tasteless, 5-7 average, 8-10 excellent)
Pricing: 8/10 (1-4 cheap, 5-7 average, 8-10 expensive)
Service: 8/10 (1-4 bad, 5-7 average, 8-10 excellent)