I had tried so many types of Pan Mee from many parts of the country which include places such as the Bukit Jambul flat area (Penang), Green Lane Genting Café (Penang), Petaling Street Chinatown (Kuala Lumpur), Klang's Mee Hoon Kuih (Selangor) and Seri Kembangan rural area (Selangor), that came in many shapes and flavors. No doubt each individual shop has its own style of cooking and flavor but I have yet to see one that has the uniqueness as I had experienced at I Mum Mum Pan Mee shop along the starting point of the Jelutong Expressway, somewhere in Georgetown, Penang. The little restaurant hidden away below a block of flats had some great versions of Pan Mee to cater to the ever flowing appetite of not only to the residents there but many others who had heard about them by word-of-mouth.
Initially located as a stall in one of the prewar coffee shop in Pulau Tikus, Penang, more than 5 years back, the husband and wife team who were stationed in London for sometime had decided to come back Malaysia to open up a Pan Mee specialist restaurant. Some may ask what's Pan Mee (Board Noodles/Ban Mian/板麵). It's actually a Hokkien dish originated from Fujian, China. The noodles comprised of flattened hand kneaded noodles, usually served either in broad pieces, angel hair spaghetti like thinness or slightly thicker as shown below.
The choice of Pan Mee here can be quite limited. That's because the locals here prefer the original version rather than those purple sweet potatoes, orange carrot, yellow pumpkin, green spinach versions as I had mentioned earlier. Let's look at the Pan Mee Soup (RM2.80/RM3.30). Normally most health conscious people would go for this as the soup base would be vegetables filled with the sweetness coming from the fragrantly fried anchovies. The bowl of Pan Mee would have your choice of noodles, minced pork, fried anchovies, wood ear fungus, sweet leaves (sayur manis/star gooseberry/馬尼菜), garnished with some garlic oil. It was perfect!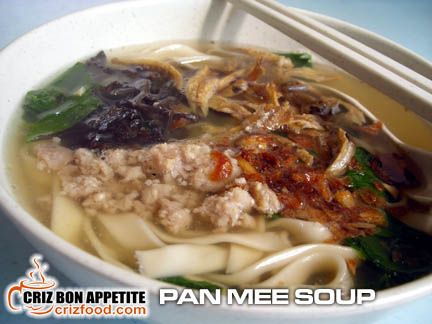 You can even have the dry version – Dry Pan Mee (RM2.80/RM3.30) which has the exact ingredients except that the noodles would be stirred in some dark soy sauce and sesame oil. It was real delicious. This set would come with a small bowl of anchovy soup.
For those who love to have their noodles a bit spicier, you can opt for the Spicy Pan Mee (RM3.20/RM3.70). Basically, everything would be the same as the Dry Pan Mee except it has some dried chili flakes and meatballs. This set would come with a small bowl of anchovy soup too.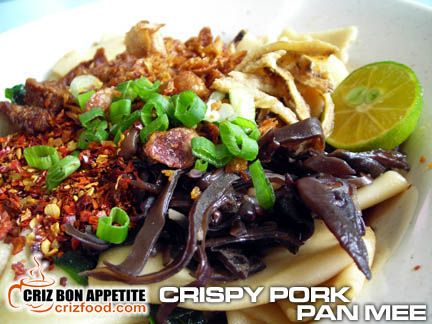 The next option would be the Minced Pork Pan Mee with Special Sauce (RM3.50/RM4.00). This would be a dry version and you would get quite a generous portion of the chef's specially stir fried minced pork, wood ear fungus, sweet leaves and some sliced omelette, garnished with chopped spring onions. This was very tasty with a hint of fermented bean paste and chopped carrots emitting from the minced pork. This set would come with a small bowl of anchovy soup too.
The last option was the Crispy Pork Pan Mee (RM3.50/RM4.00). This is my all time favorite. On top of the selected choice of noodles, I had a generous portion of wood ear fungus, sweet leaves and some delicious sliced crispy pork chop, garnished with some chopped spring onions and toasted sesame seeds. The accompanied sauce on the pork chop has a combination of mild spiciness, sweet and sour taste. This is a must order dish!
There are about 8 items you can add on onto your noodles here in this restaurant but I love to have some soup based ingredients. Thus I have a bowl of rich and aromatic soup with some pork dumplings (水餃 – RM0.70/each), fish dumplings (魚餃 – RM0.50/each) and meatballs (肉丸 – RM0.50/each).
The restaurant would also provide some wonderful homemade condiments to go with the noodles which consist of blended chili, bird eye chili and also the fragrantly fried chili paste.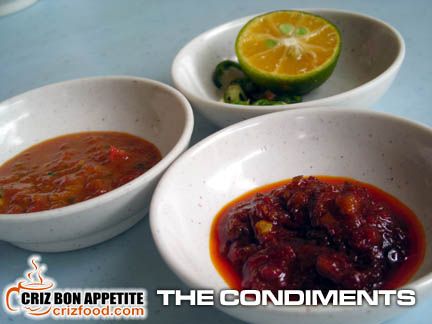 Please take note that this is a non air-conditioned restaurant but you can always cool yourself down with their daily home cooked herbal tea. If you are coming from Komtar/Prangin Mall area along Jalan Dr. Lim Chwee Leong, drive all the way until the Jalan Dr. Lim Chwee Leong/Lebuh Carnavon traffic lights. Drive on until you have reached the Jalan Dr. Lim Chwee Leong/Lebuh Pantai traffic lights. Drive on again into Gat Lorong Prangin until you see the Weld Quay/Pengkalan Weld traffic lights. Turn right and drive towards the Pengkalan Weld/Gat Lebuh Macallum traffic lights. Slow down and keep to your left after the traffic light. Watch out for a service road (barely few meters away) on your left. Turn in and you would see a few I Mum Mum signs on your left. That's where the restaurant is.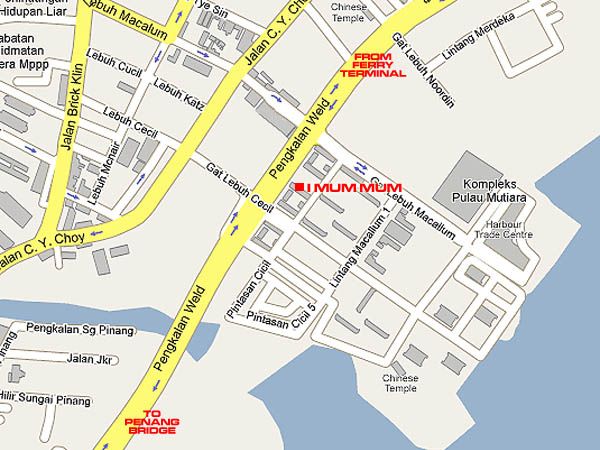 Name: I MUM MUM RESTAURANT
Address: No, 294, PDC Flats, Pengkalan Weld, 10300 Penang, Malaysia.
Contact: 012-518 1827 (Mr. Choo/Ms. Carmen)
Business Hours: 7.00am-3.00pm (Closed Alternative Monday)
GPS: 5.406715, 100.332001
RATING:
Ambience: 7/10 (1-4 cheap, 5-7 average, 8-10 classy)
Food Choices: 7.5/10 (1-4 limited, 5-7 average, 8-10 many choices)
Taste: 8.5/10 (1-4 tasteless, 5-7 average, 8-10 excellent)
Pricing: 7/10 (1-4 cheap, 5-7 average, 8-10 expensive)
Service: 9/10 (1-4 bad, 5-7 average, 8-10 excellent)