For the month of June and July 2016, diners would get to savor the many different Legendary® Burgers from around the world during its World Burger Tour at Hard Rock Cafe @ Hard Rock Hotel, Penang. The promotion would be available daily from 11.30am until 10.30pm at RM65nett per set. All sets (except the Tandoori Chicken Burger) would be served with beef patty unless special request is to be made to replace it with chicken patty. Please call +604-886 8050 or email hrc.admin@hardrockhotels.net to make your reservation.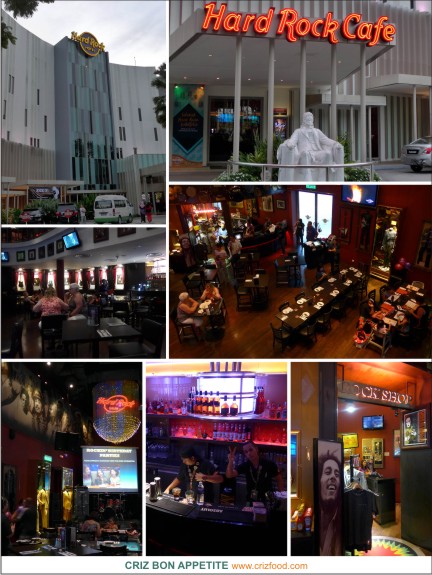 For June 2016, you would get to try out 4 delicious burgers.
The first one would be the Cuban Burger Miami (Cuba, USA), a tantalizing twist on the Cuban classic with mojo marinated pulled chicken, sweet plantain slices, pickle slices, melted swiss, tomato and yellow mustard, served with golden fries and special Cuban dipping sauce.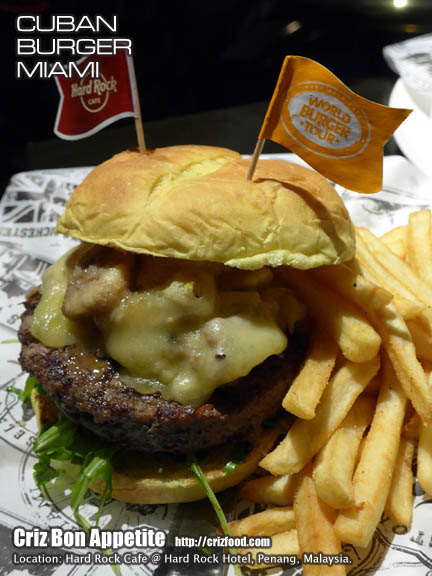 The next one would be the I Love NY Burger (New York, USA) as you would get a cross between a burger and a pizza, served with French fries to remind you that it would still be a burger. You would get your mouthwatering burger stuffed with pepperoni, fried mozzarella cheese, sautéed mushrooms and pizza sauce.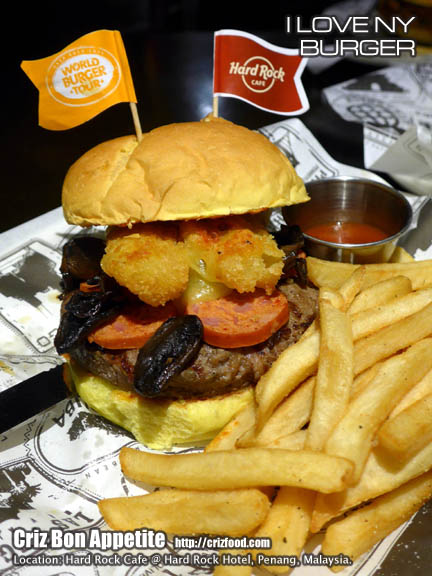 Of course, you should not miss out their Tandoori Chicken Burger (Mumbai, India) with fresh and light flavors of mint mayo, Monterey jack cheese and crisp cucumber planks cover a tandoori seasoned chicken burger, topped with iceberg lettuce, tomato and complimented with seasoned fries and mint mayo dipping sauce.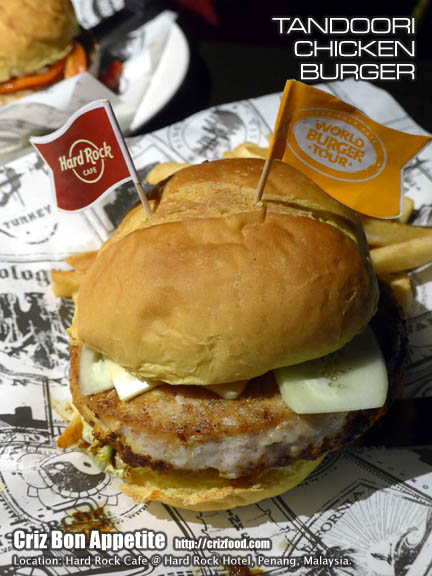 You would also get to try out the El Toro Burger (Barcelona, Spain), a fury of red peppered Romesco sauce, roasted vegetables, goat cheese crumbles and arugula, dancing on an all-beef patty and between toasted slices of a bun. This set would come with seasoned fries as well.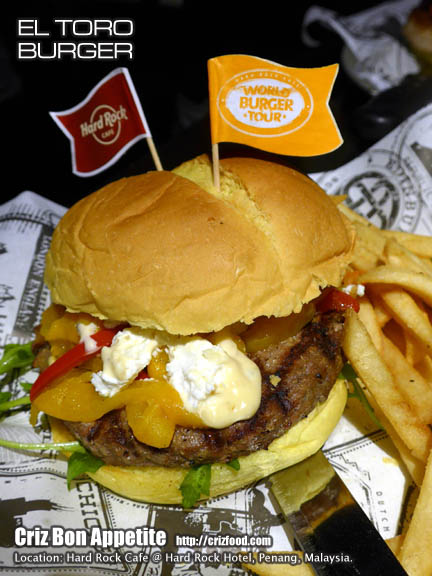 For July 2016, there would be another 4 delicious burgers for you to try out.
There would be the Hollywood Burger (Hollywood, USA), famously delicious with melty brie cheese, caramelized shallots, garlic aioli, fresh arugula and tomato on a toasted bun, served with golden, award-worthy French fries.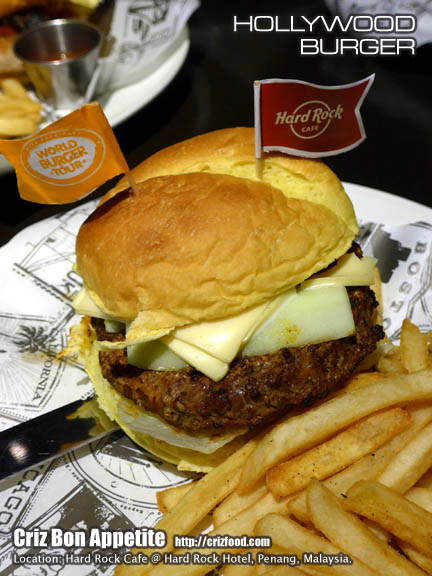 For goat cheese lovers, there's the Greek Burger (Athens, Greece) with Tzatziki sauce, arugula, tomato and a legendary take on feta cheese including capers, black olives, peppers and onions. This set would be presented with piping hot French fries paired with Tzatziki sauce for dipping.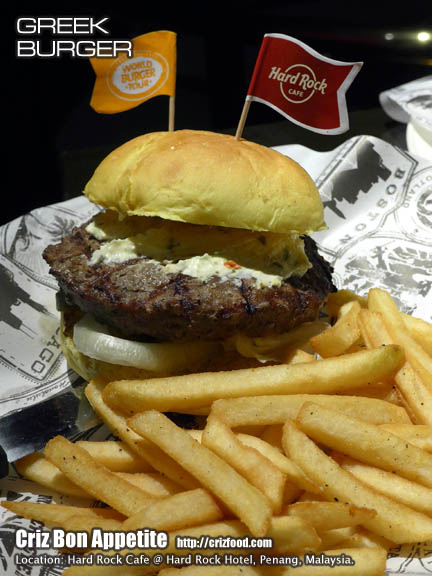 Spicy lovers must watch out for their Jamaican Jerk Burger (Montego Bay, Jamaica), a smooth and spicy fusion of mango and jalapeno cream cheese and jerk mayo, banana peppers and iceburg lettuce, chilling on an all-beef patty between a buttered and toasted bun, served with crispy French fries and jerk mayo dipping sauce. I'm impressed on how they had pepped up the burger with some fruitiness. It was indeed a great combination.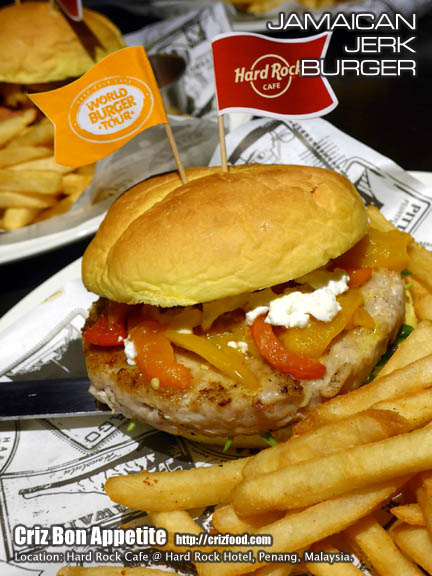 A unique option would be their English Breakfast Burger (London, England), a proper combination of fresh tomato, slices ham and grilled Portobello mushroom, paired pleasantly with breakfast sausage and a fresh-cracked egg, simply seasoned and served with golden French fries and baked beans. Can you imagine having your usual items on your breakfast plate combined into a burger? This was one cool burger that I could consume daily except that I might add in more greens to balance it up further.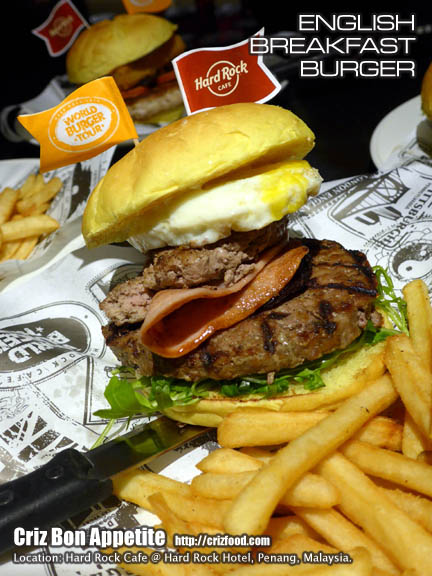 In case you wanted more of their delicious crispy fries, you could always order their Poutine Fries (RM17nett) which would be topped with Cheddar cheese curds and potato gravy or simply add on another RM5nett to savor their Artisan Fries (Herb & Garlic Fries) which would be served with Hard Rock's signature dipping sauce, the Chimichurri Mayo. Regardless how they prepare their fries, the crispiness on the 1/8 cut fries were amazingly addictive.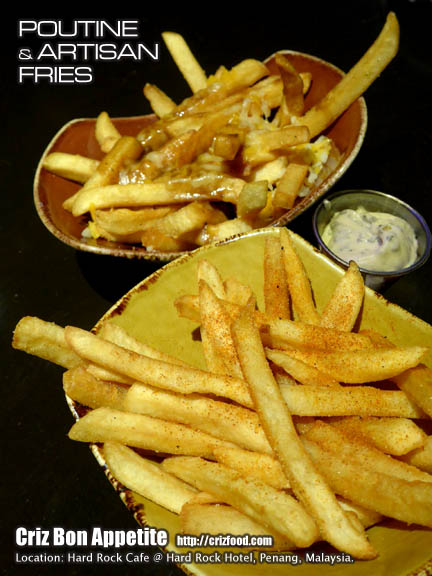 To complement the Legendary® Burgers, Hard Rock Café Penang had created 4 types of cocktails and a mocktail to quench your thirst. These beverages would be served in pint glasses where guests would have the option to bring home the glass with a small fee. Here's a peep at those beverages that would be available for June and July 2016. They are Crisp Sipper (RM58nett/RM130nett) with a mix of Hendrick's gin, Monin Cucumber, lemon, orange, raspberry and topped with tonic water and garnished with rosemary and thyme, Black Cherry Melonade (RM29nett/RM85nett), a mocktail with a mix of Black Cherry Real, Monin Cucumber and topped with ginger beer, garnished with a cucumber slice and a cherry, Sweet & Fiery (RM58nett/RM130nett) with a mix of Absolut Peppar Vodka, Canton Ginger Liquor, Blue Curacao, lemonade and ginger beer and garnished with a red pepper, All Jacked Up (RM58nett/RM130nett) with a mix of Jack Daniel's Tennessee Honey, Jack Daniel's Tennessee Whiskey, Sailor Jerry Spiced Rum, PJ, Orgeat and lime juice, garnished with orange and pineapple wedges plus a cherry, a cocktail best paired with the Jamaican Jerk Burger and lastly the Melonpalooza (RM58nett/RM130nett) with a mix of Midori Melon Liqueur, Malibu Rum, Hard Rock's house-made sour mix and PJ, garnished with slices of pineapple and strawberry, thus best to complement the fresh flavors of the Greek Burger.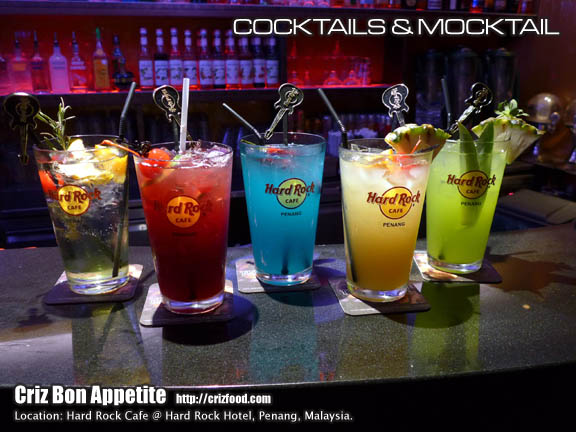 Here's a quick glance on the June & July 2016 World Burger Tour Promotion: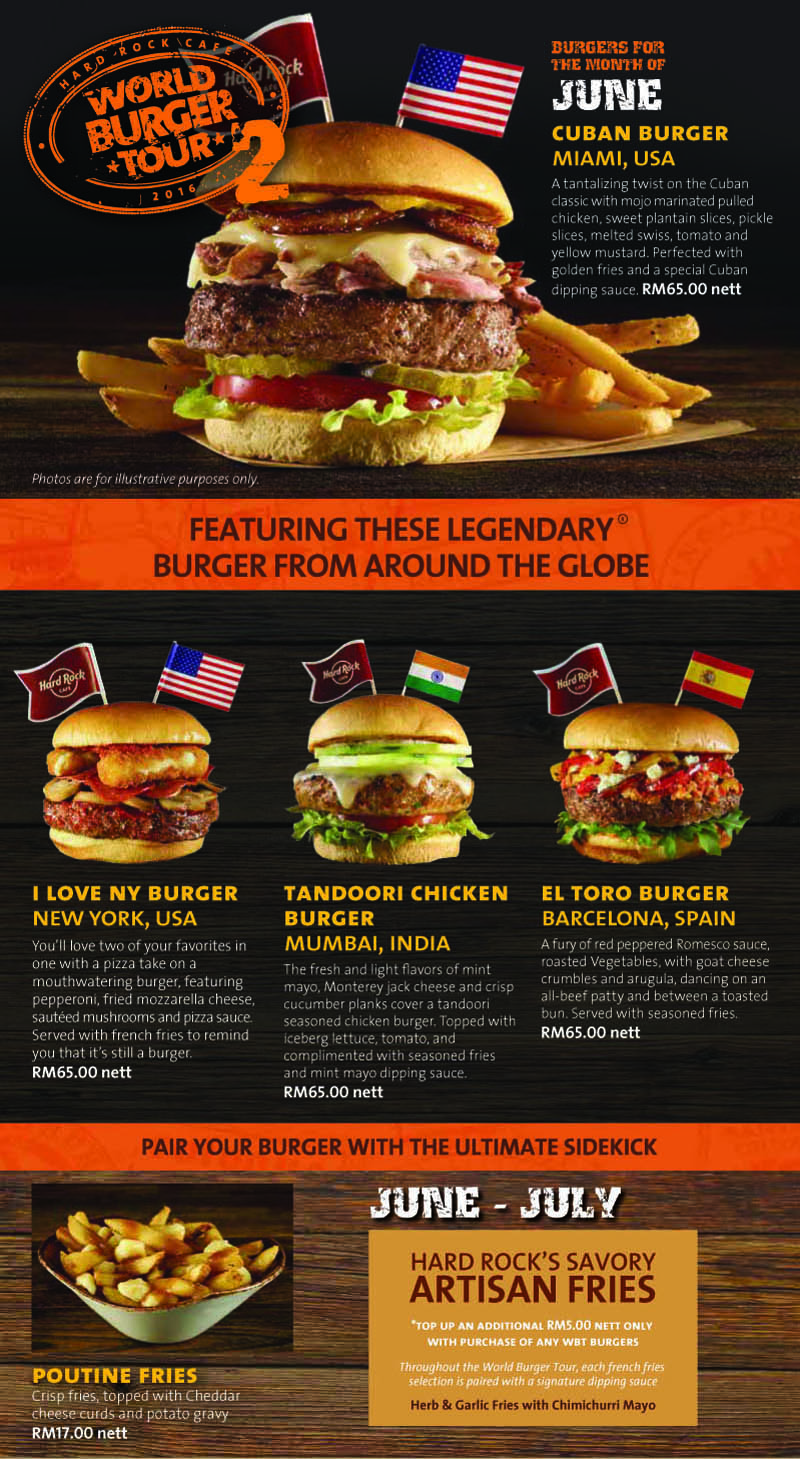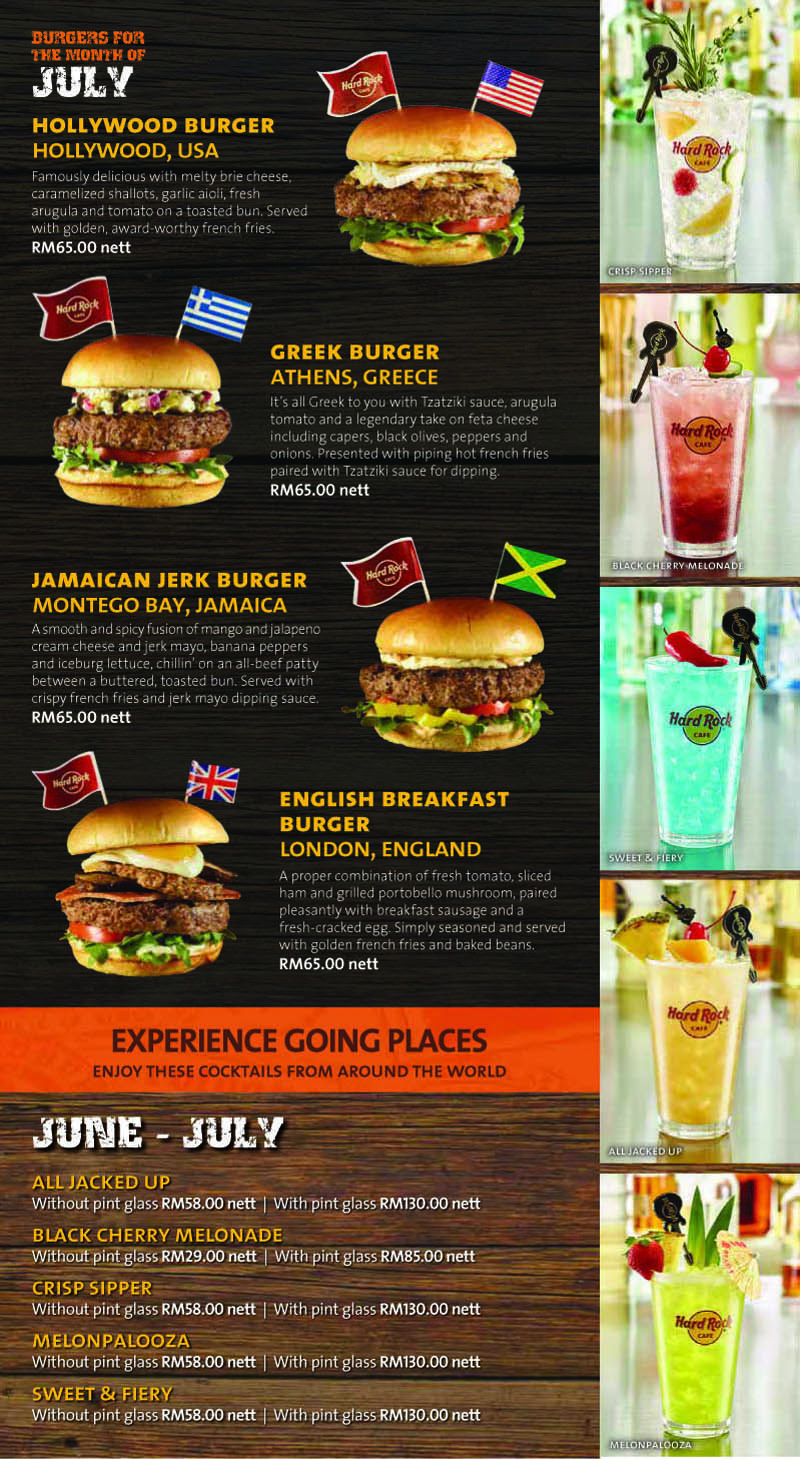 Overall, I like all their WBT burgers as each had their individual flavors which indeed did impress me, especially when all of them arrived in their individual "heavenly cloud" of greatness. The meatiness, juiciness and flavors on both their beef and chicken patties sure did earn them in my newest list of great burger places to dine in.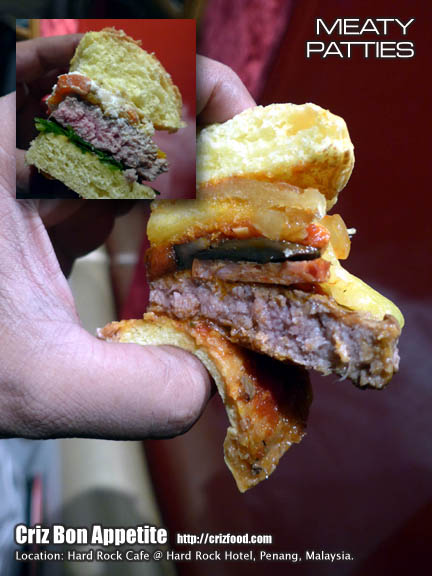 The Hard Rock Cafe is located just next to the front entrance of the hotel. After parking your car, just head to the left wing of Hard Rock Hotel Penang and you can a little glass door leading to the cafe.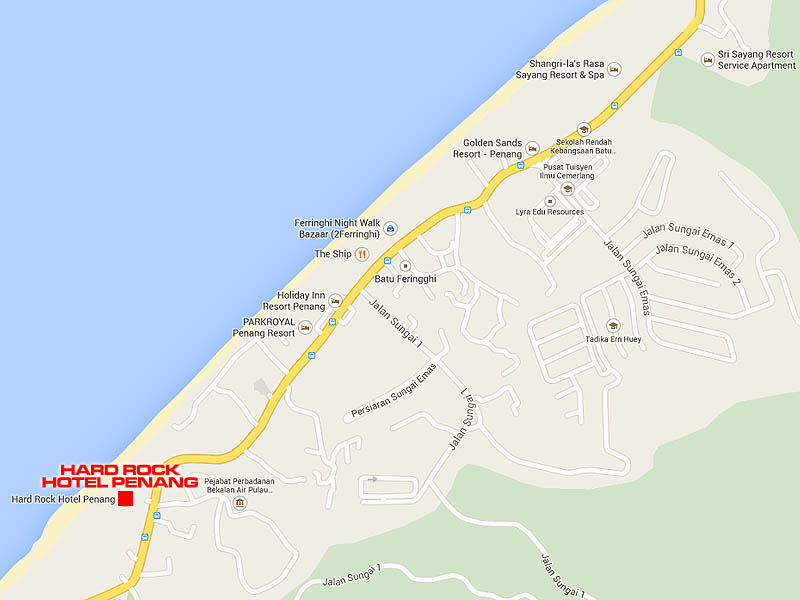 Name: HARD ROCK CAFE @ HARD ROCK HOTEL PENANG
Address: Batu Ferringhi Beach, 11100 Penang, Malaysia.
Contact: +604-886 8054 or email hrc.admin@hardrockhotels.net
Business Hours: 11.00am-2.00am
GPS: 5.467568, 100.241382
RATING:
Ambience: 8/10 (1-4 cheap, 5-7 average, 8-10 classy)
Food Choices: 7/10 (1-4 limited, 5-7 average, 8-10 many choices)
Taste: 9/10 (1-4 tasteless, 5-7 average, 8-10 excellent)
Pricing: 8/10 (1-4 cheap, 5-7 average, 8-10 expensive)
Service: 8/10 (1-4 bad, 5-7 average, 8-10 excellent)
RESERVATIONS:
Starz Diner/Pizzeria: Call +604-886 6057 or email fb.penang@hardrockhotels.net.
Hard Rock Café Penang: Call +604-886 8050 or email hrc.admin@hardrockhotels.net
More information: Hard Rock Hotel Penang's F&B Promotions
About Hard Rock International

: With venues in 69 countries, including 165 cafes, 23 hotels and 11 casinos, Hard Rock International (HRI) is one of the most globally recognized companies. Beginning with an Eric Clapton guitar, Hard Rock owns the world's greatest collection of music memorabilia, which is displayed at its locations around the globe. Hard Rock is also known for its collectible fashion and music-related merchandise, Hard Rock Live performance venues and an award-winning website. HRI owns the global trademark for all Hard Rock brands. The company owns, operates and franchises Cafes in iconic cities including London, New York, San Francisco, Sydney and Dubai. HRI also owns, licenses and/or manages hotel/casino properties worldwide. Destinations include the company's two most successful Hotel and Casino properties in Tampa and Hollywood, Fl., both owned and operated by HRI parent company The Seminole Tribe of Florida, as well as other exciting locations including Bali, Chicago, Cancun, Ibiza, Las Vegas, Macau and San Diego. Upcoming new Hard Rock Cafe locations include San Juan, Reykjavik and Lyon. New Hard Rock Hotel projects include Abu Dhabi, Atlanta, Berlin, Dubai, Itapema, Los Cabos, Tenerife, and Shenzhen, Dalian and Haikou in China. For more information on Hard Rock International, visit www.hardrock.com.