Nothing could be merrier than to be reunited with family members and friends during Chinese New Year over great food and company. One such place would be at Hakka Tree 客福家 (Tesco Tanjung Pinang & Gurney Plaza) where they would be promoting their Hakka Tree Poon Choi (RM328nett) and Hakka Tree Yee Sang (RM38nett for 1-2 pax/RM66nett for 6-8 pax). The promotion would last from 15 January 2017 until 6 February 2017. For any enquiries, please call +6016-229 6598 to make your booking. A minimum of 2 days advanced booking is required for the Poon Choi. Please also take note that in order to maintain the standard and quality, the Poon Choi is for dine-in only.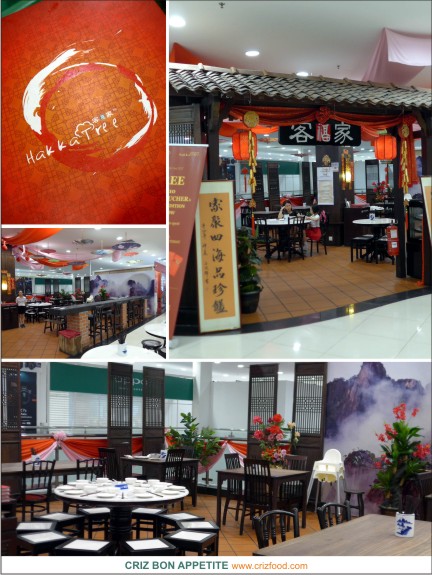 Let's take a look at what's in the Hakka Tree Poon Choi. The uniqueness in this Poon Phoi lies in the long simmering hours of plentiful bones with dried scallops and dried oysters to extract the concentrated stock which is rich in collagen. There would be more than a dozen of quality ingredients used to create this dish but the main attraction would be the generous amount of added pork knuckles, tender and melt in the mouth, on a bed of cabbages, yam, radish, slowly stacking up with deep fried bean sticks (fu chok), dried China-imported oysters, Australian sea cucumbers, New Zealand scallops, Chilean abalones, king prawns, Chinese mushrooms, broccoli, homemade pork tendon balls and topped with "golden" bags, a symbol of abundant wealth in the Chinese belief. The balance combination of meat, seafood and vegetables indeed made this a divine dish to savor during this festive season.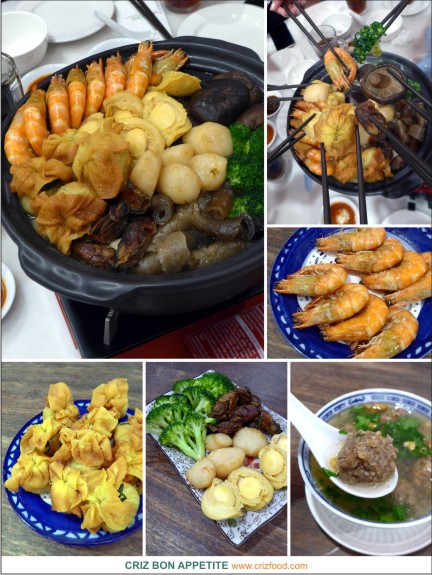 Other than the Poon Choi, you could also try out their Hakka Tree Yee Sang, a must have dish which symbolizes abundance, prosperity and vigor. The thin slices of vegetable pickles, crackers and more were mixed together thoroughly with some added fresh salmon slices and was further enhanced by a specially concocted sauce with distinctive flavors. What I like most was the generous amount of sauce, coating each and every strand of the ingredients, giving the dish a well balance taste.
If you have some place left in your stomach, you could always try out their desserts such as Purple Yam (RM8.90) and Fu Chok Yee Mai (RM5.90).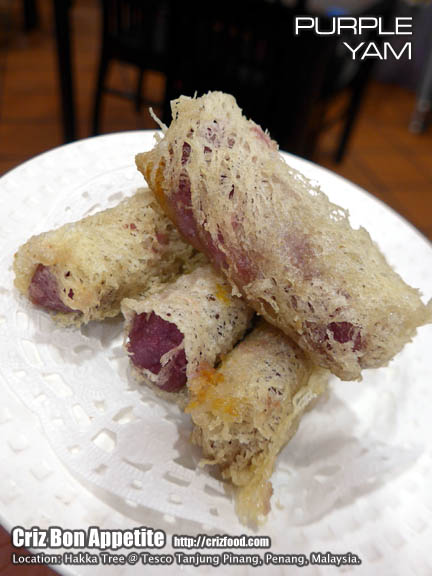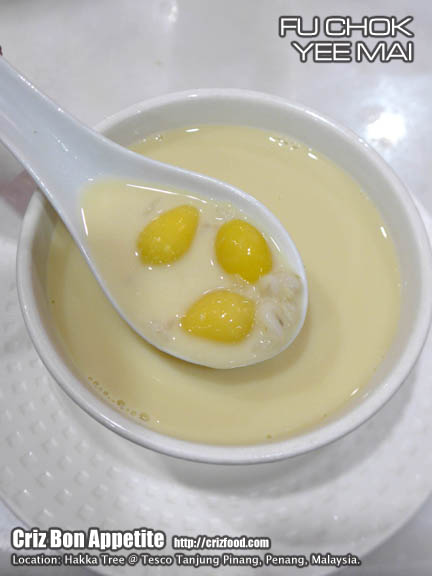 Overall, I'm happy with all dishes that were served on our table. However, I would suggest that the restaurant should advise their patrons on how to consume the Poon Choi properly, especially when there were abalones served as the abalones might get rather tough after a longer period of simmering in the pot. Moreover, this might deter some elderly patrons from enjoying this wonderful pot of goodness.
Hakka Tree can be located at both Tesco Tanjung Pinang (1st Floor) and Gurney Plaza (Basement). You can check out the address below.
Name: HAKKA TREE @ TESCO TANJUNG PINANG
Address: F27, 1st Floor Tesco Tanjung Pinang, Tanjung Tokong, 10470 Penang, Malaysia.
Contact: +604-899 3887
Business Hours: 9.00am-10.00pm
GPS: 5.458739, 100.308488
Name: HAKKA TREE @ GURNEY PLAZA
Address: 170-B1-06/07, Plaza Gurney, Solok Gurney 1, 10250 Penang, Malaysia.
Contact: +604-228 3887
Business Hours: 10.00am-10.00pm
GPS: 5.437987, 100.309818
RATING:
Ambience: 7/10 (1-4 cheap, 5-7 average, 8-10 classy)
Food Choices: 8/10 (1-4 limited, 5-7 average, 8-10 many choices)
Taste: 8/10 (1-4 tasteless, 5-7 average, 8-10 excellent)
Pricing: 7/10 (1-4 cheap, 5-7 average, 8-10 expensive)
Service: 9/10 (1-4 bad, 5-7 average, 8-10 excellent)