Note: This restaurant had relocated and merged with The Mansion, 32 Jalan Sultan Ahmad Shah, Penang.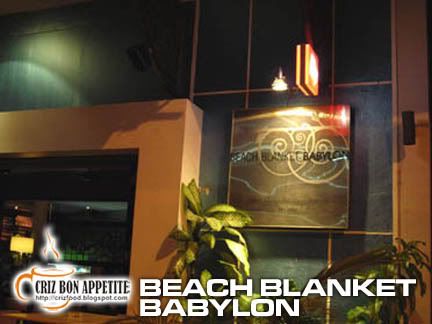 If you are a fan of the former 68 Kelawei which has relocated to Batu Ferringhi area under the name The Eclectic, you would surely love the fusion style of food prepared by Beach Blanket Babylon. In fact, Beach Blanket Babylon, The Eclectic, Thirty Two At The Mansion and Bagan 18 are all members of the Penang's premier group of restaurants. Beach Blanket Babylon is a great relaxation place for food and beverages after a hectic day of work. Located at Penang's trendiest and most happening Upper Penang Road, it offers great dining areas inside with an English styled ambience, Al Fresco for outdoor diners who prefer to enjoy the light breeze from the Straits of Malacca and a dimly lighted but romantic upper level with mattresses and pillows to cuddle.
Other than the wine and cigars which the café is promoting, they have an interesting menu which comprised of soups, salads, house specialties, main courses, sandwiches, snacks and desserts. The most interesting part is that they do change their menu weekly. Having enjoyed their food ever since they were in different locations in Pulau Tikus and Georgetown before, I was more than eager to find out what they have in store for us. Having all eyes and concentrating deeply onto the menu, we chose a soup and a main course each. We have to skip the desserts as we were still having hangovers from having too much of Jenni's yummy Tiramisu Cake earlier. LOL!
The soup came first. The Cream of Mushroom Soup (RM8) was way ahead in quality compared to those I have taken before. A few types of mushrooms (fresh ones too I presume) were blended and cooked with barley/rice until broth-like. I love this dish a lot and I do not even have to add in more pepper or salt. The taste was just perfect.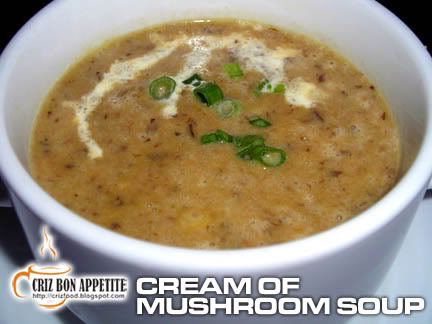 The Sweet Potato and Coriander Soup (RM8) was also great. You can practically get the sweetness of the potato and at the same time the fragrant aroma from the blended coriander.
Immediately after we have finished our soup, the main course was served – Chargrilled Rosemary Chicken with Black Pepper Sauce (RM21) with plentiful of French fries and boiled vegetables. To my surprise, this dish was served on a sizzling plate although it was not stated in the menu. The chicken was well marinated and the taste of the black pepper sauce blended in real well.
Next dish was another surprise as I was expecting just a piece of roasted chicken with some salads but it came with a large bowl of steamed rice. The Quarter Roast Chicken with Mushroom Sauce (RM18) was truly amazing. The sauce itself was a compliment to the overall taste of the roasted chicken. Instead of the usual white sauce mushroom gravy, it came with a touch of tomato puree, herbs and some sliced Chinese mushrooms. This dish is truly magnificent.
Since we were having late dinner, we only ordered Chilled Grapefruit Juice (RM8) and Ice Lemon Tea (RM7.50). Overall, we spent RM77.55, inclusive of a 10% Service Charge. To some, the food might be considered pricy but it was worth every cents to be there dining, using the WIFI service and at the same time watching all the party goers walking by to some of the pubs and discos surrounding there.
Finding your way to Beach Blanket Babylon would not be hard at all as it is situated at a corner lot just directly opposite E&O Hotel (Eastern & Oriental Hotel) along Lebuh Farquhar. Parking can be quite chaotic on weekends. You can opt to park your car in the Penang Bowl car park or a not so far away Red Garden car park (opposite Cititel) and take a stroll to Upper Penang Road entertainment area.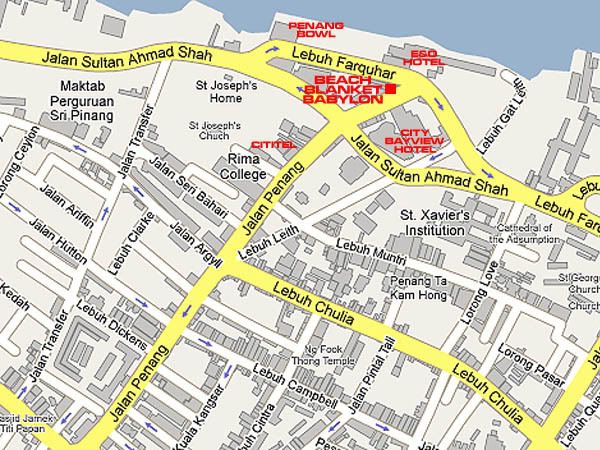 Name: BEACH BLANKET BABYLON @ THE GARAGE
Address: Lot B1, The Garage, 2 Penang Road, 10000 Penang, Malaysia.
Contact: 604-261 0289
Opening Hours:
Weekdays: 11.00am – 1.00am
Weekend & Eve of Public Holiday: 11.00am – 2.00am
GPS: 5.422942, 100.335549
RATING:
Ambience: 9/10 (1-4 cheap, 5-7 average, 8-10 classy)
Food Choices: 8/10 (1-4 limited, 5-7 average, 8-10 many choices)
Taste: 9/10 (1-4 tasteless, 5-7 average, 8-10 excellent)
Pricing: 8/10 (1-4 cheap, 5-7 average, 8-10 expensive)
Service: 8/10 (1-4 bad, 5-7 average, 8-10 excellent)