Note: This restaurant has ceased its operation in early 2011

Surprised? Why worry? Sooner or later you have the opportunity to order one too. Why wait when you can choose one for yourself right now at Hui Wei? The exterior was solid but the interior had a pillow like softness. Unfortunately, there's only one size and one presentation. You may think there's not much option for someone who would be in heaven soon but I still love my coffin a lot… it's truly heaven and it tasted great! Huh?? What??
Haha!! I finally caught your attention here. Hui Wei is actually a restaurant with a menu offering food ranging from dim sum, set meals, snacks to steamboat. My food for the day was indeed called Coffin (棺材板-RM7.90). The "Coffin" was actually a sliced portion of a French loaf, having a carefully carved out Coffin Cover", a dug hole in the middle and filled up with creamy, oozy, cheesy and delicious seafood and meat. The filling tasted just like how they would prepare a baked lobster in a restaurant but instead of lobster meat, it had sliced crabsticks, mushrooms, prawns, squids, shark fins, fish balls, chicken, onions and a slice of cheese melted on top. The whole dish was unique and delicious. Now you know where to order your "Coffin". LOL! The only thing that I had realized on was the chocolate Chinese character on the cover. They should have used mayonnaise instead for a savory dish but who on earth would want their restaurant name to be imprinted on a "coffin cover"? I guessed one of the directors who are involved with geomancy would have known what's best for the restaurant.
The price range of each set meal would differ depending of what main dish you would order. Each set meal would come with a plate/bowl of rice/noodle/porridge, soup, main dish, stir fry vegetable, dessert and your choice of beverage (Pearly Milk, Mocha, White Coffee or Wu Mei Juice). I ordered the Marmite Chicken Rice set (RM14.90). Except for the stir fry vegetables which were overcooked and drowned in the gravy, everything seemed to be in order… errr… but too small a portion to justify the pricing. The meal had a bowl of rice with some minced meat plus gravy, a small strip of flour coated marmite chicken breast meat, a bowl of old cucumber soup, some grass jelly cubes with nata de coco in syrup and a glass of herbal drink. Overall, it was just an average meal.
The dim sum side orders were disastrous as they were rather stale to my liking. Continuous steaming of the dim sum is most likely to be the cause as my two orders was bad. The Mushroom Siew Mai (RM2.80) had a change in color and was extremely dry. The Har Kow (RM2.80) had hard skin and the prawn within had turned into sticky paste like. I hope the management would think of a better solution soon or else this type of quality would surely turn off a lot of customers.
On top of the normal beverages, you can always opt for some nice tea brew. The pot of flower tea I had ordered consisted of rose, apple and osmanthus (RM6.00/pot). It was simply refreshing.
To get to the restaurant is rather easy as it is located along Jalan Burma. If you are coming from Komtar area along Jalan Penang into Jalan Burma, drive all the way to the Jalan Larut/Jalan Burma traffic lights. After the traffic light, keep to your right. Drive pass 3 junctions (Jalan Clove Hall, Jalan Arratoon, Jalan Phuah Hin Leong) and your will see Restoran Hui Wei there next to a nasi kandar shop. The shop is actually just opposite SRJK Union, Jalan Burma. As the restaurant is along a heavy trafficked road, I would advise you to park your car at Jalan Phuah Hin Leong or along the road after the restaurant (Jalan Tavoy).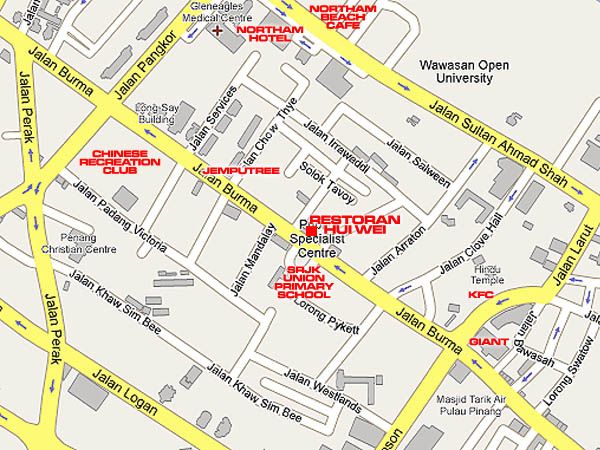 Name: RESTORAN HUI WEI
Address: 142G, Jalan Burma, 10050 Penang, Malaysia.
Contact: 604-226 0966
Business Hours: 8.00am-4.00am
GPS: 5.423436, 100.321694
RATING:
Ambience: 7/10 (1-4 cheap, 5-7 average, 8-10 classy)
Food Choices: 7.5/10 (1-4 limited, 5-7 average, 8-10 many choices)
Taste: 7.5/10 (1-4 tasteless, 5-7 average, 8-10 excellent)
Pricing: 8.5/10 (1-4 cheap, 5-7 average, 8-10 expensive)
Service: 8.5/10 (1-4 bad, 5-7 average, 8-10 excellent)