NOTE: THIS STALL HAS CEASED ITS OPERATIONS
Nowadays, with the increased price of most raw ingredients, dining at a posh restaurant would not be the chosen choice for most families with kids. From my knowledge, more and more families are looking for places with reasonable priced servings and taste just to ease on the family's monthly food expenses. Just as a comparison, I had a double Bratwurst Sausage served with mashed potatoes and mixed vegetables at a prominent mall in Penang not long ago. With all the taxes added in, it cost even more than the 5 dishes I had ordered at a stall that I had stumbled upon recently. The only difference is that this place did not have air-conditioning. Let's look at what Asian Whisper's located within the Delima Mas Café has to offer.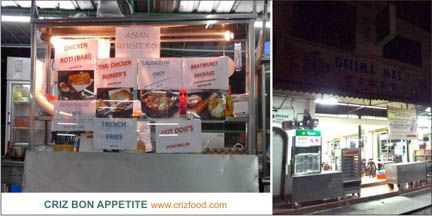 The single Bratwurst Sausage (RM7.00 nett/set) served with a huge scoop of mashed potatoes plus delicious brown sauce was far better tasting than the one I had earlier at Straits Quay. Even with a double serving of the sausage, it would only cost me RM11.50 nett/set compared to the one I had at RM20.90 (excluding taxes), which of course came with some extra "discarded" mixed greens. The next dish was the Sausages with Onions (RM5.00 nett). The dish had 2 sliced honey chicken sausages plus one sliced chicken frankfurter sautéed with sliced onions in LP sauce and served with a huge scoop of mashed potatoes with brown sauce. This dish would be quite ideal for those light eaters.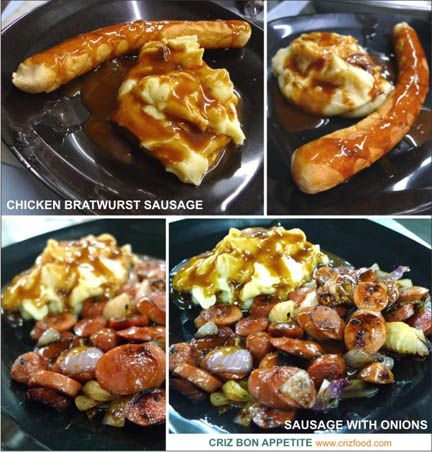 The next dish was even lighter – Roti Ayam (RM3.00 nett/set – a poultry version of the normally minced pork version). The taste was average, considering that the chef changed her usual preparation methods to suit the taste buds of the local people there. I found the filling to be a bit too moist and there were only some "too finely minced" chicken plus "overcooked" onions in it. This dish lacked the textures and bites. The chef should have added some chopped cabbages and carrots for that extra crunch. Moreover, the minced chicken should be cooked more coarsely rather than having a sandy and no bite like texture. A bit more of the 5-spice powder would also do more justice to the overall taste. The Cordon Bleu de Roti (RM5.00 nett) was normal. It had a piece of chicken ham and cheese clamped between two slices of white bread, dipped in beaten eggs and fried to perfection. Both of the light meals were served with LP mixed with chili sauce.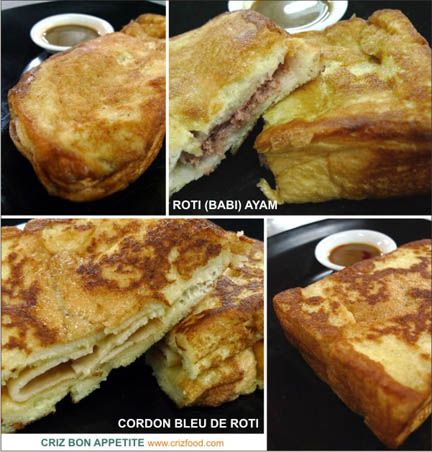 I was curious on how the Thai Chicken Burger (RM3.50 nett) would taste like. Well, the preparation and presentation were exactly how you would get from the roadside burger stalls except that the patty was home prepared. It had some hints of turmeric powder with sliced kaffir lime leaves. It was really mild even for kids. I would have expected it to be more spice and herb enhanced but I guessed it was another local preferred taste. Moreover, the patty was a bit too thin for a prominent bite. I actually don't mind paying a bit extra for a thicker patty but that would be over the budget of the locals here. The choice of bun was perfect. It was almost McD like with sesame seeds sprinkle above.
You can also get Crinkle Cut Fries (RM3.00 nett) and Hot Dog (from RM2.50 nett onwards) here. What surprised me most is the stinginess of certain district locals. Prices of raw ingredients had gone up crazily and yet they still expect to get the same size of food with the same amount they paid years ago. Thus, you would still have food as all the above mentioned, priced at RM23.50 nett, much cheaper compared to just a dish at a local mall (RM24.25 nett). So, as a household head, would you go for mediocre food that would feed more mouths in your family or one that would feed only yours?
Please take note that this is the place ONLY for early dinner. The shop will close slightly before 10.00pm. Other than this stall, there is a bakery there for fresh buns and cakes. (The mini chicken pie is not bad at RM1.20 each but only on weekends), economy rice, nasi Melayu, nasi kandar, roti jala, char hor fun, bak kut teh, sweet & sour pork rice and chicken rice/hor fun (not bad… all boneless chicken given).
If you know how to get to Genting Café where the famous peanut butter based chee cheong fun is, you would surely know how to get to this café as it's situated right at the other end of the shop houses. Drive all the way up Jalan Mesjid Negeri towards Penang Bridge. Immediately after Lam Wah Ee Hospital, keep to your right and watch out for the last traffic lights before the underground tunnel to Penang Bridge. At the traffic lights, turn right into Jalan Delima. Keep to you left and turn left into the first junction (Lorong Delima 6). As this is a one way street, you have to make a left turn into Lorong Delima 3 then right turn into Lorong Delima 5 and another right turn into Lorong Delima 7. Delima Mas Café is just at the corner of Lorong Delima 7 and Lorong Delima 6. You can find some parking spaces along Lorong Delima 6.
Name: ASIAN WHISPER'S @ DELIMA MAS CAFE
Address: 2 Lorong Delima 6, 11700 Penang, Malaysia
Contact: 016-443 3304 (Ms. Michelle Tan)
Business Hours: 6.00am-10.00pm (Closed Thursday)
GPS: 5.382081, 100.304172
RATING:
Ambience: 6/10 (1-4 cheap, 5-7 average, 8-10 classy)
Food Choices: 5/10 (1-4 limited, 5-7 average, 8-10 many choices)
Taste: 6.5/10 (1-4 tasteless, 5-7 average, 8-10 excellent)
Pricing: 6/10 (1-4 cheap, 5-7 average, 8-10 expensive)
Service: 8/10 (1-4 bad, 5-7 average, 8-10 excellent)