Note: This eatery had moved to Gurney Paragon, Penang.
If you are observant enough, you might realize that more and more Thai restaurants have mushroomed within the district of Pulau Tikus, Penang. Hot tourist spots such as the Wat Chayamangkalaram Temple (Reclining Buddha/Sleeping Buddha) and the Dhammikarama Burmese Temple, had daily attracted a steady flow of locals and tourists, who by any chance would love to have a taste of some nice Thai dishes. With Thailand having 6 regions with 76 provinces (excluding Bangkok which is the capital city), these restaurants have gone all out to serve diners with their unique specialties from their own province. Some of the notable ones include Annathai-Kitchen, Aroi Thai Restaurant, Wang Thai Restaurant and the latest being Sukhothai Beef Noodles House.
As the name has been described quite clearly, Sukhothai Beef Noodles House specialized more towards beef noodles and other street food from the Sukhothai Province. The Sukhothai Beef Noodle (RM12.90) would come in 3 options, namely the original, glass noodles or instant noodles. We had the original which had thin Thai noodles, served with a variety of beef chunks (3 different parts of meat), beef balls, bean sprouts and garnished with lots of chopped coriander. Each bowl would come with some additional raw bean sprouts and Thai basil leaves for you to add in. The soup had the taste of some selected herbs (somewhat milder than our local Bak Kut Teh) and a mild sweetness from some rock sugar. The beef chunks were tender to my liking. I love the beef balls the most as they have the bounciness texture. There would be some chili flakes, fish sauce, sugar and Thai chili sauce to pep up the taste of the soup to your preferences but beware of the Thai chili sauce as it could be too spicy hot for many.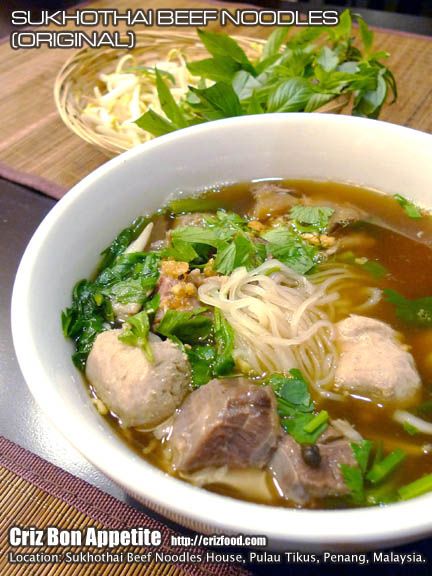 Since having another version of the beef noodles with instant noodles would be a bit too common. We decided to go for the Sukhothai Beef Noodles (RM12.90) with glass noodles. Most of us felt that this version tasted better than the previous one although the soup base was the same. Somehow with the soup seeped right into the glass noodles, the whole concoction tasted better. This is a must try dish!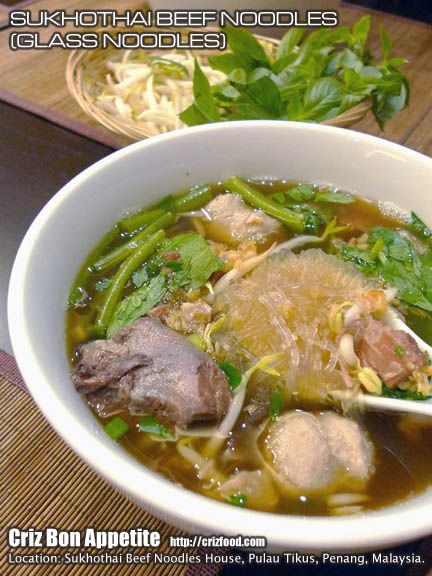 There was also the Thai Fried Rice (RM12.90). The chef sure knows how to handle the heat for frying rice well. The dish was awesome with some distinctive taste of fish sauce with a mild sprinkle of sugar. Each grain of rice was well flavored with a nice aroma from the high heat cooking (wok hei). This would be a nice dish for all ages.
I actually have a phobia for Phad Thai (RM12.90) as most of the ones I had tasted contained too much of sugar to my liking. This restaurant indeed changed my perception on this dish as it had just the right sweetness and taste which suited me well. The dish had deep fried bean curd cubes, prawns, bean sprouts, chopped chives, Chinese sausage slices and a sprinkle of some coarsely pounded roasted peanuts. What surprised me was the usage of the Chinese sausages as I have not seen anyone in town using them. Moreover, the whole presentation looked so much like our local Char Koay Teow, except that they were using the thin Thai noodles instead.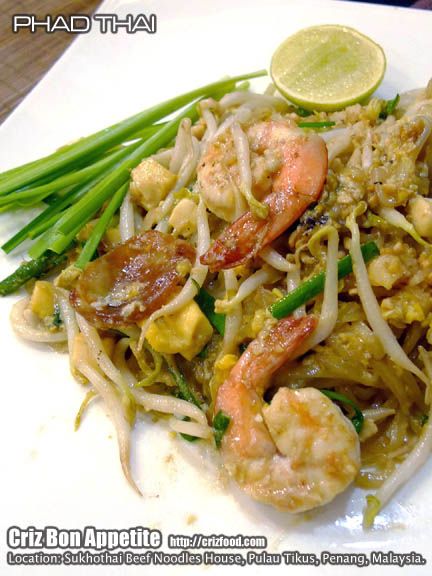 If you think that having beef noodles or the fried stuff might be a bit too heat strong for your internal organs, do try out their Fish Maw Soup (RM19.90). This soup was starch-like, similar to the Oriental Sharksfin Soup. The outlook was more dish-like than soup-like as it would go well with rice too. The whole mini pot had a generous amount of well flavored fish maw, pork chunks, mushrooms and quail eggs, garnished with chopped coriander, filled with a punch of tasty flavors.
Although the menu was quite limited to only 4 main dishes, the dessert section which also had limited 3 options did not let us down. The Durian Sticky Rice (RM8.90) was heaven! Instead of using solely the white glutinous rice, the restaurant also combined some black glutinous rice. It had some mildly sweetened coconut milk with almost no fiber and creamy local durian flesh. This is a must have dessert after your meal. Another option would be the Mango Sticky Rice (RM8.90). It tasted nice with ripened mango but somehow it was still incompatible to the smoothness from the former dessert. There was also the Banana Sago (RM4.90) which tasted just as great as the rest. The dish had sago in mildly sweetened coconut milk and steamed banana slices. The banana was from the dwarf Pisang Mas (Bee Chio) breed. Most of the Nyonya households would use steamed Pisang Raja instead for a more sweetened taste. As for beverage, we decided to try out their Sweet & Sour Roselle Juice (RM4.90) and Green Tea (without milk – RM3.90/with milk – RM4.90). All the drinks ordered were thick and nice.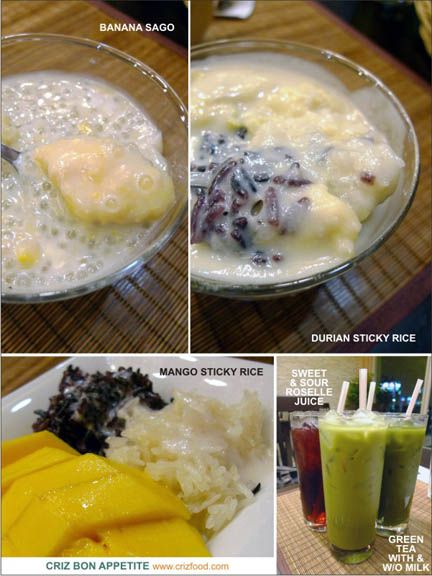 Overall, the food here is quite healthy as the dish did not have overused of oil and sugar as in some of the Thai restaurants scattered everywhere in town.
It's not hard to locate the restaurant as it situated along a row of shop houses in Pulau Tikus, Penang. If you are coming from Jalan Burma towards Pulau Tikus, watch out for Lebuhraya Codrington on your left. Immediately after the junction, turn left into the service road (TanMark Bookstore/7-11) and park your car there. The restaurant is just across the road next to Klinik Bala.
Name: SUKHOTHAI BEEF NOODLES HOUSE
Address: 238, Jalan Burma, 10350 Penang, Malaysia.
Contact: 604-227 9262, 016-438 7788 (Joanne Ang), 016-433 5588 (Ce Ang)
Business Hours: 11.00am-3.00pm, 6.00pm-10.00pm (Closed Wednesday)
GPS: 5.430093, 100.313247
RATING:
Ambience: 7.5/10 (1-4 cheap, 5-7 average, 8-10 classy)
Food Choices: 6/10 (1-4 limited, 5-7 average, 8-10 many choices)
Taste: 7.5/10 (1-4 tasteless, 5-7 average, 8-10 excellent)
Pricing: 7.5/10 (1-4 cheap, 5-7 average, 8-10 expensive)
Service: 8/10 (1-4 bad, 5-7 average, 8-10 excellent)