The BERJAYA University College of Hospitality (BERJAYA UCH) recently held the 2nd Uhrenholt Young Chef Dinner 2012 (UYC 2012) on 25 April 2012 at its "Manhattan V" function room. The UYC 2012 fundraising dinner for the Chefs Association of Malaysia (CAM) Youth Chef Club was a huge success with distinguished executive chefs from several 5-star hotels namely Chef Rajesh of Sheraton Imperial, Chef Martin of Ritz Carlton, Chef Sabri of Royal Chulan Hotel, Chef Antoine of Le Meridien, Chef Andrea of Renaissance Hotel, Chef Rudolph of Shangri La and Chef Nikolaj corporate chef of Uhrenholt Food Service, mentoring 43 students from the Klang Valley (BERJAYA UCH, Legand International College, INTI, Malaysian Institute of Baking, KL Metropolitan University and Cilantro Culinary Academy) based on the theme "Teamwork & Mentorship" to serve invited guests. Amongst the VIPs in presence were Sune Uhrenholt, CEO of Uhrenholt, Helle Sejersen Myrthue, Danish Embassy personnel, Lars Kruse Thomsen, Uhrenholt Country Manager in Malaysia & Singapore, Mae Ho, COO of BERJAYA UCH, Chef Chern Chee Hong, President of CAM and Chef Billy Ng, CAM Youth Club President & BERJAYA UCH Junior Chef Lecturer.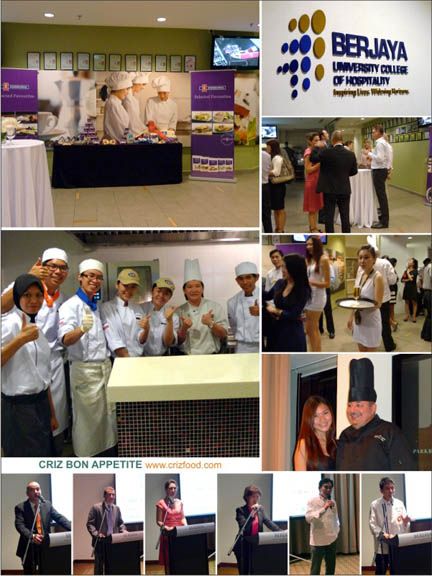 Prior to the formal sit down 5-course meals, guests were served with canapés by two teams. The first 3 canapes came from Chef Rajesh's team. The first canapé was the Slow Poached Beef Tenderloin with Tuna Sauce & Micro Grated Grana Cheese. It was one of the best canapé I had for the night. The rolled up beef tenderloin with some capers and parsley filling was served on a thinly sliced butter toasted baguette, topped with tuna sauce and finely grated grana cheese and garnished with micro greens. It was an awesome combination of meaty, cheesy with a light touch of seafood flavor.
The second canapé from the team was monitored by Chef Ellis, also from the Sheraton Imperial. It was the Steamed Chicken and Prawn Siew Mai (Chinese dumpling) with Tangy Peanut Sauce. I was a cross between Chinese and Malay cuisine. The dumpling was one of the best around with flavorful minced chicken and prawn filling, complemented even further with some mildly spiced up earthly and tangy flavored peanut sauce. It was also another hit amongst the diners. This dish was served with a lemongrass stalk for easy handling.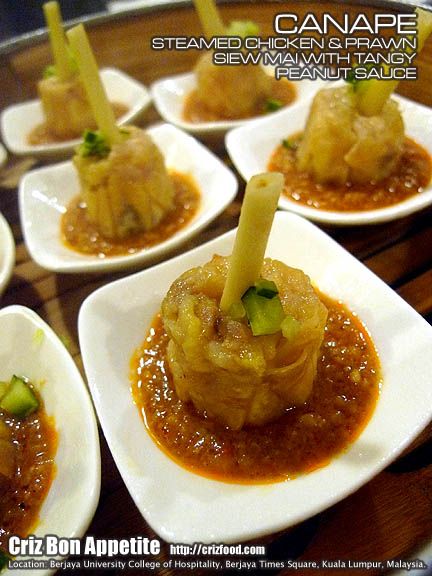 The third canapé was the Shoyu Marinated Watermelon with Wasabi, Cream Cheese and Spiced Salmon Tartare, under the supervision of Chef Bob, another chef from the hotel. The combination was rather unique as the spiced raw salmon tartare blended in real well with the cream cheese, a fruity squeeze from torched shoyu marinated watermelon cube, with a tad of spiciness from the mini wasabi ball and pickled ginger.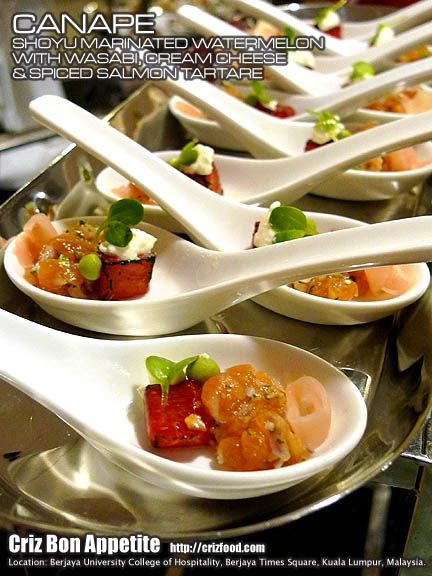 The next 3 canapes came from Chef Martin's team. The first canape was the Sarawak Peppered Tuna with Compressed Yellow Watermelon, Feta and Coriander Drops. The canapé had Sarawak black pepper rolled seared tuna fillet slices topped on two slices of compressed red and yellow watermelon, dressed with some feta cream cheese and garnished with a leaf of coriander. It was a colorful presentation.
The second canapé was the "Pie Tee" Crispy Basket with Smoked Halibut and Ginger Flower Salad. The Pie Tee or commonly known as the Singapore "Top Hat" was crispy but had a fusion type of filling instead of the common carrot and jicama combination. It had smoked halibut with a mixture of herby salad more toward a stronger kaffir lime leaves flavor. These little finger food treats had some crunchy crumbles garnished on them. Somehow, they were on a salty side unless you couple them with a glass of beer or wine.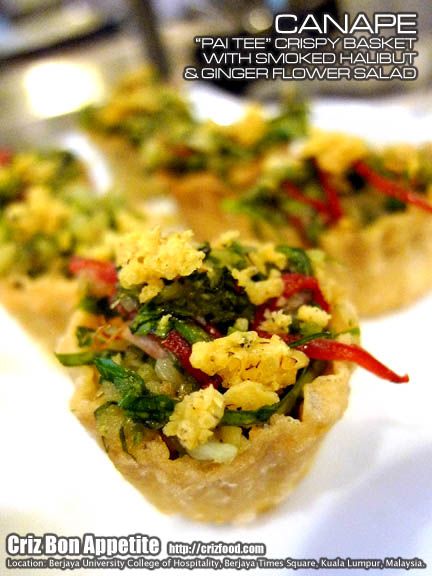 The next canapé which was the South Asian Spicy Prawn with Coconut and Crumbled Chili Oil had a state-of-the-art method of preparation. It had prawn fritters matched with a gelatin-like ball filled with oozy "tom kha" aka white tom yam broth, some chili oil and garnishing. The soft and juicy balls were using a food science method of shaping the algae based sodium alginate combination of "filling" into calcium chloride solution. This was an innovative way of presentation indeed.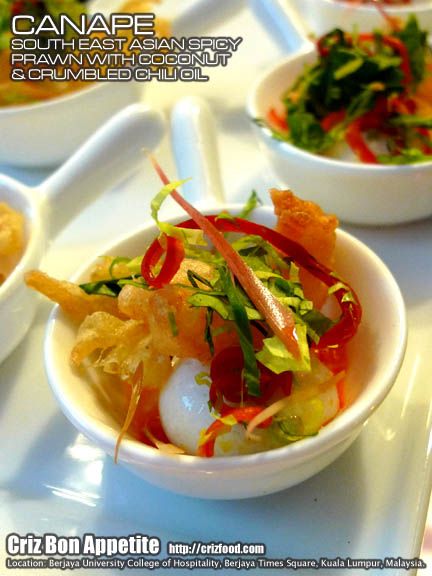 Dinner commenced an hour later with the first appetizer being served by Chef Sabri's team. It was the Steamed Prawn Roll with 'Otak-Otak' Filling, Chilled Custard Flower with Crab Meat and Galangal Fish Floss. This was a very delicate presentation almost like those you get from fine dining as there were some sauce, mango cubes and micro greens used for lacing the plate. The steamed prawn's filling of "otak-otak" was somewhat mild in herbs and spices unlike those you get from the authentic Nyonya cuisine. On the other hand, the chilled custard flower was the savory version of the Thai's Tako Haew (Water Chestnut with Coconut Custard). It has ebiko (prawn roe) and bits of crab meat (I might be wrong but the bits tasted more like fish than crab meat), topped with coconut custard. The third appetizer was the baked phyllo pastry wrapped galangal fish floss. The filling had a nice aromatic flavor but it lacked a light touch of brushed butter on the pastry as it was rather dry.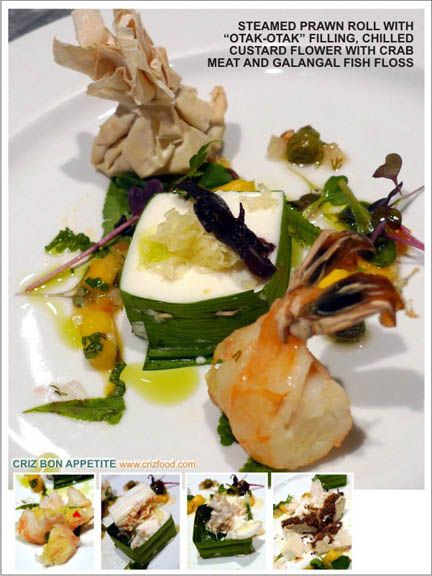 The next dish under Chef Antoine's team was the Asian Broth with Pacific Halibut, Vannamei Shrimps (Whiteleg Shrimps), Shredded Young Coconut and Diced Vegetables. With Chef Antoine's experience in Thailand for many years, this soup was a sure win to boost up our appetite. The mild and flavorful soup based was almost like the tom kha (White Tom Yam). It was poured onto a dish filled with halves Vannamei shrimps, halibut fillet, cherry tomatoes, carrot slices, coriander leaves, sliced kaffir lime leaves and thinly sliced fresh young coconut meat, topped with some foam like garlic cream. It was an awesome dish! This dish was served with two side dishes which consisted of a slice of nicely Toasted Mantou with Basil, Plum Tomatoes & Various Cheese and a beautifully done Raw Papaya, Japanese Cucumber & Roasted Peanuts Salad with hints of flavors from nam pla (Thai fish sauce), Thai chili sauce, olive oil and chopped coriander.
Chef Andrea's team came out with Cinnamon Sautéed Bee Hoon (Rice Vermicelli) on Fondue, Buah Keras (Candlenuts) & Prawns Terrine with Dry Longan Reduction. The cinnamon sautéed rice vermicelli was baked rather than sautéed and it was rather tough for our bites. If not, it would blend in real well with the Mornay sauce (Bechamel sauce + cheese) fondue. The prawn terrine was fine except a bit too soft. The candlenuts were sugar caramelized and the dry longan had the sweetness as how it should be. Somehow, this dish had a savory and sweet combination which some of us did find the combination a bit out of place.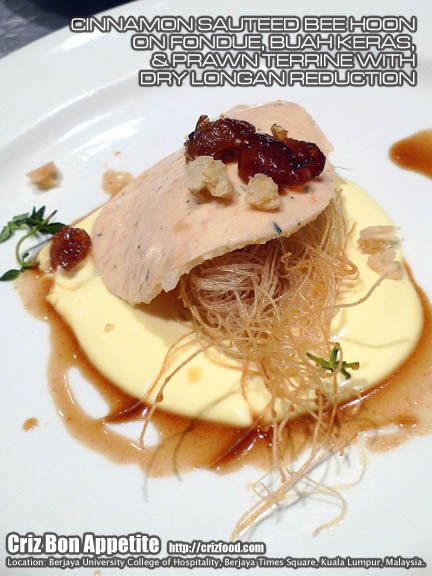 The main dish from Chef Rudolph's team was the Asian Style Slow Braised Angus Beef Cheek with Bleu Cheese Macadamia Crust, Kumara Mash and Eryngii Mushrooms, served with Five Spice Flavored Beef Jus Reduction was yet another perfect dish for me. The juicy and tender beef blended in real well with the slightly herb boasted bleu cheese baked macadamia nuts crust. The usage of kumara (orange sweet potatoes) mash was something different.
Finally it was dessert time and Chef Nikolaj's team came out with an additional pre-dessert dish – The 5 Way Cheese Canape. It had a spoon shaped like canapé filled with cubes of Edam, Fontina, Cheddar, Bleu cheese and cream cheese with some jam and a sprinkle of Pumpernickel bread bits. Well, some of us were not used to the waxy flavor from some of the cheeses.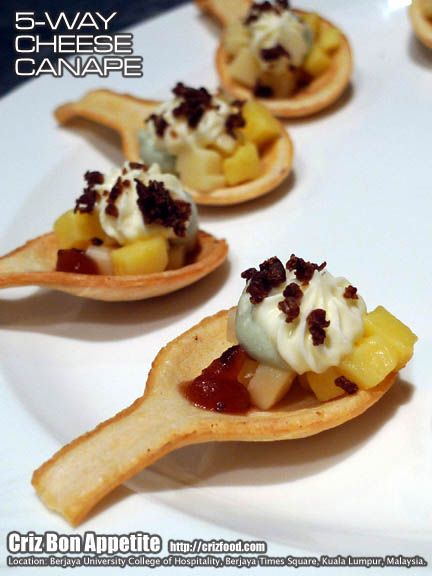 The dessert that excelled better was the Sweet Cream Cheese 'Tofu' in Gula Melaka (Palm Sugar) Consommé with Sea Coconut, Sesame Two Ways and Passion Fruit Curd. Everyone seemed to love this concoction. On top of those mentioned above, sago was added in too. The sesame two ways actually consisted of candied black sesame and sesame cake crumbles.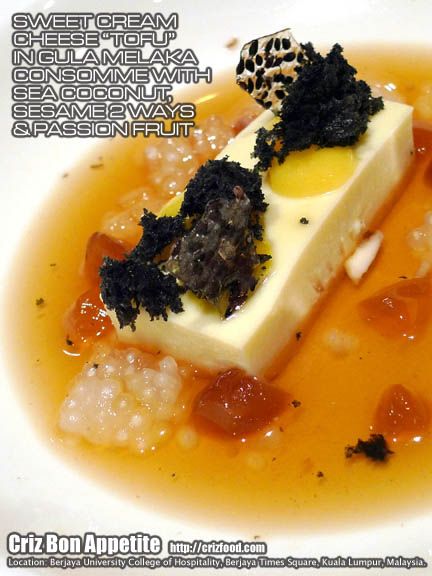 Everyone indeed put on their best effort to make this fundraising dinner a successful and memorable one. I would love to see more of this sort of opportunity given to other young chefs nationwide as well in the future. "It was a great experience for the participating students from the different colleges to be under the real life working experiences with respective executive chefs and to forge new bonds and friendships," said Matthew Lee, a BERJAYA UCH student under the Diploma of Culinary Arts program. To all the participants and sponsors of the UYC 2012, it was a job well done! Congratulation!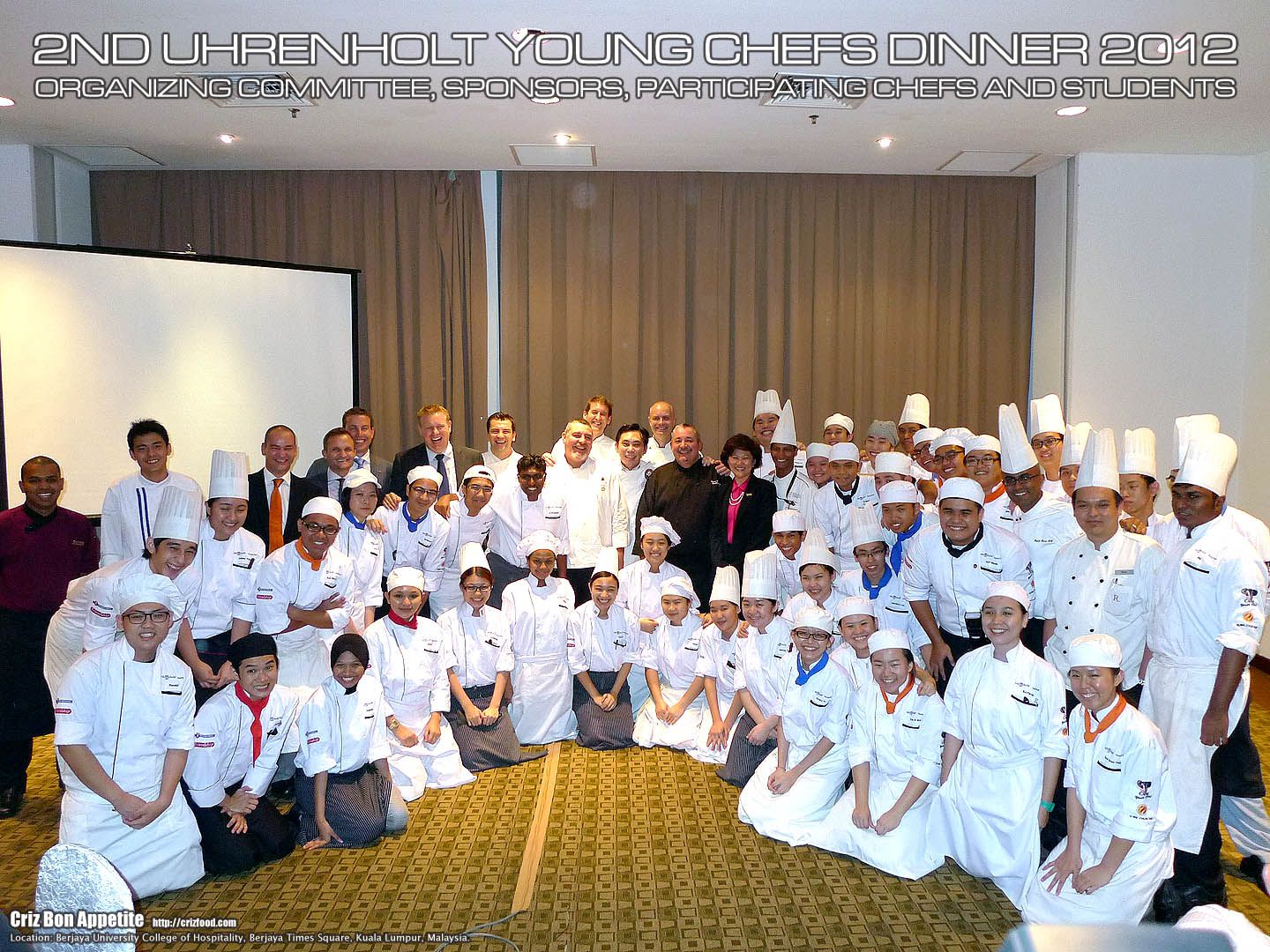 Here's a short video behind the kitchen scene by Chef Arif Maula. Do enjoy~ 🙂
Name: BERJAYA UNIVERSITY COLLEGE OF HOSPITALITY
Address: Level 14, East, Berjaya Times Square, 1 Jalan Imbi, 55100 Kuala Lumpur, Malaysia.
Contact: 603-2687 7073
GPS: 3.142152, 101.710618