While visiting Penang, most tourists would look for some gifts to take home to share with their family members and friends. What gifts could those be since Penang has a vast variety of traditional and local products that would impress just anyone? Could they be some handicrafts, herbs & spices, pickled fruits, fermented seafood by products or confectioneries of many kinds? Why not Pineapple Cakes? Huh? Isn't that the local product of Taiwan? Yup! You're right but as in concept. However, the pineapple filling itself is 100% home grown in Nibong Tebal, Penang, carefully handpicked and processed under strict quality control right in the heart of George Town, Penang. Where else can you get these delicious pineapple cakes except from Gartien (小田佳園), located within a heritage house along Lorong Macalister, Penang.
You may ask me why I chose Gartien's Pineapple Cakes (RM38nett/box of 10 pcs) over other almost similar product on the market. Firstly, I support local products as the ingredients used were extremely fresh from the farm. Secondly, it was the texture of the pineapple filling that caught me by surprise. Instead of the normal blending the pineapple into puree form prior to cooking, brunoised pineapples (pineapple cubes) were used. The brunoised pineapples were then simmered with minimal amount of raw sugar and honey for 12 hours to produce a tasty, tangy and yet juicy pineapple jam that was perfect as filling. On the other hand, the slightly golden brown baked pastries had just the right amount of flour, pure butter, egg and milk powder to give them the perfect buttery and milky flavors, not forgetting its fluffiness. With a good combination of 3:2 on filling versus pastry, each bite was heavenly~ 🙂
The handmade pineapple cakes, which do not contain any preservatives and artificial coloring, would be sealed in little internal laminated packages to maintain its freshness up to a month. I'm sure such delicious temptations would not even last more than 2 days in any household~ LOL!
I also did some personal tests on the best beverages to complement these heavenly sweet treats by preparing a series of hot and cold beverages such as coffee, chocolate, water and various Chinese & English teas. Hot beverages were unanimously voted as the best, especially unsweetened teas with unique fragrance such as Oolong (烏龍茶), Jasmine (茉莉花茶), Ginseng Tie Guan Yin (人參鐵觀音) and sugarless Earl Grey with a slice of lemon. Pu Er (普洱茶) and Lok Pou (六寳茶) with chrysanthemum (菊花) were nice but the thick black tea somehow overpowered the natural sweetness from the pineapple cakes.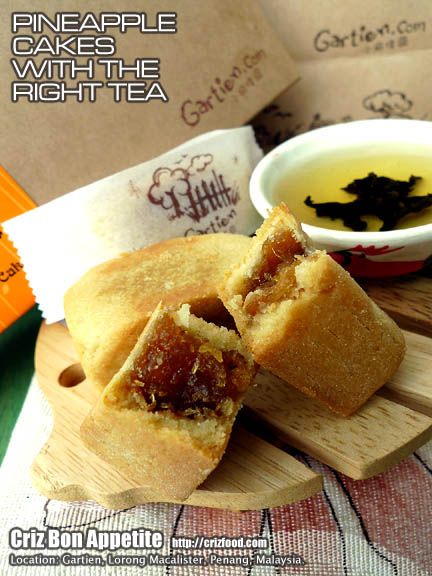 Other than having the pineapple cakes as your breakfast, tea, supper or anytime in between when you need your boost of sweet temptations, when else can you purchase them? Of course, you can also purchase them during any festive season. Since the pineapple cakes would come in a nicely printed box in a beautifully designed paper bag, it would be ideal as gifts to your family members, relatives and friends. You can even serve them during auspicious occasions such as Chinese New Year or house warming parties as pineapples carry a deep meaning in the Penang Hokkien dialect – "Ong Lai", meaning "Prosperity Comes".
Since pineapples also bring about a good gesture of great beginning (Hou Yi Tao) in the Cantonese community, the pineapple cakes would also be ideal to be served during weddings or as token of appreciation door gifts during wedding receptions. Who knows? A little package might even brighten up the face of a beneficiary with a sweet smile during any charitable event? The option is vast as per your imagination. You can practically serve these delightful sweet treats at anytime and anywhere throughout the year.
Overall, I find the pineapple cake to be awesome, not only through its freshness and real pineapple texture but also due to its versatility to be served during any occasion. After all, pineapples are low in fat and cholesterol and contain calcium, potassium, magnesium, copper, Vitamin B1, B6 & C and dietary fiber, which are rich in nutrients for the body.
Finding the bakery won't be hard as it is situated right in the heart of George Town, Penang. If you are coming from KOMTAR along Jalan Penang into Jalan Burma, just keep to your left. Immediately when you see Hong Leong Bank, turn left into Lorong Macalister. Drive on for about another 200m and you would see the shop on your left right before Lorong Bertam. For those staying in Melbourne, Victoria, Australia, you are in luck as Gartien has a few retailers located there. Just check out the address below. For those who yearn for the delicious pineapple cakes but not in Penang, there's always the postal order link. Shipping fee is RM8/box within Malaysia. The shipping fee may vary depending on the quantity ordered as stated in the checkout form.
HEADQUARTER & FACTORY:
Name: GARTIEN @ 小田佳園
Address: 68, Lorong Macalister, 10400 Penang, Malaysia.
Contact: 604-229 0068
Website: www.gartien.com
Email: info@gartien.com
FaceBook: www.fb.gartien.com/
Business Hours: 10.00am-5.00pm (weekdays), 9.00am-6.00pm (weekends)
GPS: 5.416195, 100.328433
ALSO AVAILABLE IN MELBOURNE, VICTORIA, AUSTRALIA:
• DRAGON BOAT PALACE (龍坊酒家)
149 Lonsdale Street, Melbourne VIC 3175, Australia.
• STRAITS KITCHEN
Pinewood Shopping Centre (Centreway), Mount Waverley VIC 3149, Australia.
• LAGUNA QV
QV Retail 221 Little Lonsdale Street, Melbourne VIC 30000, Australia.
• WING CHEONG CHINATOWN (WING CHEONG TRADING & CO)
14-22 Heffernan Lane, Melbourne VIC 3000, Australia.
RATING:
Ambience: 7/10 (1-4 cheap, 5-7 average, 8-10 classy)
Food Choices: 4/10 (1-4 limited, 5-7 average, 8-10 many choices)
Taste: 8/10 (1-4 tasteless, 5-7 average, 8-10 excellent)
Pricing: 7.5/10 (1-4 cheap, 5-7 average, 8-10 expensive)
Service: 9/10 (1-4 bad, 5-7 average, 8-10 excellent)