Note: The Pre-order stock at RM38/box for CNY2014 have been sold out. There are only a few boxes left for walk in customers at RM45/box. First come first serve only.
As Chinese New Year 2014 is just around the corner in late January 2014, many families are beginning to jot down their annual customary list of what gifts to present to their relatives and friends. Why not consider Pineapple Cakes? Pineapples carry a deep meaning in the Penang Hokkien dialect – "Ong Lai", meaning "Prosperity Comes", a great omen to start a new year. This year, Gartien (小田佳園), a local pineapple cakes manufacturer, located within a heritage house along Lorong Macalister, Penang, took bold steps in coming out with totally new packaging designs. The box is now bigger and dawns in elegant bright red color with gold stampings, while the little pineapple cake packages have Chinese ink printing of Peony (Mudan/牡丹) flowers, the theme set for Chinese New Year 2014. Each box with 10 pieces of freshly made pineapple cakes would be priced at RM45/box effective 30 December 2013 onwards. However, if you make your pre-order before the start of 2014, you would still be given a promotional price of RM38/box. Even before the production of the new packages, more than 500 boxes have been pre-booked. Thus, only a limited quantity of pineapple cakes are left for grabs (Only 250 boxes weekly for 4 weeks effective 30 December 2014). There is also a BONUS for all! For every 10 boxes ordered/bought, you can either opt for another box of pineapple cakes FREE if you collect them yourself or get your postage WAIVED if you are residing within Peninsular Malaysia. Last day for collection is on 26 January 2014. Hurry now to place your order to avoid any disappointment!
You might ask, "Why Gartien Pineapple Cakes?" The reason is simple. As Malaysians, we ought to support our own local products. The pineapple filling itself is 100% home grown in Nibong Tebal, Penang, carefully handpicked and processed under strict quality control right in the heart of George Town, Penang. Secondly, the pineapples are brunoised instead of blended into puree. You would get pure bites on the texture. Combined with the hand crafted fresh pastry with the right fluffiness plus milky buttery flavors, it's a snack that would leave many consumers yearning for more. What more it's a great tea time snack to go with a cup of unsweetened tea.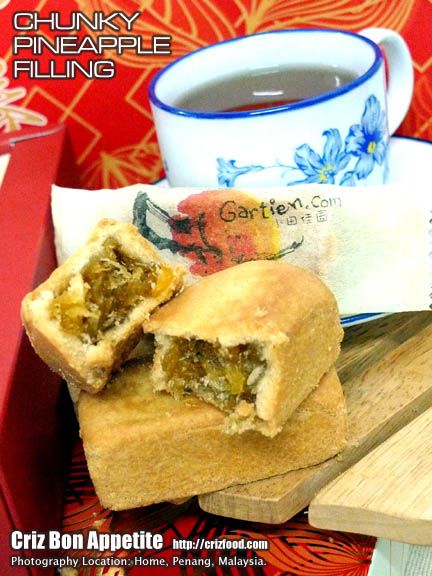 Overall, I find the pineapple cake to be awesome, not only through its freshness and real pineapple texture but also due to its versatility to be served during any occasion. After all, pineapples are low in fat and cholesterol and contain calcium, potassium, magnesium, copper, Vitamin B1, B6 & C and dietary fiber, which are rich in nutrients for the body.
Finding the bakery won't be hard as it is situated right in the heart of George Town, Penang. If you are coming from KOMTAR along Jalan Penang into Jalan Burma, just keep to your left. Immediately when you see Hong Leong Bank, turn left into Lorong Macalister. Drive on for about another 200m and you would see the shop on your left right before Lorong Bertam.
Name: GARTIEN @ 小田佳園
Address: 68, Lorong Macalister, 10400 Penang, Malaysia.
Contact: 604-229 0068
Website: www.gartien.com
Email: info@gartien.com
FaceBook: www.fb.gartien.com/
Business Hours: 10.00am-5.00pm (weekdays), 9.00am-6.00pm (weekends)
GPS: 5.416195, 100.328433
RATING:
Ambience: 7/10 (1-4 cheap, 5-7 average, 8-10 classy)
Food Choices: 4/10 (1-4 limited, 5-7 average, 8-10 many choices)
Taste: 8/10 (1-4 tasteless, 5-7 average, 8-10 excellent)
Pricing: 7.5/10 (1-4 cheap, 5-7 average, 8-10 expensive)
Service: 9/10 (1-4 bad, 5-7 average, 8-10 excellent)