Who does not like curry dishes, especially with the frequent chilly weather? As the Indian Ayurvedic medicine records had mentioned that a bit of spices in your diet occasionally would strengthen your body even more. All the spices used here have at least some medicinal properties against some ailments. Well, the statement would be quite true unless you are a person with a weak stomach issue. Since it's still the vegetarian food period for most Chinese Buddhist, two main ingredients such as shallots and garlic have been removed from the recipe due to their beliefs. Alternatively, salted fish bones had been replaced with deep fried bean curd sticks and other seafood had been omitted. As for today, I'll be sharing my VEGETARIAN SALTED FISH BONE CURRY recipe, a Nyonya style cuisine which we had loved for generations. As some of my friends who had tasted this dish had said, "You can't get enough of it even though it was cooked to suit vegans."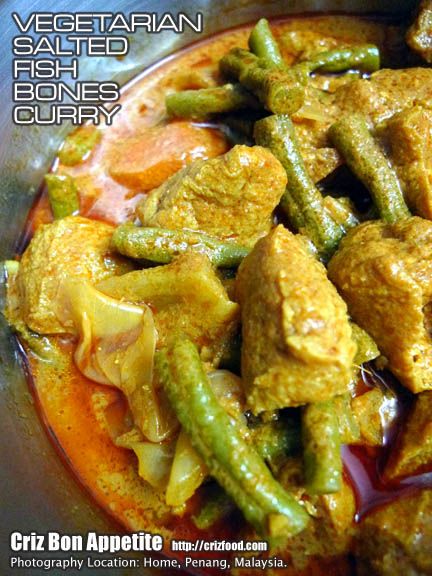 INGREDIENTS:
300g bean curd stick (cut into 1" length and deep fry)
20-30 tofu puff (cut in diagonal halves)
1 stalk lemongrass (wash, cut into two, roughly smashed)
20 long beans (wash, cut into 1.5"/4cm length)
100g cabbage (wash, cut into 2cm x 5cm wedges)
1 carrot (remove skin & diagonally cut into 10mm thickness)
2 tbsp chili paste (add more for extra spiciness)
1 tbsp curry powder
1 tsp turmeric powder
1.5" young ginger (grated)
2 cups vegetables stock/1-2 tbsp Vegeta with 2 cups of hot water
1/2 cup thick coconut milk (you can add another 1/4 cup for a creamier version)
Oil
Salt & sugar to taste
OPTIONAL:
1 long eggplant
Some mustard seeds
Some curry leaves
Pineapple slices
10 shallots and 4 cloves garlic (blended – for non-vegetarian)
Salted threadfin fish bones (tan au kiam hoo kut – cut into chunks, soak, drain & deep fry – for non-vegetarian)
Prawns and/or cockles
PREPARATIONS:
• Heat up about 3 tablespoons of oil and add in the grated young ginger, chili paste, curry powder, turmeric powder, smashed lemongrass and saute until fragrant.
• Add in the vegetable stock and bring to boil under MEDIUM FIRE.
• Add in 1/4 cup of coconut milk, sliced carrots, long beans and cabbage and let them simmer under LOW FIRE for about 10 minutes or until the carrots are cooked.
• Add the deep fried bean curd sticks, tofu puff, salt and sugar to taste. Let them simmer for another 5-10 minutes.
• Add in the remaining 1/4 cup of coconut milk. Bring to a quick boil and off the stove.
• Dispose the lemongrass.
• Let the cooked dish sit in the wok for 10-15 minutes to absorb more flavors before serving with hot steaming rice.
(Serves: 5-6)
YOU CAN CHECK HERE FOR MORE RECIPES.